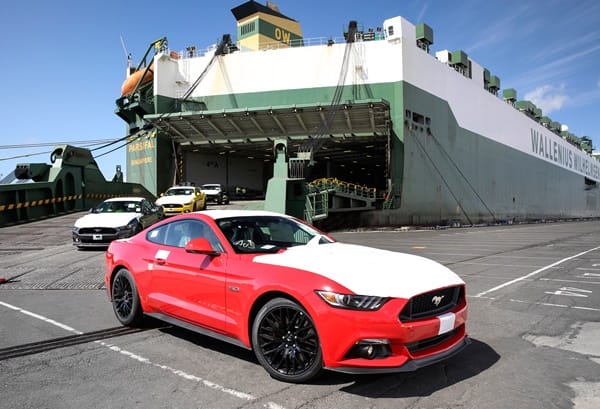 The Pony is poised to accelerate out of the starting gate and take on Australian roads as Ford's iconic Mustang arrives in Australia.
The first customer cars landed in the country today, arriving at Melbourne's Appleton Dock. Three more ships carrying customer cars are expected within days.
The all-new Mustang has become a world-wide sensation, including Australia, where demand has exceeded all expectations.
Ford and its dealers across Australia have been inundated with inquiries and demand for the all-new Mustang Fastback and Convertible, with the order bank for one of the world's most recognisable cars now sitting around 4,000 vehicles with more than 80 per cent paid deposits. These orders account for the first full year of vehicles to be sold in Australia through 2016.
"We are simply overwhelmed and humbled by the reception to Mustang thus far, which is probably our closest equivalent to the Beatles first trip to Australia," Ford President and CEO, Graeme Whickman said.
"The Mustang also punctuates a landmark year for Ford where we launched a huge number of new vehicles – including the Australian-designed and developed Everest SUV and Ranger – while investing more locally than any other automaker with more than $300 million in R&D alone."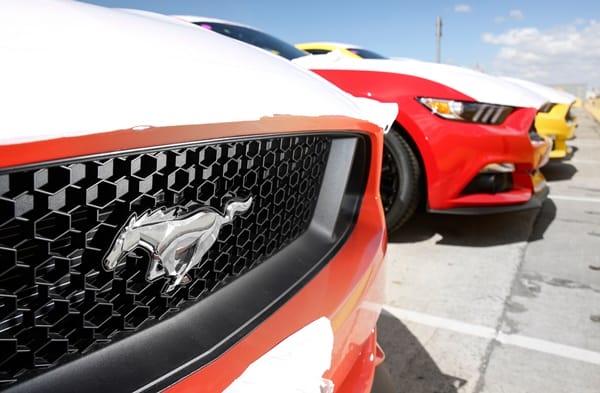 Australian enthusiasm
After Mustang pricing was confirmed early this year, Ford saw a spike in interest and deposits, with more than 20,000 people putting their hands up to be kept informed about the new car.
"Our Mustang story has been one of the core vehicles in all our activities this year as a halo for the brand. We put a Mustang Convertible on top of one of the key buildings in Circular Quay in Sydney next to the Sydney Opera House for New Year's eve celebrations and the images of that car went around the world," Whickman said.
Like North America, overwhelming early interest has been in the V8 GT models, with 86 per cent of customers favouring the V8. However, once the initial order banks are filled, Ford expects the EcoBoost models to be popular with customers who value performance but have an eye on fuel efficiency.
A similar situation surrounds the Fastback and Convertible split. There has also been more initial demand for the Fastback over Convertible, with around 88 per cent of Australian customers opting for the Fastback.
Visually, the all-new Mustang is unmistakable in its clean-sheet design. It has kept its classic shape, with a long sculpted hood and short rear deck, but with contemporary changes.
Several key design features define the new Ford Mustang, including:
A low roof height and wide stance
Sleek profile enabled by steeply sloped windscreen and rear glass
Three-dimensional, tri-bar tail-lamps
Contemporary execution of the iconic car's signature trapezoidal grille and shark-bite front fascia