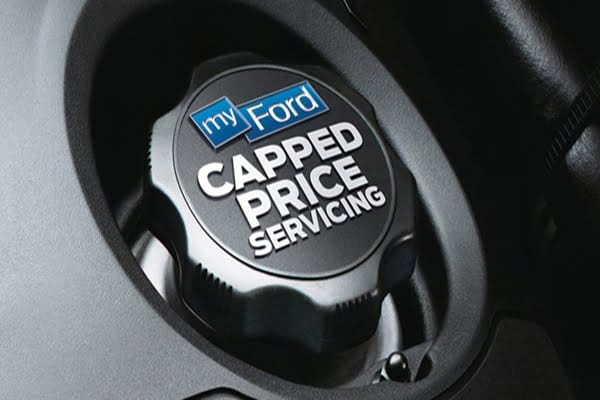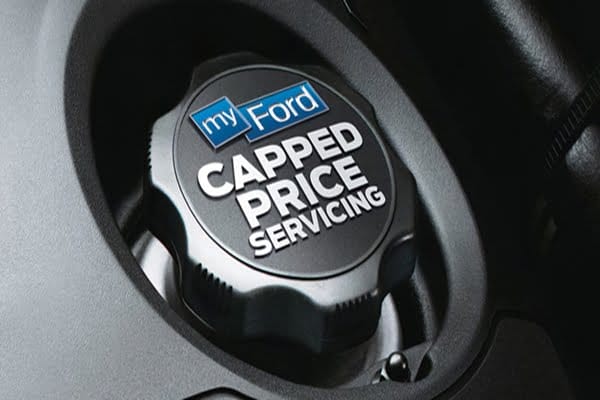 Ford Australia is providing customers with peace of mind by introducing capped price servicing on its vehicles.
In a Ford Australia first, myFord Capped Price Servicingis available on all Ford vehicles built from 2007 and up to six years or 105,000km – whichever occurs first.
The program means Ford owners will know with certainty the maximum amount they will pay from one logbook service to the next, no matter which participating Ford dealer they use. It is designed to reinforce the value proposition that servicing a vehicle with a Ford dealer represents great value for money.
For example, the maximum amount a customer who owns an FG Falcon six-cylinder would pay at a participating dealer for a A (minor) logbook service (15,000, 30,000, 60,000, 75,000 or 105,000 km) is $255, which includes 12 months myFord Roadside Assistance (RRP $90). Given many Ford vehicles have 12 month/15,000 km service intervals, this represents fantastic value for money.
Customers will also be able to check out in full myFord Capped Price Servicingterms and conditions at the integrated website www.ford.com.au/myfordcps. The website not only provides customers with the maximum price for an individual service at a participating authorized Ford dealer but also reinforces the value proposition across the whole range, from Fiesta right through to the Falcon FPV, Ranger and Transit.
Vehicles eligible include:
Fiesta – WQ, WS, WT
Focus – LS, LT, LV, LVII
Mondeo – MA, MB, MC
Falcon – BF, BF FPV, BF MkII, BF MkII FPV, BF MkIII, FG, FG FPV
Escape – ZD, ZC
Econovan – JH
Territory – SY, SY F6X, SY MkII
Ranger – PJ, PK
Transit – VM
Ford Australia General Manager, Customer Service Division, Stephen Kruk, said Ford dealers and customers welcomed the program.
"The service industry is changing at a rapid pace and more manufacturers are embracing the concept of capped price servicing," Kruk said. "To reinforce the value of trust, customers now expect this level of certainty from our dealers."
myFord Capped Price Servicing is an important strategy that fits well with the company's overall "Feel the Difference" brand message, he said.
Ford Australia worked hard with its national dealer network to develop the program, Kruk said.
"From the outset, it was designed to be transparent and easy to understand," Kruk said. "myFord Capped Price Servicingis an important element in reinforcing the value proposition that servicing with a Ford dealer represents. Ford dealers use genuine Ford parts as part of the logbook service and only Ford dealers use Ford-designed diagnostic equipment, and have technicians who undertake training from Ford Motor Company specifically designed for Ford vehicles. All of this is designed to build certainty and trust."
As part of the programthe records from all logbook services undertaken by a Ford dealer will be recorded in the Ford computer system. This will allow all dealers to view on line the logbook service history irrespective of which authorised Ford dealer serviced the vehicle.
"Continuing to service your vehicle within the Ford network adds value to your vehicle," Kruk said. "It also means that even if you lose your service book, our Ford dealers will be able to access your service history if it has been completed in the Ford network."
Such security is important both for Ford owners and future prospective customers, he said.
"Imagine not having a full service history when it came to trade-in time? With our system, once your service record is entered into the Ford computer system, our customers – and any future Ford customer buying that vehicle – will have peace of mind that Ford has a log of the vehicle's service history."
This information is only available to Ford dealers.
"Finally, if for some reason your vehicle requires upgrading because of an outstanding campaign or recall, only Ford dealers have the computer systems, equipment and training to complete and record this as part of the logbook service."
Details of myFord Capped Price Servicing for each scheduled service up to 105,000km is available at www.ford.com.au/myfordcps, or alternatively customers can contact participating authorised Ford dealers.