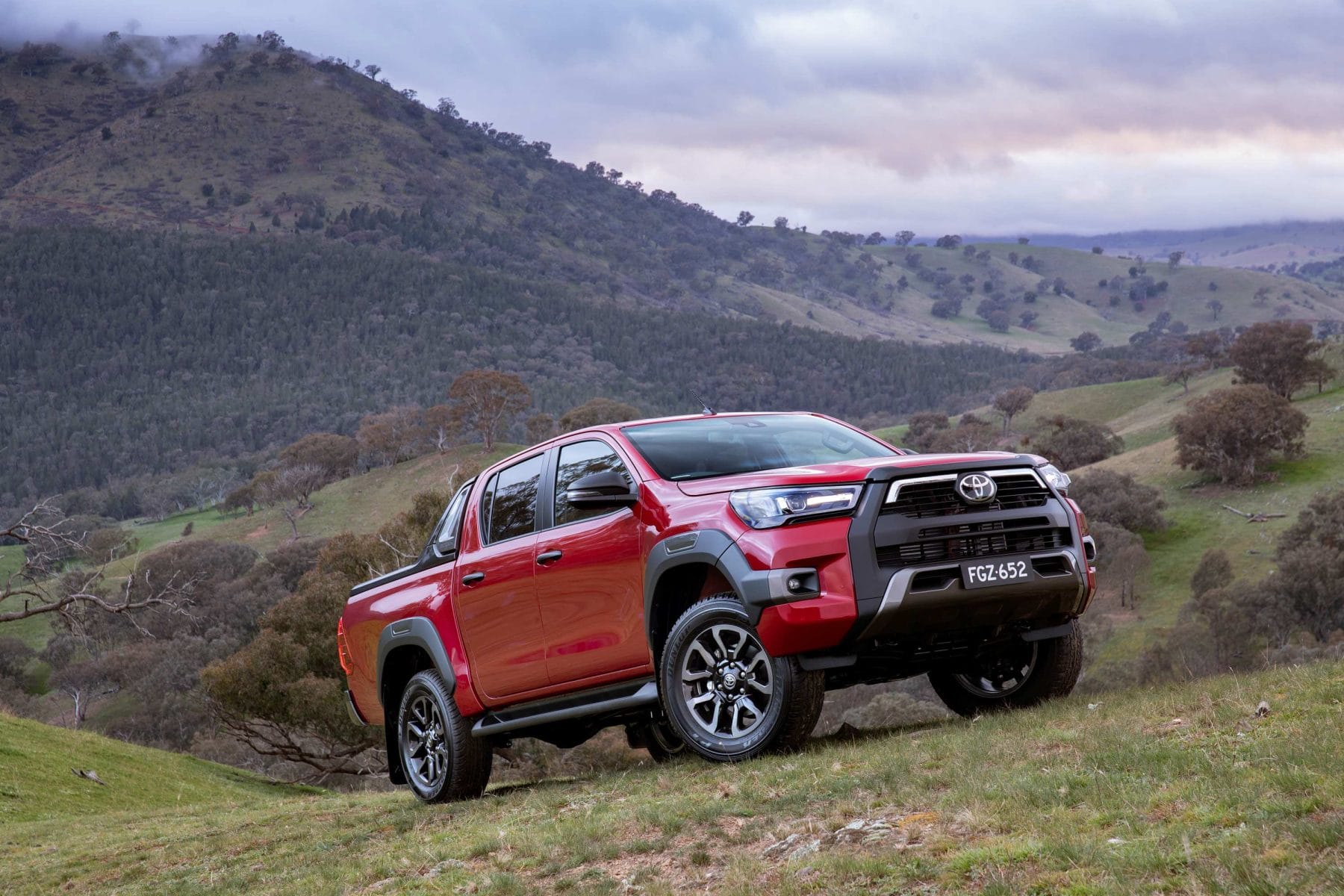 The Federal Chamber of Automotive Industries (FCAI), the peak body for the automotive industry, has released new vehicle sales figures for September 2020. 
A total of 68,985 sales was recorded for the month, down 21.8 per cent on September 2019 when 88,181 sales were reported.  On a year to date basis, sales for the industry totalled 644,891, down 20.5 per cent from the same period in 2019 when 811,464 new vehicles sales were recorded.
Behind the Facts
77+% of Fords sales for the month of September, come from one model the Ranger Ute. Add in the Mustang and Everest and you could question why they bother with the other models
Subaru continues to punch way above its weight coming in at 9th place in YTD sales with only 8 models in its line up
YTD SUVs account for almost 49% of sales and combined with the LCV segment they account for almost 71% of sales.
Toyota continues its dominance with 4 out of the top ten sales being a Toyota in September
With very little fleet sales, Mazda continues to excel in the retail consumer market.
Toyota LandCruiser continues to defy the market trends towards smaller SUVs
Overall YTD sales continue their decline from 2018
Tony Weber, chief executive of the FCAI,
said that while the market remains slow, the industry was hoping to see an increasingly positive trend as barriers to purchase are eased and consumer confidence returns.
"First of all, we are seeing COVID-19 health restrictions across Australia, and particularly in metropolitan Melbourne, continue to ease.
"Another sign that the market may improve is the announcement by the Federal Government last week of an easing of lending conditions for private buyers and small business in Australia.
"Freeing up restrictions around financial lending will act as a stimulus for Australian industry," Mr Weber said.
Restrictive lending practices have been one of the major factors contributing to the declining new vehicle market which has seen 30 consecutive months of decreasing sales in Australia.  This market regression has also been attributed to a number of other factors including natural disasters, unfavourable exchange rates and economic uncertainty.
The September VFACTS results reveal that, on a state by state basis, Victoria continued to be hardest hit due to month-long Stage 4 COVID-19 restrictions, recording 10,447 sales, a decrease from September 2019 of 57.7 per cent.  States which showed improvement compared to September 2019 included:
ACT, up 3.4 per cent
Northern Territory, up 10.6 per cent
Western Australia, up 1.5 per cent
During the month 17,720 Passenger Vehicle were sold, representing 25.7 per cent of the total market.  SUVs claimed 47.3 per cent of the market with a total of 32,647 sales, and Light Commercial vehicles claimed 22.9 per cent of the market with 15,772 sales.
Toyota was the top selling brand for the month, with 12,936 sales, followed by Mazda with 7,000 sales, Hyundai with 5,273 sales, Kia with 5,092 sales, and Ford with 4,816 sales.
The top five selling models for the month were the Ford Ranger with 3,726 sales, the Toyota Hi Lux with 3,610 sales, the Toyota RAV4 with 2,433 sales, the Hyundai i30 with 1,786 sales and the Mazda CX-5 with 1,765 sales.
VFACTS SEPTEMBER 2020
Summary by Class:
Key Points:
The September 2020 market of 68,985 new vehicle sales is a decrease of 19,196 vehicle sales or -21.8% on September 2019 (88,181) vehicle sales. September 2020 had 29.5 selling days compared to September 2019 with 24.6, but this resulted in a decrease of 921.1 vehicle sales per day.
The Passenger Vehicle Market is down by 7,180 vehicle sales (-28.8%) over the same month last year; the Sports Utility Market is down by 9,207 vehicle sales (-22.0%); the Light Commercial Market is down by 2,485 vehicle sales (-13.6%); and the Heavy Commercial Vehicle Market is down by 324 vehicle sales (-10.2%) versus September 2019.
Toyota was market leader in September, followed by Mazda and Hyundai. Toyota led Mazda with a margin of 5,936 vehicle sales and 8.7 market share points.
 SALES RESULTS
Top 10 Sales        
Total Vehicle Sales – Year to Date: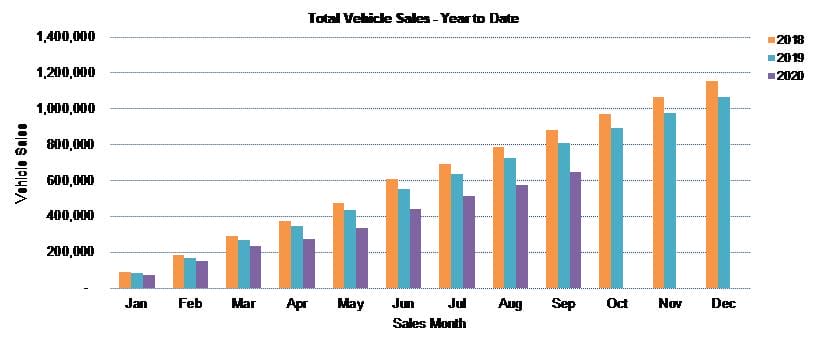 VFACTS monthly vehicle sales data is available at noon on the third working day after the end of every month.