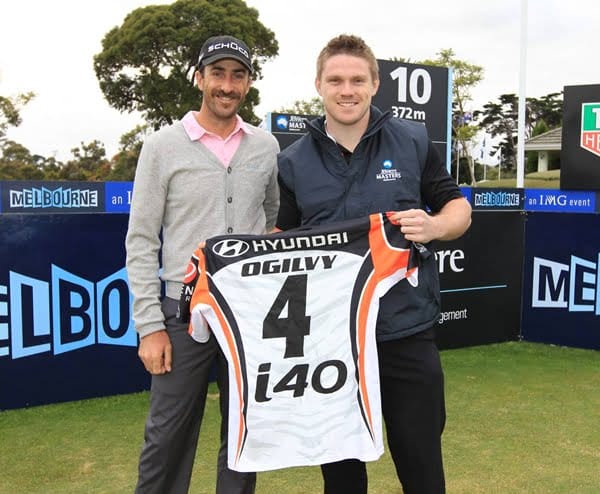 Hyundai and JBWere Masters team up again this year. For the second year in a row Hyundai Motor Company Australia has partnered the event. Hyundai is the 'Official Associate Partner' and supplier of the 'Official Car of the Tournament'.
This year's JBWere Masters Pro-am included players and ambassadors from Hyundai sponsorships such as the Wests Tigers and the Melbourne Rebels. Chris Lawrence from the Wests Tigers and Julian Huxley from the Melbourne Rebels battled it out with the likes of Australian golfing star Geoff Ogilvy and Italian young-gun Matteo Mannasero.
The Carlton F.C. support was also out in force at the JB Were Masters thanks to Carlton Ambassador and radio personality Andy Lee.
Chris Lawrence welcomed another new sporting superstar to the Wests Tigers Club in Geoff Ogilvy. Lawrence, who plays off a handicap of 20, presented Ogilvy with his personalised number 4 Wests Tigers jersey, making the 2006 US Open Champion one of the latest sportstars to join the Wests Tigers celebrity club.
"I'd like to thank Hyundai for giving me the opportunity to play with the calibre of these golfers. It really proved that I am a terrible golfer,'' Lawrence said. "I had great fun even though I played like a hacker. Great track. It was the toughest course I have played."
Additionally, Andy Lee also presented the 18 year-old and the youngest player ever to make the cut at the US Masters, Matteo Manassero with a Carlton guernsey before the JB Were Masters Pro-am.
Earlier keen Carlton supporter and defending champion of the JBWere Masters, Stuart Appleby, was proud to show off his new Carlton guernsey on the first tee. Appleby is a long time Carlton supporter and was delighted to receive his new guersney.
Hyundai vehicles are also well represented at the course showcasing the sophisticated all-new i40 Tourer as the flagship of the sponsorship. Twenty-five i40 Tourers are in operation with iMax eight-seat shuttles completing the event fleet which is chauffeuring all players, coaches, commentators and officials around Melbourne, and to and from the Victoria Golf Club during the 2011 tournament.
Tickets are available through Ticketek on 132 849, www.ticketek.com.au or on the gate each day of the 2011 JBWere Masters at Victoria Golf Club.
For latest news and more information on the 2011 JBWere Masters visit: www.australianmasters.com.au or join the Masters' fanbase on Twitter @aussiemasters or Facebook at www.facebook.com/australianmasters