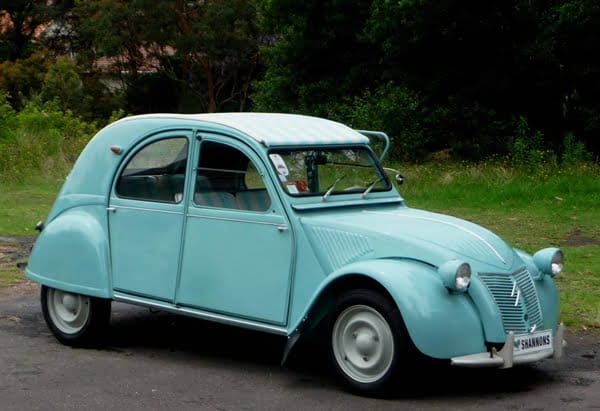 Car enthusiasts will be like a 'pig in mud' at Shannons Sydney Summer Classic Auction on February 20.
Enthusiasts looking for an interesting European classic have some interesting 'no reserve' choices From France there is a very original left hand drive 1959 Citroen 2CV sedan that was imported privately in Sept 2010 shortly after it had undergone an extensive and expensive ground-up restoration in the UK.
The car has been used only as a promotional vehicle by its Australian owner for his antique business and is currently on full NSW registration.
It was serviced recently and comes with a large receipt file detailing its restoration.
Offered with no reserve, Shannons expect the 2CV to sell in the $12,000-$16,000 range.
Also offered with no reserve from Italy there is a well presented and largely original 1965 Fiat 1800B sedan that has been in an Australian private collection for the past six years.
The 1800 model was introduced by Fiat in 1959 as Italy's improving Post-War economy increased the demand for larger, more expensive cars and the 1800B introduced in 1961 saw the car's 1800cc engine develop an increased output of 64kW.
Featuring a rare original interior with an excellent patina, the Fiat has been kept in good running condition and has recently had a new clutch, a new main engine seal replaced, new radiator hoses and tyres.
It was repainted early this year only due to a bump in the right rear mudguard and rather than try to match the original paint, the owner decided to have the whole car refinished. Shannons are quoting a guiding range of $6,000-$10,000 for this upmarket slice of Italy.
Meanwhile from UK origins there is a beautifully presented, Australian-delivered 1973 Ford Capri 1600 coupe that has been the subject of a five-year restoration carried out at a cost of more than $20,000.
Rebuilt to replicate the 1969 Press Release model in the UK, the Capri has been fitted with a V6 bonnet, dummy side louvres and bumper over-riders, but retains its original Rostyle wheels.
Inside the car has updated with more modern bucket seats, a reconditioned dashboard and recalibrated instruments
Importantly, the Capri retains its original 1600cc four-cylinder engine that has been fitted with new gaskets, however the original four-speed gearbox has been replaced by a later Ford Sierra five-speed manual and the suspension and brakes have both been upgraded for better handling and braking.
Shannons expect the Capri to sell in the $14,000-$17,000 range.