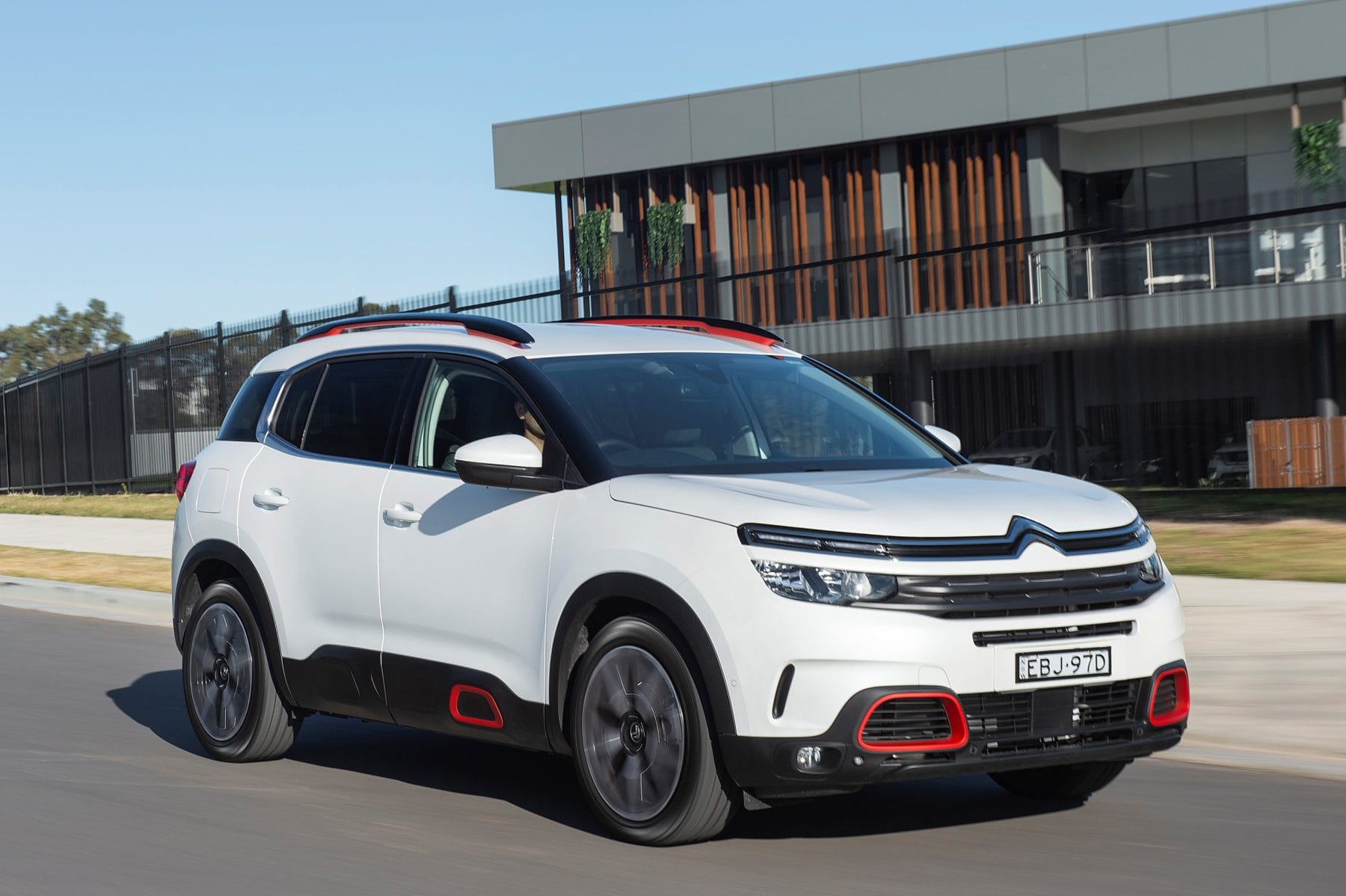 Citroën SUV offerings have been a bit hit and miss but C5 Aircross is a bullseye.
C5 Aircross has a simple 2 model line-up highlights the ethos of the Australian branch of French Car Maker Peugeot-Citroën. The brands struggle for a foothold in one of the most competitive markets in the world. Keep is simple, and keep it relevant, and you can't go wrong.
Australia has more brands than just about any other market, so standing out is a way to get noticed.
Errors in packaging in previous models saw C4 Cactus sales flag before the model was dropped completely. There is only one small error with C5 Aircross, but more about that later.
The brand now has just 3 fruity offerings, C3 hatch, C3 Aircross, and the brand new big and butch C5 Aircross. The latter 2 are SUVs. A brand that once appealed only to architects, artists, and psychologists is striving for something wider ranging. They've picked the booming SUV segment in which to stretch their legs.
There are only two trim levels, Feel, and range-topping Shine. Silly names, but there you go. Keep it simple
Outside:
Citroën has swept away the weird, sadly.
C5 Aircross looks handsome. The two-level front end is gone, replaced by a less polarising grille. A body-coloured band defines the LED DTRLs, with halogen headlights sitting just below.
The signature grille includes the Citroën  "chevron" inverted double V. there is further black detailing in the grille slats, and the lower grille has large intakes and halogen fog lights.
From the side, C5 Aircross looks a little like a very large Mini, a style that millennials seems to like.
The look is smart and elegant, like fine French fashion should.
Inside:
There are subtle cues borrowed from sister brand Peugeot, but the interior is thoroughly Citroën
Oblong shapes create a coherent theme throughout. Classy, soft-feel surfacing makes the cabin elegant, yet fun.
The driver's instruments are displayed on a wide 12.3" LCD screen with a range of information options.
The centre stack and console house a carefully curated set of controls, and a large 8" touch screen. The controls to directly select audio, phone, climate, navigation, and home screen menus are along a touch-bar beneath the screen.
Citroën have really done their homework on ergonomics. Everything is not only easy to reach, but easy to use.
The centre console has been kept crisp and clear.
There is plenty of space. Rear passengers will be cosy, but there is still enough legroom for a long trip. Seating is superb. The boot has 580L normally, 720L with the back seats slid forward, and 1630 when the seats are folded flat.
The Drive:
Only one drivetrain can be had. A 1.6 Euro 6 turbo petrol 4 cylinder is paired to a smooth 6 speed automatic. 0-100 is a leisurely 9.9 seconds from the 121kw/240Nm unit, but power is delivered smoothly with little vibration from up front.
Handling feels old Citroën, and is all the better for it. If people want rock hard cornering, they can look elsewhere. Steering is super light, and while it changes with Sport mode, is still easy driving.
There is a bit of fun body-roll in corners, but a track car this is not, thankfully.
Safety and Features:
Citroën has stuffed C5 Aircross full of gear. There is AEB but no pedestrian detection. This may make a 5 star rating out of the question.
Apple CarPlay/Android Auto, and DAB is standard, and there is Bluetooth streaming and wireless charging (Shine only).
Other safety features include: Driver attention warning, ABS. 6 airbags, Distance Alert, grip control and hill descent, and a space saver spare wheel. The reversing camera has a 360° function with the rear camera building a picture as the car goes backward.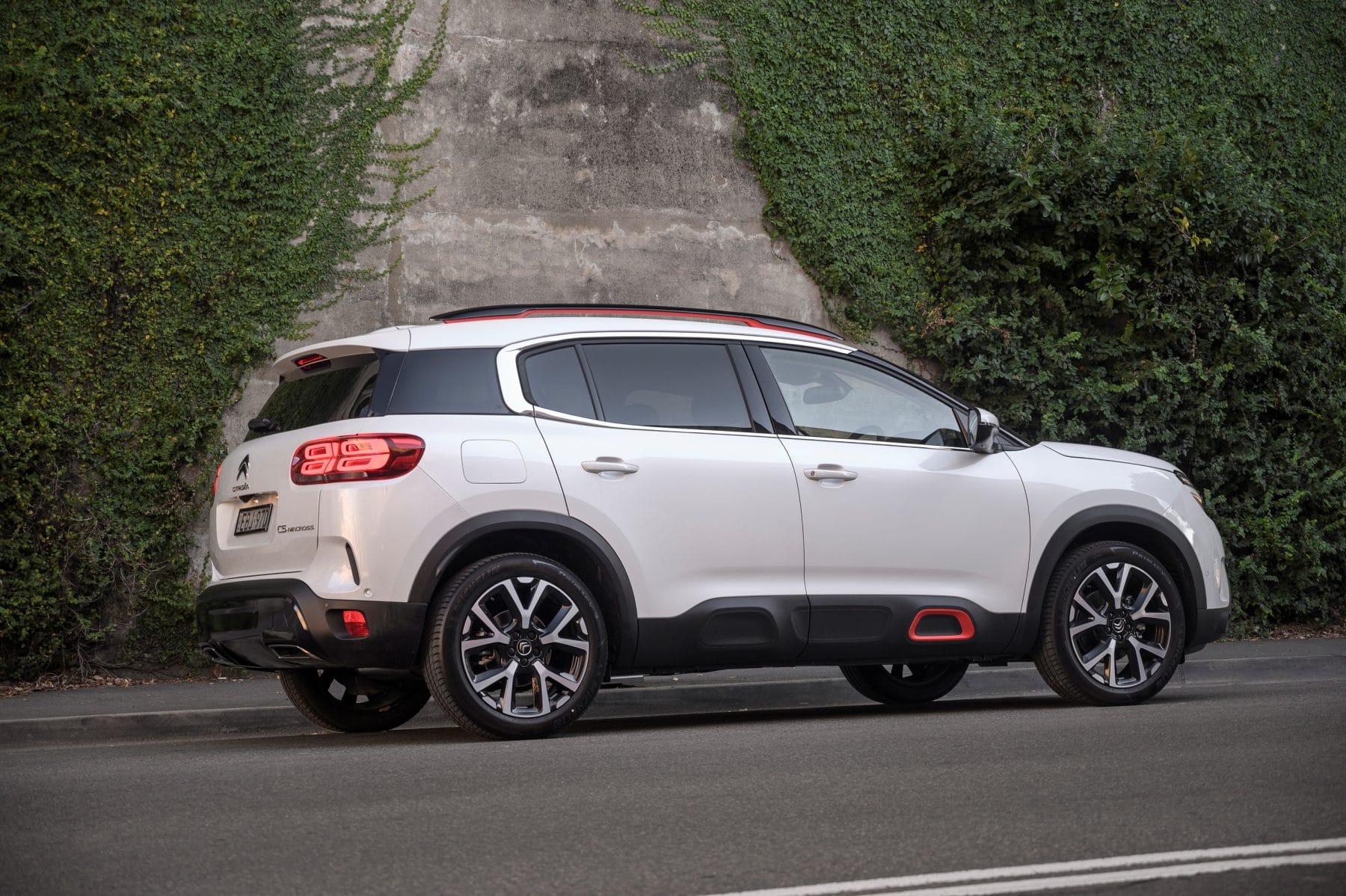 Conclusion:
While C5 Aircross is a front wheel drive SUV, the industry knows that buyers prefer automatic, 2 wheel drive, petrol engine cars.
Most SUVs will never go off-road so why waste money on features you'll never use?