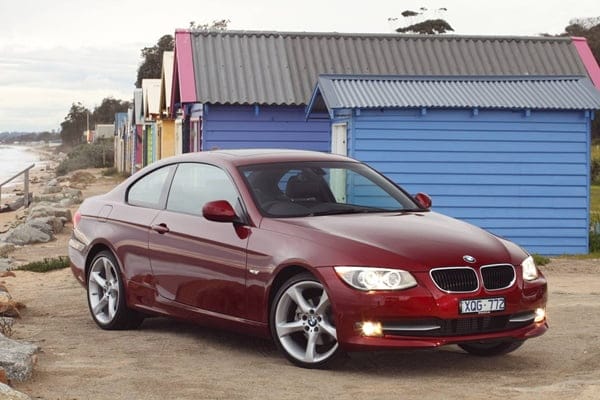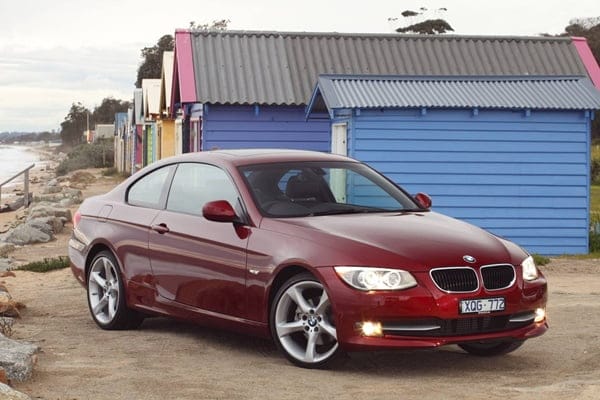 BMW has introduced stop start driving into the BMW 320d Coupe with the 6-speed manual. The BMW 320d applies the BMW Efficient Dynamics with the Auto Stop/Start function.
"It's as good to drive as it looks"
Considering its mid-life refresh consists of only subtle styling changes the 3 Series range from BMW is still the car that other manufacturers want to beat, or at least equal. On appearance alone that's going to be difficult as it is as good to drive as it looks.
Let's check it out:
Behind the wheel
It's easy to get comfortable behind the wheel. An electric arm passes you your seatbelt. All the controls fall naturally to hand, except the gearstick, which, is about an inch too far back and can leave you brushing the iDrive button when you change gear. There's ample (not plenty) of leg and headroom both front and back for four full-sized people.
The interior is finished with high quality materials, with a choice of different trims on the options list, including wood, aluminium and black gloss.
The amount of dashboard buttons depends on whether the optional i-Drive system is chosen or not -without it the audio and climate functions are accessed through buttons on the dashboard. With i-Drive these functions (as well as navigation and telephone controls) are controlled via a dial mounted on the centre console. The driver's seat has a good level of adjustment and the steering can be altered for reach and height.
All in all the interior of the 3 Series coupe reeks of style and freshness and is a superb place to be.
Performance
This BMW is fitted standard with a 6-speed manual transmission which is the first time the 320d has been offered with a manual gearbox and its fitment has provided the opportunity to expand the application of BMW Efficient Dynamics technologies including the standard Auto Stop/Start function.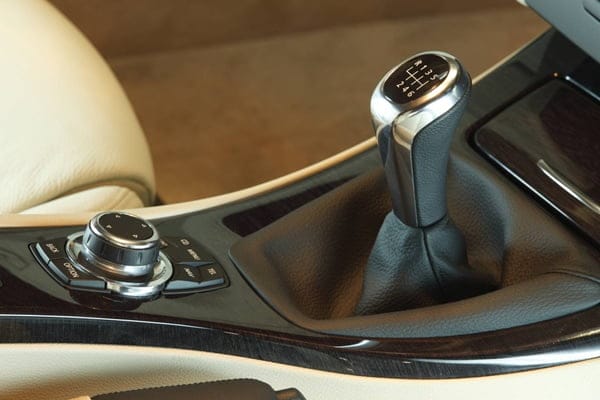 The coupe emits 140g/km, produces 135 kW, covers 0-100 kph in 7.6 seconds with a top speed of 233 kph and returns a claimed combined consumption of 5.3 l/100 km. So it certainly isn't a slouch when it comes to performance. The BMW 320d's four-cylinder diesel engine with an all-aluminium crankcase and third-generation common-rail direct injection also features variable inlet valves and high-pressure fuel injection. The common-rail system separates pressure generation and fuel injection, with electronically controlled injectors delivering the fuel to the cylinders. Third-generation common rail operates at pressures of up to 2000 bars and is therefore more precise in the amount and delivery of fuel injected. It's the most efficient BMW 3-Series ever, due to features such as a lower ride height and improved aerodynamics, but despite these efficiency changes, it's still great to drive especially with 380 Nm coming on tap between 1900 – 2750 rpm.
Handling
On twisting roads I found it still lives up to the 3 Series reputation of supplying bags of driving pleasure and a degree of comfort through the quality of its chassis, steering and ride. You need only spend a few minutes behind the wheel of the 2010 BMW 3 Series to remind yourself exactly why it is such a sought after car. The previous 3-Series was a class benchmark for handling and the fifth-generation car raises the bar even higher.
With excellent weight distribution and rear-wheel drive, the BMW feels perfectly balanced when being driven on challenging roads, responding instantly to steering inputs. There's limited body roll and plenty of grip, however the jury is still out on run flat tyres and the comfort aspect. The suspension has been designed to suit the firmer sidewalls of run-flat tyres (which are fitted as standard) and this allows the driver to feel the surface of the road without jarring the occupants in the car but it is noticeable compared say to a C-class, so be mindful that it is not anywhere near as compliant as you would expect in a luxo coupe.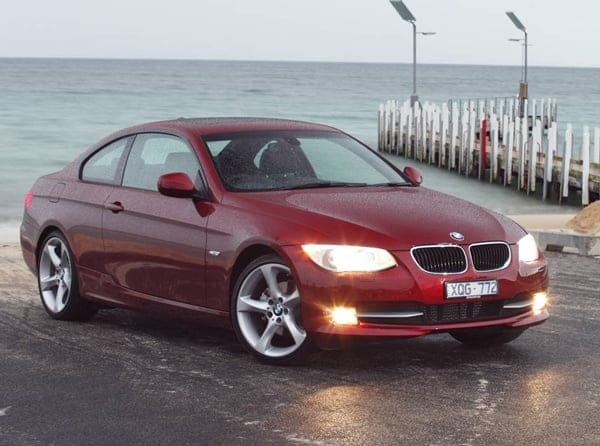 Comfort
The Coupé is considerably roomier than its predecessor, particularly for rear-seat passengers. But don't think it's exactly huge. Legroom is still quite restricted, especially if you're an adult in the back and there's a six-footer behind the wheel. But it's comfortable enough with two sculpted seats and decent head space. Automatic climate control is standard and, new to BMW (although the Mercedes-Benz CLK has provided this feature for several years), is an automatic seatbelt handover system – a metal arm extends from over your shoulder with the seatbelt. Cruise control is standard and options include 'comfort access' keyless entry, which allows the car to be unlocked with the key still in a pocket or handbag.
The standard fine Dakota leather upholstery is now available in a choice of six colour combination with trim details finished in high gloss Black enamel, Fine Brushed Aluminium or the non-cost option of three fine-wood finishes to provide customers with further scope to individualise their new BMW 3 Series Coupe or Convertible. All models also feature a modified design multi-function three-spoke sports steering wheel trimmed in smooth leather that gives the cars a more dynamic aesthetic and improved feel. It has accommodating yet supportive seats contribute to excellent comfort for all occupants and work on refinement has resulted in a hushed and cosseting environment.
Very slight wind noise from around the windscreen at higher speeds does spoil things somewhat and the ride as I said earlier is a little on the firm side too due mainly to the run flat tyres. The long, deep boot is generous would be close to class leading. The back seatbacks fold down individually. And between then there's a ski-hatch. I don't play golf, but if I did I reckon in could get four in lengthways if I needed to.
Practicality
I don't know that owning a coupe is exactly practical, however as a strict four-seater, there is a little room for storage between the two rear passengers, but the back seats do split and fold to extend luggage space. There is a storage compartment in the front armrest; the glove box is a decent size and the door bins open outwards to improve access. The back seat is capable of accommodating six-footers without too much fuss as long as you are not a tall driver, but in saying that the rear seat room is better than most if not all the completion.
The 3-Series has a slightly larger boot than its predecessor (440 litres of luggage space), which is good for a four-seat coupe and more than the Mercedes CLK and it is also available with a luggage compartment beneath boot floor which once would have housed the spare. It can be used for all types of gear that would normally mess up your boot…
Equipment
If you want extras in a BMW you are going to pay for it, having said that the 320d, straight out of showroom, with nothing added is nicely configured. Besides the expected features like cruise control, front and side airbags (front seat occupants), head airbags front and rear, seat-belt pre-tensioner, automatic seatbelt handover system, rear park distance control, rain sensor and automatic headlight control, it also comes with a premium six-speaker sound system, Dakota leather, wood grain trim, USB audio interface, dual-zone climate control, on-board computer (with outside temperature display), Bluetooth compatibility, retractable front arm-rests and run-flat tyre indicator.
Options could include, you can add electric seats, navigation, Bi Xenon headlights, headlight washer system and a plenty of other features all the way up to the M-Sport package.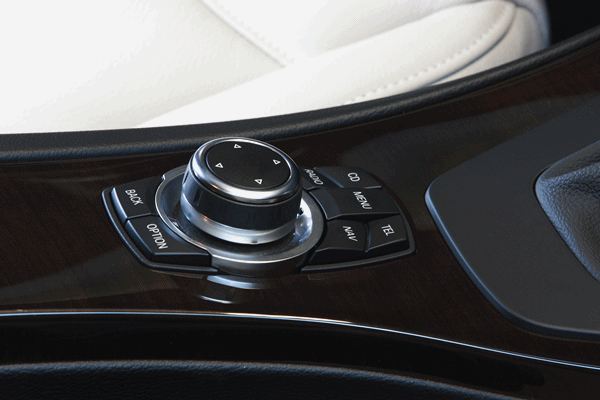 Safety
The BMW has also achieved a five-star rating in NCAP crash tests, putting it toe to toe with other compact luxury competitors. The run-flat tyres help the driver stay in control of the car if there's a punctures and the 3-Series can run for 150 kilometres at up to 80kph with a 'flat'. Six airbags are standard, including twin front and side airbags plus full-length head airbags while Dynamic Stability Control (DSC) which includes traction control is also included.
Summary
The fifth-generation BMW 3-Series combines a high-quality cabin and decent equipment levels with the best drive among 'executive' alternatives; it really does set the class benchmark for driving pleasure. The pick of the line-up for performance and economy – is the excellent 320d Efficient Dynamics which is great to drive and is claimed to return an amazing combined fuel consumption of 5.3 l/100 km.
When you say the words "compact premium luxury" you immediately think BMW 3 series or Merc, Audi, and Lexus well I do anyway. So, should you buy one? Well, if you have got around $65K to spend to spend on a luxury car, run to your nearest dealer. The most comfortable, the most refined, the most powerful, the fastest and best driving car has just gone and got a whole lot better. The latest upgrades make the 320d more powerful and refined than ever, while faultless cabin quality and a supremely enjoyable driving experience seal the victory. The competition better wake up as BMW have again kicked a winning goal with this car, you just don't want the drive to end,-strange I know, but it's how it makes you feel.
After living with the both the 320d Coupe and 320d Lifestyle Sedan (see review) I would buy the later, why? To be truthful it is probably the fact that I live with the disgraceful Sydney road system every day and quite frankly the idea of bumper traffic and a manual (albeit a fantastic manual) just doesn't cut it with me anymore. However they are both exceptional automobiles and yet the sedan just works for me, although you would be a nutter not to love the coupe in your driveway. Either way you would have to say "nice one BMW"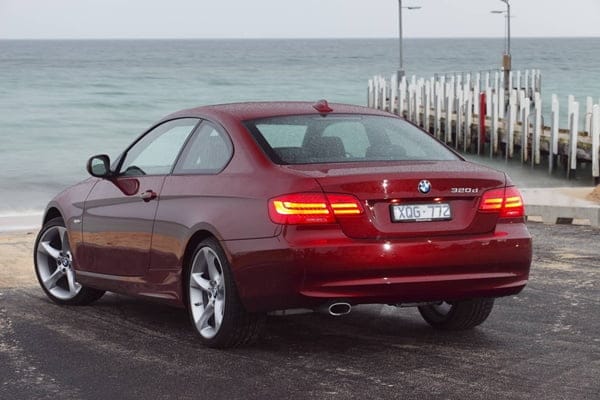 What is good and not so good?
What is good?
Superb Economy
Smooth engine transmission combination
Typical BMW handling
What's not so good?
Wood trim looks a bit cheap
Diesel clatter from outside the car
Lack of internal storage places