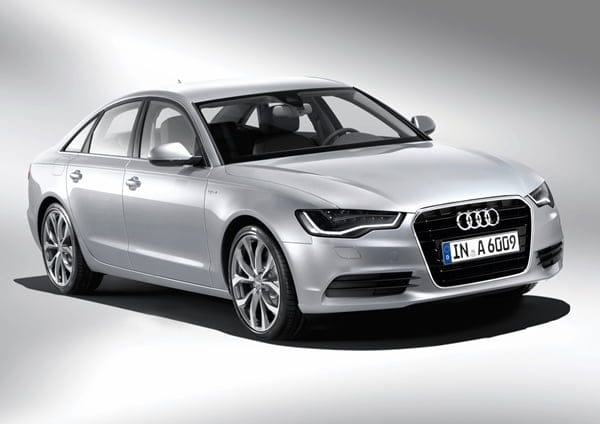 Audi used the 2011 Detroit motor show to reveal the all-new A6 hybrid, the second hybrid model after the Q5 hybrid quattro.
The A6 hybrid employs an extremely efficient parallel hybrid concept: its combustion engine, a 155 kW 2.0 TFSI, works together with an electric motor that delivers 33 kW and 211 Nm of torque. The electric motor sits directly behind the TFSI, occupying the space of the torque converter upstream of the modified 8-speed tiptronic transmission. This transmission sends torque to the front wheels.
A crash-protected area of the luggage compartment houses a light, compact lithium-ion battery that provides 1.3 kWh of nominal power and generates 39 kW.
Depending on requirements, it is air-cooled in two ways – by means of a blower from the interior or via an internal refrigerant circuit coupled to the automatic air conditioning system. This technology largely maintains the rechargeable battery within the appropriate temperature range, thereby ensuring that the vehicle operates on electric power a comparatively large percentage of the time.
The Audi A6 hybrid can achieve speeds of up to 100 km/h purely on electricity; at a constant speed of 60 km/h, it has a range of 3 km. It can also operate with the combustion engine only or in hybrid mode; in the deceleration phases, it recovers power and activates both the engine and the electric motor together when accelerating quickly. Special indicators on the instrument cluster and on the MMI monitor provide a detailed display of the different driving conditions.
The Audi A6 hybrid provides the power of a V6, combined with the fuel efficiency of a four-cylinder engine. It accelerates from zero to 100km/h in 7.3 seconds, top speed is 238 km/h, the average fuel consumption is 6.2 litres per 100 km (European figures), and its CO2 emissions are just 142 grams per km (performance and fuel consumption figures are provisional).