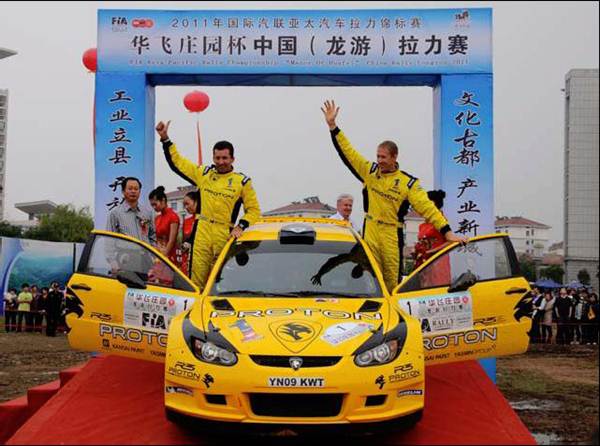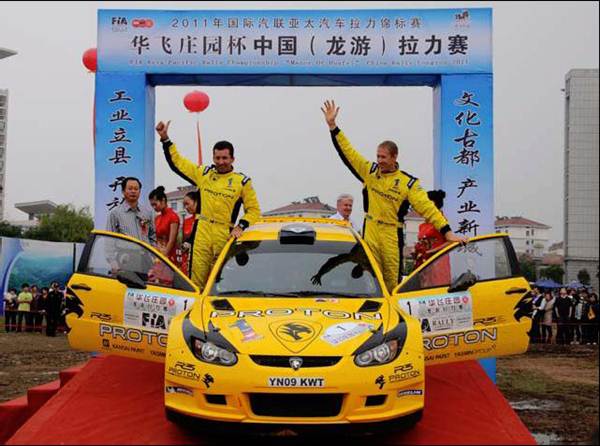 At the Asia Pacific Rally Championship held in China Proton won the driver's and manufacturer's titles. This capped off a dominant season for the Malaysian car maker.
Alister McRae drove the Proton Satria Neo S2000 to its fourth victory of the season in six rounds when he completed the three-day China Rally ahead of Finnish driver Jari Ketomaa in the Mitsubishi Lancer Evolution X with team mate Chris Atkinson finishing third to make it an all PROTON 1-2 in the APRC driver's championship.
The Satria Neo S2000's dominant performance all year long also crowned PROTON winner of the coveted APRC manufacturer's championship ahead of Mitsubishi with Subaru finishing the 2011 season a distant third.
The results in China also saw PROTON becoming the first car manufacturer to win all eight major individual titles in the FIA APRC which includes: the overall FIA APRC driver's title; FIA APRC manufacturer's title; the FIA APRC Teams Trophy; the FIA Asia Cup driver's title; the FIA Pacific Cup driver's title; the manufacturer's title in the FIA APRC Rally Cup for two-wheel drive category; the FIA APRC Rally Cup two-wheel drive driver's title; and FIA APRC Junior Cup driver's title.
"The results in China sum up what has been a challenging but nevertheless rewarding year for PROTON. As a manufacturer, we are committed to be better and this extends to both competition and in the manufacturing of production vehicles for the global market," said PROTON Holdings Group Managing Director Dato' Sri Haji Syed Zainal Abidin Syed Mohamed Tahir.
"Excelling in competition serves a bigger purpose in that significantly supports our aspiration in becoming a competitive global car manufacturer. Motorsports is one of several key strategies being pursued to enhance the PROTON brand especially in markets that we are actively exporting to. In addition, it also enables us to promote the brand and increase awareness in new and potential markets.
"Motorsports also injects excitement into the brand or a particular model, and it provides a platform in which technology and technical know-how can be developed and applied to future road-going models," Syed Zainal Abidin added, citing that a clear example of this was in the strong foundation in ride and handling characteristics shared by both the winning two-wheel drive 1600cc Satria Neo driven by Karamjit Singh and Akira Bamba and what customers can experience in a showroom model Satria Neo.