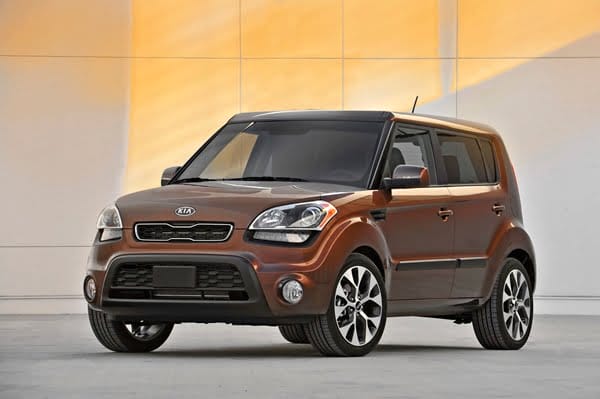 Kia Motors America (KMA) today celebrated the world premiers of the all-new 2012 Rio sub-compact sedan and the comprehensively upgraded 2012 Kia Soul at the New York International Auto Show.
Scheduled to join the KMA line-up this fall – along with its 5-door hatchback sibling unveiled at the Geneva Motor Show in March and shown today for the first time in North America – the all-new Rio sedan ushers in the next chapter of Kia Motors' ongoing design-led transformation with eye-catching design, advanced technologies and sophistication in the small car segment. With all-new ISG (stop-start) technology and class-leading horsepower and fuel economy up to 40 miles per gallon (5.8L/100km), Rio promises consumers impressive fuel efficiency without sacrificing power or fun-to-drive performance.
"The all-new Rio brings Kia's successful combination of world-class styling, outstanding fuel economy, advanced technologies and tremendous value to the smallest and most economical vehicle in the Kia line-up," said Michael Sprague, vice-president, marketing & communications, KMA. "With gas prices rising, sub-compacts are becoming increasingly popular and with more power, up to 40 miles per gallon fuel economy and stunning design, the all-new Rio sets the standard in the sub-compact class and becomes a vehicle that is not only affordable, but one that people will aspire to own."
Class-Leading Fuel-Efficiency and Horsepower
Available in the USA with a choice of three trims – LX, EX and SX – the 2012 Rio is powered by a 1.6-litre GDI four-cylinder engine with the option of either a six-speed manual transmission or six-speed automatic. One of only two vehicles in this segment to offer a GDI (Gasoline Direct Injection) engine, the 2012 Rio offers consumers that elusive combination of power and impressive fuel efficiency, achieving class-leading 135HP (100kW) power and class-leading fuel economy rating of 30/40 mpg city/highway (7.8-5.8L/100km). Rio also offers ISG technology, new to the Kia line-up, where the engine turns off when the vehicle is not in motion. The engine restarts automatically when the driver releases the brake pedal, resulting in lower levels of fuel consumption in stop-start urban traffic.
Sleek and Streamlined Exterior
Conceived at Kia's design studios in Irvine, California, the all-new Rio sub-compact sedan and hatchback exhibit highly sculpted sloping shoulder lines and wedge-shaped exteriors, projecting an athletic profile that conveys power and agility. It also echoes the aggressive lines found on other recently launched Kia vehicles such as the 2011 Optima and Sportage. Both Rio models sport their own interpretations of Kia's signature grille, slimmed down to connect to the dynamic headlamp design, providing a new twist on the Kia family look that includes a bigger air intake to exude a youthful persona.
Luxuriously Equipped Interior
Inside, the 2012 Rio envelopes driver and passengers in a bold and modern cabin, centred on Kia's characteristic horizontal three-cylinder instrument cluster and finished in two-tone trim to emphasize a feeling of spaciousness and comfort. The extended wheelbase (2570mm) greatly enhances passenger and cargo capacity for additional comfort.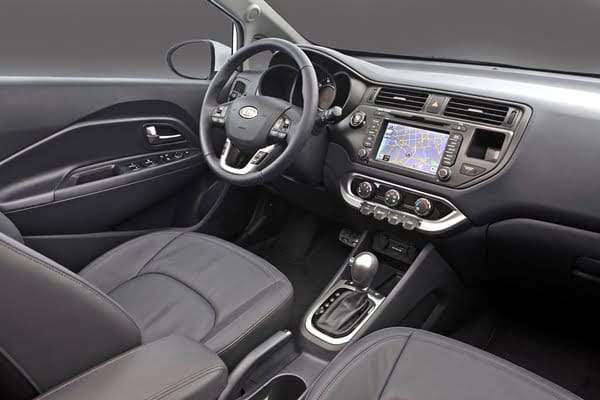 In addition to offering a comfortable cabin, impressive technology features also come standard throughout, including an AM/FM/CD/MP3/Sat audio system with SIRIUS® Satellite Radio capabilities and three months complimentary service and auxiliary and USB audio input jacks for connecting with MP3 players. The range-topping SX trim offers consumers UVO powered by Microsoft® in-car hands-free communication and entertainment system, complete with rear camera display.
Presenting buyers of sub-compact cars with more choices than ever before, 2012 Rio will offer a selection of optional upgrades with numerous features collected into Convenience, Eco and Premium Packages.
All-New Advanced Platform
The 2012 Rio brings with it an all-new platform – longer, wider and lower than the previous generation. Its aggressive and playful stance is reinforced by an overall length of 4366mm (Rio sedan) or 4046mm (Rio5) with a platform measuring 1720mm wide and 1455mm high. Employing high-tensile-strength steel (63 percent), Rio's lightweight design offers increased torsional stiffness for improved handling, ride quality and refinement, plus increased crash safety capabilities while reducing overall weight.
Safety-Minded
The 2012 Rio is equipped with a high level of standard safety features, including six airbags, three-point seatbelts for all seating positions, Electronic Stability Control (ESC), a four-wheel Anti-lock Brake System (ABS), Hill-start Assist Control (HAC) and Vehicle Stability Management (VSM), which coordinates the car's ESC and ABS to help the driver stay in control of the vehicle at all times.
Comprehensive upgrades for new 2012 Soul
The product that began Kia Motors' design-led transformation returns to New York with a fresh and updated look, more power, and the same funky demeanor that consumers all around the world have come to love from this compact crossover. The hugely successful Soul is fine-tuned for 2012 with a significant number of technology and powertrain enhancements to deliver more power and improved fuel efficiency.
"After just two model years, we've given the 2012 Soul significant improvements in power, style and fuel economy, making this iconic vehicle the perfect package for consumers looking for something a little outside the box," said Kia's Michael Sprague. "The Soul has always stood out from the crowd and is responsible for bringing new customers to the Kia brand and positioning the company for a series of record-breaking successes. With gas prices on the rise, this refresh adds even more style and fun-to-drive performance, while also improving fuel economy by 10 percent."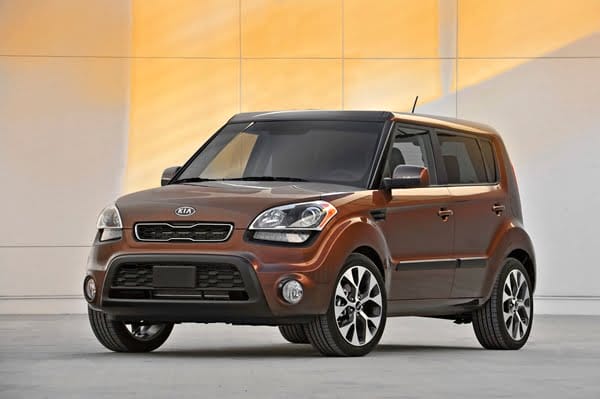 More Power, Less Fuel
The 2012 Soul will amplify the fun-to-drive factor with significant horsepower increases, new six-speed transmissions and the ability to deliver up to 34 miles per gallon on the highway. A new 1.6-litre GDI engine produces 135HP (100kW), an 11 percent increase from the previous engine). For buyers looking for a greater boost in power, a new 2.0-litre four-cylinder engine is available with either a six-speed manual or a six-speed automatic transmission – advanced technology that is rare in this segment.
This engine, which produces 160HP (119kW), a 13 percent increase from the previous engine, and 143 pound-feet (194Nm) of torque, is standard on the three Soul models.
Kia calculates that fuel economy for the 1.6-litre is an impressive 28/34 mpg city/highway (8.4-6.9L/100km), 10 percent more efficient than the previous engine, while the 2.0-litre offers a fuel-sipping 27/33 mpg (8.7-7.1L/100km) for both the automatic and manual transmissions.
More Style & Refinement
In addition to the 2012 Soul's performance upgrades, the new model also introduces a number of significant design improvements. On the outside, Soul is freshened with new projector headlamps with LED daytime running lights, a redesigned hood and new front and rear bumpers. New and modern LED rear light clusters enhance the Soul's unique design, while the overall shape of the vehicle has been finessed to give Soul a smoother and more streamlined silhouette.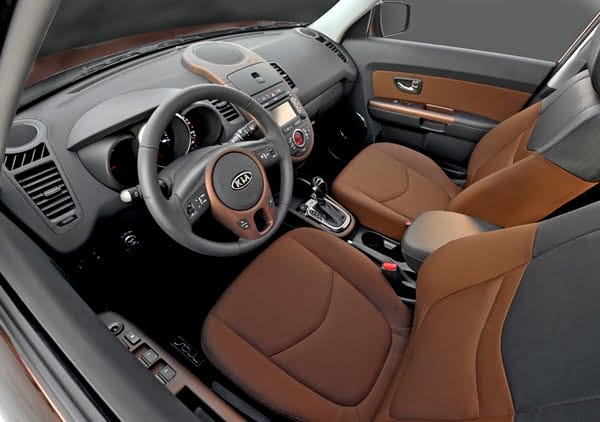 Spacious, State-of-the-Art Interior
Soul envelopes its passengers within a more high-tech, futuristic cabin for 2012, featuring a generous blend of technologies at tremendous overall value. Soul was a recipient of the Ward's AutoWorld "Grooviest Interior" award for 2010, and passengers in the 2012 model will find genuine comfort in the roomy cabin.
New for 2012, an Infinity premium audio system is available on Soul+ models and standard on Soul! and Soul sport models for a more robust listening experience. Also new for 2012 is the UVO powered by Microsoft® in-car hands-free communication and infotainment system. A Premium Package is also available with heated front seats, leather seat trim, automatic climate control, and a navigation system among its upscale comforts.