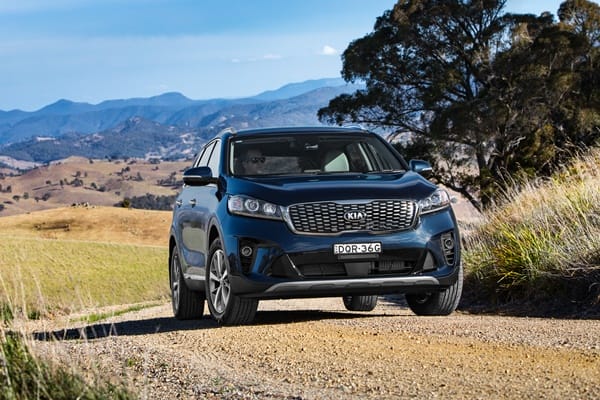 Kia Sorrento SLi 2.2d AWD SUV – Kia recently released the updated version of its much awarded Sorento.
Upgrades are highlighted by an 8 speed "in house" (made by Kia) auto, and the addition of the GT-Line replacing the Platinum as the halo model.
The range has 2.2 diesel, and 3.5L V6 petrol engines, 7 seats, and the afore mentioned 8 speed auto. Weight ranges from 1875, to 1985 kilos, and tows up to 2,000 kilos with a ball limit of 100kg.
Wheels are 19" on the top model, 18" on our SLi, and 17" on the base models.
Kia Sorrento SLi 2.2d Features
Interiors are functional, with an air of elegance and spaciousness. Materials and finishes are of a standard those new to Kia might not expect. And that highlights the reason for the year-on-year sales increases for the brand.
Added to that, there is Kia's permanent
7 year warranty, roadside assist and capped price servicing.
Access to the 3rd row of seats is via the rear doors. 2nd row seats slide forward slightly, while the seat back folds. It is easiest for smaller humans to get in, as is the case for most 7 seater SUVs. The older, more generously proportions peeps might prefer the 1st and 2nd rows.
Kia has a party trick for vehicles fitted with the auto-open feature for hatches or bootlids: you need to nothing but stand there. A series of beeps heralds a majestic sweep as the boot opens. You can use the button under the exterior handle, or on the dashboard if you prefer.
Closing is via the buttons, or by manually pulling the door down. For those with tighter garages, you can move the door to whatever level you like, then by pressing and holding the button, programme that position as the upper limit. It avoids low hanging objects.
New Sorentos gain active lane control which applies torque to the steering to help keep you in the lane. It beeps too, and both can be disabled if you like.
There is AEB (autonomous emergency braking) and a range of other crash mitigation electronics that have become somewhat ubiquitous over recent years.
Kia Sorrento SLi 2.2d AWD SUV Audio
There is a cracking audio system too. It is powerful, and clever, and has 10 speakers. All models have a clear 8" LCD centre screen, DAB radio, and, Hallelujah, Apple CarPlay/Android Auto.
There are still brands like Toyota and Lexus who steadfastly refuse to fully integrate smart phones with this incredibly clever suite of electronics.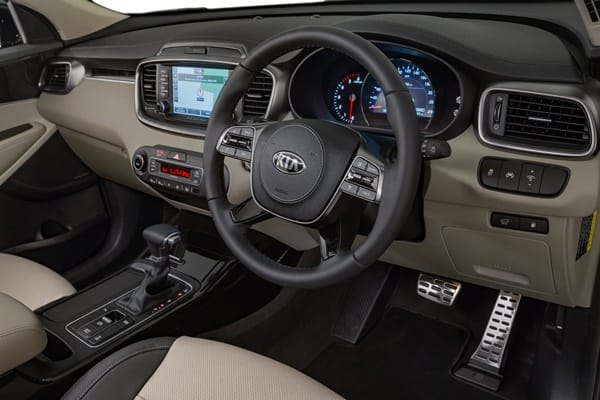 There is vehicle-based voice control for car functions, but "hey Siri" adds another layer by allowing the driver to speak instructions without having the press a button.
You can handle calls, texts, music, and navigation without lifting a finger. These functions need cell range of course.
Kia Sorrento SLi 2.2d Value for Money
The real strength of Sorento is the value for money it brings to a car purchasing.
Kia is no longer the cheap and cheerful compromise it used to be. In fact, that hasn't been true for more than a decade, but is something buyers still think of the Koreans.
All Kias are chock full features that could cost much more if there was a Euro-badge glued on the bonnet.
The drive is sensational.
Sorento is smooth, and although there is a move away from diesels even in SUV cars, Kia's 2.2 power plant is excellent.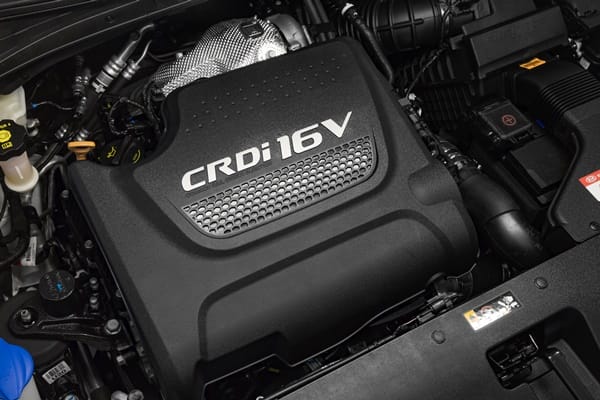 Rather than brute force, Sorento delivers a linear acceleration with a mere 147 kw and impressive 441 Nm behind it.
The experience is regal
a word you might not expect to be used, but that is the way it feels.
Steering uses a rack-mounted electric system which gives tuners a chance to inject excellent calibration and feel.
While road feel with all electric steering is simulated, Kia's Graham Gambold has made sure there is plenty of feedback to the driver.
He is also the person responsible for tuning the suspension (Macpherson at the front and multi-link at the rear) with tyres especially suited to Australian roads.
You might be surprised to hear that many car of companies tune their cars especially for Australia, but it is necessary because of the huge variance of surfaces.
Not only that, but Australians prefer a slightly tighter steering, and firmer suspension to that of both Korean and American buyers. Drive the same car in those countries, and the experience is very different, so I'm told.
When Kia launched Sorento, we saw a lot of different road surfaces, including dirt. Diesel models have part time AWD with lock mode.
There is no question the AWD handled questionable roads with greater aplomb, but for most conditions, the FWD V6 was also pretty good.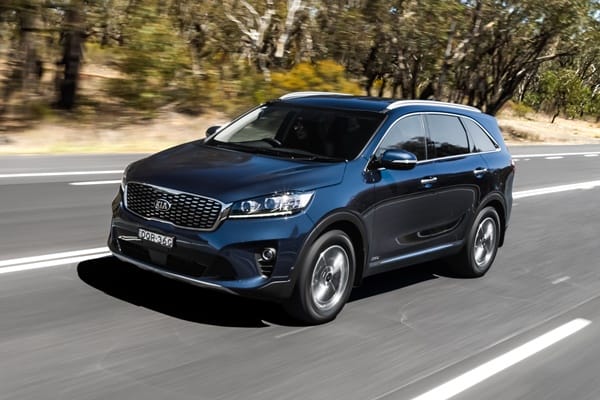 Kia Sorrento SLi 2.2d More Features
The top models have an electrochromatic rear view mirror, while the pov-models make do with a manual day/night do-it-yourself setup.
While all models get parking sensors and rear cameras, only the GT-Line gets 360° view. Blind spot detection, Rear cross traffic alert, and bending LED headlights are also restricted to the top model.
As with most things, there is no doubt these features will filter down as it becomes cheaper, or more necessary, for lower models to get added value.
All models get Smart Cruise Control and SatNav. The latter works extremely well, but I prefer to use Google Maps. For me, the traffic alerts seemed a bit more helpful.
It's worth mentioning the GT-Line also gets auto defrost, and front seat cooling added to its box of tricks.
Kia Sorrento SLi 2.2d Summary
The SLi remains a good position between entry level and the full shebang.
It costs $50,490, and our car added a $595 "gravity blue" paint job.
I enjoyed Sorento because, although it is a very big vehicle, it doesn't feel it. The auto lights and wipers work well, and there are a bunch of included features that make it worthwhile. It is lovely on the highway, where I feel it is most at home.
Although the 3rd row of seats takes up space in the boot, most of the time you won't notice it. It is a shame you can option it out, as the savings in both money and space would be appreciated.
Kia Sorrento SLi 2.2d AWD SUV – It's rare that a car does nothing wrong, but Sorento is one such car. I've been saying this for a decade: How do they do it for the price?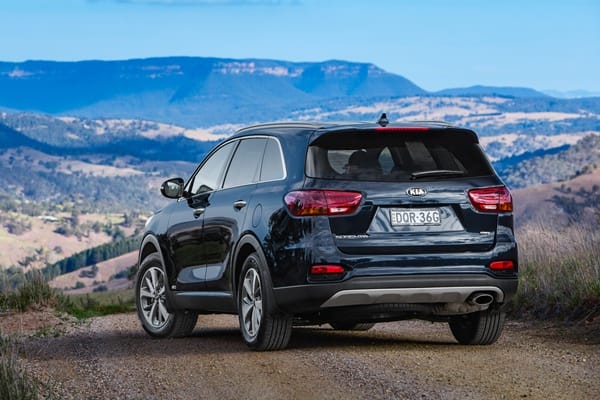 What is Good?
General comfort
Build quality
Apple CarPlay/Android Auto
What is Not Good?
Limited off-road ability
Best gadgets limited to top model
Slightly old fashioned dash
Model: Kia Sorento SLi
Model Price: $55,167 RDAP
Engine: 2.2 Turbo Diesel
Drivetrain: AWD 8-speed auto
Power:  147 @ 3,000 rpm
Torque: 441 @ 1,750 – 2,750
Safety:  5 Star ANCAP
CO2 Emissions: 190 g/km
Economy: 7.2 L/100km (ADR comb)
Tow Rating: Max 2000 kg
Tow Ball Rating: 100 kg
Servicing: 15,000 capped price with complimentary 3 month service
Warranty: 7yr/ unlimited km 1 Yr roadside assist
Overall OzRoamer Rating     78.5/100
Behind the Wheel 8.5
Comfort 8
Equipment 8.
Performance 7
Ride and Handling 8.5
Practicality 9
Fit for Purpose 9
Towing Ability 7
Off Road Ability 5
Value for Money 8.5
Summary
Kia Sorrento SLi 2.2d AWD SUV – It's rare that a car does nothing wrong, but Sorento is one such car. I've been saying this for a decade: How do they do it for the price?