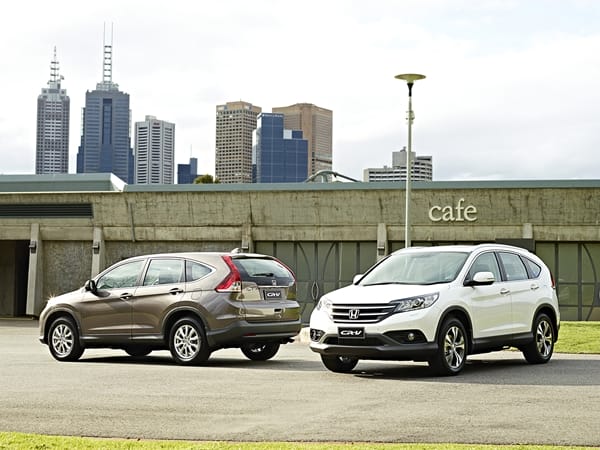 The all-new Honda CR-V will make its Australian debut at the Australian International Motor Show (AIMS) in Sydney on 18 October.
Honda Australia's Director and General Manager Sales and Marketing, Mr. Stephen Collins said Honda's stand at this year's AIMS will definitely surprise and delight. "We are really looking forward to the CR-V's Australian debut. The fourth-generation CR-V has been a great success so far around the world and we know Australians will embrace the upgrades to its styling, features and handling Honda's engineers have made."
Originally launched at the 1995 Tokyo Motor Show, the Honda CR-V was one of the first of the modern generation of 'soft roaders'. It became a benchmark for this fast growing segment with its practical size and excellent utility.
"The CR-V has been one of Honda Australia's most successful models. The segment has been rapidly expanding since the introduction of the CR-V back in 1997 and it has performed very well for us in that time," Mr. Collins said.
For the first time in Australia, the CR-V is available with a choice of both two and four-wheel drive; the two-wheel drive is available in two variants and the four-wheel drive is available in three variants.
Over five and a half million CR-Vs have been sold across the world since its introduction, with over 133,000 in Australia alone.
The highly anticipated fourth-generation CR-V will be on sale mid-November.
Also making its Australian debut at AIMS is the all-new Jazz Hybrid. Due to hit our shores in early 2013, the Jazz Hybrid will join Honda's growing hybrid offering; Civic Hybrid, Insight and the award-winning CR-Z.
Honda introduced hybrid motoring in Australia with the first-generation Insight back in 2001. This car paved the way for Honda's modern hybrids, demonstrating the benefits of petrol-electric technology as well as proving the reliability of this previously unseen system.
The Jazz Hybrid uses Honda's unique Integrated Motor Assist (IMA) system, which couples a conventional petrol engine with an electric motor for more power when needed. The Jazz Hybrid – as with all Honda hybrids – does not need an external power source to be recharged. The battery that powers the electric motor recharges automatically by capturing the energy from braking.
The Jazz Hybrid has fantastic fuel consumption, using just 4.5 l/100kms (combined urban/extra urban) with 107g/km of CO2. This means the Jazz Hybrid can travel around 850 kilometres on one tank of fuel.
In the 10 years since the Insight was launched, the world has changed a great deal and more environmentally sensitive technologies have become mainstream. Honda's first foray into the hybrid market started a petrol electric revolution.
The entire Honda range will also be on show at the Honda stand at AIMS 2012.
The Wheels Car of the Year and Australian International Design award winner CR-Z;
The Civic range: sedan, hatch and hybrid
Drive's 'Best People Mover' (2011) for the third year running, the Odyssey
The twin Accords: Accord and Accord Euro
The versatile Jazz and the new-look City
The recently upgraded Insight