We make judgement on modern motor cars from a very high standard. It is worth reflecting on some of the trials and tribulations of motoring from past years.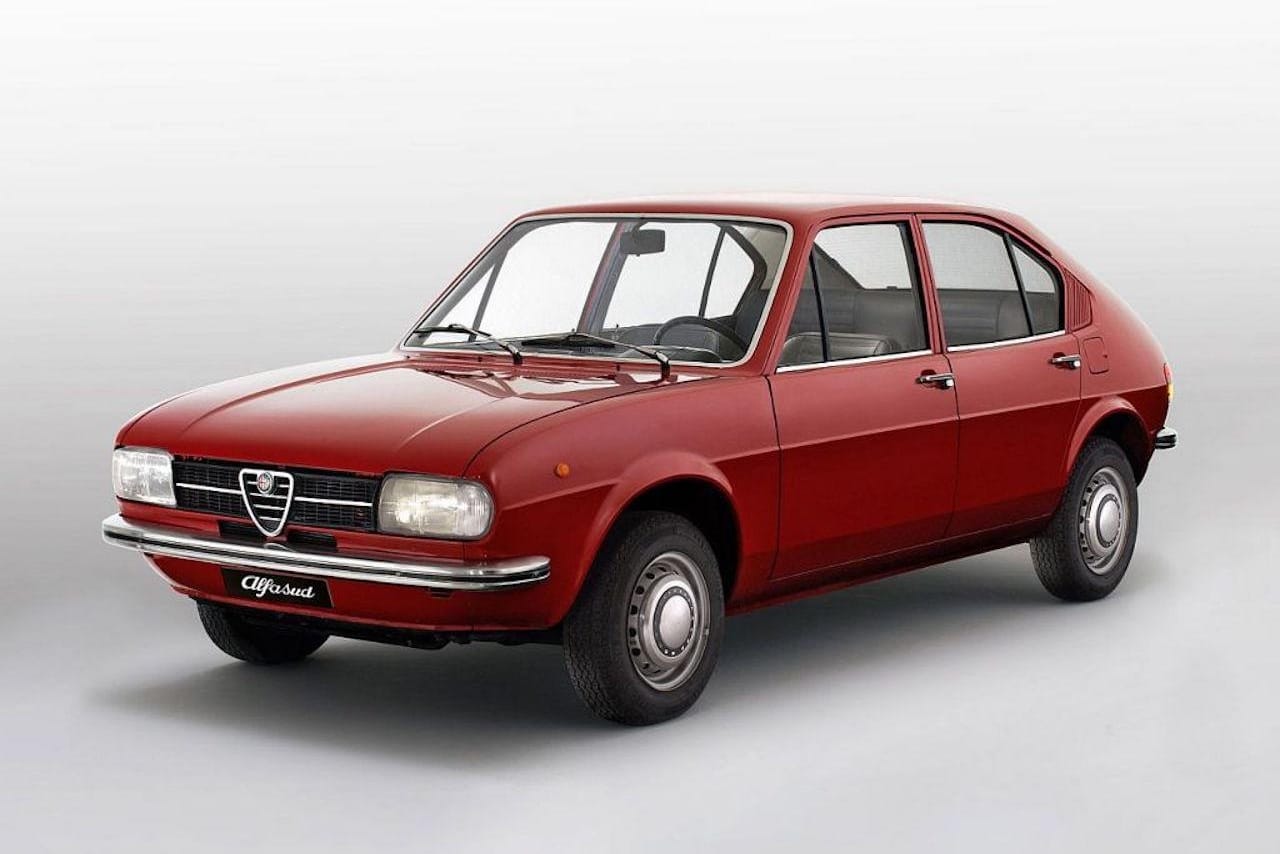 Evan Jones is part of our project to look at distraction in cars from the information system and operation requirements.
But he has owned many cars including several Alfasud. He enjoyed them all although his first one had a recurring difficulty
I've had three, I had a my first was 1.2 litre Thai which I bought from a dealer. I had that for a while. Its biggest issue was that the front the front brakes would sometimes see the callipers and it was a matter of stopping getting an iron bar out and smacking the calliper, but ultimately led to getting the disc replaced because it warped. Otherwise it was all it needed was a lot more power.
Wikipedia gives this information on the background to the Alfasud
TO LISTEN TO THE RADIO REVIEW CLICK BELOW
Alfa Romeo had explored building a smaller front wheel drive car in the 1950s but it was not until 1967 that firm plans were laid down for an all-new model to fit in below the existing Alfa Romeo range.
The car was manufactured at a new factory at Pomigliano d'Arco in southern Italy, hence the car's name, Alfa Sud (Alfa South). January 18, 1968, saw the registration at Naples of a new company named "Industria Napoletana Costruzioni Autoveicoli Alfa Romeo-Alfasud S.p.A.". 90% of the share capital was subscribed by Alfa Romeo and 10% by Finmeccanica, at that time the financial arm of the government controlled IRI.[6] Construction work on the company's new state-sponsored plant at nearby Pomigliano d'Arco began in April 1968,[7] on the site of an aircraft engine factory used by Alfa Romeo during the Second World War.[7]
The Alfasud debuted at the Turin Motor Show in 1971, featuring front wheel drive with a Boxer of 1,186 cc water-cooled engine with a belt-driven overhead camshaft on each cylinder head; front (MacPherson struts and rear beam axle with Watt's linkage; inboard front disc brakes as well as rear disc brakes as well as rack and pinion steering. The boxer engine allowed a low hood/bonnet line, contributing to an aerodynamic profile, a low center of gravity, and noteworthy road-holding and handling. Despite its two-box shape, the Alfasud was not initially offered as a hatchback. Lights, turn indicators, horn, wipers and heater fan were operated by two column stalks.
A full interview with Evan is in the overdrive program and podcast.
This is a Motoring Minute
Im David Brown
Motoring Minutes are heard around Australia every day on over 50 radio channels through the Torque Radio network. 
Our Motoring Minute has an average daily audience of over 150,000 listeners. With over 750,000 listeners a week they are also syndicated through various news sites around Australia.
Additionally Motoring Minute is also broadcast as part of Overdrive Radio Program, which is broadcast through the Community Radio Network across Australia.