Mitsubishi Outlander – Gotta say straight up the new, larger Mitsubishi Outlander nails it in the looks department. Therefore, it's not surprising sales of the new model have gone through the roof.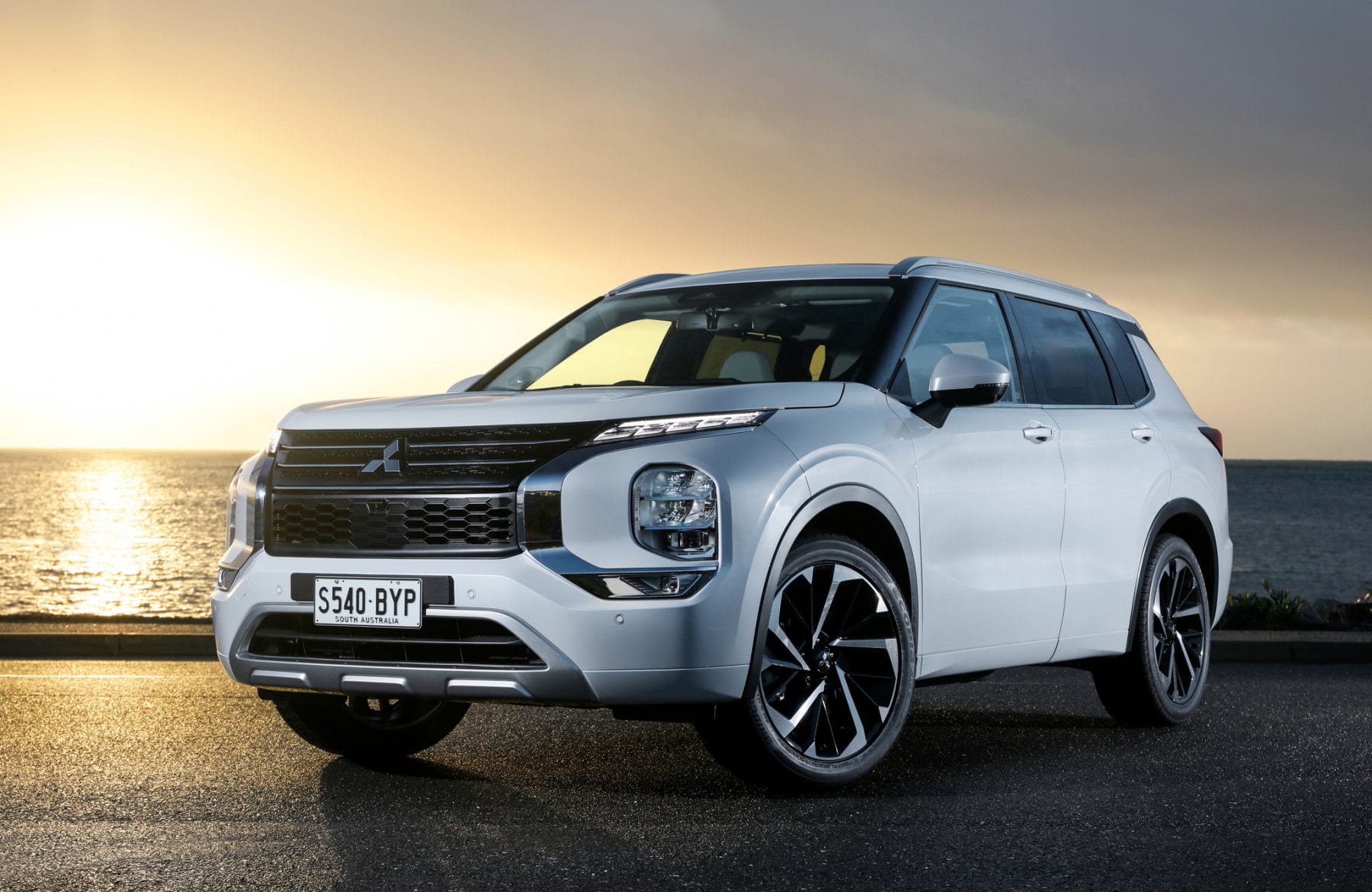 Styling cues from Land Rover/Ranger Rover are obvious but new Outlander has its own distinct character and coupled with the generous features package, is a strong competitor in the medium SUV class.
Born of the Nissan/Renault/Mitsubishi alliance, new Outlander no doubt shares plenty with similar models from the other alliance members, in particular, Nissan's X-Trail. But Outlander is more appealing than that car on a number of fronts not the least being looks but also the fact that it's out of a Japanese factory.
Driven was the penultimate Exceed 2.5 model that sells for $47,990 which represents good value against competitors.
A PHEV (Plug-in Hybrid Electric Vehicle) will be here soon. Based on other Mitsu' PHEV models, the Outlander would be a better every day prospect as a simple 2.5-litre petrol.
Overall performance is middle of the road as Outlander demonstrates a somewhat sporty drive feel for a weighty 1760Kg SUV aided by a version of Mitsubishi's handy SAWC all-wheel drive system complete with yaw control that measures how much lateral movement the vehicle has when cornering.
Engine performance is adequate with 135kW and 245Nm available from the direct injection four cylinder. An 8 step CVT transmission puts power to the wheels with paddle shift and multiple modes available to change performance and handling characteristics.
It runs on 91 regular unleaded and will tow up to 1600kg.
The only issues confronting Outlander a two things called RAV4 and CX-5 which dominate the segment with RAV4 offering arguably the best hybrid petrol/electric system around. But in my opinion, Outlander has it over the RAV4 and old CX-5 in the looks department, inside and outside.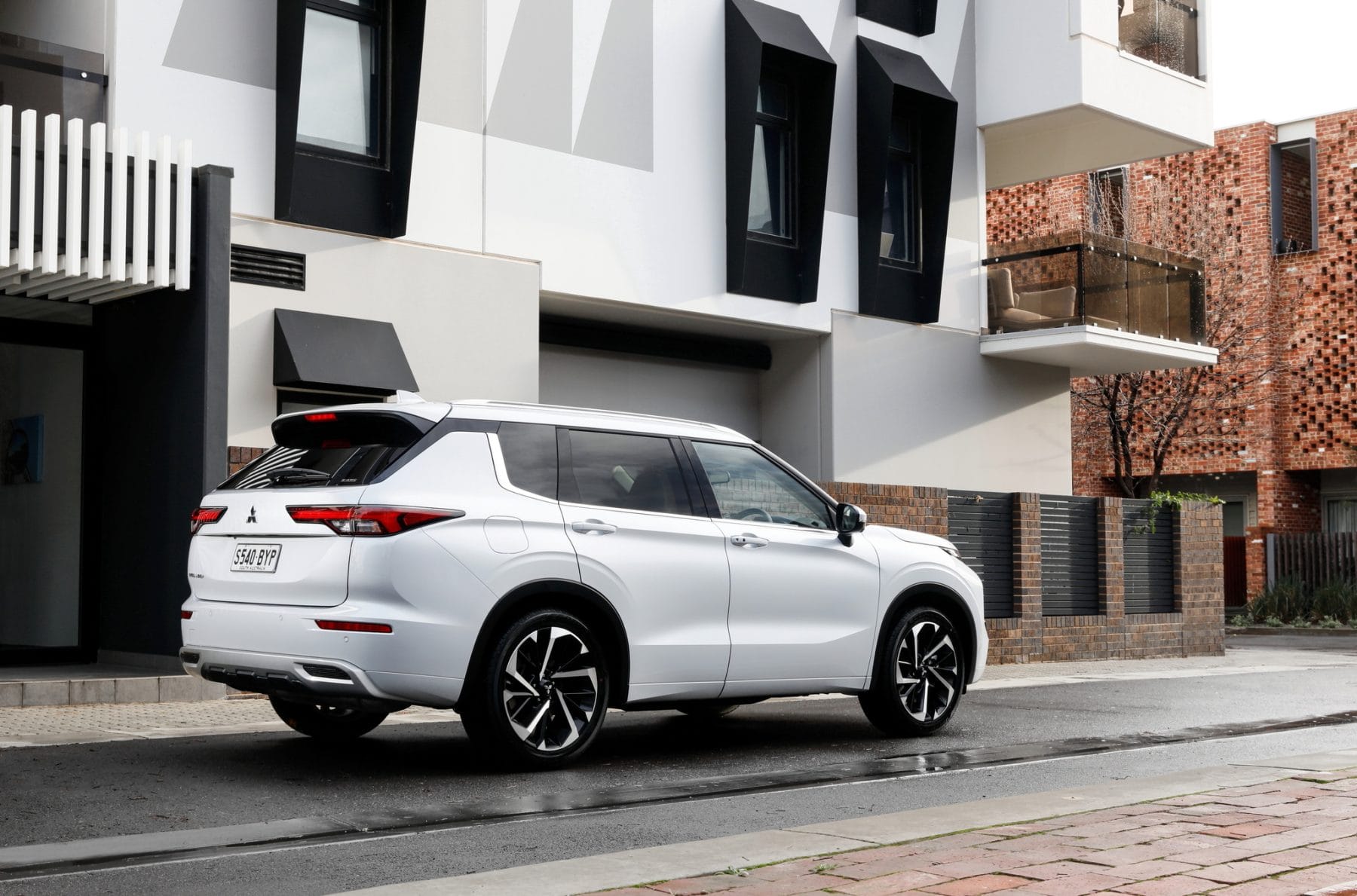 Outlander Exterior
That bluff front looks like it's straight out of Range Rover's song book but Mitsubishi has bestowed Outlander with its own distinctive flavour with links to other models in the line-up with a focus on the "dynamic shield" grille. The rear end has a fairly generic SUV look to it with high mounted tapered tail lights, one piece tail gate and integrated rear bumper with a shroud over the rear glass. It is similar to anything from Hyundai, Nissan, Kia, BMW or Mazda.
The guards are slightly pumped out accentuated by indented style lines over the top edge along with plastic wheel arch inserts underneath.
Brushed aluminium highlight panels and chrome body hardware lift the look particularly at the rear with twin, wide spaced exhaust outlets framed by a wide metal-look panel, partly replicated at the front under the grille.
Parked up against the previous Outlander, this new one is much bigger in every measurement. It has a decent set of 20-inch alloys filling the wheel arches and not too much exterior bling spoiling the handsome lines.
The pearl white duco on the test Exceed makes Outlander pop on the street where it's often mistaken for a Land Rover/Range Rover product. But closer inspection demonstrates strong Mitsu' DNA especially the large curved "blades" either side of the grille and inset driving lights to the outside of those.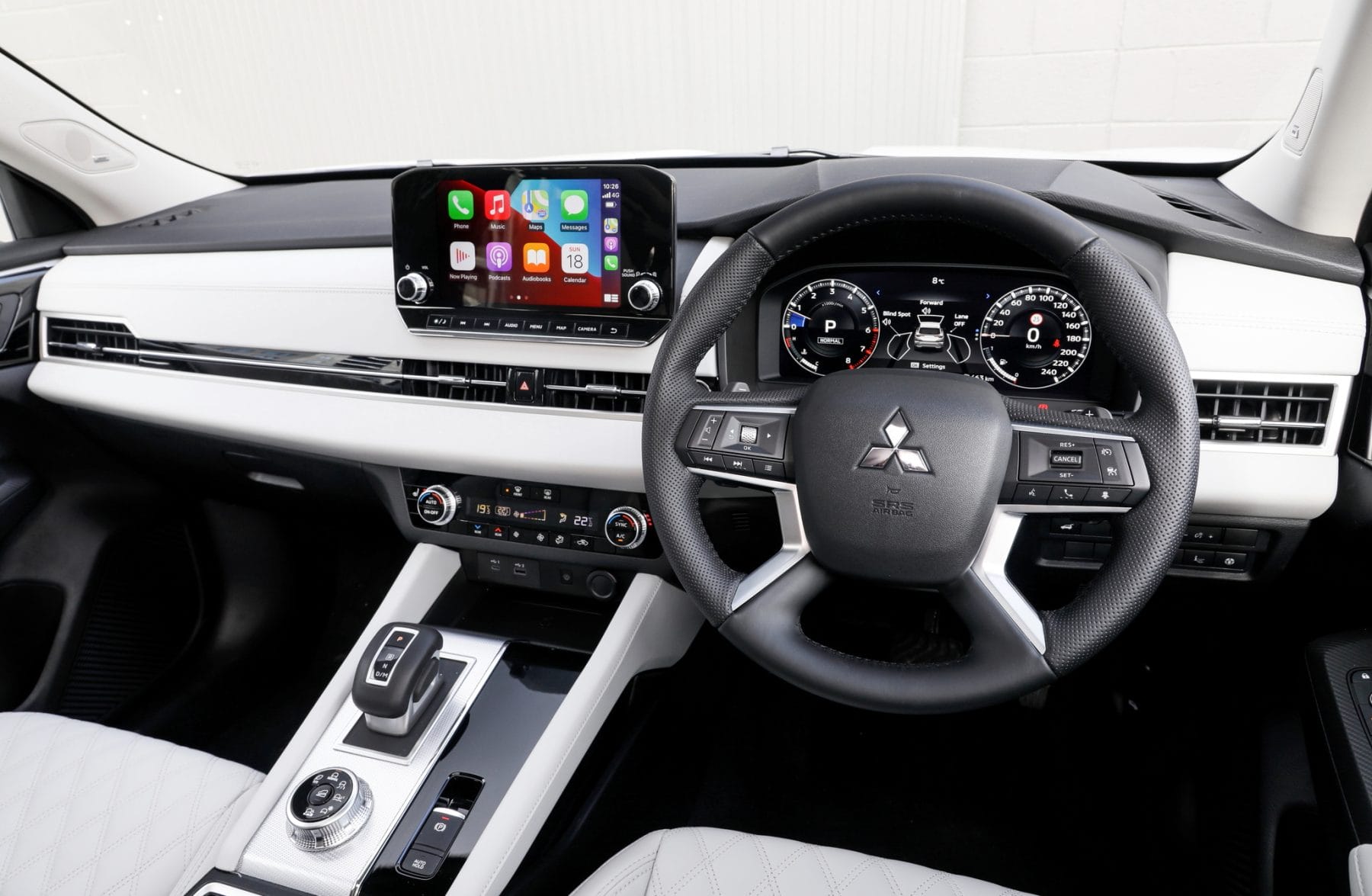 Outlander Interior
Inside is the latest rendition of a Mitsubishi passenger compartment and is completely different to the previous model.
Is it better?
Yes, by a long shot being more functional and more integrated in a classy "European" style. The dash has a lower ledge topped by two staggered top decks that contain Outlander's various controls and instruments. There's a large centre mounted info' touch screen with easy to use apps and under that, a neatly executed centre console with two side bars and a storage box underneath… as well as  a flip top armrest compartment.
Two colour tones are available on Exceed which sets off the entire dash. A new auto transmission selector makes gear selection easy and the multi-function wheel is small, leather clad and sporty.
Outlander Exceed features 7 seats with the smallish rear pew folding flat into the load space floor.
Leather upholstery is splashed throughout the interior and a premium, 10-speaker Bose audio system adds to interior ambience.
Electric assistance and heating is provided to both front seats and the Exceed has three zone climate control.
The large electric sunroof is a waste of space as far as I'm concerned but offers a pleasant evening drive experience.
Offering plenty of adjustment, Outlander's seats are good for the long run and the rear pews are relatively easy to access. Boot space with all three pews up is smallish.
Passenger space is generous for a vehicle this size and config.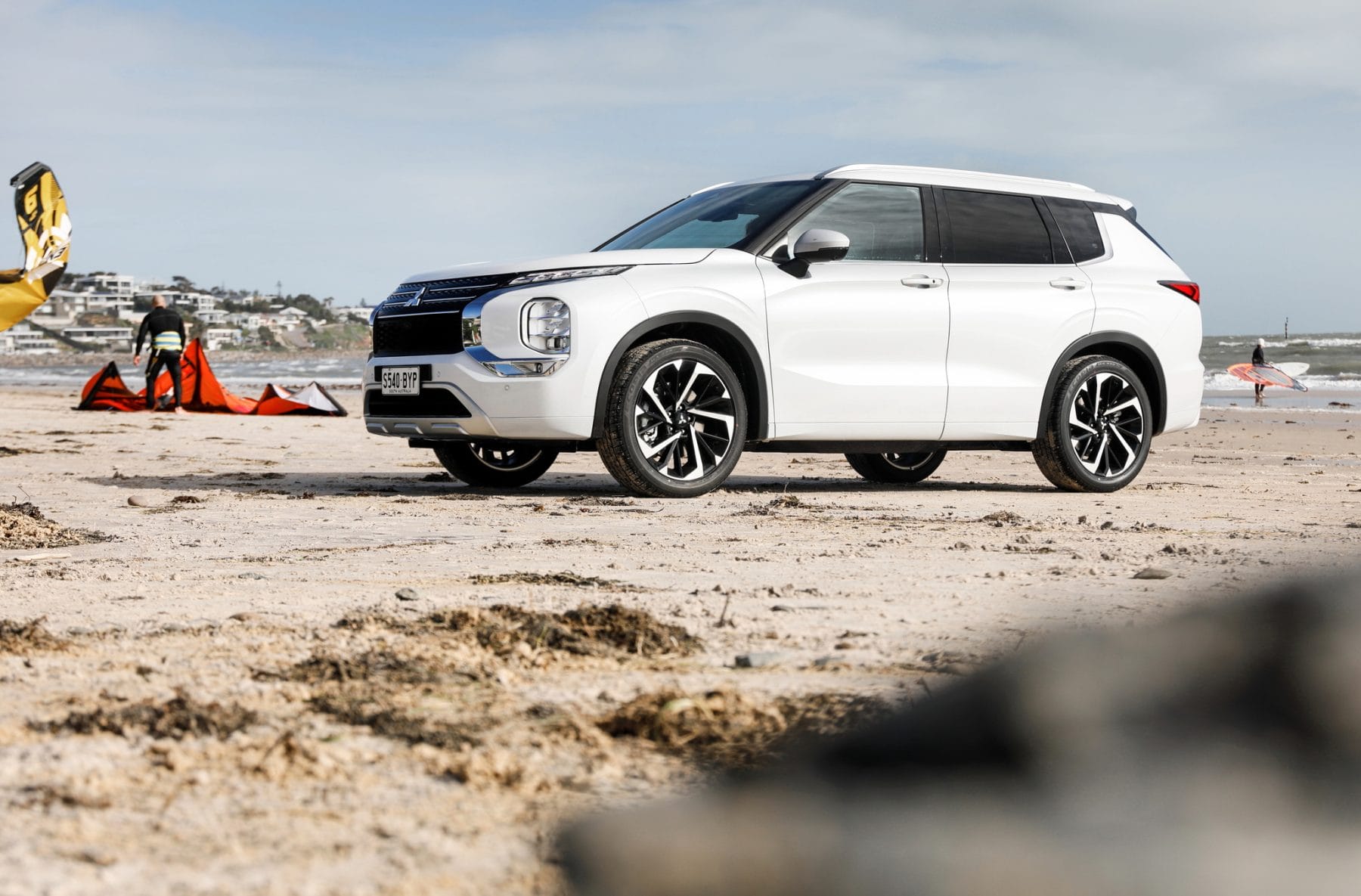 Features
Exceed is one down from the top and has pretty much all the kit available in Outlander. You get:
6-mode all-wheel drive
Electric sunroof
Auto headlights and wipers
Leather
Side window sun shades
Power tailgate
Paddle shift
Head up display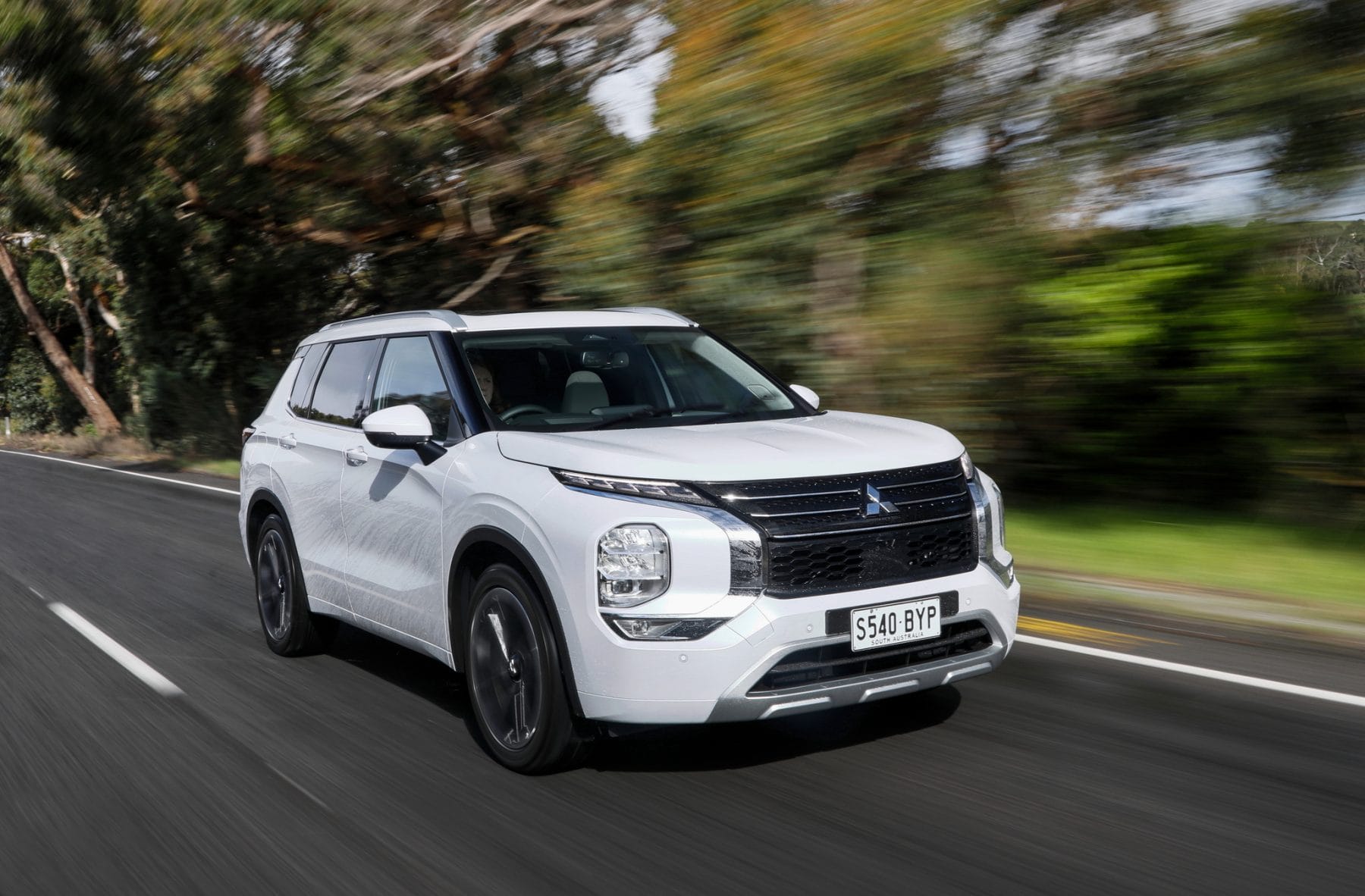 Drive and Engine
The engine is a 2.5-litre, four cylinder petrol unit with direct fuel injection delivering 135kW and 245Nm. Those outputs are adequate for a vehicle this size and weight but it isn't a sporty performer by any stretch though the 8-step CVT capably harnesses available power.
Power delivery is smooth and the Outlander cruises quietly once a desired speed is attained.
It consumes around 8.5-litres/100km in general driving using cheaper 91 RON fuel.
Ride quality is comfortable and controlled providing Outlander with a pleasing drive feel through corners and over bumps. The all- wheel drive system is on demand and as is usually the case with these systems, by the time you need all-wheel drive it's probably too late. However, you can lock it in but forget about moderately hard core bush bashing in this beast, it's gravel, snow and possibly sand driving though the latter might be problematic as technology will apply the brakes when it senses wheel slip… all the time in sand.
I wasn't able to tow anything as the test vehicle didn't have a tow bar but it's rated at 1600kg which seems possible though you'd be flogging it along to maintain a steady pace with the CVT revving up often.
On our test drive we covered perhaps 2000km and found Outlander to be a good all-rounder especially if used in a "family" context. Some of the driver assist tech' is a pain in the bum as it's over intrusive but can be turned off (every time you drive the vehicle).
Safety
Outlander rates 5-stars and benefits from Mitsubishi's MITEC safety system that's essentially every camera driven feature in the company's safety arsenal. That means radar cruise, lane keeping x 2 levels, park assist, blind spot assist, drive attention, adaptive high beam, forward collision mitigation, and rear cross traffic alert and so on. Also has a form of brake vectoring on the rear to assist cornering and stability.
On a completely new platform, new Outlander would no doubt offer superior primary collision protection through better design and materials.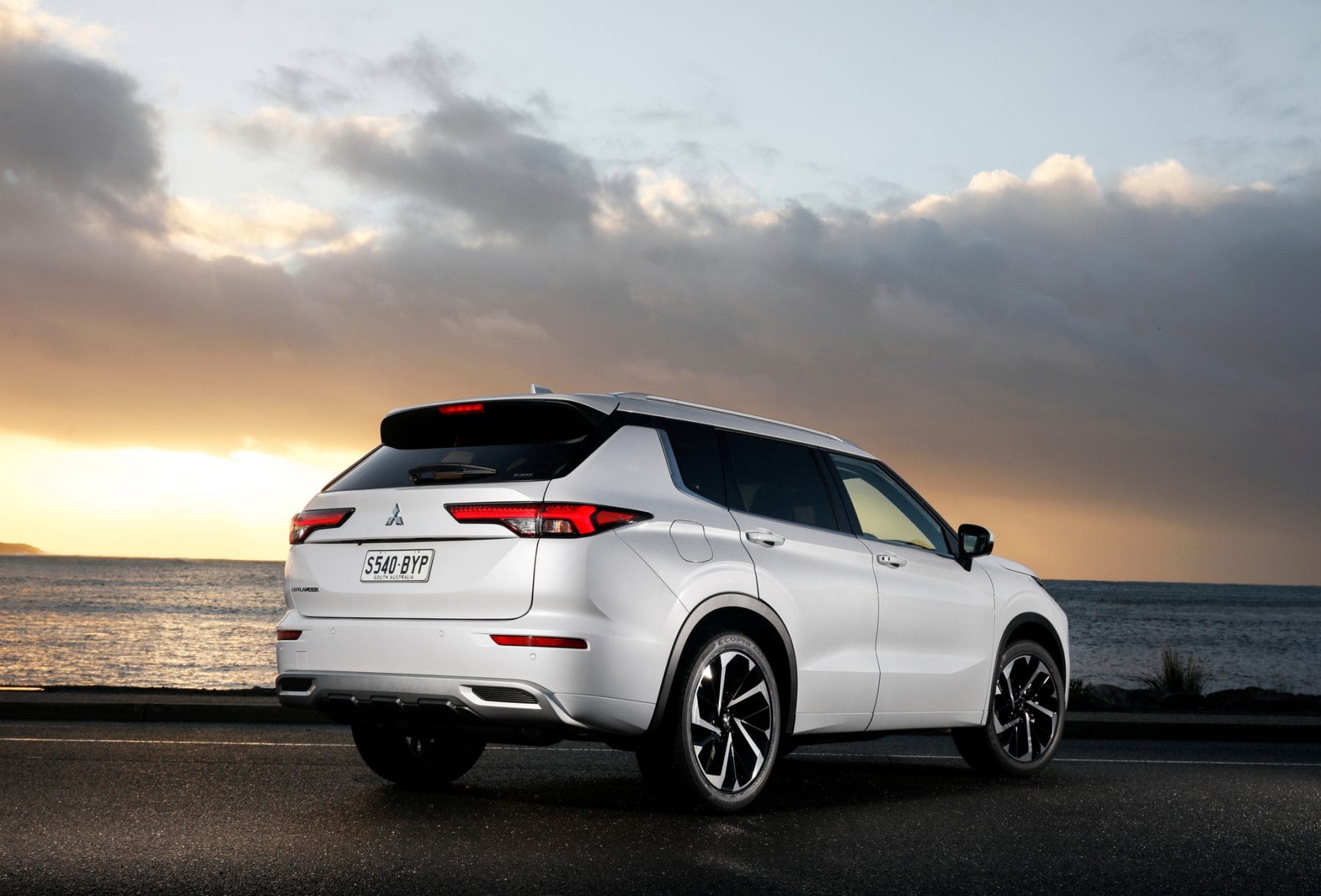 What is good?

What is not so good?

Striking good looks
Generous level of features
Affordable

Can be thirsty
Question mark over towing
Some intrusive driver assist features
Summary
New Outlander is a vast improvement on the previous model. Bigger, safer, much better looking, more comfortable. Has some pesky driver assist stuff that annoys but feels robust and safe on the road. Not a real fourbie, Outlander could take you moderately into the "boonies" while doubling up as the family bus.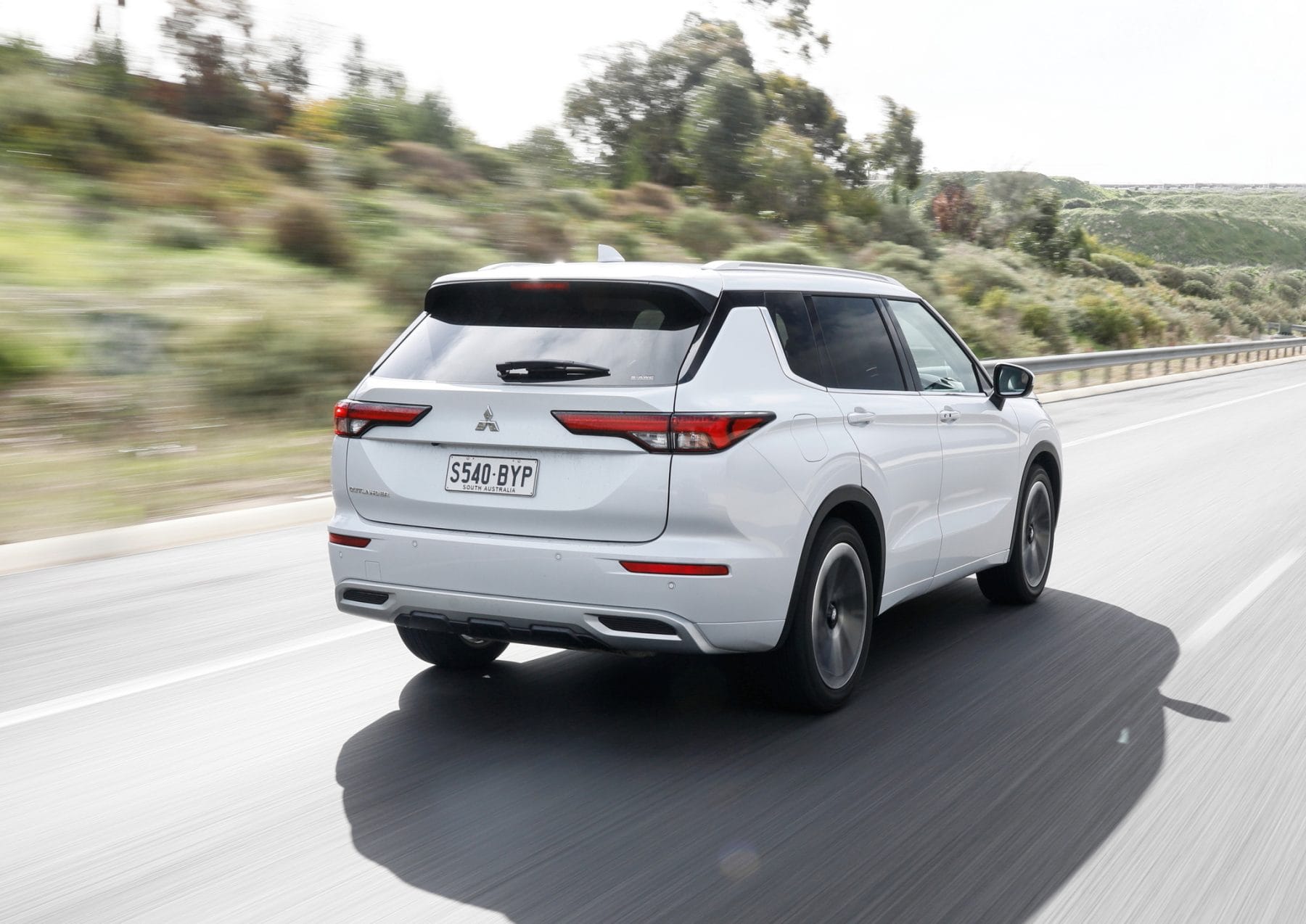 | | |
| --- | --- |
| Model | Mitsubishi Outlander Exceed 2.5 |
| Price | $ 47,990 |
| Engine | 2.5-litre petrol four cylinder with direct fuel injection |
| Drivetrain | Front wheel drive with 8-step CVT  and on-demand AWD |
| Power | 135kW @ 6000rpm |
| Torque | 245Nm  @ 3600rpm |
| Safety | 5-star ANCAP |
| CO2 Emissions | 185g/km |
| Economy ADR/ Capacity | 8.1L/100km /  55L |
| Towing/Tow ball |  1600Kg / 160Kg |
| Servicing | 1year/15,000km intervals @ $199 each |
| Warranty | 10yr/ 200,000Km with 1yr roadside assist |
*MLP Includes GST and LCT but excluding statutory charges, dealer costs and dealer delivery. See your dealer for RDAP. Does not include price of options. Some features mentioned in the article are options. RDAP means Recommended Drive Away Price (without options but including all other charges).
Overall Rating -

7/10
Summary
New Outlander is a vast improvement on the previous model. Bigger, safer, much better looking, more comfortable. Has some pesky driver assist stuff that annoys but feels robust and safe on the road. Not a real fourbie, Outlander could take you moderately into the "boonies" while doubling up as the family bus.