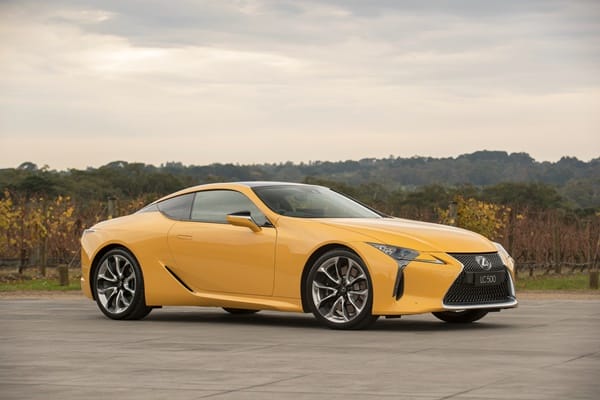 Not many of us can afford to buy a vehicle that is upwards of $200,000 or even drive them. So when I had the opportunity to drive the Lexus LC500 Sports Car I jumped at the chance. As it turned out I was going to Canberra for a car launch so my fellow journalist Alan Zurvas and I decided to drive and use the GT for the purpose it was designed for. Long distance Grand Touring.
We picked up the Lexus LC500 from Caringbah and headed down the coast towards Canberra. When you first set eyes on the LC500 its sleek design is appealing. Lexus have gone all out with this vehicle.
It is a follow up to the LFA Supercar and uses a new GA-L (Global Architecture – Luxury) platform which is central to the LC500's performance, preserving the LF-LC's defining low roof and bonnet lines while enabling a low centre of gravity and highly rigid body. The LC is the most torsionally rigid Lexus ever built.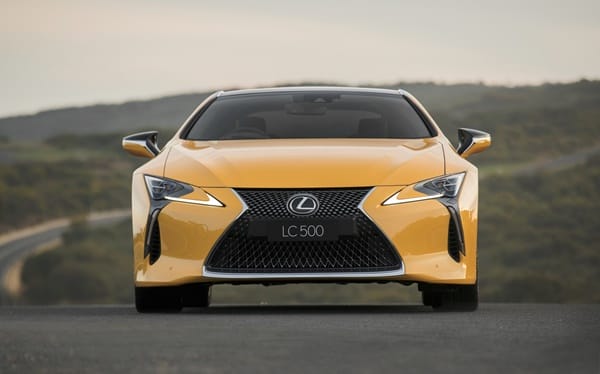 I feel the looks will be polarising though, I am ambivalent but Alan is enamoured with them. One thing is for sure if you have any desire to be the centre of attention, then buy the LC500 as you will get looks and comments everywhere you go.
Open the doors and you are in for a treat. The interior is luxurious and presents semi-aniline leather-accented upholstery with leather and suede everywhere, sports pedals, magnesium alloy paddle shifters, six drive modes, and stainless steel scuff plates.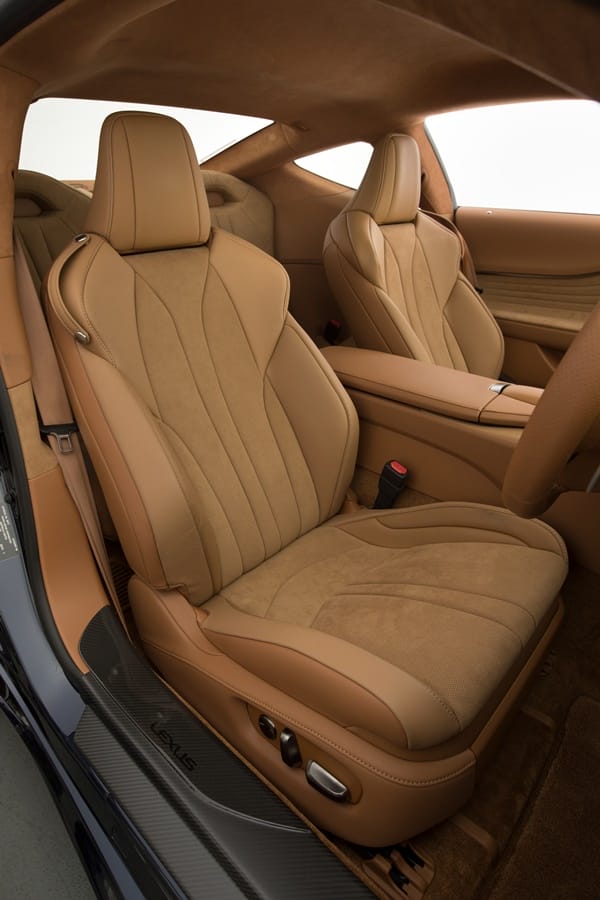 For those advancing in age getting down into the LC500 will prove a challenge, however once inside the front seats are individually sculptured and over a long period of time very comfortable. They are heated and ventilated with 12-way power adjustment and memory function. Unfortunately there is no wing adjustments for the seats.
There is enough seat slide for even my large frame to have enough room. Having driven a few smaller sports cars lately like the MX5 and 86 in which had great difficulty in fitting in,  I was pleasantly surprised by the amount of leg room available for the driver. The small thick leather steering wheel frames the dash and is perfectly sized and balanced.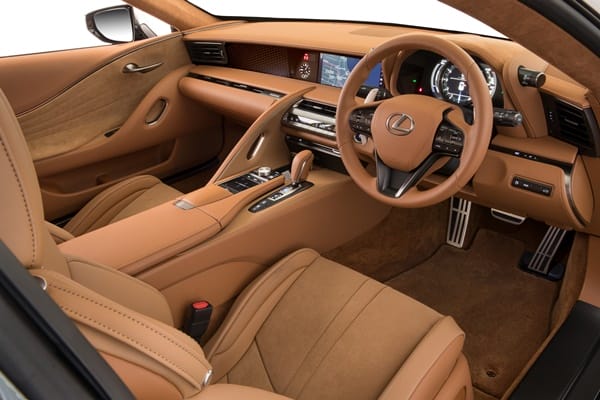 The dash is the sliding style first previewed a few years ago. It is a single instrument dial with an eight-inch multi-information display, while it is clever and cool it seems a little dated when compared to Audi's stunning virtual cockpit design. The LC debuts the latest Lexus audio and multimedia system with a 10.3-inch display, enhanced voice recognition, satellite navigation with SUNA Live Traffic, Lexus Enform connected mobility and, with compatible smartphones, Siri Eyes Free and Miracast. Add to that a brilliant Mark Levinson 13 speaker audio system that surprisingly uses an optical drive.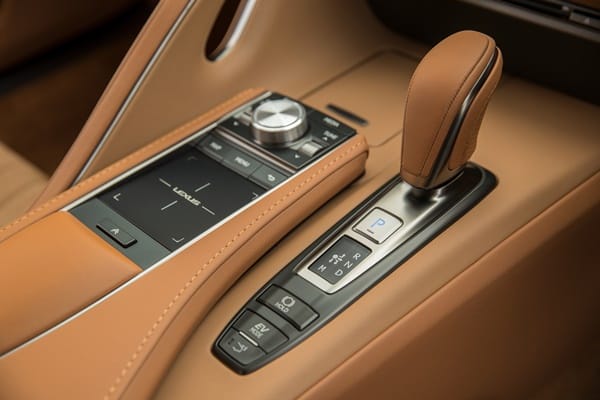 You do however feel cocooned, almost trapped by the huge centre console area. Visibility is passable over the bonnet, but you can't see where the corners of the car are. Visibility over the shoulder is poor and out the rear just ok.
The rear seats, although beautiful and sculptured for comfort are pretty much useless other than for storing overnight bags etc. When anyone taller than 180cm drives there is no room for anyone to sit behind. My driver's seat is actually touching the rear seat. The other problem is that access to the rear seats is atrocious. They would have been better off having no rear seats and have a larger boot area. On that topic the boot is surprisingly spacious with a capacity of about 5-6 overnight bags. But they will have to be smaller style.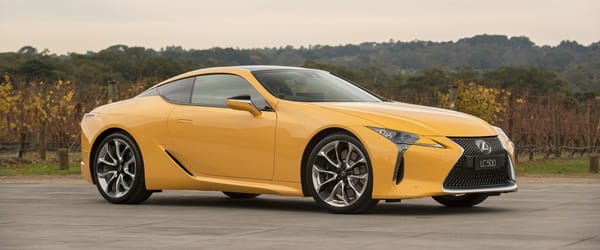 Standard features include full LED lighting, glass panoramic roof, flush door handles, large colour head-up display, two-zone climate control, new adaptive variable multi-link front and rear sports suspension and 21-inch forged alloy wheels with run-flat Michelin Pilot Super Sport tyres.
At the centre of the appeal for the LC500 is a Euro 6 compliant 5L V8 that surprisingly is naturally aspirated.  The high-revving V8, featuring direct injection and an exhilarating exhaust note, is matched to the world's first 10-speed direct-shift automatic transmission for a premium car, delivering maximum power of 351kW @ 7100rpm and peak torque of 540Nm @ 4,800rpm. The LC500 will accelerate from 0-100kmh in 4.7seconds.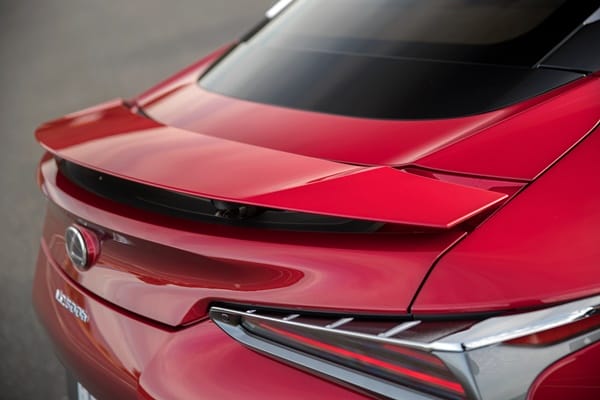 Accelerating from standstill, planting the right foot, you get not only the awesome aural delight, but the feeling of almost unlimited power. Having the peak power at 7000rpm allows the engine to continue to power on. It is exhilarating and just plain FUN.
I have sat in the driveway a number of times and just started the engine to hear that deep throaty V8 burble. As you are driving around the suburbs you find yourself having a tiny blast from the lights again just to hear the sound of the engine.
Driving on the freeway the LC500 barely raises a sweat cruising at 110-120kmh resting around 1500rpm. It is all too easy to casually exceed the speed limit without thinking. Such is the ease with which the engine ticks over.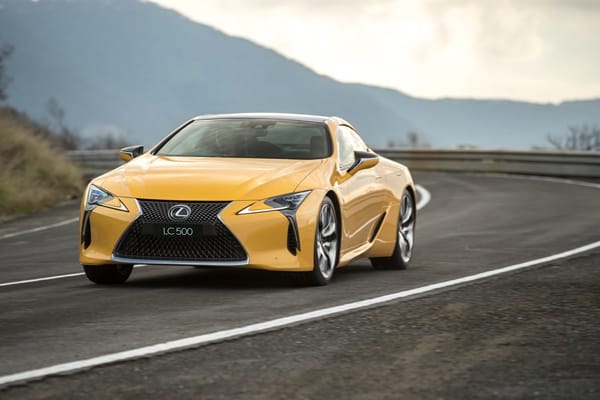 Having all that power beneath your right foot and loving the sound of the V8 burble can cost you dearly though at the fuel pump. Around town driving carefully we achieved around 15L/100K however that can easily double with a heavy right foot. On the freeway we got it down to 7.2L/100k but averaged around 8.4L/100K over hundreds of kilometres.
Driving the LC500 is pure pleasure as a result of the combination between the 5.0L V8 engine, 10 speed transmission and the new multi-link suspension design. The layout allows excellent vehicle response and greater steering feel, from the moment the steering wheel is turned. At the same time, the suspension is compliant and comfortable and has multiple settings for different driving conditions. The run flat 21 inch tyres provide excellent road holding but also transfer all road imperfections through to the driver.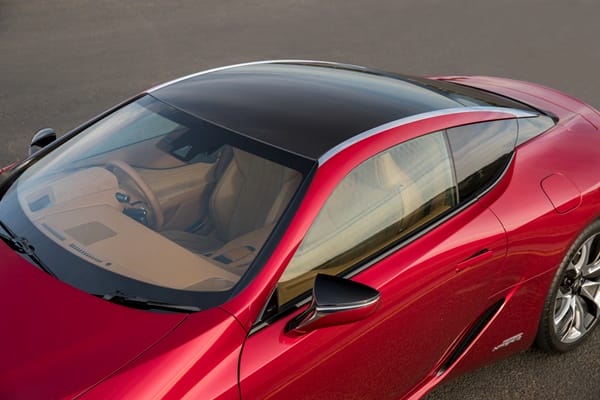 Safety features include Lexus Safety System+, featuring Adaptive Cruise Control, Pre-Collison Safety System, Lane Keep Assist, Sway Warning and Automatic High Beam, plus a Blind Spot Monitor, Rear Cross Traffic Alert, reversing camera, eight airbags and tyre-pressure monitor. Other advanced technology includes Vehicle Dynamics Integrated Management that integrates stability and traction control, anti-skid brakes, electric power steering and other systems.
Customers who wish to add an extra performance focus can select a $15,000# enhancement pack featuring Lexus Dynamic Handling with technologies that incorporate four-wheel steering and variable gear ratio steering.
The pack includes an active rear spoiler that deploys automatically at 80km/h to manage airflow during performance driving, a carbon-fibre roof (in place of the glass roof), combination leather-accented and Alcantara upholstery, 10-way power-adjustable sports front seats and carbon-fibre scuff plates
However for all the technology it has there are a few things missing that for plus $200,000 I would have thought would be included. These are things like wing adjustments for the seats, automatic boot open and close and even a light in the boot. That's right there is no light in the boot.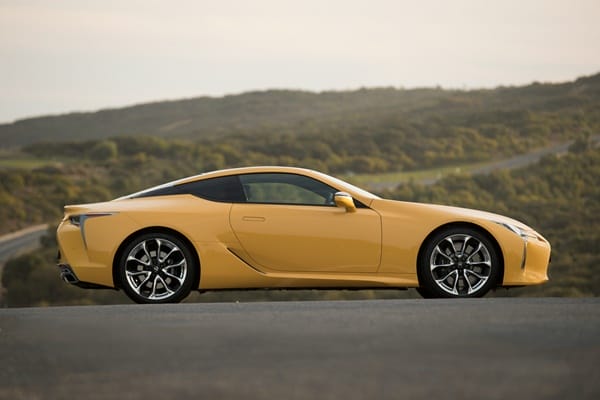 If I had just paid in excess of $200,000 for my brand new LC500 and went for a weekend away, when I arrive I would have to get my phone out and shine a light into the boot to see where the luggage is. That is just ludicrous.
Also I feel the functionality is overly difficult to use. Little things like the A/C controls for different mode, moving the heads up display, other little things are not intuitive. It feels like technology for technology sake.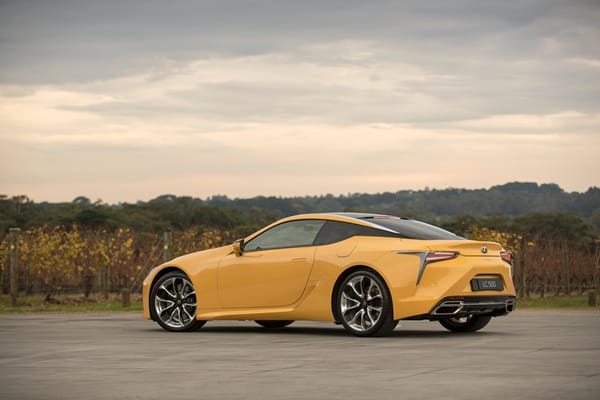 The LC500 is a bit of a mixed bag though. It is visually stunning, depending on your view, has a willing 5L V8 engine pumping through a ten speed transmission, has an abundance of technology and the interior is definitely on the luxury ambience level. It is not in supercar territory, the Lexus RC F s slightly faster and about $80,000 cheaper, the Audi S5 Coupe is just as fast, but the LC500 has an appeal about it that transcends pure figures.
It all boils down to a simple equation though. Hop in the car, turn on the engine, listen to that throaty V8 burble, point the nose towards the freeway or a section of tight twisty road and let rip. The exhilaration is awesome.