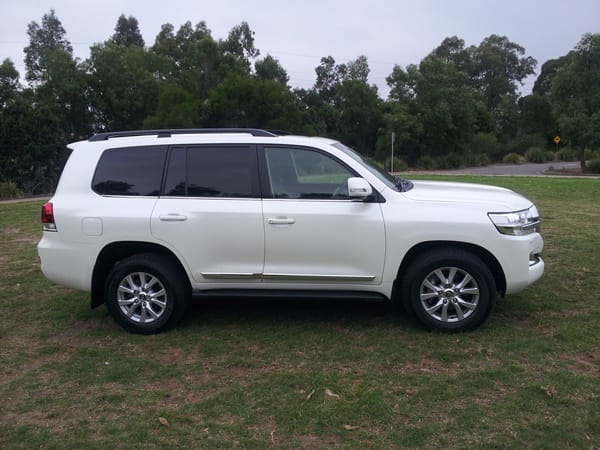 Way back in 1986 we bought our first LandCruiser. It was the HJ60 Sahara and at the time it was the ultimate in off road luxury and practicality. The vehicle was a naturally aspirated diesel and asthmatic so we added an aftermarket turbo, upgraded the suspension with an Ultimate lift kit, Hayman Reese tow kit, roof rack, bull bar, snorkel, CB radio, portable fridge and with a Viscount Ultra-Light caravan set off on the first of many trips. The car was a beast, it was unstoppable, unbreakable and performed faultlessly for over 10 years for us with well over 400,000k on the clock when we sold it.
Fast forward to 2016 and here I am sitting in a brand new LandCruiser 200 Sahara and how times have changed. This vehicle is full of the latest technology, safety and luxury features, has an awesome V8 turbo diesel engine and costs more than many can afford. It is still close to the pinnacle of off road luxury and practicality. Yet if I was to set off on another long outback trip I would add almost the exact same aftermarket accessories. Times have changed and yet eerily remained the same.
The 2016 upgrade for the Sahara is more an evolutionary process, improving on an already impressive product.  Improved technology, power and luxury feature in the upgrade. However the most visible embodiment of the 2016 model is the external redesign.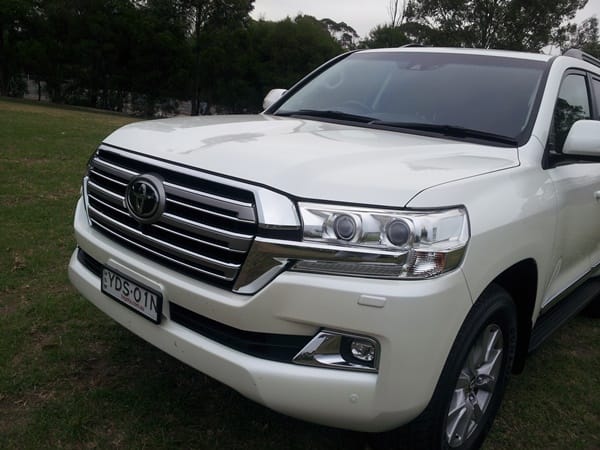 Most noticeably on the exterior changes is the new grille, projector halogen headlamps, bumper, bonnet and fenders at the front, BI LED low-beam headlamps with auto-levelling (dynamic), LED clearance lamps, LED front fog lamps, roof rails and a restyled rear that includes LED tail lamps. Thankfully the designers have got rid of the protruding glass that was a nightmare off road.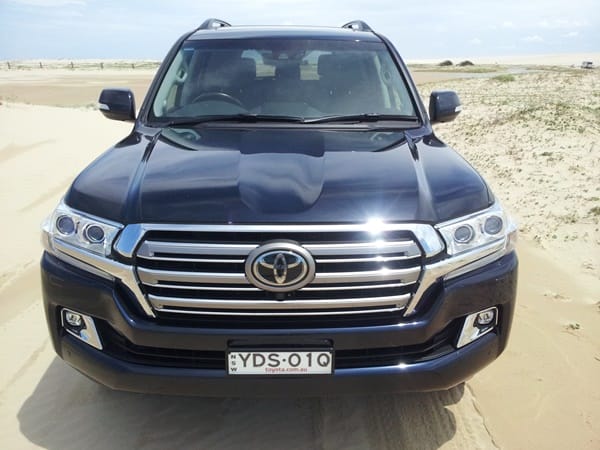 The twin bonnet bulges are interesting and subtly reminds you of the hulking V8 beneath. The style seems to make the LandCruiser smaller than it actually is.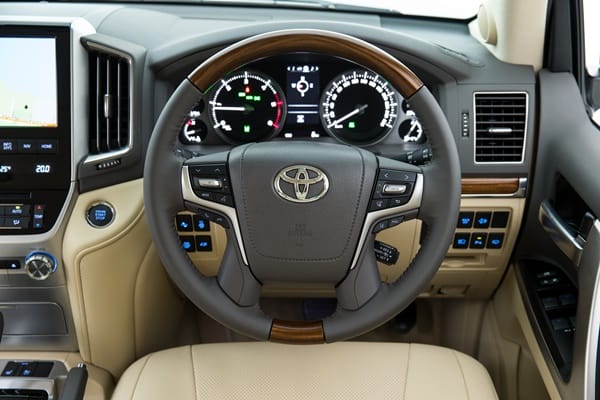 Internally the Sahara has always been a comfortable place full of luxury features with leather electronically adjustable seats for the front and leather throughout. The visibility is excellent for a large 4WD, but more on that later. The dash layout is excellent, centre stack works great and plenty of storage on the doors, glove box etc. The centre console is cooled for drinks, however it does limit storage for phones etc. a little.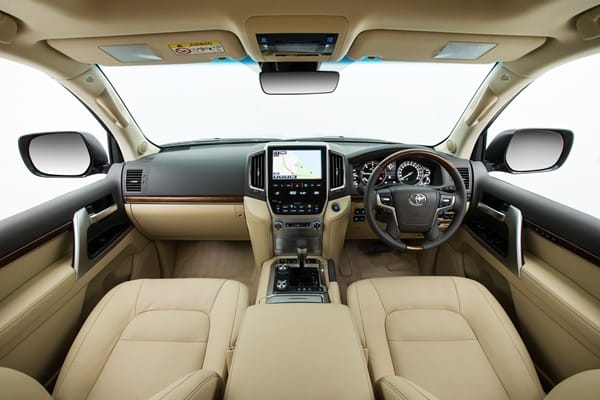 Some little things that are annoying, like the climate fan control only available on the screen, adaptive cruise control that is difficult to turn off and the fold up rear seats.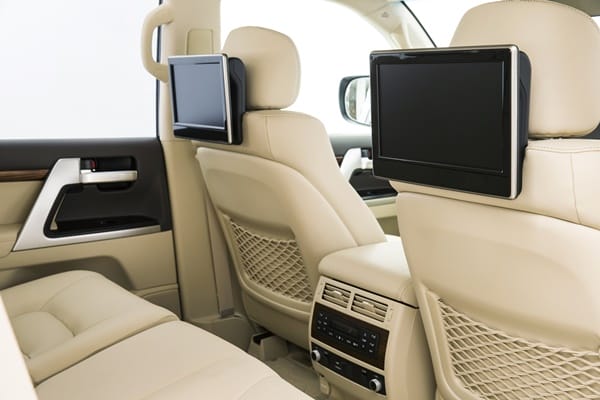 Middle row seats are great for three and better for two, with DVD screens for the two outer seats. Third row seats are big however leg, knee room is limited. This is a good family wagon.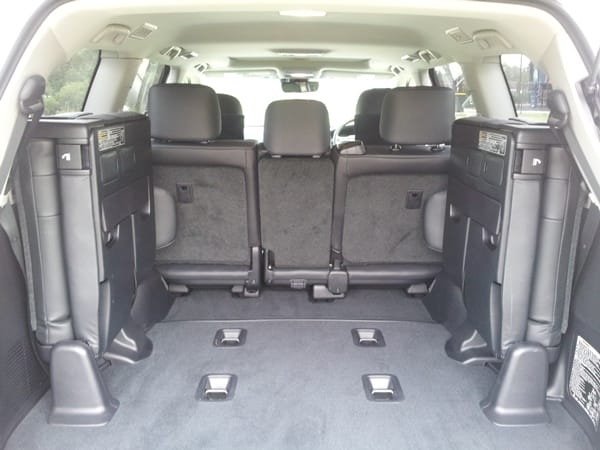 Now to the visibility aspect. Toyota has released the ultimate "all-seeing" LandCruiser 200 Series – a top-of-the-line Sahara with innovative camera applications that make it easier than ever to perform manoeuvres from off-road driving to parking.
Drivers can now obtain a panoramic view around the Sahara using four cameras – front, rear and in the side mirrors – to provide added confidence with the placement of wheels, both when moving forward and reversing.
The front camera now rotates so that the horizon is always displayed as level on the enlarged in-car display to provide drivers with an intuitive understanding of the tilt angle of the vehicle.
An under-floor view, displaying images taken approximately 3m ahead of the vehicle, allows drivers to see an image that indicates where the front wheels are placed. This makes 4WD off road driving a breeze in tight situations.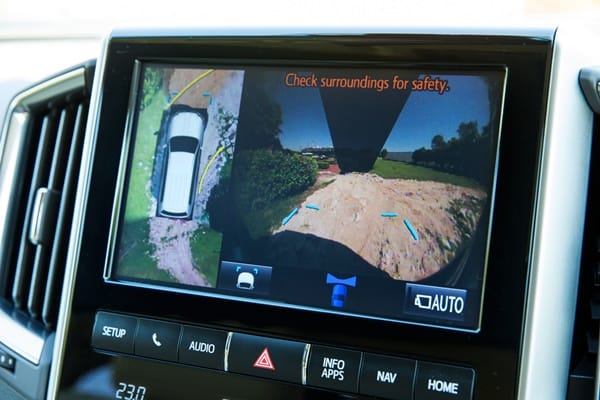 Features included in the 2016 update and standard include: roof rails, dusk-sensing bi-LED headlamps that incorporate dynamic auto-levelling, LED clearance lamps, LED front fog lamps and daytime running lamps, leather-accented seats, steering wheel and gear-shift knob, newly designed Optitron instruments with a 4.2-inch colour multi-information display and a nine-inch touchscreen display and variable intermittent wipers (front and rear), dual-zone front climate-control air-conditioning, a rear cooler, rear spoiler, a second 12-volt connector and a 220-volt rear connector, horizontal-split tailgate, smart entry and start, reversing camera, satellite navigation, privacy glass and body-coloured mirrors. 18-inch alloy wheels, rain-sensing wipers and the Kinetic Dynamic Suspension System – originally developed in Australia.
Other comfort and convenience items include front and rear parking sensors, power-retractable exterior mirrors, moon roof, black side steps and woodgrain-look interior highlights. A wireless smartphone charger and revised rear-seat entertainment with screens mounted on the back of the two front seats.
It is also uniquely equipped with a power tailgate, heated electric side mirrors, multi-terrain monitor, a cool box, heated front and second-row seats, ventilated front seats and active headrests. Its electrically adjustable steering column has three memory positions that also incorporate seat and mirror positions.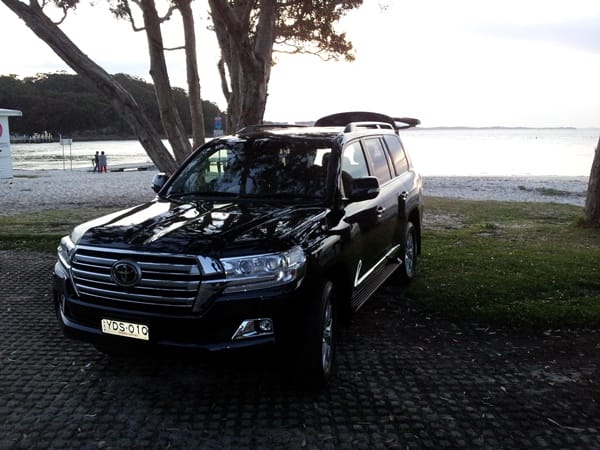 Safety is a key aspect for buyers and the Sahara doesn't disappoint. Standard safety features on the 200 series LandCruisers include: seven airbags, vehicle stability and active traction control, multi-terrain anti-skid brakes, hill-start assist control, trailer sway control, an emergency brake signal and tilt/telescopic adjustments for the steering column.
In addition the Sahara adopts advanced safety features that include a pre-collision system, dynamic radar cruise control, lane-departure alert, and blind-spot monitor with rear cross-traffic alert.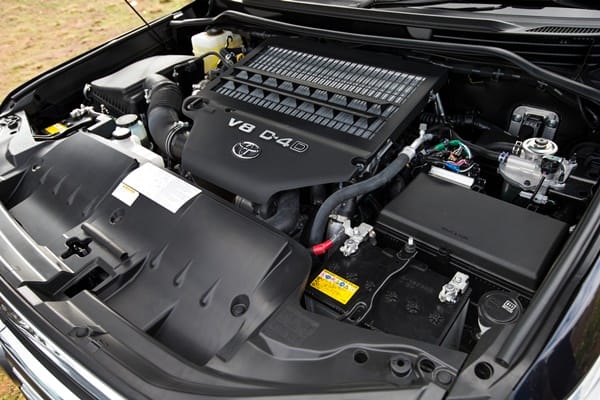 The pick of engines is definitely the 4.5-litre twin-turbo diesel and the update brings improved fuel economy and Euro 5 emissions. I'm not sure why anyone would buy the petrol engine.
Power has increased by 5kW to 200kW due to new injectors and revised mapping while torque remains at 650Nm. Combined cycle fuel consumption also benefits, and is now just 9.5 litres/100km*, an improvement of 7.7 per cent. Along with the addition of a particulate filter, CO2 emissions have improved to 250 grams/litre*.
The beauty of this engine is the power delivery, way down low in the rev band. This means that not only does it sound awesome but it potters along without any fuss and can belt the accelerator better than you would expect from a massive vehicle like this. On that line of thought, the Sahara handles better than you would expect as well. It certainly isn't sporty but it is better than many similar 4WD's.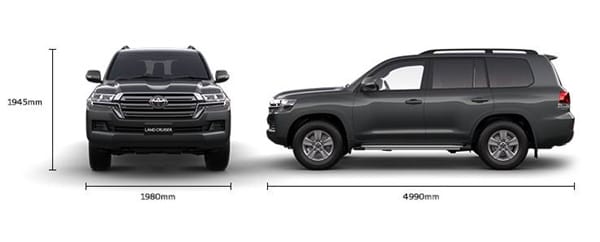 Off road the Sahara's ability is class leading, towing is a breeze, there are any number of aftermarket and original accessories and almost every town has a Toyota dealer. No wonder LandCruisers are so popular for outback touring. One thing to watch out for though is the small payload ability. If I was buying one I would get a payload upgrade before original registration. Otherwise people tend to load these cars up with everything under the sun and are overweight. This voids warranty and insurance.
I have to admit that I am a fan of the big beast. It provides a relaxed, pleasant driving experience, is universally practical, it is great for families, outback tourers and true 4WD enthusiasts. It is expensive at over $125,000, but represents pretty good value for money.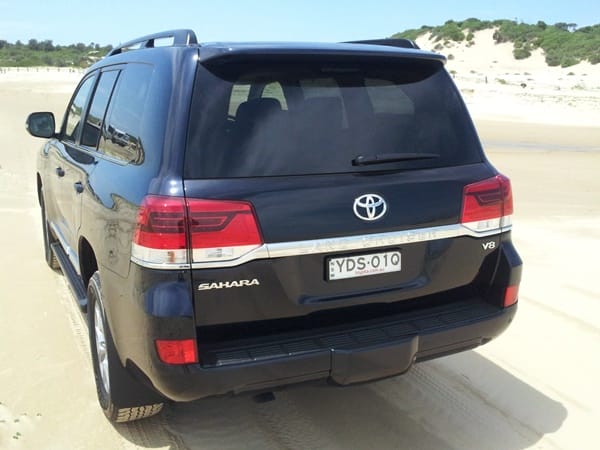 What is good!
Powerful diesel engine
Smooth ride and handling
Towing and 4WD ability
What is not good!
Underslung spare tyre
High price
Fold up rear seats
Model: Toyota LandCruiser Sahara
Model Price:   $127,584 RDAP
Engine:  4.5 L V8 DiD
Drivetrain:  4WD 6 speed auto
Power:  200 Kw @ 3,600 rpm
Torque:  650 Nm @ 1,600 rpm
Safety:  5 Star
CO2 Emissions:  297 g/km
Economy: (ADR comb) 9.5 L/100km
Tow Capacity Max: 3500 kg
Tow Ball Rating: 350 kg
Servicing:  Capped Price
Warranty 3yr/100,000 km with full roadside assist
Overall OzRoamer Rating      94/100
Behind the Wheel 10
Comfort 10
Equipment 10
Performance 9
Ride & Handling 9
Practicality 9
Fit for Purpose 9
Towing Ability   10
Off Road Ability 10
Value for Money 8