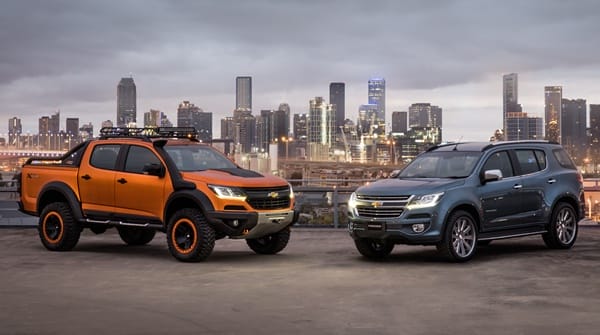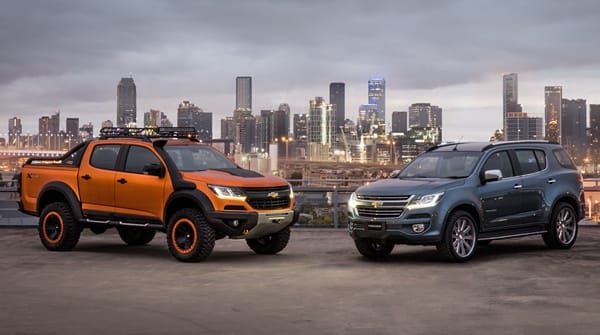 37th Bangkok International Motor Show, Chevrolet Thailand has taken the covers off two exciting new, Australian designed and built show vehicles, Colorado Xtreme and Trailblazer Premier.  The vehicles, which explore two very different directions for the popular truck and SUV, give customers a strong hint at Chevrolet and Holden's future design direction.
Holden Chairman and Managing Director, Mark Bernhard said the show vehicles were an exciting exploration into the distinct character of each vehicle, created to gauge interest and receive invaluable feedback from customers.
"The Colorado Xtreme and Trailblazer Premier show vehicles were created with the intent of injecting excitement and passion into the critical light commercial and SUV segments, while reinforcing Holden and Chevrolet's commitment to exciting design and listening to customer feedback," said Mr. Bernhard.
"It's especially exciting that our GM Australia design team were able to lead this project, working in collaboration with GM Brazil and GM Thailand.
"We have a world class design team based in Port Melbourne, who continually impress the world with stunning concepts such as the 2015 North American Concept Car of the Year, Buick Avenir, the recently revealed, Australian built, Opel GT and now the Colorado Xtreme and Trailblazer Premier show vehicles."
Demonstrating the platform's significant potential and versatility, the two multi-faceted vehicles showcase two very distinct personalities offering customers unlimited possibilities.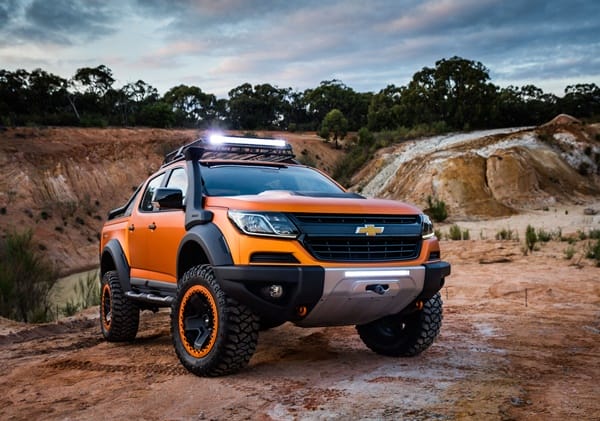 Speaking from the Bangkok International Motor Show, Vice President of GM International Sales, Marketing & Aftersales, Mike Devereux, said the show cars were proof that General Motors was constantly exploring how its brands respond to maturing markets.
"We want to continue to lead the charge in these segments in this region and we think these two vehicles are clear demonstrations of that," Mr. Devereux said.
"The Colorado Xtreme is the ultimate tough American truck that Chevrolet is famous for all over the world.  With an integrated accessory range ensuring our customers can customize their truck to the most challenging environment.  It is an off-road vehicle that not only looks tough but can absolutely tackle any challenge thrown its way.
"And while the Trailblazer Premier remains just as capable for the adventurous family, it explores a different side of its persona.  It responds directly to the growing desire for a more luxurious and sophisticated SUV, one that boasts premium appointments inside and out."
In collaboration with GM Brazil and GM Thailand, Australian designers were able to leverage Chevrolet's long history of designing tough, durable and serious off-road vehicles, which embody the best of American automobile ingenuity.
Vice President of GMI Design, Michael Simcoe, explained show cars were created for numerous reasons, some look years into the future, some are pure expressions of creativity and others, like these, push the boundaries within reality.
"We're calling on Chevrolet's rich history and know-how to demonstrate our leadership in these segments and announcing where we hope to take these exciting vehicles in the near future," Mr. Simcoe said.
"Our focus here was about pushing these vehicles in two completely different directions, ensuring they are standalone vehicles in their own right.
"It is great to have the opportunity to showcase design possibilities today that could be developed and seen in the cars and trucks of tomorrow."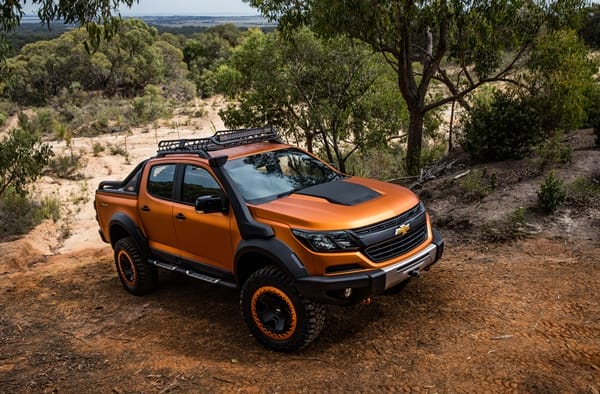 COLORADO XTREME
Colorado Xtreme delivers on its promise to go anywhere and do anything via an integrated accessory range offering customers the perfect way to tailor their vehicles to meet specific needs.
Dramatic engine hood scoops, side plates on the sports bar as well as a Safari Bar dials up the truck's capability while ensuring it looks purposeful, capable and tough.
"This truck is in direct response to consumer's desire to personalize their vehicles," Mr. Simcoe said.
"Not only does this integrated accessory range looks fantastic but our priority was to ensure they were, first and foremost, practical and useful additions that were perfect additions to the vehicle.
"Inspiration for the truck came from many sources, in particularly we looked at the US market where Chevrolet leads the way as far as truck design.  By looking at the Xtreme it's clear that the North American market influenced many of the styling cues.  The end result is a serious pick up with no compromise."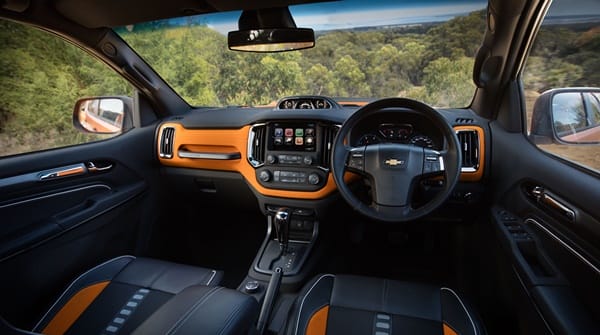 The Xtreme's stunning matte orange hero color, "Furness", gives the vehicle a unique and exciting persona, clearly differentiating it from its SUV sibling.  The orange perfectly complementing the black, powered effect of the accents and accessories to give it an extreme graphic.
Xtreme's ruggedness continues inside with new auxiliary gauges and accessories such as a passenger grab handle on the side of the instrument panel and the inclusion of an inclinometer.  Coupled with an innovative use of color, materials and texture, passengers remain safe and comfortable on those serious off road adventures.
No detail has gone unnoticed with the Xtreme boasting 18 inch full mud terrain tires, as well as technology at your fingertips.  An eight inch color touch screen and the latest MyLink system equipped with the latest Apple CarPlay® and Android Auto connectivity technology, are designed to support the customers' active lifestyle.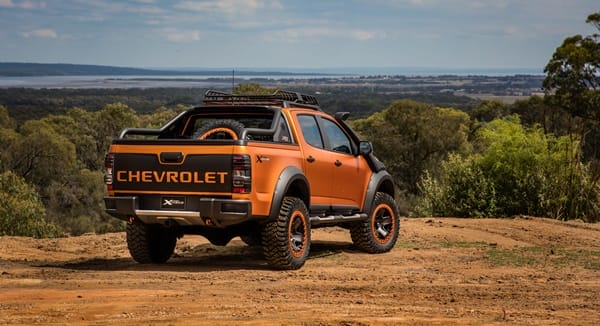 Highlights include:
Custom exterior paint – "Furnace"
Front Safari Bar with integrated LED bar & winch
Rear step with integrated corner step and tow bar
Large fender flares to compliment off-road tire package
18 inch all terrain tires with custom bead locks
Integrated hood vent
Unique designed snorkel
Sports bar with styled in-fill panel
Integrated spoiler, CHMSL and whip antenna
Roof basket with integrated LED light bar
Custom tub liner:

Adjustable tie down tracks, extended to lift gate
Integrated spare wheel mount and tool holders
Custom spare wheel T-nut

Integrated Newton cap
New interior theme
8 inch color touch screen equipped with the latest MyLink system
Integrated instrument panel handle bar
Integrated Pitch & Roll meter
Premium leather / fabric seat
Floor mat that compliment seat trim
High lift suspension
Roll Bar
Graphics pack
Emergency retrieval kit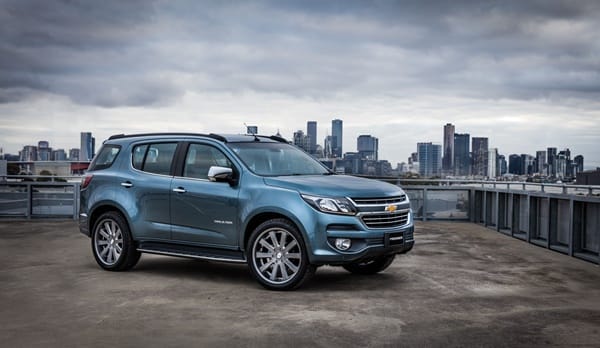 TRAILBLAZER PREMIER
The Trailblazer Premier is an SUV designed for families who love to escape off the beaten track but in the comfort of luxurious sophistication.  With premium appointments this SUV is just as comfortable doing the school pick-up as it is tackling harsh and rugged terrain.
"The brief was simple, we wanted to dial up the refinement to make sure the vehicle was as luxurious as it was capable," Mr. Simcoe said.
"Like every Chevrolet, the vehicle has head-turning good looks with striking Chevy DNA and global appeal.
"This show car is a result of strong collaboration to ensure we understood the demands of each market.  Our research tells us customers, particularly in the Thai market, appreciate luxury, upmarket finishes and sophisticated detail.  So our focus has been on ensuring we enrich the driver and passenger experience.
"Unlike the Colorado Xtreme, which is loud and tough, the Trailblazer Premier is subtle and softer in terms of color and materials, emphasized with the use of bright chrome and premium materials such as Australian timber which was hand-picked and crafted."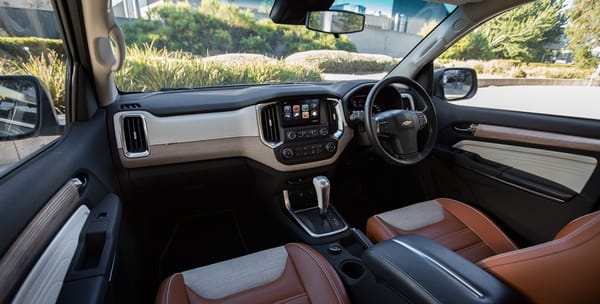 With driver and passenger comfort at the forefront, the interior of the Trailblazer Premier ensures the trim and execution was taken to the next level.  The unique use of colors, textures and materials create a premium feel not usually found in the segment.
New trim techniques and processes such as the bespoke piping on the seat trims and the handmade netting on the back of the driver and front passenger seats all add to the tailored and premium feel of the vehicle.
The silvery blue exterior color, "Velocity", features smoky oil blue undertones, finished with a high gloss clear coat to give it an ultra-sleek and rich finished, particularly when paired up against bright chrome exterior décor accents.
Technology and connectivity remains critical, with both vehicles boasting a contemporary infotainment panel which houses the latest MyLink technology.  The latest infotainment system allows customers to remain fully connected with access to a world of applications with the touch of a button or voice command.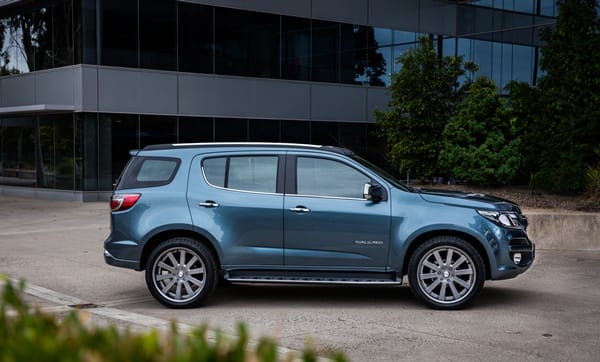 Highlights include:
Custom exterior paint – "Velocity"
22 inch wheel & tires
Rear spoiler
Rear fascia protector
Integrated side step with bright chrome molding.
New interior theme
8 inch color touch screen equipped with the latest MyLink system
Premium leather seat with handmade netting
Wood door applique with steel inserts
Two tone instrument panel inserts with detailed stitch
Chrome details
Matching floor mats that compliment seat & instrument panel insert detailed stitch
About GM Australia Design
GM Australia Design is one of the most advanced automotive studios in the world, the largest in Australia, and one of the two design studios in the GM world with the in-house capability to fabricate a fully functioning Concept Car.
The 140 person strong design team plays a vital role as a genuinely innovative and creative contributor to major General Motors vehicle design programs, including the Buick Avenir concept, Chevrolet Bolt concept and the recently revealed Opel GT concept.