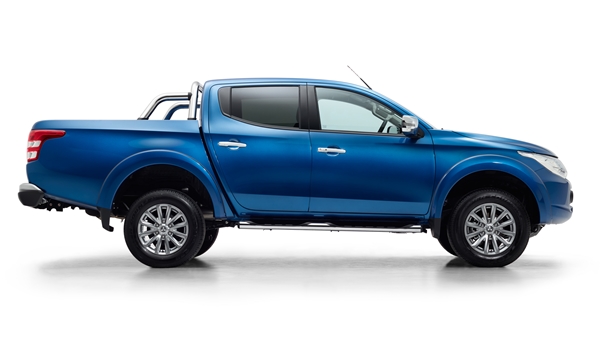 The world of work and recreational utes is highly competitive and an important part of the Australian new car vehicle market with over 200,000 sold last year.  The range is from single cab tray back utes through to the newer luxury dual cab utes that emulate family 4WD's in features and comfort.
Into this mix Mitsubishi has launched its all new 5th generation Triton. The fourth generation Triton was polarising for its design with people either loving it or saying that it was designed by a committee. The new design definitely retains its adventurous design features but has matured with high waisted sophisticated design.
The Triton has always been an excellent robust honest ute that performed its duties without fuss. The all new Triton is significantly better in some areas and an improvement in all other areas, even price.
The design looks way better in the flesh than in photos, keeping the distinctive grill and front end but the sides have a subtle high waistline and lower curve. The rear loses the slab back from the last model and has crisp lines.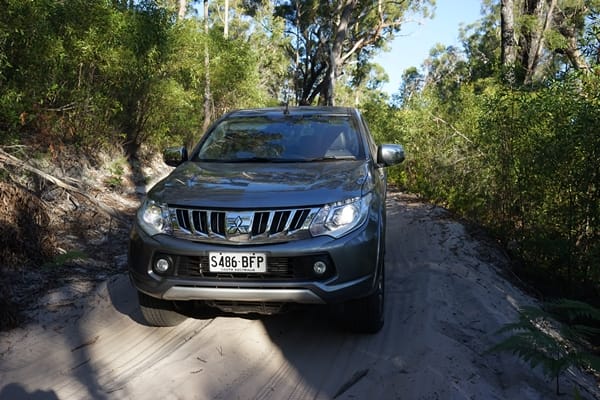 Australia is an important market for the Triton with over 295,000 being sold locally and over 150,000 of the previous model sold. Hence when the redesign was imminent the call to Australia went out.
The Australian influence is strong with customer feedback sessions and many kilometres of local testing showing through in the design functionality, engine's torque characteristics, high speed stability on gravel surfaces and overall towing performance and stability.
More so than almost any other vehicle the humble ute , an Australian invention, has to suit a multitude of purposes, from a work horse in the mines, hard working tradie or farm ute to comfortable family 4WD, to heavy duty tow vehicle the ute design has many divergent outcomes required.
Perhaps the hardest of these is the suspension and engine transmission combination. The characteristics that make a good riding and handling on road ute are almost opposed to those that make a good tow vehicle and far removed from those that make a robust off road vehicle.
Some utes get it right for on road handling but are just crap off road like the Volkswagen Amarok and some are better suited to off road work but crap on road, like the current Navara. Some like the current crop of top 4 utes , Ranger, Colorado, BT 50 and D Max have a good balance.
So where does the all new Mitsubishi Triton sit in that mix. Well at the risk of starting a debate amongst the 'experts' the Triton is probably the best handling balanced ute available on the market today. It is certainly excellent on dirt roads, on sand and on the highway. We also had a chance to test the articulation off road and again it feels as though it equals the best in class there as well. That's a big wrap coming from me as I am often critical of the balance of ute ride and handling.
Some of the criticism of the previous models were front seats uncomfortable for long periods, noisy engine, Auto version down on torque, torque delivery, too radical styling, only 4 star safety (as the others went past this), and bland interior.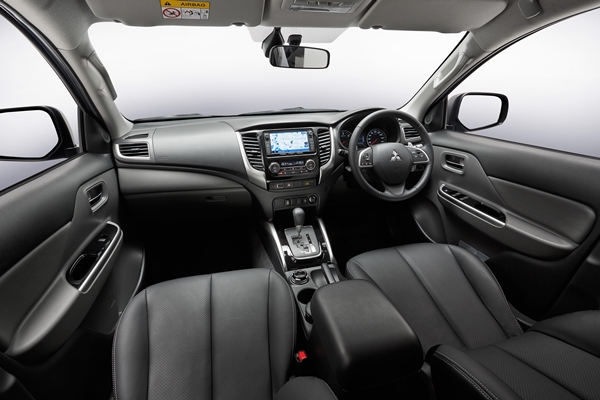 Well the good news is that the new Triton delivers on these in spades. The exterior styling as mentioned retains its family heritage but is more subtle and stylish, the seats have been specifically redesigned and are very comfortable, and there is plenty of rear seat room (thanks to the clever 'J' design),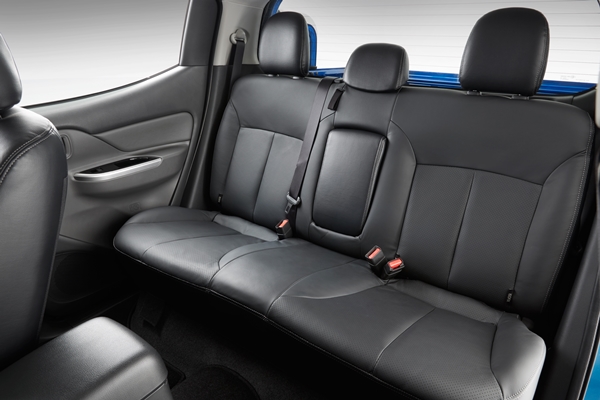 the engine is now much quieter however still allows the comforting diesel sound to alert the senses, it now has a 5 star safety rating across the range and the interior is now more user friendly and looks more upmarket. It's important to note here that the steering wheel now is adjustable for both height and reach making it easier to find that comfortable driving position.
Let's talk about the engine transmission combination for a bit. The previous model reduced the torque for the automatic version and that was a pain. I have been very critical of that in the past.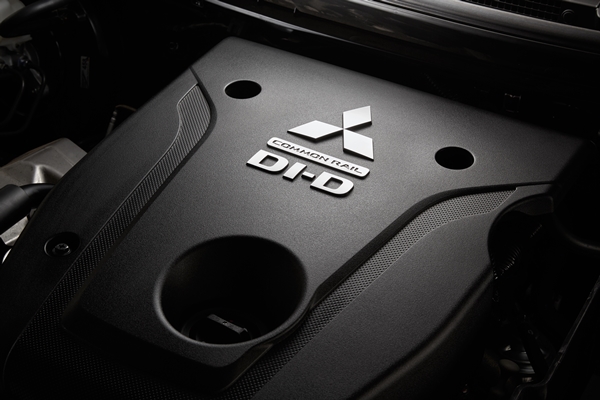 The 2016 Triton range is powered by a new 2.4-litre MIVEC turbo diesel engine.  It achieves 133kW of power at 3500 rpm and 430Nm peak torque at 2500 rpm. Importantly though is that the majority of that torque comes in at around 1500 rpm and another hit at 1750rpm and  the delivery makes for relaxed and economical driving.
Using an all-aluminium cylinder block construction and other lightweight materials, the new EURO 5 compliant engine is lighter and considerably more efficient, more powerful and more refined than its predecessor.
Fuel economy and emissions have been improved by lowering the compression ratio to 15.5:1 and locating the diesel particulate filter as close to the engine as possible. This is all clever design.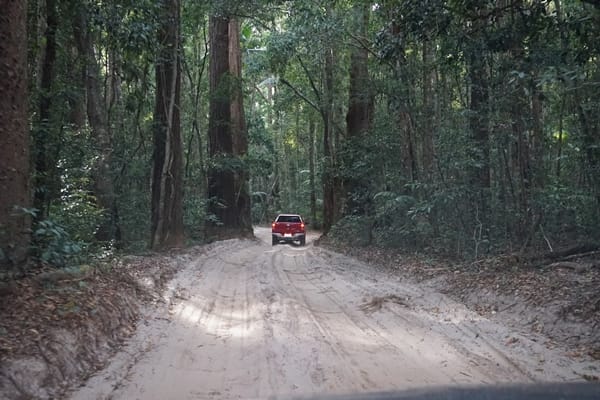 The choice of transmissions are a smooth 6 speed manual and a new 5 speed auto. Finally the torque for the auto isn't reduced.. WOOHOO!!! While the manual is very smooth and well suited to the engine and easy to use the pick is the 5 speed auto. Perhaps Mitsubishi could have taken the opportunity to introduce a 6 speed auto box, but the transmission works great with the low down torque delivery of the engine and fuel economy is frugal at around 7.5 –  L/100K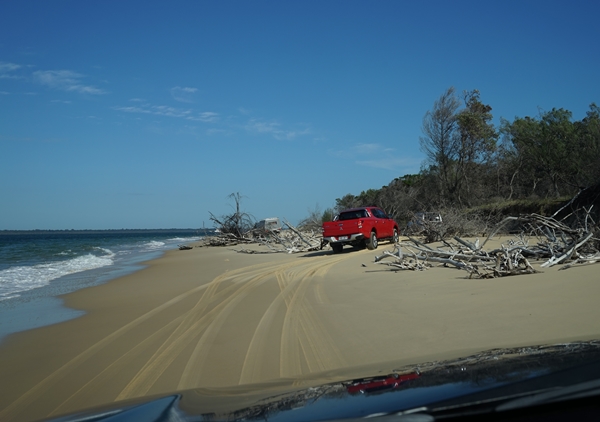 Another key improvement is the throttle response, its excellent!. This was evident on the sand of Fraser Island on the launch but equally on the highway on the drive back to Brisbane. The other related area is towing. While I haven't had a chance to tow anything yet the low down torque delivery will be a benefit when towing.
The new generation Triton has an official braked towing capacity of 3,100 kg for both manual and automatic versions of 4×4 Double Cab models. While that isn't  as much as the headline 3.5t of some of the competitors the real world situation is that it is more than adequate.
This, coupled with a generous Gross Combination Mass rating of 5,885kg and low kerb mass, provides Triton with a practical, real world balance between towing capacity and vehicle payload.
The Australian market presents a unique challenge for engineering towing requirements due to the vast range of towing situations and load types that need to be catered for.  Typical towing requirements could range from a horse float, boat, caravan, camper trailer, construction equipment or standard two-wheel trailer, with each having unique load characteristics.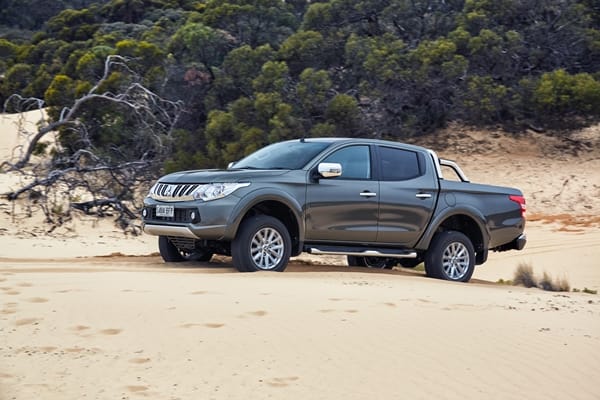 It's for this reason, much of new Triton's development focus was directed toward the quality of its towing capability and performance, with much of Mitsubishi's tow testing carried out on Australian soil.
Key attributes of new Triton have contributed to the new model's outstanding towing performance.  These include: engine torque characteristics, auto transmission calibration , manual transmission ratios and throttle calibration to provide strong, composed towing performance across a vast range of towing situations.
Also complementing Triton's towing performance is the new steering system, which enables Triton to handle challenging towing manoeuvres with ease.  Trailer Stability Assist has been fitted to all models as a standard safety feature.  This system, in combination with the new, well-balanced suspension set up, ensures Triton delivers a stable and secure tow vehicle package that's suitable for towing a variety of loads. 
Let's turn our attention to off road. The triton has always been a great performer off road, being robust, honest and reliable. Our quick drive at the launch shows that this tradition continues, but with some improvements. The best being that the 4wd lever that had  a habit of sticking into your left knee at awkward angles is now defunct.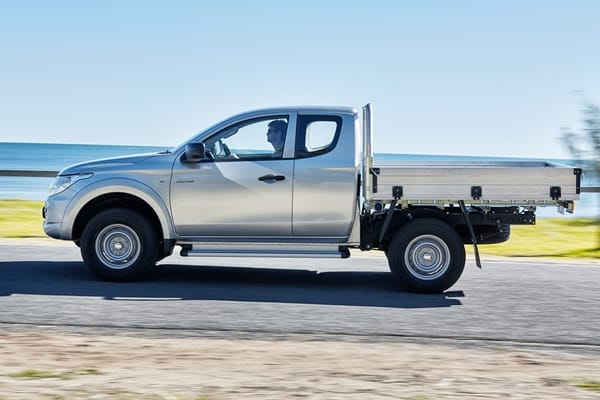 All Triton GLX models are equipped with the Easy Select 4WD system which is operated via the new four-wheel drive selector dial.  Easy Select 4WD allows the driver to switch between two-wheel drive and four-wheel drive on the move.
The system has three operating modes – 2H, 4H and 4L – and the driver can change between 2H and 4H at speeds under 100km/h.  The 2016 Triton introduces lower gearing in the sub-transmission to improve its all-terrain performance in 4L mode.
Meanwhile, GLS and Exceed models are fitted with Mitsubishi's new generation Super Select 4WD II system, which offers four driving modes including locked 4WD mode. 
Key benefits include better fuel economy and quietness in 2WD mode and Triton's interesting and clever 40/60 front/rear torque distribution in full time 4WD mode for superior cornering stability. Exceed also gains an electronic rear diff lock feature as standard.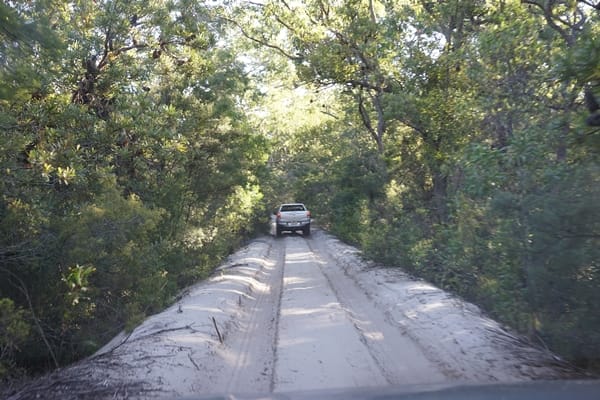 The new Triton has a best in class approach angle of 30 degrees and departure angle of 22 degrees. The manoeuvrability of the triton off road in enhanced by the tight turning circle of 11.8m and a lock to lock ratio of only 3.8 turns provides benefits off road.
The 2016 model line-up adopts the Mitsubishi Motors Australia's naming convention already introduced on 15MY Pajero and 16MY Outlander.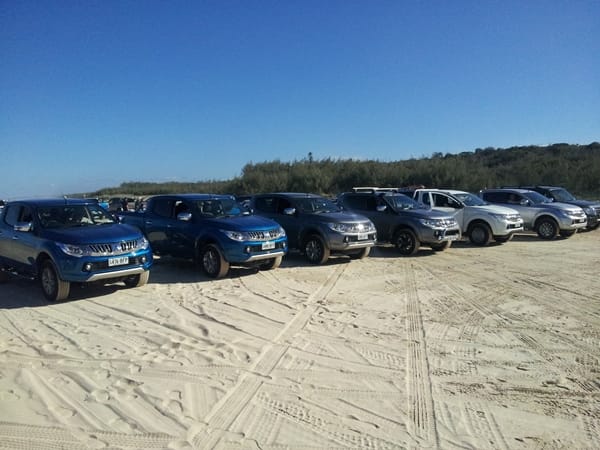 The Triton range now offers three specification levels – GLX, which targets the traditional LCV buyer looking for a traditional and high-value working vehicle, followed by the mid-range GLS and top-spec Exceed, which are equipped with more technology, luxury and convenience features.
GLS comes standard with key features, including reversing camera, new-generation Super Select 4WD II system, 17-inch alloy wheels, HID headlights, LED Daylight Running Lamps, front fog lamps, side steps, sports bar, leather trim steering wheel and gear shift, dual zone air conditioning and display audio system with 6.1-inch colour touch screen, AM/FM radio, CD player.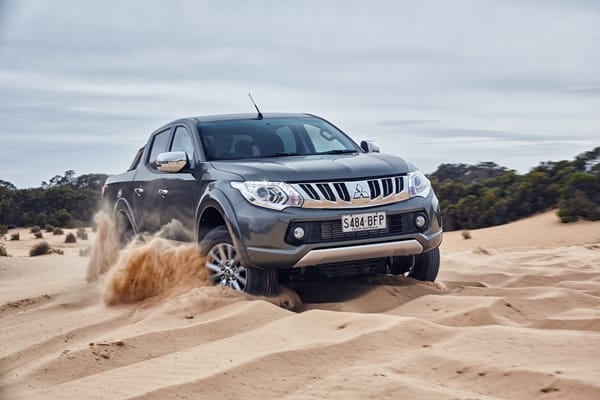 Triton's new flagship model is Exceed and offers a full array of standard equipment.  Highlights include automatic transmission with racing-style steering wheel mounted paddle shifters, electronic diff lock, One Touch start with smart key, dusk sensing headlights, rain-sensing automatic intermittent wipers, 4-way adjustable electronic driver's seat, premium audio system with 7-inch colour touch screen, CD player, SD card and satellite navigation.
Bluetooth hands-free with voice control and audio streaming is available as a standard feature on all Triton models.
Safety is substantially boosted with all 2016 Triton models achieving an official 5-star ANCAP safety rating. Triton's exceptional safety performance is underpinned by Mitsubishi's proven RISE (Reinforced Impact Safety Evolution) body technology, which is used across all three body styles.
Higher strength steels have been adopted in the key body structure to efficiently absorb impact from all directions and efficiently disperse it, while retaining the cabin integrity during a crash.
Passive safety features including driver and front passenger SRS airbags, side and curtain airbags and driver's knee airbag, while seat belts are fitted with pre-tensioners and force limiters. 
Active Stability and Traction Control or ASTC is standard across the 2016 range, along with Mitsubishi's ESS Emergency Stop Signal function, which flashes the hazard warning lights under heavy braking to alert vehicles approaching from behind.
All models are also fitted with brake override system, which uses sensors to recognise when both accelerator and brake pedals are being pressed at the same time and gives priority to the brake system to prevent accidental acceleration.
A rear view camera is available across the range; as a standard feature on GLS and Exceed and accessory on GLX due to the number of tray variables.
Triton achieves an acceptable rating for pedestrian protection with its energy absorption frontal impact structure, which extends from the front bumper, bonnet, cowl and immediate structures underneath.
MMAL has also developed a comprehensive range of Genuine Mitsubishi accessories to enhance Triton's functionality, customisation and appearance.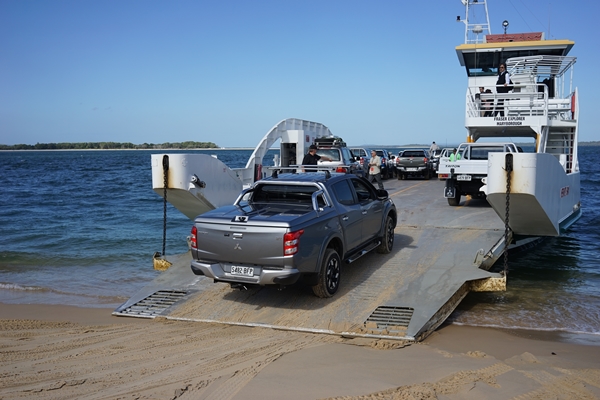 The 2016 Triton range benefits from Mitsubishi's five-year/100,000km New Car Warranty. Triton's capped price servicing is very competitive in the Light Commercial segment.  Service intervals are 15,000km or 12 months, whichever comes first.
2016 Triton Capped Price Service schedule is below:
15,000km (12 months)        $350 RRP
30,000km (24 months)        $580 RRP
45,000km (36 months)        $580 RRP
60,000km (48 months)        $580 RRP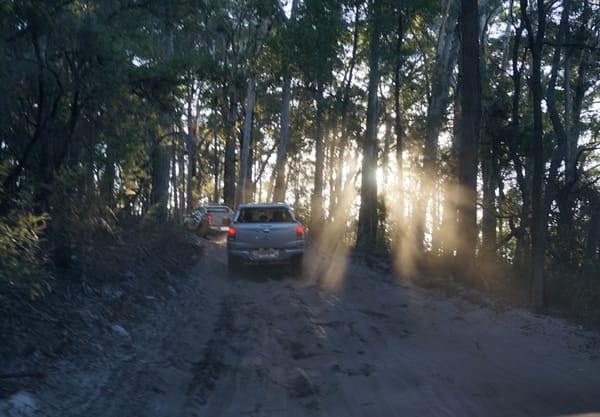 Mitsubishi has always had a great value proposition with the Triton and the new model further develops that tradition with significant price reductions across most of the model range.
Pricing for the new models are as follows. At this stage only diesel models are available with the previous model still available for a few months if buyers want petrol.
PRICING BY MODEL
2016 Triton Recommended Retail Pricing

MT

AT

GLX
Single Cab Chassis

$24,490

$26,990

GLX
Double Cab Pick Up

–

$35,990

4×4 Range
 

GLX
Single Cab Chassis

$32,490

–

GLX
Club Cab Chassis

$35,290

–

GLX
Double Cab Pick Up

$36,990

$39,490

GLS
Double Cab Pick Up

$40,990

$43,490

Exceed
Double Cab Pick Up

–

$47,490