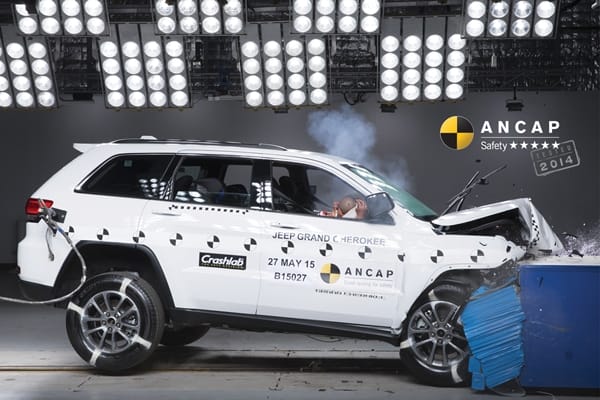 The Jeep Grand Cherokee has been awarded the maximum five-star safety rating after excelling in ANCAP's crash-test program.
The Grand Cherokee scored highly in all crash-test scenarios, including a perfect 16 out of 16 in ANCAP's side-impact test. The impressive results, combined with its 60 available safety and security features, ensured the Grand Cherokee was awarded ANCAP's highest rating.
"ANCAP brings welcome news to consumers with all V6 variants of the Jeep Grand Cherokee now able to claim five-star status," said ANCAP Chief Executive Officer, Mr Nicholas Clarke.
The rating – which applies to every V6 Jeep Grand Cherokee from March 2013 onwards – follows the Jeep Cherokee's five-star ANCAP rating, while Jeep's Patriot was awarded the maximum five-star safety score in 2014.
Commenting on the results, FCA Australia's Director of Marketing and Product Strategy, Zac Loo, said: "We couldn't be happier with the Grand Cherokee's performance in ANCAP's crash-test program.
"This five-star rating follows the Grand Cherokee's equally impressive five-star result in America's NHTSA crash-test program, and is all down to the tireless work of our engineers who strive to make every model as safe as possible.
"We know how important safety is to families when deciding on a vehicle, and this result means further peace of mind for our customers."