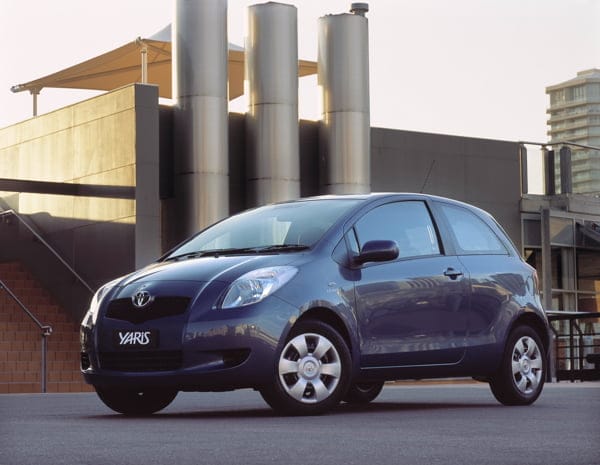 The Toyota Yaris is an iconic p-plate chick car and I was thrilled to be able to test it out for the week and see just how suited it is for its target market.
The Yaris combines a range of 10 gloss paints, including the cute cosmopolitan pink, front and roofline spoilers and halogen headlights as standard to create an effortlessly chic and sporty exterior. It's compact design, tapered front, alloy wheels and smooth lines also add to the appeal of the Yaris. Moving to the interior, the Yaris provides a spacious cabin area and innovative designs. The seats are covered in a cloth trim, that unlike some cheaper cars, is of excellent quality and is very comfortable, coming from someone who is partial to leather. All the seats, bucket in the front, are adjustable to maximise comfort and there is a surprisingly large amount of room in the back seats, which comfortable fitted many of my male friends. However, this does come at a cost, as the boot is incredibly small, fitting only a few school bags. This certainly is a car for driving around the city and not for a weekend away with the friends.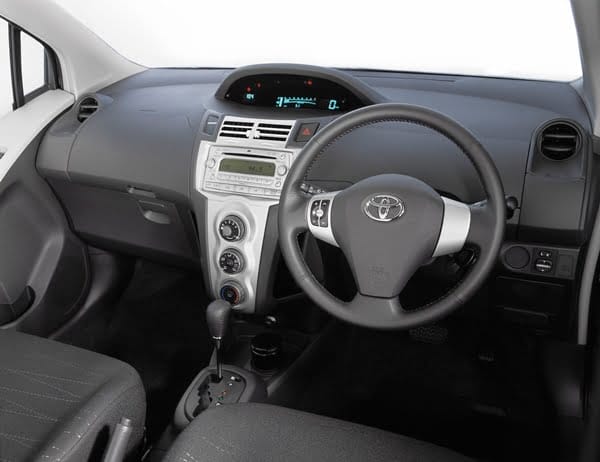 The Yaris continues providing many features as standard that most p-plate drivers take for granted, such as air conditioning and power windows and mirrors. A quirky feature of the Yaris is it's dashboard display which is located in the center of the car and is fully digital. This helps add a touch of uniqueness to the car and is also very easy to see and utalise while driving. While there are many pockets and a sizable glovebox for storage, the Yaris lacks a center console and it is certainly noticeable and missed. When it comes to audio, the Yaris boasts mobile phone bluetooth connection as standard, which is a major bonus! The audio system is fully compatible with MP3, has a 6 disc stacker, AUX, 4 speakers and mounted audio controls on the steering wheel for convenience.
Safety is at an optimum, as usual for Toyota, in its latest YRX Yaris that has all the features that you need including ABS, EBD, Brake Assist, Traction Control, Vehicle Stability Control, front, side, rear, curtain and knee (for the driver) airbags and pre-tensioning seatbelts along with the security of an engine immobiliser and central locking. All these features contribute to the maximum 5 star ANCAP rating. This 4 cylinder Yaris has a fuel consumption of around 6.5L/100km and with a tank capacity of 42L, it goes a long way. Not only is this car economical but it is great for the environment with a Greenhouse Rating of 7.5 and an Air Pollution rating of 6.5.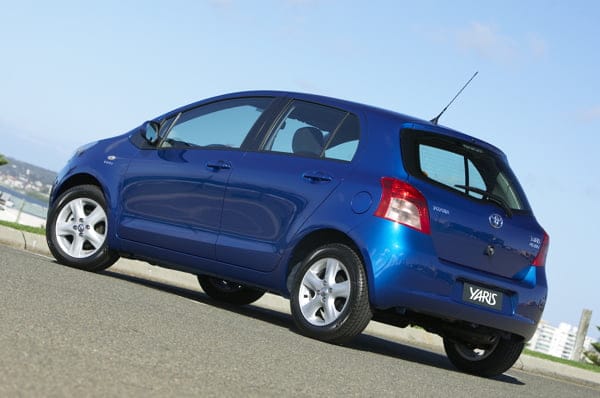 P-Plate Positives
1. The 5 star ANCAP safety rating helps create peace of mind incase an accident were to occur.
2. A stylish and chic exterior and a comfortable and innovative interior add dramatically to the appeal of the Yaris.
3. Fuel efficiency is fantastic and its also doing good for the environment.
4. So many features are as standard enhancing the overall appeal of the Yaris, especially the Bluetooth connectivity.
P-Plate Negatives
1. Starting from $24,811 drive away, the Yaris isn't exactly attainable for most 17 yr-olds on their own, however, you certainly pay for what you get and the Yaris YRX is value for money. Just got to convince the parents to chip in and I know how hard that is!
2. The boot space is so incredibly small. To access a significant amount of boot space to be able to go away for a weekend, you would need to fold down the rear seats.
3. The center storage console is something that is noticeably missed! Even if there are other nooks and crannies throughout the car.
The Yaris YRX is a fantastic car for the p-plate female. It is economical, environmental, stylish, comfortable and safe. Its effortless to drive and a lot of fun. Toyota has certainly nailed its target market and the stacks of standard features make it a car not to miss!
Rating: 3.5/5