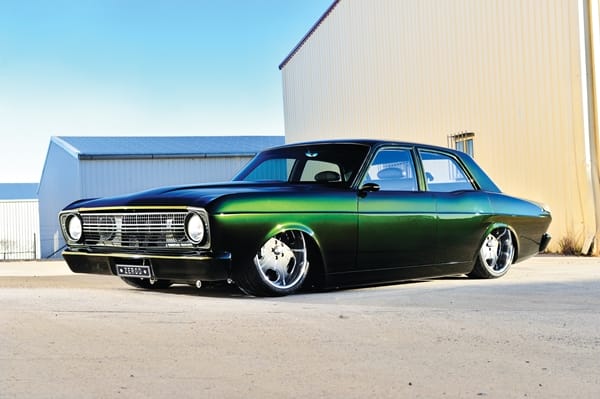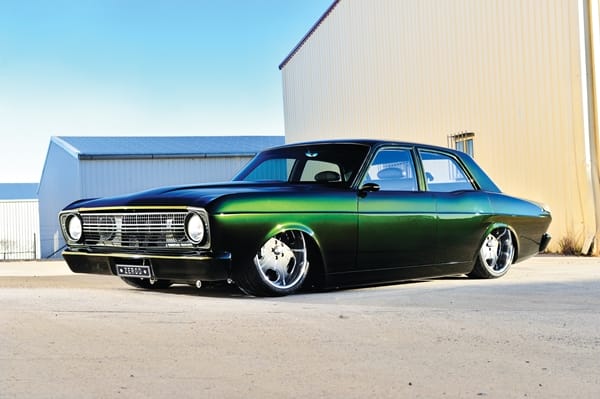 The 2012 Australian International Motor Show will demonstrate that being 'green' can be cool, cost-effective and powerful with a display of the world's first elite eco-friendly custom-built muscle car – ZERO'D.
ZERO'D is the brainchild of Mick Fabar, owner of Green Homes Australia, whose primary goal when creating the muscle car was to achieve a zero carbon footprint, by focusing on 'recycling' and 'bio technology'.
The 600 horsepower, turbocharged, biodiesel, V8-powered muscle car is based on a 1967 Ford XR Falcon sedan but utilised numerous waste materials and recycled components in its construction.
"I wanted to create a street machine that had ideally a zero effect on the environment in its design, construction and when being driven," said Mick Fabar.
"I'd been looking into the future and trying to figure out what kind of car my son would be building when he was 16 … The challenge sort of evolved from there.
"I did some research into biodiesel fuels and figured we should put that into a car and see what horsepower we could get. It really didn't cost anymore to build this car; it just required applying some basic principles."
Built using primarily recycled materials, every single one of ZERO'D's external body panels is second-hand and its hand-stitched black leather interior trim is made entirely from hide off-cuts and 'seconds' that would normally be discarded. Even the nuts and bolts are recycled!
Only a handful of new components were used, including new rubbers and glass due to replacements not being available in appropriate condition and the radiator and intercooler which had to be specially made to suit the custom front end.
Other new parts were sourced from eco-friendly developments, with the tyres free from Distillate Aromatic Extract oils (DAE) and a low emission base paint.
ZERO'D's low environmental impact even extends to the equipment used during its creation, with eco-friendly gas used in the welding equipment and its workshop powered by renewable green energy from wind and solar-powered resources.
Powered by a recycled 7.3 litre Ford Powerstroke turbocharged V8 with an Allison four-speed automatic transmission, ZERO'D will run on commercially available B20 (20% bio, 80% petrol) biofuel straight from the bowser that will reduce the V8's exhaust emission by up to 70 per cent, whilst still delivering impressive horsepower and torque.
ZERO'D took just seven months to build, and only 11 months to plan, with Queensland's Bond University documenting every step of the build to ensure the production team maintained its carbon footprint of zero.
"We are delighted to have ZERO'D on display at the Australian International Motor Show as it could well provide an insight into the future direction of the automotive industry," said Russ Tyrie, Show Director.
"Confirmed as the first custom car of its kind, ZERO'D is a true demonstration of Australian ingenuity and it will certainly offer inspiration and ideas for the general public and industry experts alike at the Motor Show."
The 2012 Australian International Motor Show will be held at the Sydney Convention & Exhibition Centre, Darling Harbour and will open daily at 10am from October 19 to 28.
For further information about the Show and to purchase early bird tickets, visit www.motorshow.com.au, which is also compatible with all android and Apple mobile devices.
ZERO'D SPECIFICATIONS:
Engine: Recycled 7.3 litre Ford Powerstroke turbocharged V8 diesel truck engine
Performance: 450Kw (600Hp), 1000Nw (738ft/lbs) of torque
Fuel: B20 Biodiesel with battery system featuring an auxiliary charge from two solar panels
Body: Recycled panels
Paint: House of Kolor 'Earth Green' eco-friendly Shimrin 2
Interior: Leather off-cuts and seconds
Wheels: Showwheels 8×20 (f), 10×20 (r)
Tyres: Federal "Green Friendly" tyres