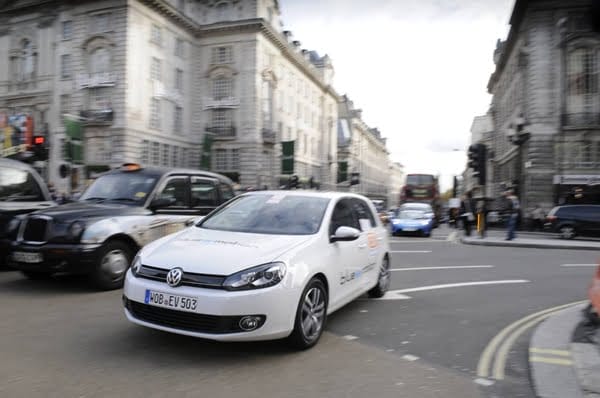 VW Golf Blue-e-motion Wins 1st Future Car Challenge. Not bad for a Prototype.
A Volkswagen Golf blue-e-motion prototype electric car is the overall winner of the inaugural Future Car Challenge. The car also won its category, Most Economic and Environment Friendly Regular Passenger EV.
The Royal Automobile Club Gold Medal for the winning vehicle was presented to Jim Holder, Editor of What Car? and Volkswagen engineer Folko Rohde who shared the driving. The pair joined a total of over 60 entrants in travelling from Madeira Drive in Brighton to Pall Mall in London -a distance of 92 kilometres -with the aim of consuming as little energy as possible.
The Challenge attracted a diverse range of entries, from pure electric vehicles such as the Golf blue-e-motion, to hybrids, hydrogen fuel cell vehicles and highly efficient diesel cars such as the Polo and Golf BlueMotion.
Powered by lithium-ion batteries, the Golf blue-e-motion has an electric motor with a peak power output of 85kW and a range of around 150 kilometres in normal conditions. It can reach a top speed of 135 kilometres per hour and accelerate from rest to 100 kilometres in 11.8 seconds. The car features regenerative braking that can activate when the accelerator is released and during the initial travel of the brake pedal. This reduces the amount of energy that would otherwise be wasted during driving.
Despite its unconventional motive power the Golf blue-e-motion appears at first glance like any other Golf with a slightly reduced boot volume of 275 litres and space for five adults.
This is the first time that a Golf blue-e-motion has been brought to the UK. It was found to have consumed the least energy of any of the diverse range of vehicles in the competition from Brighton to London which took in a challenging mix of country roads, and some severe London traffic jams.
On receiving the award, Jim Holder said: 'It's a testimony to the abilities of the Golf blue-e-motion that it won despite the fact I'd never competed in any sort of eco driving challenge before. Folko was a superb tutor in getting the best from the car, but the fact is that this was a challenge on real roads and, in my case, without an expert 'eco' driver at the wheel. That just underlines how efficient the blue-e-motion is now-so to think how good it will be when it goes on sale in three years time is extremely exciting.
'Better still, we made it to London without any hint of a worry about range, and in total comfort. Already, this is a car that lives up to all the expectations that come with being a Golf; it's refined, a joy to drive and supremely practical. This should guarantee a great story for the readers of What Car? and whatcar.com.'
In addition to the winning Golf, Volkswagen also entered a standard Golf and a Polo BlueMotion. Powered by TDI engines, both vehicles also made a big impression. According to the testers, they are better than some of the hybrid systems available at present. This is also impressively shown by the current record holder in the 2010 Guinness World Records – the Passat BlueMotion covered a distance of 2,463.91 kilometres on just one tank of fuel. Its 1.6-litre TDI engine (77 kW / 105 PS) thus consumed on average just 3.13 litres per 100 km.
The Golf blue-e-motion is currently in the development stage and will be launched globally in 2014