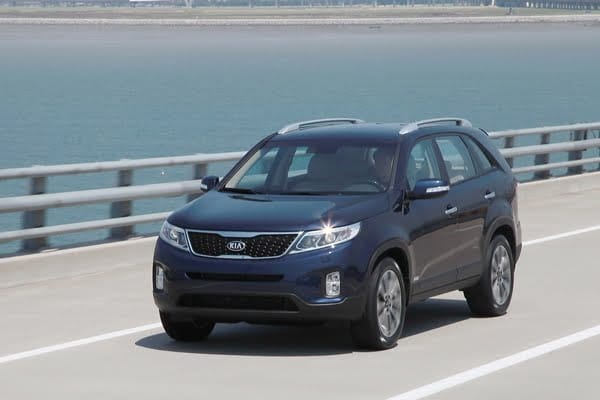 When the new upgraded Kia Sorento CUV goes on sale later this year in most markets, it will incorporate significant changes which include a completely new platform, enhanced powertrains for better fuel economy with lower emissions, improved ride, handling and refinement, additional convenience and safety features, plus a fresh, new look for the exterior.
"Since its introduction in 2009, the second-generation Kia Sorento has achieved more than 620,000 sales around the world. This success came after the global sales of almost 900,000 units achieved by the original 2002 Sorento which was a 'landmark' vehicle in the history of our brand, starting the process of changing public perception of Kia as a maker of small cars," commented Thomas Oh, Kia's Executive Vice-President & COO of the International Business Division.
"During the last decade, Sorento has earned widespread media and public acclaim and attracted thousands of customers to Kia who had not previously considered our brand. While creating upgraded Sorento we have given very careful attention to owners' feedback, and the result is a new Kia model which is not just a cosmetic exercise but represents a major step forwards for our popular CUV," added Mr Oh.
"Despite the current economic uncertainties in some markets, we are confident that upgraded Sorento with its fresh look and significant improvements will increase Kia's share of the utility vehicle market, achieving annual global sales of 265,000 units from 2013," concluded Mr Oh.
Introducing a fresh new look with premium appeal
To give the upgraded Sorento a fresh look that reflected the new model's stronger structure, premium quality and enhanced specification, Kia's design team restyled the upgraded vehicle's front and rear, creating larger areas of body-colour surface. Careful attention to surface detailing cut aerodynamic drag to Cd 0.34.
Kia's designers developed new front and rear bumpers with vertical-axis fog lights, a new front grille and headlamps with LED positioning lights, and a new tailgate with reshaped LED combination lamps. Depending on model, the Sorento's profile can be enhanced with new, optional 10-spoke machine finished 19-inch alloy wheels.
A new two-part glass panoramic roof with a single powered roller blind shade will be available.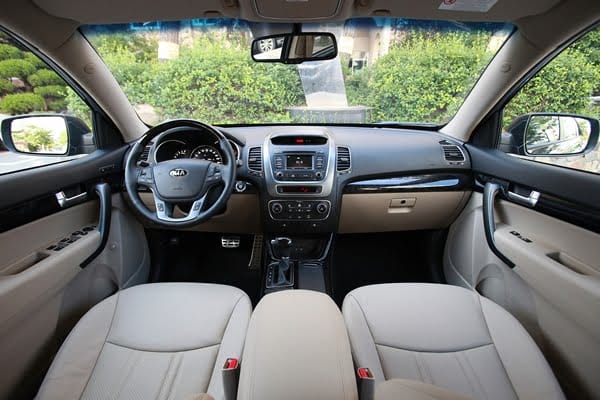 New high-tech features and top quality cabin trim
Inside upgraded Sorento's cabin, numerous enhancements create a refreshed ambience, with premium high-tech equipment available on some models and an extended choice of options. Access is improved by the lower ride height (-10 mm), and the cabin floor has also been lowered, increasing legroom by 30 mm (2nd row) and 9 mm (3rd row). The interior can be trimmed in black or beige cloth or leather, depending on markets.
Inside the seven-seater cabin, there are more soft-touch surfaces – with a satin chrome finish for the door handles, air-vent surrounds and switches – plus a new LCD instrument cluster, new centre stack with 8-inch LCD display screen (7-inch in Europe) and a new centre console featuring a straight-gate selector with a leather-gear knob on automatic transmission models – reinforcing the vehicle's more luxurious character.
Premium options will include powered, heated and ventilated front seats, heated second row seat cushions, a Bluetooth® hands-free system, UV-reflecting solar glass, and air-conditioning for the third row seats.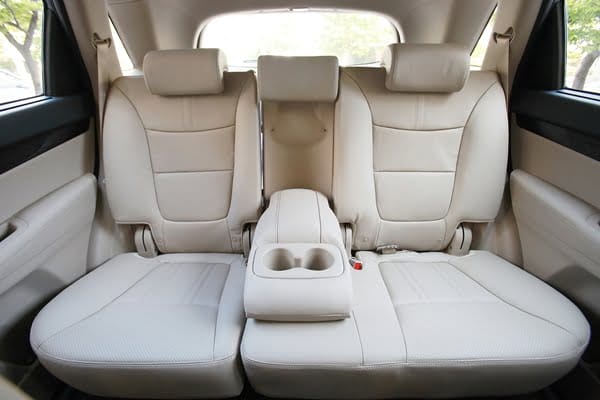 Kia's engineers have implemented a host of NVH (noise, vibration and harshness) reduction measures to ensure that upgraded Sorento boasts even greater refinement than the previous model, making it one of the quietest vehicles in its class.
Enhanced powertrains cut consumption and emissions
Kia's upgraded Sorento will be manufactured in Korea with a wide range of different gasoline and diesel engines (from 110kW to 205kW) to meet the needs of motorists in every region of the globe. Acknowledging consumer trends, Kia has fine-tuned both the Theta II 2.4 GDI gasoline and R2.2 TCI diesel engines to improve their efficiency.
The revised 2.4-litre Theta II GDI engine is fitted with a new cylinder head, pistons, fuel injection and intake systems. It generates 9% more power (141kW) and 6.6% more torque (242Nm), than the similar capacity MPI (multi-point injection) engine available in some markets, while delivering better fuel economy and lower emissions, from 199 g/km.
The 'R' family of Kia diesel engines has become a popular consumers' choice in a variety of Kia models all around world. In upgraded Sorento, the 2.2-litre, 145kW TCI (turbocharged inter-cooler) engine features a new exhaust gas recirculation (EGR) system which reduces CO2 emissions – down to as little as 153 g/km. Maximum torque is 436 Nm (automatic models) and 421 Nm (manual).
In some countries, customers will also be offered Kia's 3.5-litre Lambda V6 MPI (205kW) and 2.4-litre Theta II MPI (130kW) gasoline engines – while European Sorento buyers will be able to choose the smaller 2.0-litre R2.0 TCI engine with 110kW.
Six-speed gearboxes, plus choice of 2WD or 4WD
Every upgraded Sorento model will feature a six-speed transmission (manual or automatic) and a choice of 2WD (front-wheel drive) or 4WD (four-wheel drive) – depending on model – carried over from the previous model. The 2WD drivetrain offers a weight saving of approximately 60kg – enhancing fuel economy.
The 4WD drivetrain is an 'on demand' system that delivers 100% of engine torque to the front wheels during all routine city and highway driving. Whenever a front wheel loses grip a percentage of torque (up to 50%) is automatically transferred to the rear wheels. In severely slippery conditions the driver can select 'Lock Mode' which delivers 50% of torque to both the front and rear axles.
Improved on-road performance, retained off-road capability
Kia chassis engineers worked hard to ensure that while the upgraded Sorento gives rewarding responses to driver inputs, it also delivers a sophisticated ride/handling balance to rival the best vehicles in its class.
While the basic specification of the suspension is unchanged – front MacPherson struts and a multi-link set up at the rear – the subframes which support the suspension are completely new, stronger designs. They give more precise location of the suspension components and have revised mounting bushes to dampen vibrations. Larger suspension bushes, longer trailing arms at the rear and HPD (High Performance Dampers) work together to improve ride comfort and stability.
For precise vehicle control and good 'feel', the upgraded Sorento's steering is now more direct, with 2.95 turns of the wheel lock-to-lock. Kia's new FlexSteer™ system will be available as an option, providing Normal, Sport and Comfort modes with three different weights to match customer preference. Comfort mode is ideal for city driving.
High safety standards with advanced 'active' and 'passive' systems
When it was introduced in 2009, the second generation Sorento was awarded a 5-Star Euro NCAP safety rating. Today, official crash test standards in Europe are much tougher and Kia engineers re-visited the upgraded Sorento's bodyshell structure and safety equipment to ensure high safety standards.
Extensive revisions to the bodyshell, which incorporates a higher percentage (25%) of ultra high-tensile strength steel than most vehicles in its class, have improved front, side and rear impact protection. Hot stamping is used to heat steel to 900º C and press immensely strong components to produce ultra high-tensile strength steel that is used for the front bumper, centre floor member and rear floor side members – improving crashworthiness.
A bracing bar between the top of the front suspension towers is fitted and the bodyshell's torsional rigidity has been raised by 18%, enhancing refinement and creating a stronger foundation for the suspension and steering, which benefits ride comfort and directional stability.
Inside, the upgraded Sorento can be equipped with up to six front, side and curtain airbags, while for maximum stopping power, all upgraded Sorento models are equipped with larger diameter (320mm) ventilated front disc brakes.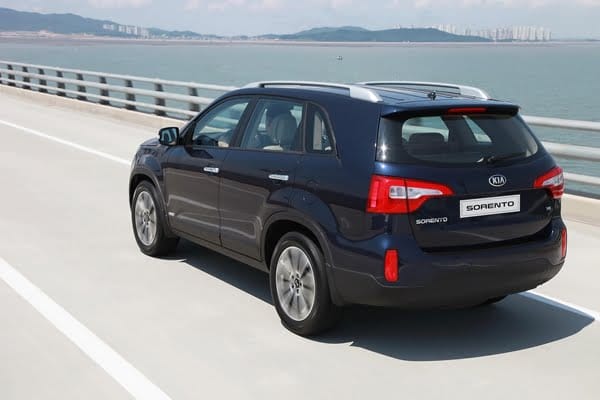 Active safety technologies that upgraded Sorento buyers can specify will include ESC (electronic stability control), a reversing safety camera mounted on the tailgate with a 130 degree wide-angle lens, HID (high intensity discharge) Xenon headlamps and HAC (hill-start assist control), which prevents slip-back during stop-start driving on inclines.
Customers in select markets will be able to specify radar-based BSD (blind spot detection), LDWS (lane departure warning system) using a camera above the windshield and SPAS (smart parking assist system) with ultrasonic sensors to control automatic parallel parking.