When Toyota released the Yaris, it was lampooned for no longer having an entry level car under 20k, and quite right too. It is a nonsense. So, can real men drive Yaris Cross?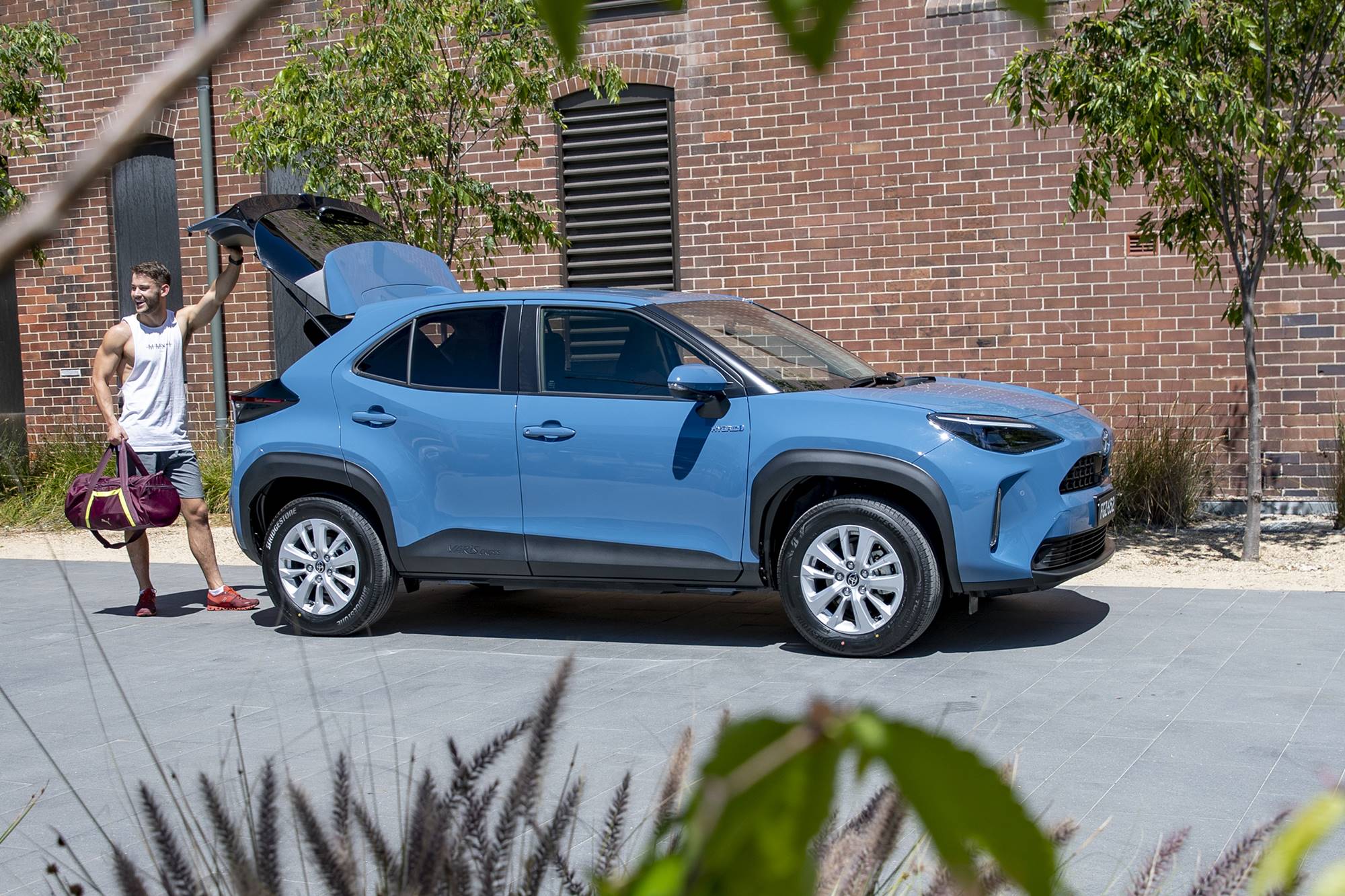 They might like extra space: Yaris Cross is a little taller, has more ground clearance, is 240mm longer, and has 10mm extra in the wheelbase. Yaris Cross also comes with an AWD option, In short Yaris Cross should have bene called something different, so there, I've said it.
Outside:
Toyota styling has seen as ordinary. Driving a bucket of muck would preferable. So what's been going on lately? They've gone all modern on us.
Yaris Cross URBAN looks quaintly butch-ish.
Although Yaris Cross is bigger, It isn't just a matter of a nicer frock and smarter pair of shoes..
Our URBAN sits on top of the GX/GXL/URBAN top 100.
URBAN has smart entry, and I like Toyota's system rather muchly. There are no tacky buttons on the door handles. Toyota has a touch sensor outer door handle, and another on the inner surface of the door handle has another sensor for unlocking.
You can wave your foot under the rear bumper to raise the hatch, should your hands be full.
There is full Lighting is LED on the top model.
Bottom models have 16" wheels, with 18-inchers on our URBAN. Hybrid cars get a puncture repair kit, which I hate with a passion. They've always let me down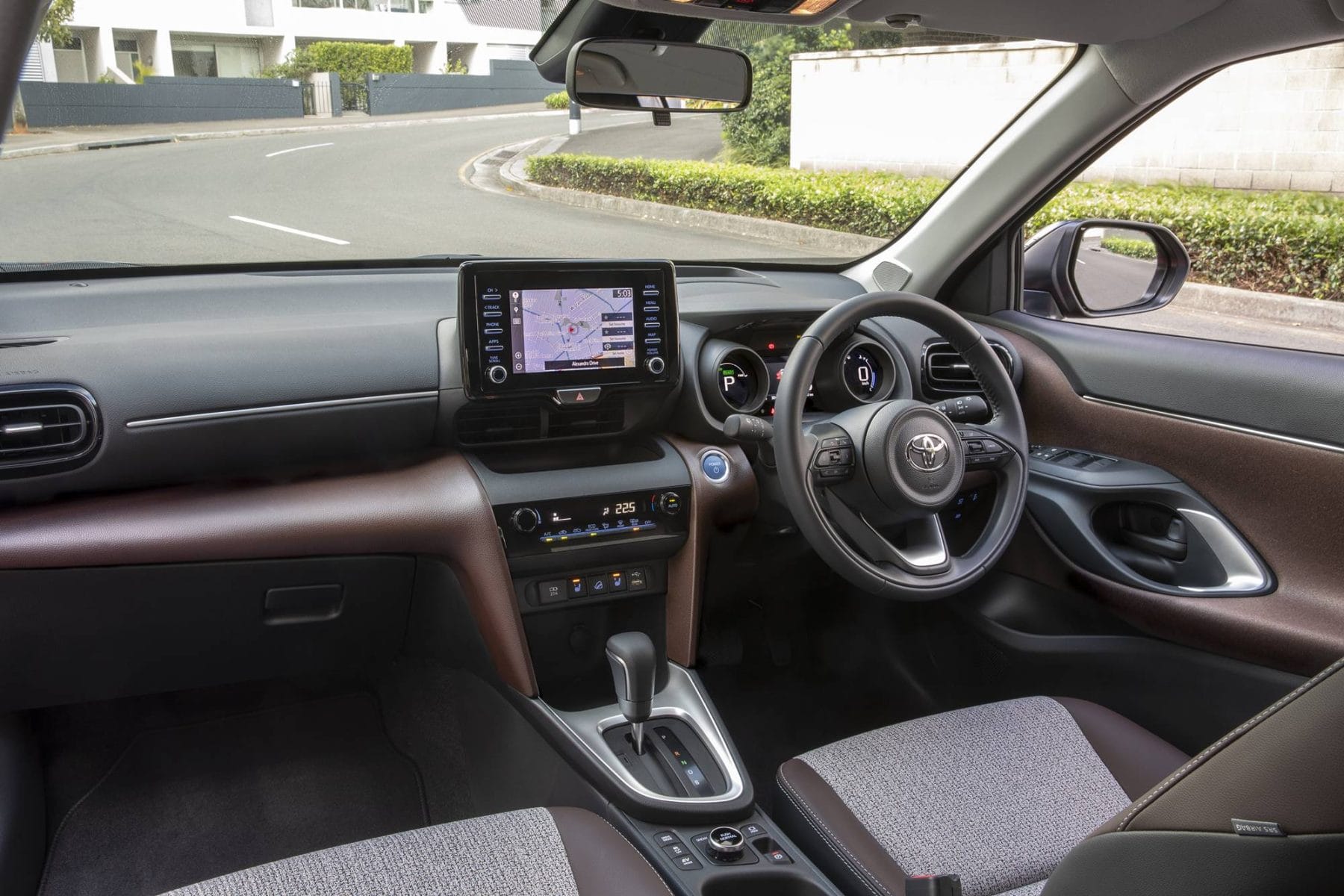 The Cabin:
Much of the trim is hard, and certainly not luxurious. Doors have hard panels, with some fabric glued on. David didn't care for it, but I thought it OK for a cheap car. However, this is not a cheap car.
There are some off-roading buttons, but is better suited to a little light camping. Rocks and sand are to be tackled at your peril.
Yaris Cross URBAN is well suited to a Gen Z'er.
Electric seats are heated, and have a sturdy fabric and fake leather cover. Again, the look is not exactly premium. The driver gets powered adjustment, sounds like a jackhammer when in use. I suspect the mechanism needs sorting.
Somehow, the cabin feels more spacious than Yaris.
There are loads of cup and bottle holders, and the cargo hold many things, with 390L of useable space.
There is a 5.7L glove box, and a handy trinket tray under the touch screen. It is obscured by the centre vents which is very annoying.
Infotainment is via a touch screen, with Apple CarPlay/Android Auto and DAB. Sound is decent, but there are only 6 speakers which can make the sound a bit flat. Turning up the bass and treble doesn't help much.
Gadgets and Safety:
Here are a few highlights for your reading pleasure –
Airbags
AWD
Head Up Display
Rear View Camera
Active Blind Spot Monitor
Active Lane Centering
SOS/Emergency Calling
Traffic Sign Recognition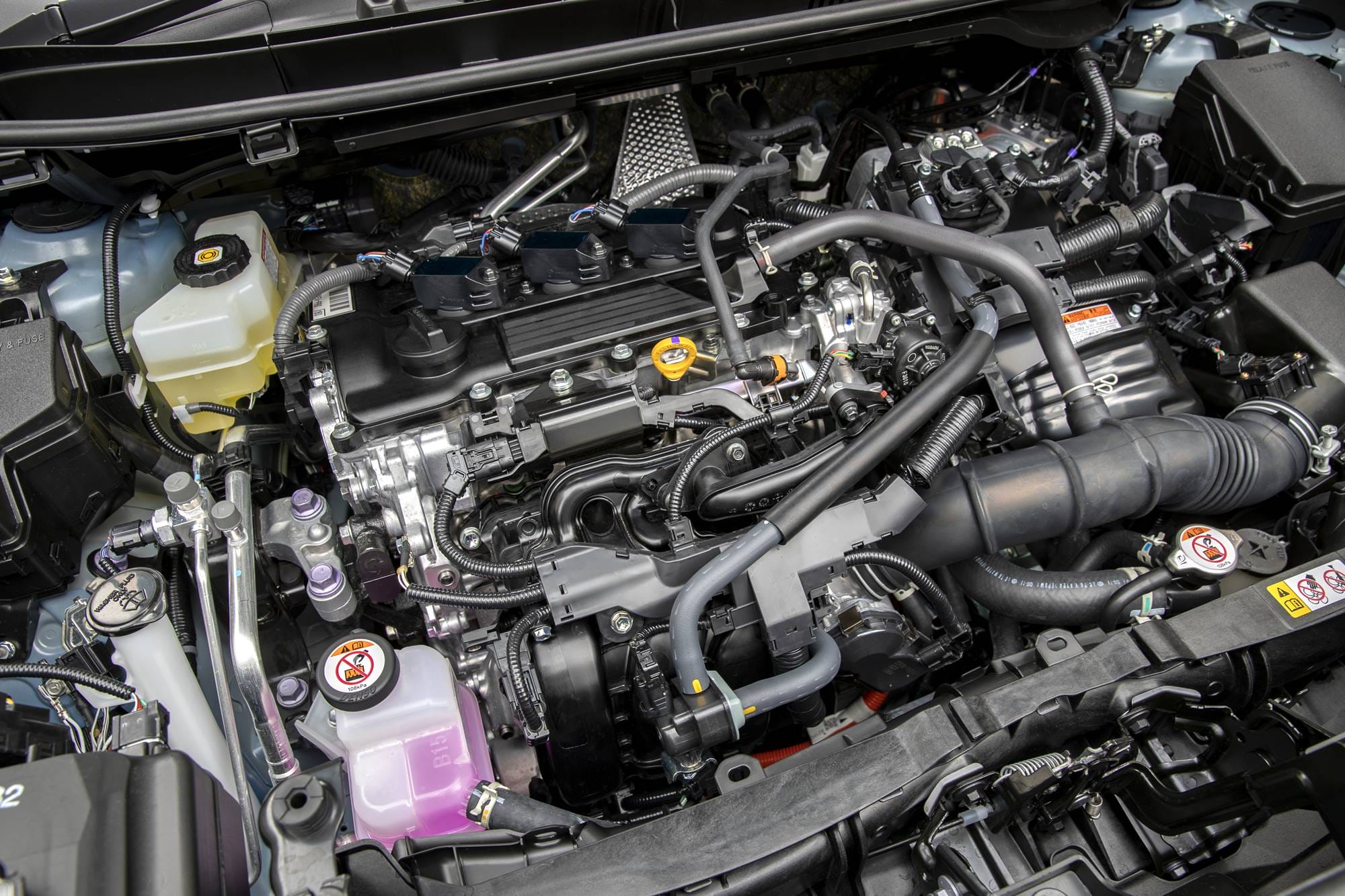 The Drive:
I expected Yaris Cross URBAN to be ok. After all, Yaris was nice on the road
Yaris Cross is a different animal altogether.
For a start, AWD models have a more sophisticated rear end. Whereas all 2WD Yaris/Cross models have a torsion bar rear suspension setup, AWD cars have multi-link. It means a better ride, and vastly superior handling. I know what you're thinking, most people won't notice it, and you're right.
You start off in EV mode. Only the front motor operates for almost silent running. Even after all these years, that still gives my inner sanctum a little tingle
If you give it a good poke, the petrol engine fires up, and the rear motor adds more kick. It keeps the front wheels from spinning too.
There is only 85kw to play with, so Yaris Cross URBAN is more demure, than demented. The CVT transmission OK, but I'll never love them. Some CVT automatics will step up in fixed ratios like a normal gearbox, Yaris Cross is not such a CVT. It screams like a banshee until the car catches up with the sound. When you lift off, and the revs drop. In fact, the engine may cut out altogether. Even at cruising speed, EV mode cuts in when the petrol engine is not needed.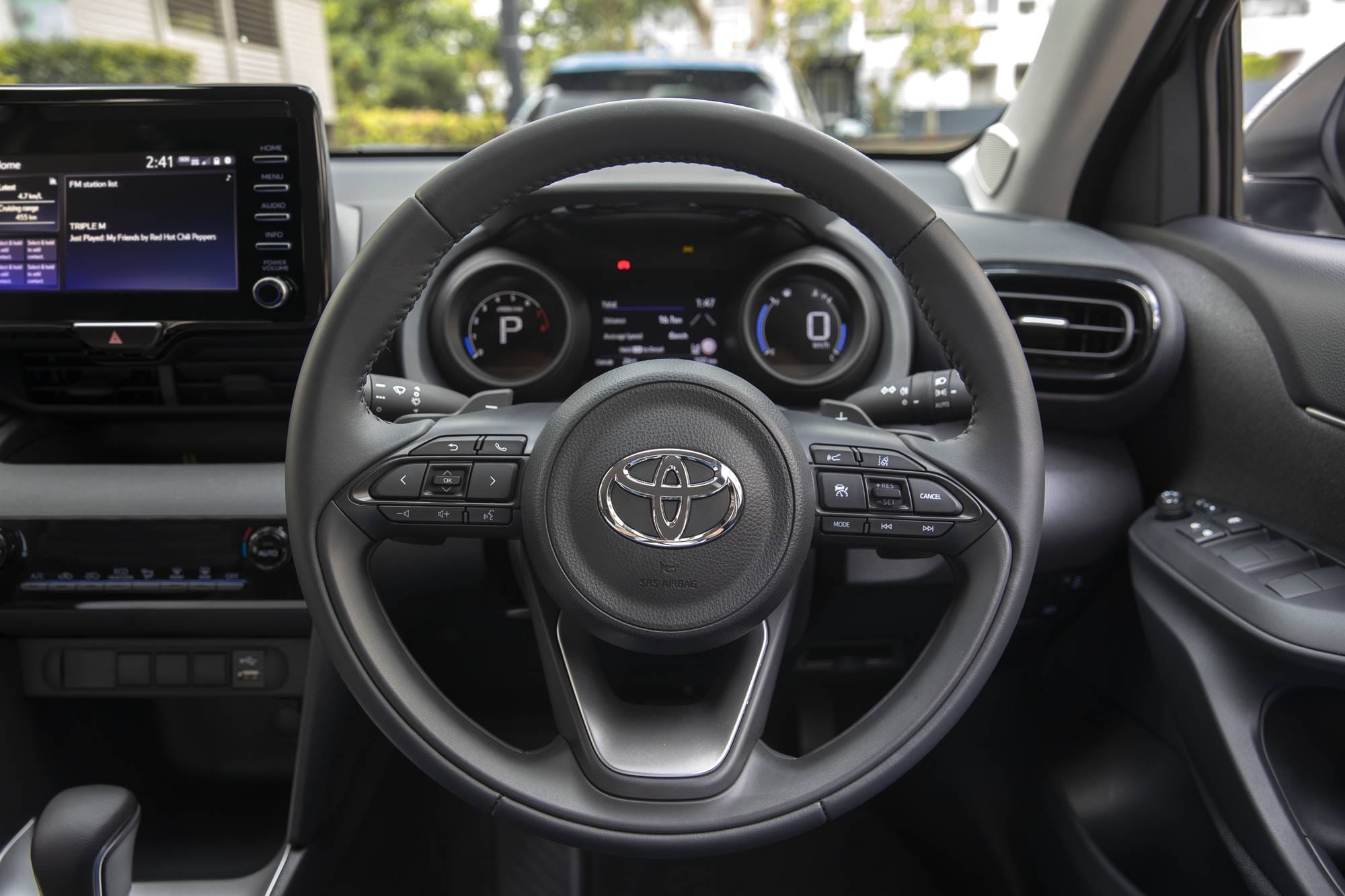 When slowing down, the batteries store energy to recharge.
Around town, Yaris Cross will spend a lot of time in EV mode, with the FWD models getting as low as 3.3L/100k. Our AWD car is claimed to have 3.8L/100k (comb).
We took the Yaris Cross on the highway, and it was far more comfortable cruising that it was in tight bends. Though the handling was good, each corner caused the traction control light to flash madly. I suspect it wasn't quite right and needed looking at.
Around town is where Yaris Cross URBAN is going to be used most, and that's where it was happiest.
Parking is easy, with a reversing camera and sensors.
Yaris Cross is a small car lots of tech, and it feels good.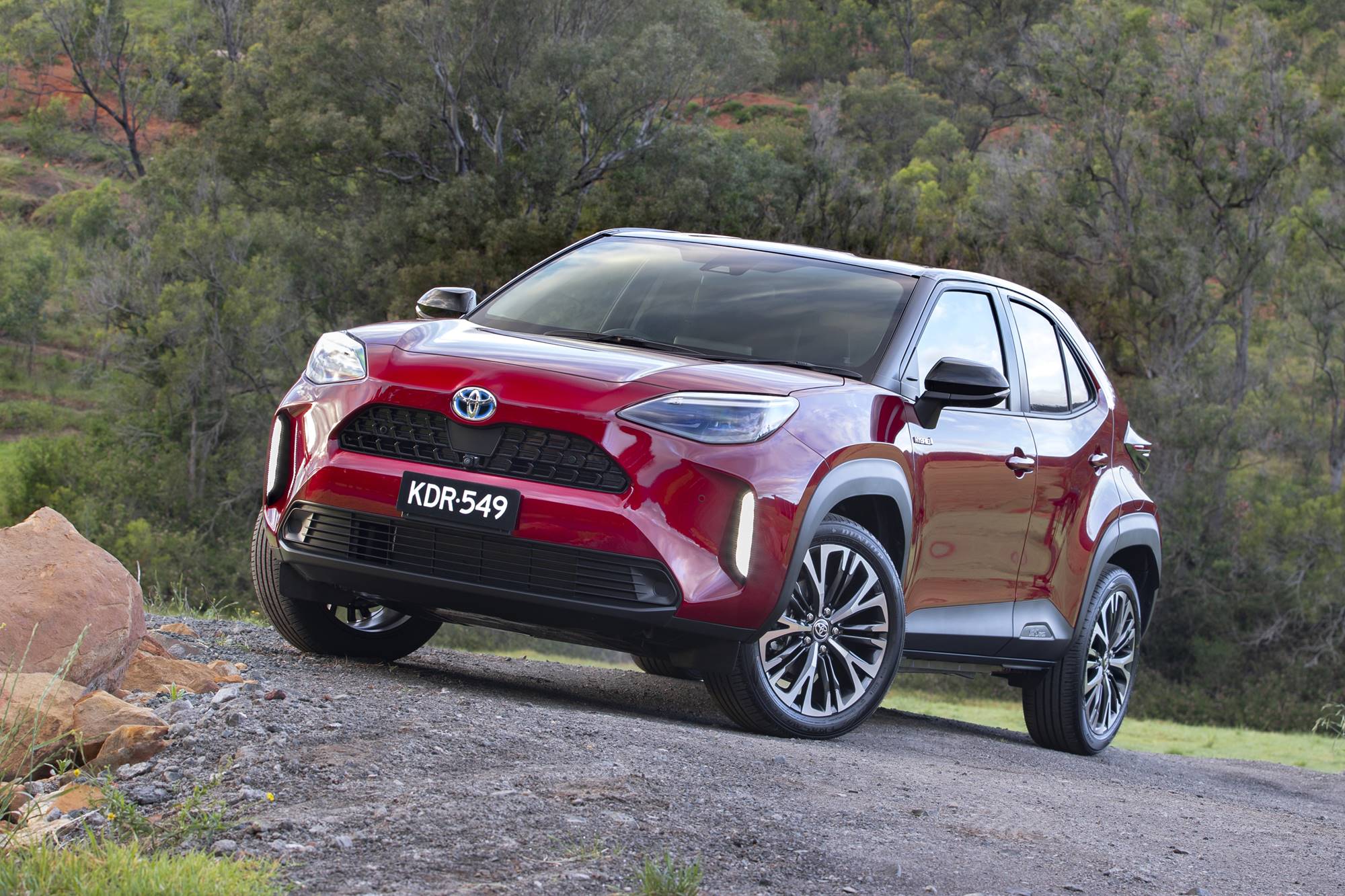 Conclusion:
Despite were a couple of little niggles, I loved Yaris Cross URBAN. It looks cool, drives well, and is very cheap to run.
There is 5 years basic cover warranty, and 10 years on the battery. You get an additional 2 years on the engine if serviced at toyota, and 7 years of roadside assistance. Toyota will also rent you a car, subject to conditions, if things go wrong.
I couldn't recommend Yaris because the price doesn't justify the car, but Yaris Cross made me fall in love with it, just a little bit.
Yaris Cross Pricing19
GX
2WD petrol $26,990
2WD hybrid $28,990
AWD hybrid $31,990
GXL
2WD petrol $29,990
2WD hybrid $31,990
AWD hybrid $34,990
Urban
2WD petrol $32,990
2WD hybrid $34,990
AWD hybrid $37,990
Premium paint                   $500
Two-tone paint                 $450
Engines/drivetrain
FWD, 1.5L Petrol, 88kw/145Nm
FWD Hybrid, 85kw
AWD Hybrid, 85kw
Fuel: 91ron