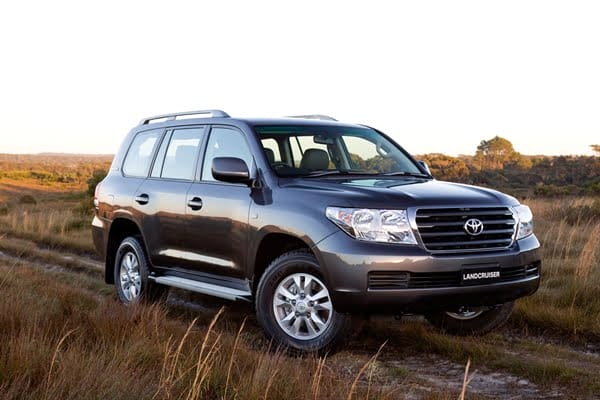 The Toyota Landcruiser is an Icon in Australia and has now passed 750,000 sales in Australia during the 60th anniversary year of the iconic off-roader.
The total includes 280,000 LandCruiser wagons including the current 200 Series, 310,000 "military" versions seen in the 70 Series line-up, and 160,000 LandCruiser Prado.
LandCruiser has the longest history of any Toyota nameplate.
Toyota Australia senior executive director sales and marketing David Buttner said LandCruiser led Toyota's drive into world markets.
"LandCruiser has demonstrated its competitiveness and dependability since the first prototype was delivered in January 1951," Mr Buttner said.
"LandCruiser underpinned Toyota's development in Australia and, in many regional and remote areas, remains the vehicle of choice in tough conditions where quality, durability and reliability are paramount.
"In March next year, we will expand the LandCruiser range with the retro-inspired FJ Cruiser – a vehicle that is loaded with character and delivers the off-road ability and driving enjoyment engineered into every LandCruiser."
In Australia, one of the first LandCruiser customers was construction magnate Sir Leslie Thiess, who bought several for use on the rugged construction trails of the Snowy Mountains Hydro Electric Scheme.
LandCruiser's performance in tough local conditions helped make Australia the largest single market for the model, accounting for more than one in 10 of all LandCruisers ever built.
LandCruiser Prado is a relative newcomer, being introduced locally in 1996.
Toyota Australia is marking the 60th birthday of LandCruiser with a special-edition model.
Available for a limited time, the anniversary model provides more than $5,000 of extra equipment compared with the LandCruiser 200 Series GXL on which it is based.
The added features include leather-accented interior, Bluetooth™-compatible touch-screen satellite navigation with a four-CD changer, premium steering wheel and shift lever, silver roof rails and 60th anniversary badges.
The twin-turbo V8 diesel special-edition model has an effective price increase of just $76 because it also gains the Kinetic Dynamic Suspension System (KDSS), which is normally a $3,250* option.
All quad-cam V8 petrol LandCruisers have KDSS as standard. Prices for the 60th Anniversary petrol model start at $79,990*, with the increased specification representing significantly improved value.
All new LandCruisers, including the 60th anniversary edition, are covered by Toyota Service Advantage, which caps the price for a standard scheduled service at $210 during the first three years or 60,000km (whichever comes first).**
Where LandCruiser began
The dream of Toyota Motor Corporation founder Kiichiro Toyoda was to produce a car fully made in Japan – a vehicle with low price, high performance and economy.
Toyota began developing a Jeep-like vehicle with a slightly longer wheelbase, slightly more compliant suspension and a more powerful engine.
By January 1951, Toyota had produced a prototype – a one-ton truck chassis with Toyota's "B" engine, a petrol-powered water-cooled in-line six-cylinder 3,386cc unit.
By combining Toyota's "B" engine with a Jeep-like body and chassis, the vehicle became known as the BJ.
Six months later, test driver Ichiro Taira drove a prototype all the way to the sixth of 10 checkpoints on the 3,775m Mt Fuji – higher than anyone thought possible in a 4WD.
Impressed by the feat, the Japan Self-Defense Forces (National Police Agency) placed a large order, but later backed off on that number. This allowed Toyota to sell the vehicle overseas, earning valuable foreign currency and carrying the Toyota name to other countries.
In June 1954, director of technology Hanji Umehara (later a managing director) renamed the 4WD the LandCruiser. The rest, as they say, is history.
* Recommended retail prices exclude dealer delivery, government and statutory charges and optional extras.
** For full Toyota Service Advantage details and conditions, visit advantage.toyota.com.au.