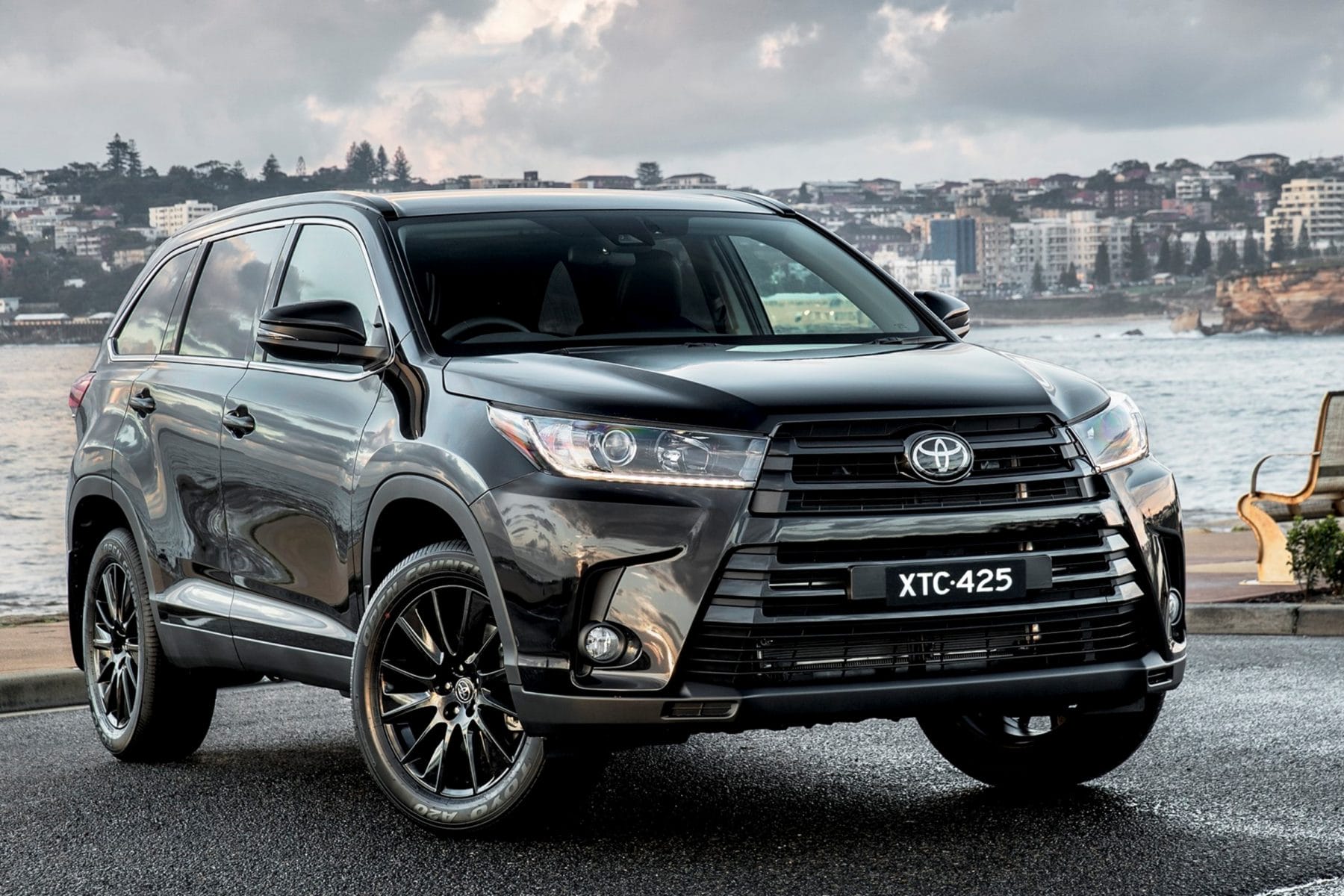 Since 2003, Kluger has found 170,000 homes, with 14,743 of those in 2018 alone. That means Kluger is the best selling SUV in the segment.
But, is it any good?
This model is the second Australian generation, and has been on sale since 2014. It had an upgrade in 2017.
This Kluger is in its twilight years with the replacement model debuting at the New York Motor Show this past April.
It is squarely aimed at families of all sizes, with a 3rd row of seats that can be deployed as needed. They're a snug fit, and best left to the more diminutive traveller.
Toyota Prado Kakadu Radio segment
Does it look good?
It's chunky. Kluger shows the early cues that Toyota styling was changing direction.  It isn't quite as polarising as the RAV4 we drove a few weeks ago.  
It sits 200.3mm off the ground. That 0.3mm could be the difference between getting marooned on a wayward hump, or not.
Kluger is big.
The monocoque shell 4865mm long, 1925mm wide and 1730mm high, with a 2790mm wheelbase.
There are 3 choices of trim, GX, GXL, and Grande.
Every now and then, a special edition comes along, like this one. The black edition, based on the mid range GXL. That means this mean black on black exterior.
Black paint always looks good, and you really appreciate in in the 45c summers, not. GXL's 18" wheels have been upgraded to 19" on Black Edition. I think they look great.
I'd describe the styling a strong enough to impress, but not so overpowering as to scare off the punters.
Rear lights are LED, and there are LED DTRLs up front. Headlights are halogen, which seems a little behind the times.
The rear tailgate is power operated and includes a neat glass hatch for quick access. It sits very high up out of the way of little fingers.
The glass hatch is only available on power tailgate models, so GX buyers miss out.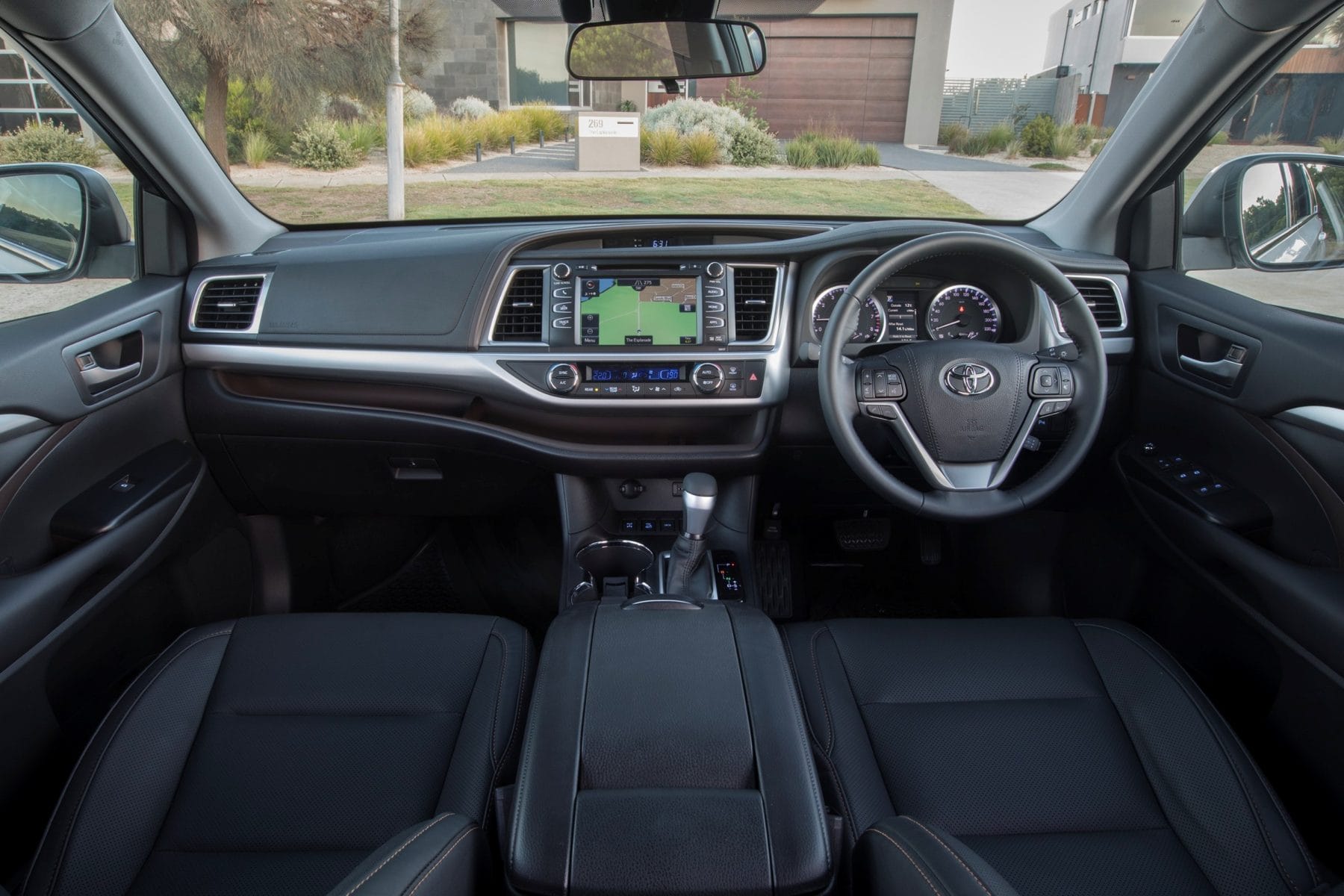 What's the cabin like?
Remember, this car is now 5 years old, and designed mainly for the US market.
Toyota says the cabin is "premium", but "comfortable" seem more appropriate. The asymmetric dashboard holds the 3-zone climate controls with an 8" infotainment screen above. The latter is flanked by fixed buttons, with 4 air vents well placed at face level.
If there is a peculiarly American feel to the cabin, it is not by coincidence. Kluger is designed for US tastes.
There are loads of cubby holes and cup holders. A single tray runs2/3 of the way across the fascia. It has thoughtful dividers to stop mobiles sliding during in an enthusiastic corner.
The centre console has 2 large cup holders and a another tray with USB and power outlets large centre bin with roll-away lid.
Surfaces feel soft which gives occupants a luxurious feel. Hard surfaces look like they are sturdy, but there is a grey metalised trim around the climate controls that look slightly dated.
The gear selector has a staggered gait which takes a little getting used to.
Unfortunately, the parking brake is operated with a foot peddle. In the bin with it.
What about the seats?
You sit high as with all crossovers.
Grande gets the full leather treatment with all other models getting either leather "accents", or cloth. Black Edition )and GXL adds seat heating up front, and Grande gets a rear entertainment system. Grande costs many more shekels, but is the model buyers seem to prefer.
Second row seats get a bench, while the 3rd row folds neatly into the rear floor. All Klugers have 3 rows.
Front seats are comfortable enough, no matter how far you drive. There is 10-way power adjustment with lumbar support for the driver
Black Edition has some smart contrasting stitching which lifts the interior just a touch.
Access to the 3rd row means the 2nd row has to be moved forward, as if you were getting in to the back seat of a coupe.
What Kluger like to drive?
It feels incredibly smooth.
Gear shifts with the 8 speed ZF automatic are slick, almost to the point of being as fast as a DCT (dual Clutch Transmission).
Ride is luxurious. The odd thump intrudes over heavier bumps, but most city incursions are hardly felt, or heard. 19" wheels in the Black Edition haven't made the ride differ much to the 18 inchers on the regular GXL.
Handling is neutral.
Kluger is a high-rider, so there is some body roll in tight corners. Keep in mind, Kluger is aimed at those wanting a comfortable, spacious, 7 seater. It isn't a sports car.
Steering in unbelievably light.
Turning in to corners at speed can catch you off guard because there is little feedback from the front wheels. At parking speeds, you could turn the wheel with one finger. That will appeal to anyone wanting a quiet, easy life.
Is Kluger AWD (all wheel drive)?
Yes, In fact you have a choice of two or all wheels drive.
A graphic on the drivers 4.2" LCD multi information panel is fun to watch, but not too closely of course. You should be watching the road.
What engine does Kluger have?
Strangely, there is a single V6 Petrol option.
This engine has been around for many years in various forms, and in various tunes. It is used in other Toyota models such as Camry, as well as a host of LEXUS cars.
The 2GR FKS engine gained direct fuel injection in 2017. This boosted power to 218KW/350Nm. Kluger hums along nicely at cruising speed, and can hit 180kph on a good day.
Fuel figures improved over the old model too. GXL/Black Edition saw a 10.8% decrease, getting 9.1L/100k for the 2WD, and a 10% decrease to 9.5L/100k for all AWD models.
On the highway that drops to 7.2L/100k and 7.2L/100 respectively. On a good day, you should be able to get from Sydney to either Brisbane or Melbourne on a single tank. Not too shabby compared to the old days where you had to stop at least once on your annual roadtrip north.
CO2 is 221g/k for AWD Klugers, and for 2WD models, GX/GXK emit 212g/k, and Grande does slightly worse at 216g/100k. Multiply that for 1,000 to see what you do for you roadtrip, and you'll put out a staggering 216kg of CO2 driving up the Pacific Highway. Let that sink in for a moment.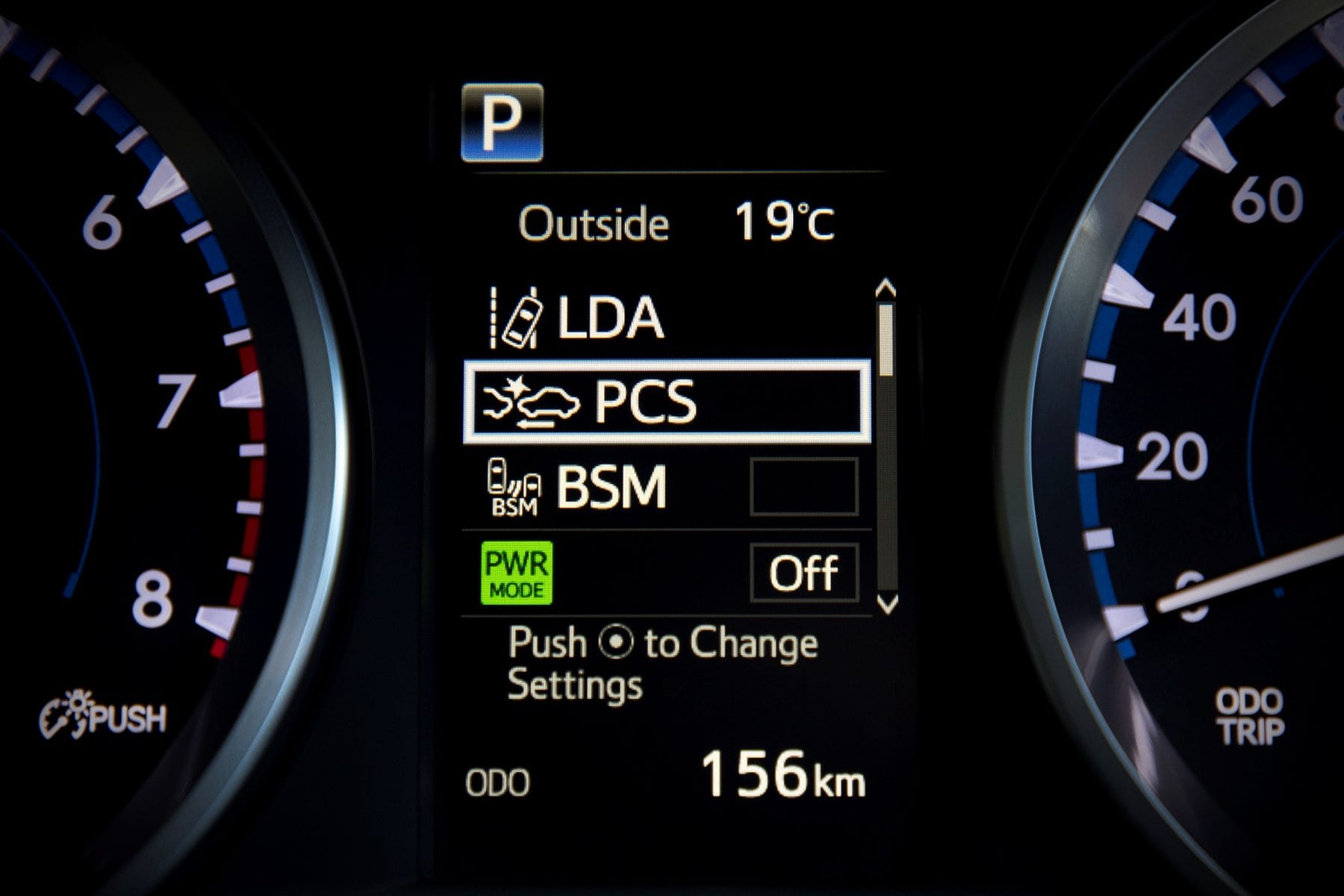 What technology does Kluger have?
Important features include:
Auto high beam, reversing camera, tri-zone air cond, 4.2: drivers LCD display, 8" infotainment screen, AB radio, auto wipers and lights, 7 seats
Safety includes:
(all models) Toyota Safety Sense which includes active lane control, AEB (autonomous emergency braking) and blind spot monitor.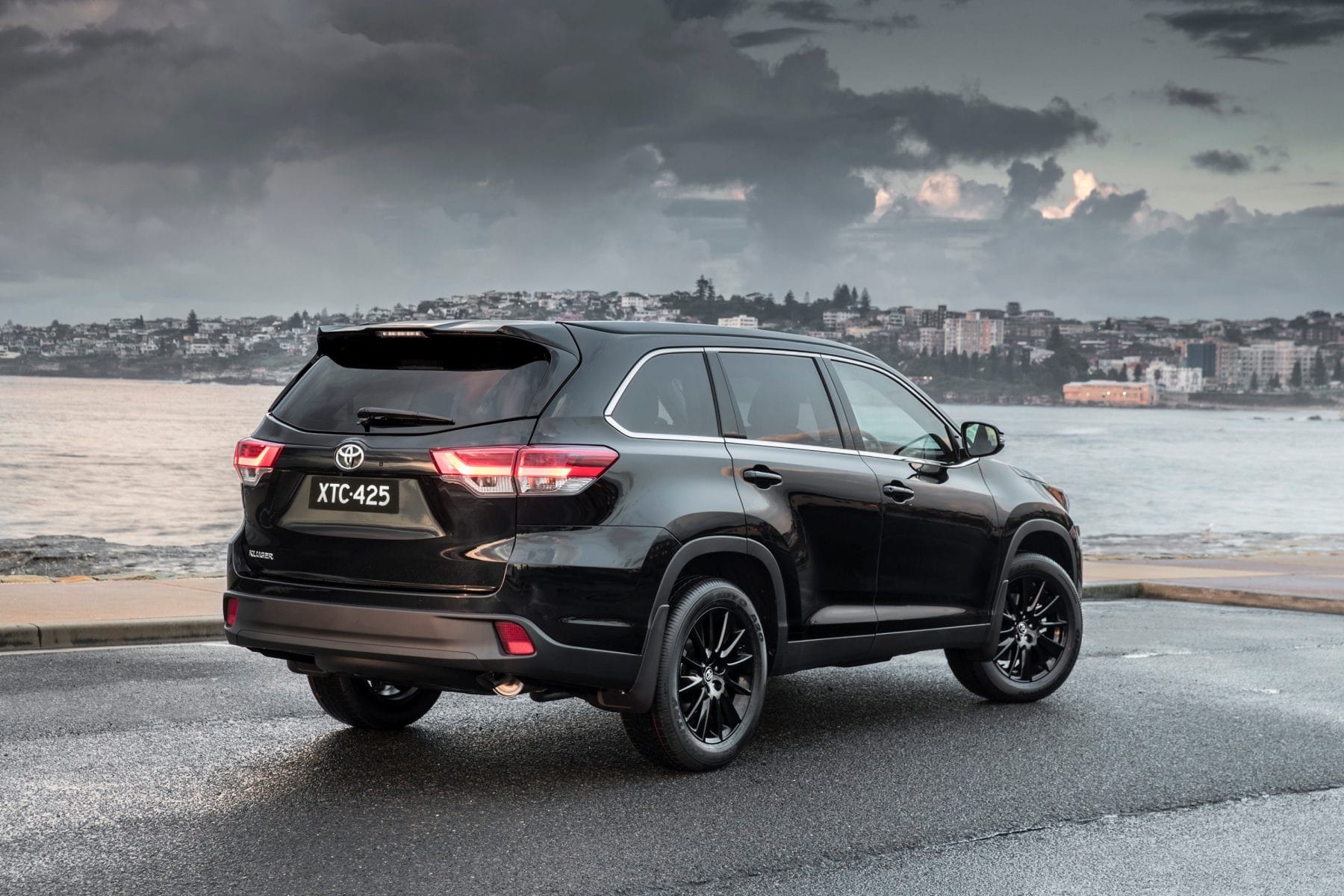 What's Kluger cost?
Prices are
GX $44,500
GXL $54,950
Black Edition $55,970 (special edition)
Grande $65,935
AWD: Add $4,000 ($29 less on Grande)
PLUS on-roads.
Engine: 3.5L Petrol V6
Power: 218kw/359Nm
Econ: 9.1L/100k – 9.5L 100k comb
CO2: 216g/k – 221g/k
What's a service cost?
Capped price servicing applies to the first 6 services. (3 years or 60,000km, whichever comes first)