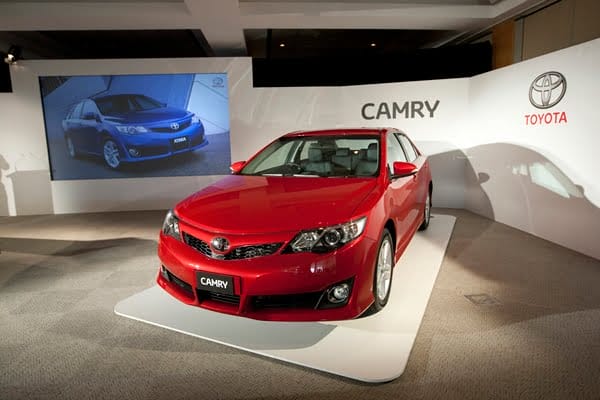 This car has become a symbol of Toyota's success and the new Camry is an opportunity to show the world again what Toyota is all about. In its seventh generation, Toyota believes it is so good and it will help take back sales leaking to the opposition. That's a bold claim. Toyota's lead has been slipping over the last four years, especially to the Koreans. Previously the Camry has majored in bulletproof reliability, a spacious well-built cabin, a strong range of economical engines and low running costs. Add to this a new sharper styling and some of the best resale in the class and it should do very well. But, is it good enough to remain the biggest selling medium size car here and in America?
Let's find out:
Behind the wheel
I spent some time in the new four model line-up, starting with the Atara S, Atara SX, Atara SL, followed by the fleet based Altise which looks different from the other three, with different frontal treatment in the radiator grille and front apron. The second you jump behind the wheel you'll see that the cabin has been completely reworked. It is now much more driver-focused with the dials and instruments clear and placed where they should be. The new interior now boasts high-end finishes with stitching accents and soft-touch surfaces are used throughout the interior. The cabin has a convincingly modern feel. The switchgear is easy to use, especially the steering wheel-mounted controls for the audio system, phone and other functions. Its shape allows you to use them without having to look at them.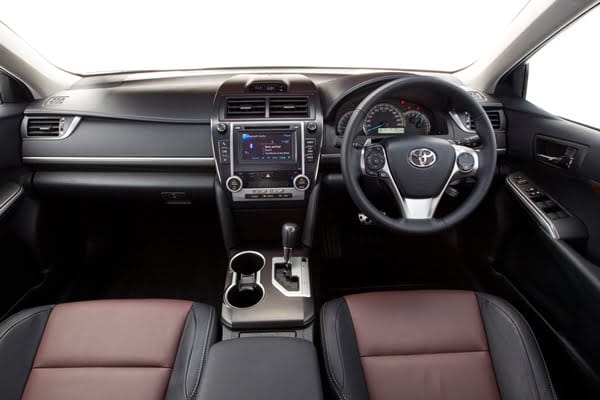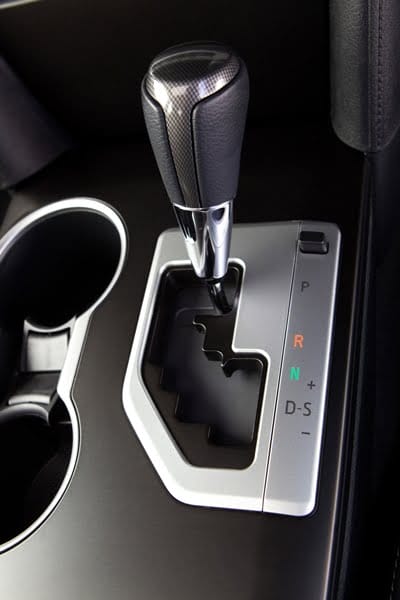 Performance
The Altise trim level is fitted with a revised technically more advanced dual VVTi 132Kw 2.5-litre four-cylinder engine and a six-speed automatic transmission. For those always in a hurry or with more cash will opt for the dual VVTi 135Kw which is available in the Atara models (due entirely to the Atara's dual-exhaust system) a six-speed automatic transmission is standard across the range with NO manual option. With an overall 35kg weight reduction compared to the old model as well as 15 % more power and 8 % more torque, acceleration feels more than adequate across the rev range. The 0-100km/h is achieved in 9.3 seconds and overtaking is a breeze on country roads, with six slots doing a brilliant smooth job compared to the old five speed box of previous models. Fuel economy has improved 11 %, down to 7.8L/100km. Unlike some four-cylinders, this engine sounds and feels refined even when revving to the max. At slower speeds while cruising along city streets, country roads and freeways, operation is smooth and quiet.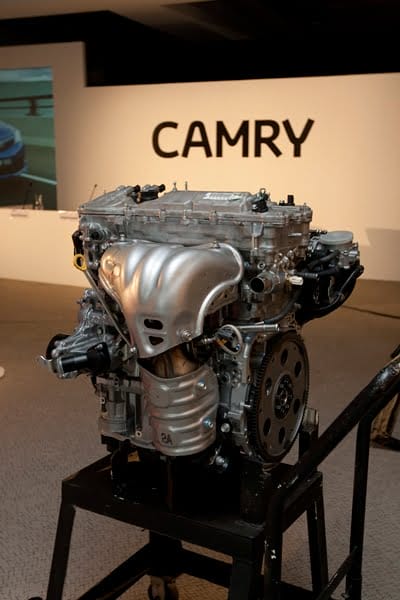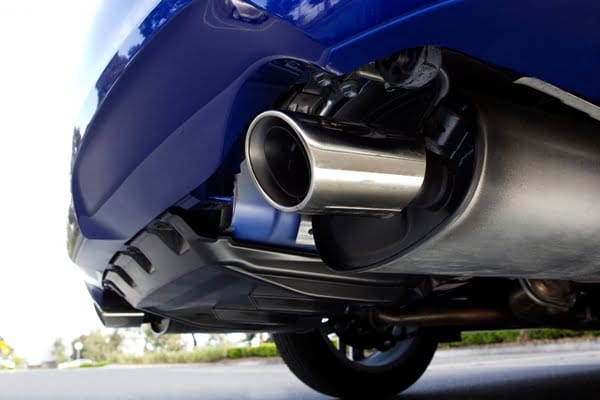 Handling
The Camry is first and foremost a family car, so with past experience you'd expect body lean during corners. That, the Camry doesn't deliver, Toyota has tweaked the chassis for Australia and it is capable of maintaining its composure when subjected to winding roads, with the result being a family sedan that's more enjoyable to drive under a broader variety of conditions. Along that same vein, the Camry's electric steering system has been massaged to feel more responsive, and it is, although I noticed vague on-centre feel in all of the models I drove, but overall this car handles brilliantly compared to the Camry's of old.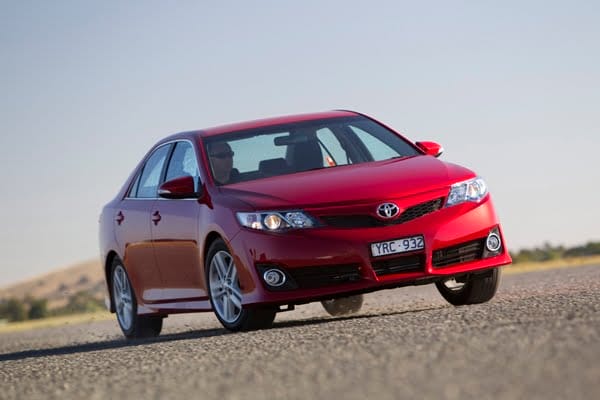 Comfort
The biggest design improvement is inside the car, where the cost-cutting that has plagued the last couple of generations has been thrown out. The new interior boasts high-end finishes for which the Camry was once known and much of the credit goes to spacious and comfortable seats front and rear. Room is plentiful in the rear with 46mm increased rear-seat knee room and 50mm increased knee room for rear-centre seat. With ample front and rear seat space, intuitive controls and features like soft padded areas as well as a tilt and telescoping steering wheel, the quiet interior found in the new Camry is a credit to Toyota.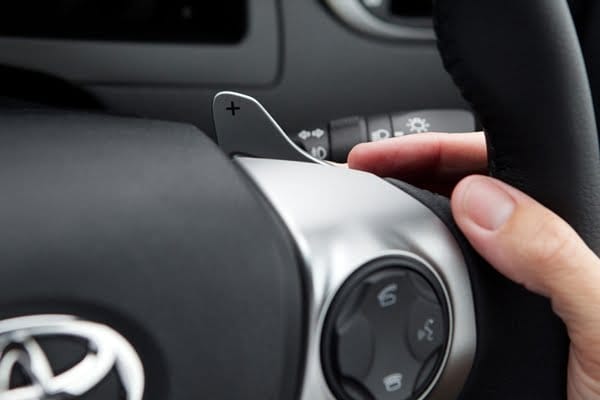 Practicality
The cabin is roomy and easily holds four adults — five if they're close friends. Head and leg room are sufficient. The front seats are wide and accommodating for larger individuals. Side bolsters are minimal but the seats are incredibly comfortable and supportive. Storage locations are numerous, including four cup holders, six bottle holders, front and rear door pockets and front seat-back pockets. The rear seatbacks flip forward easily thanks to boot-mounted pull releases hidden away under the parcel shelf. Boot space volume with the seats up is 515 litres.
Equipment
The new Camry comes quiet well loaded with a range of fruit. Do yourself a favour and study the Toyota website for the full list for your level of spec. However, the top of the line model (Atara SL) includes leather-accented interior and premium door trims, JBL premium audio with 10 speakers,7-inch touch-screen display, Satellite navigation, Digital radio (DAB+),RDS live traffic updates, Reverse camera with back guide monitor, Blind spot monitor, Automatic high beam, Electric driver's seat with memory (including exterior mirror settings),Electric front passenger seat, Wood grain-look inserts in door trim, gear knob and dash, Rain-sensing wipers, Electro chromatic rear-view mirror, Electric rear sunshade, Rear parking sonar, Exterior mirrors dipping in reverse.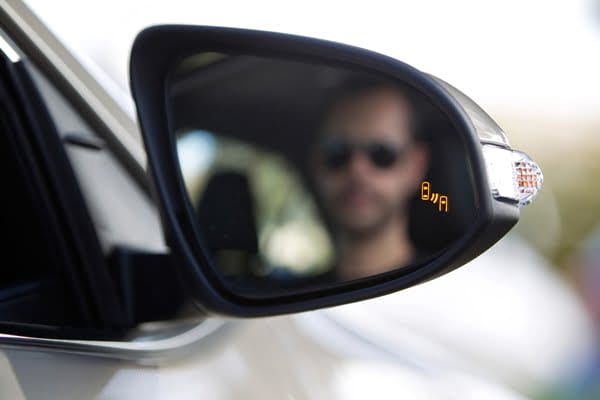 Yet to be crash tested the Camry should have no problem receiving five stars. As it comes with seven airbags including a driver knee bag and full complement of safety aids including seatbelt warning indicators for rear seats.
Summary
The Camry has been Toyota Corporations "Crown" model for many years now and yet it was time for change in the long-standing best seller. It has gained in the areas of performance, efficiency and comfort and that was necessary to combat established rivals and newcomers alike. There's no denying it's a pleasing vehicle to drive having spent a considerable amount of time behind the wheel of the four models at the recent Camry launch in Victoria. When you shop for a family sedan, you will soon realize that the options are plentiful and the significant differences between models are quickly disappearing. It's a landscape where today's best seller could also be tomorrow's dead duck. The 2012 Toyota Camry will avoid such a fate, thanks to changes that deliver improvements across the board, yet do so without compromising the practicality and mass appeal that have made the car a sales leader for so many years. Well done Toyota.
What is good and not so good?
What is good?
Genuine good-value
Interior design,
Quiet cabin,
Fuel economy,
Superb Auto
Interior Space
Features,
Chassis, on-road balance
What's not so good?
Still conservative to look at
Vehicle: Camry Atara SX $35,990 RDAP
Drive train: 2.5-litre dual VVT-i
Power and Torque 135kW- 235Nm
Safety 5 Star (likely)
CO2 Emissions g/km 183 g/km
Green Vehicle Guide Rating 3-1/2
Fuel Economy L/100km (ADR comb) 7.8 L/100km
Tow Capacity 1200 kg braked (Auto)
Tow Ball Rating N/A
Warranty 4 year/ 75000 klm incl
(5 capped services @ $130)
Alternative Ford Mondeo
Alternative Kia Optima
Alternative Hyundai i45
AnyAuto Ratings 81/100
Behind the Wheel 8
Practicality 8
Comfort 9
Fit for Purpose 9
Equipment 8
Value for Money 8
Performance 8
Build Quality 8
Ride & Handling 8
Environment 7