I hate to peak too early, but this GR Yaris is HOT HOT HOT. Toyota GR Yaris has set the local sport enthusiast market alight with its mix of performance and value for money.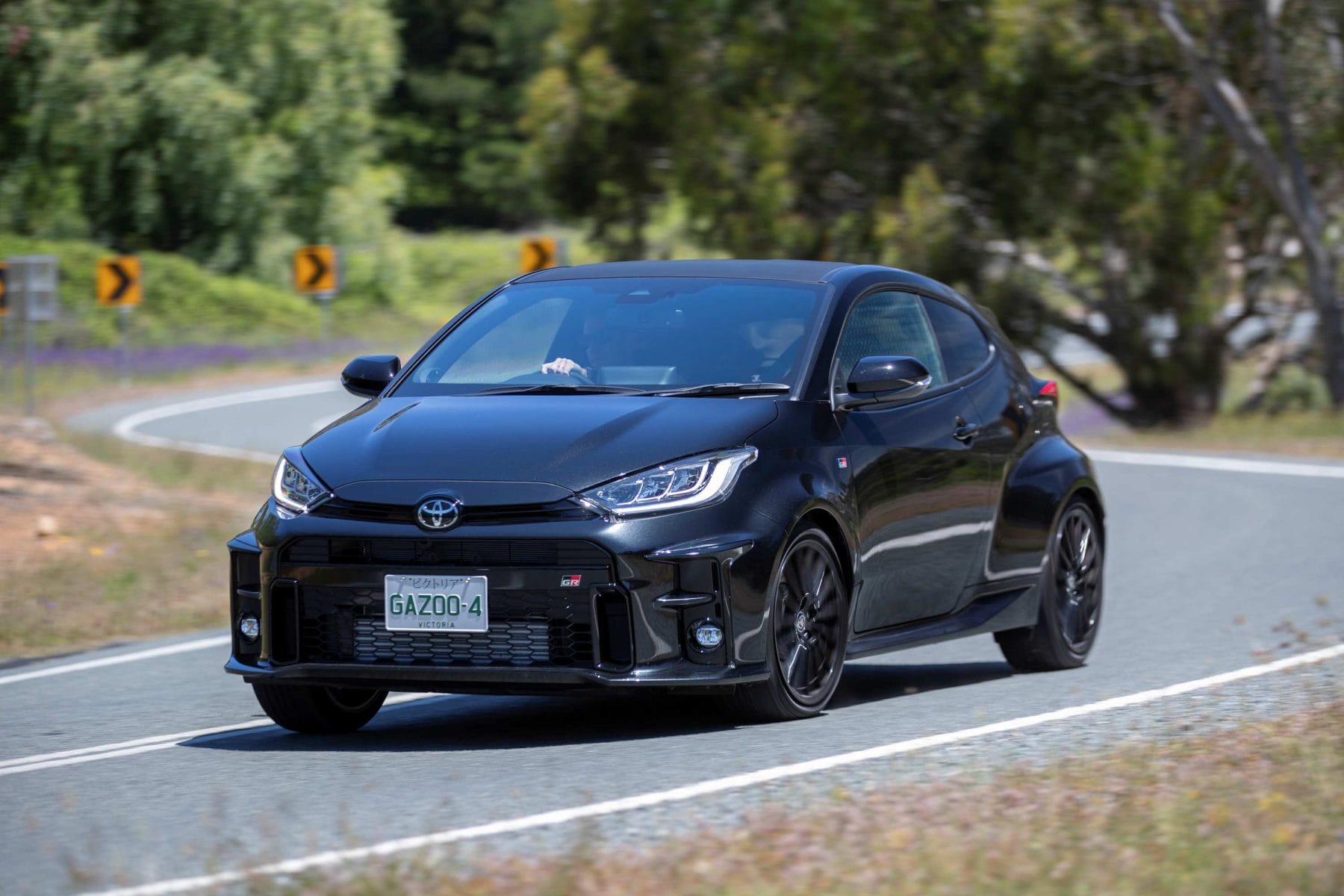 Stunning Looks
GR Yaris is everything her frumpy 5-door sister isn't
Bugling muscular wheel arches with 18" ENKEI alloys look positively evil.
It's all low and mean with a blacked-out carbon fibre roof like a Lamborghini. There are LEDs front and rear, but these lights along with the mirrors, are the only things shared 5-door.
Lotus designers said, "add less weight," and this is something Toyota took to heart. GR Yaris weighs a mere 1280kg. The roof is carbon fibre, and the doors, hatch and bonnet are aluminium, meaning a 24kg weight saving over the 5-door
GR Yaris is pure WRC. Neil Bates  Motorsport is ripping a pair of road-going GR Yaris 3-doors down to the ground on preparation for the rally work yet to do. RWC rules have a minimum weight of 1200kg, so the Bates team will have to add ballast.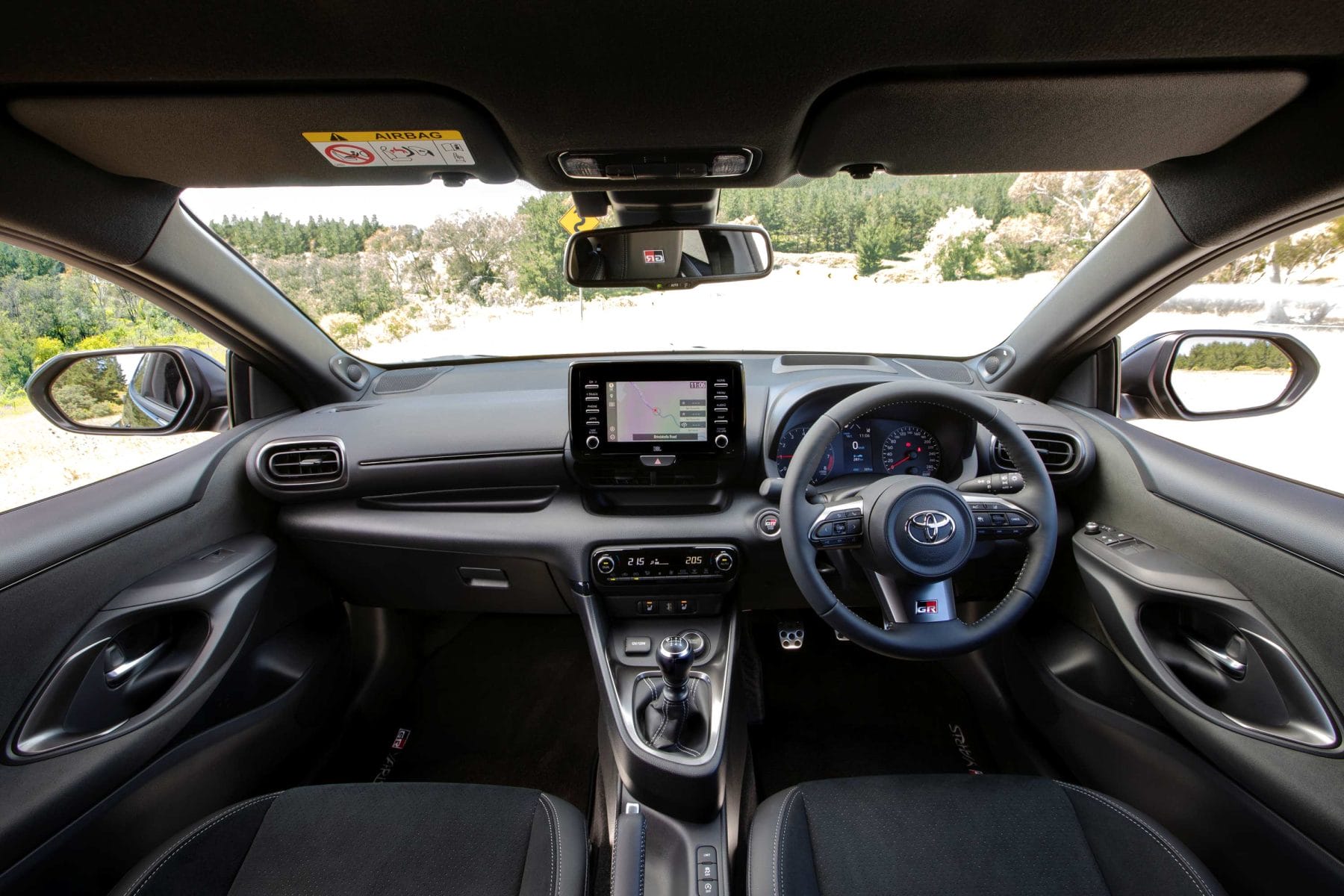 The Inside of the GR is a tad dull
The bulging body goes some way for compensating for the low-rent cabin. The nasty plakky bits let the team down somewhat.
The JBL sound system and the 7" LCD screen are spot on, and includes DAB and Apple CarPlay/Android auto, bringing Toyota in to the current decade . The heads-up display , traditional dials, and 4.2" MFD bring all the driver data to where it is most useful without overwhelming the driver.
GR Racing seats look impressive but they need more lateral support for enthusiastic cornering. Rear seats lay flat,  60/40, but are useless for anyone but kids.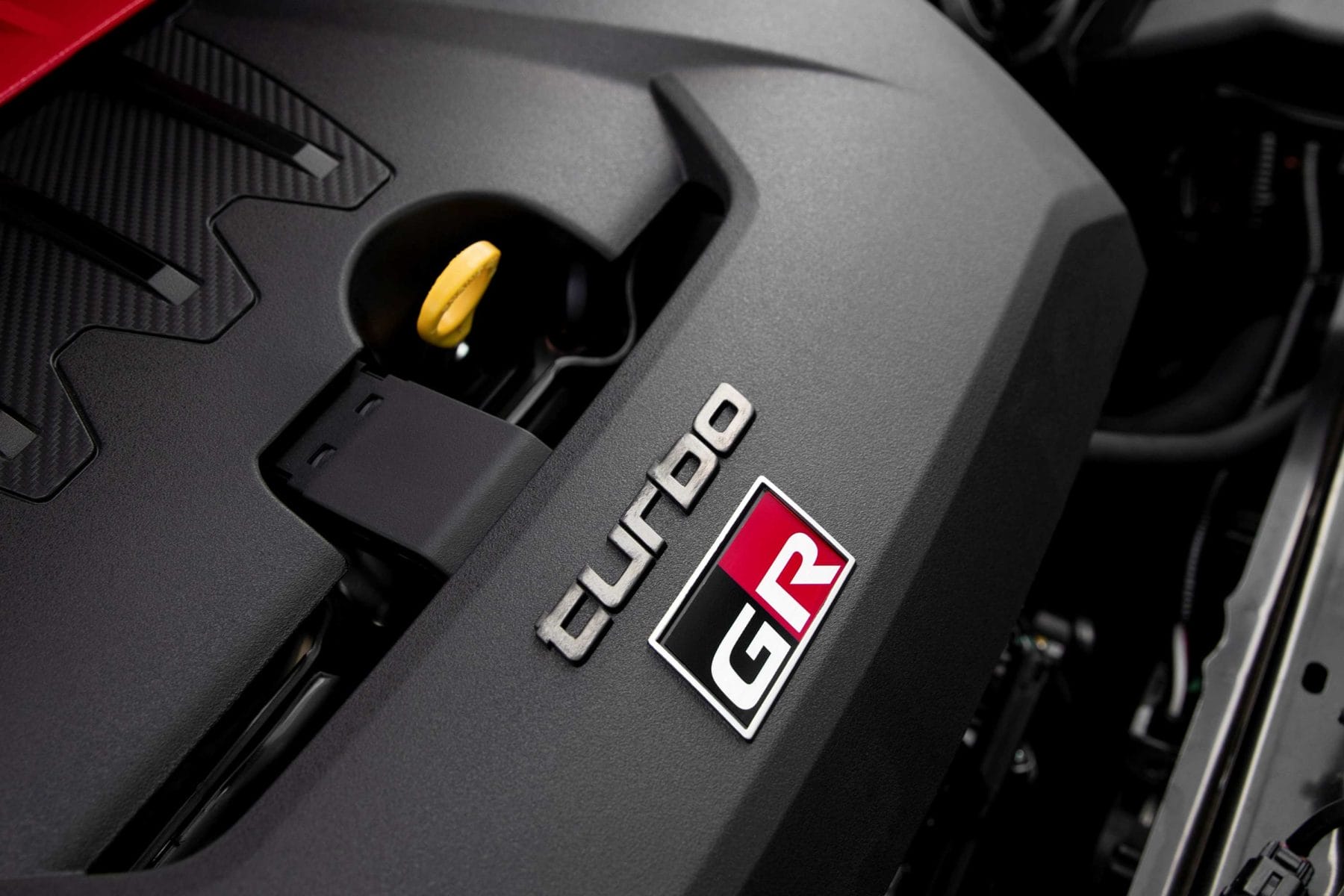 The GR Engine:
The 1.6L is a 3-cylinder turbo is a peach. With 200kw/370Nm, with a 0 – 100 in 5.2 seconds is a cracking effort.
The manual 6-speed has a rev-matching button, but it turns off when the engine is stopped.
The GR-Four AWD system has drive mode options: normal, sport, and track. The front/rear power split is 60/40, 30/70, and 50/50 respectively. Even on the most rubbish of days when the rain is apocalyptic, it simply refuses to put a foot wrong.
The $5,000 "Rallye" version adds harder suspension and Torsen Limited Slip Diffs front and rear. Don't bother, save the bucks for cocktails on a cruise ship instead.
The GR drive:
GR Yaris howls like a Banshee, but doesn't spit and carry on like Golf R. Shifting gears is sublime with a clutch so light, you could add cream and have it for pudding
Around town, the 1.6L 3-pot sounds a little bit like a hair dryer with a buggered bearing. That throaty note really gets old fast, but when taken to the raggedy edge, it rewards you with a superb driver experience.
We took GR Yaris over a bunch of roads, from the rubbish, to the reliable. They ranged from billiard table, to wash board and moon crater, with long sweeping bends giving way to straights and tight switchbacks. You're kept on your toes and although there is a lot of wheel action, you're kept smiling like a kid at Christmas.
Even on the most appalling surfaces, GR Yaris bent over for another smackin'. I may have detected my drive partner's getting a little green. I can't think why.
Suspension is a bit pf MacPherson Strut action at the front, with trailing multilinks around back, backed up by front and rear stabilisers for good measure.
After a week of unbridled enthusiasm, the 50L tank took a whole 41 litres to fill.
Areas for improvement
The tacky plakky bits feel like a much cheaper car, but GR Yaris is all about the drive. That doesn't change the fact that the cabin makes it feels like it might not last to the end of the block.
There is 141L in the boot is ok for a car this size but, as I said, rear seats are fit only for infants and Myer's bags
The glove box is small, as are the door bins. There are trinket trays on the facia of the dash, which holds a phone even in stomach churning corners, but other stuff will go flying. The is another trinket tray at the rear of the console, and 2 cup holders that you'll slip a disc reaching back for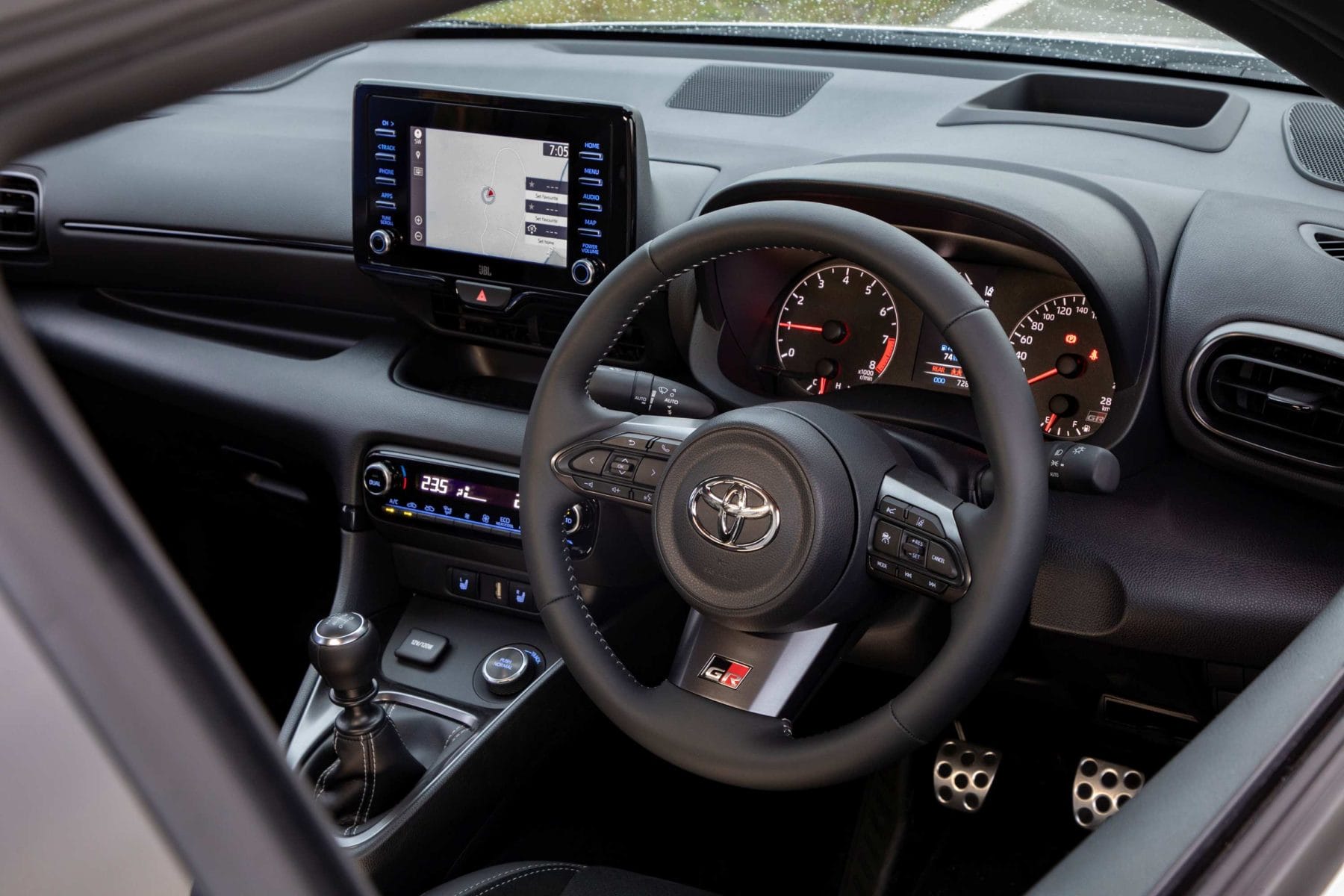 For a car that is meant to be thrown at warp 10 corners, side bolsters needed to be bigger and bolder. They needed more hug,
Cabin noise, particularly at highway speed, was atrocious. Tyres made a drumming noise set off by wind noise around the window seals. The exhaust drone gets on your goat after a few hours too.
Hot hatch ride is notoriously hard. Some get around it with expensive adjustable suspension but there is none of that here. I had jiggling bits where I didn't even know I had bits to jiggle.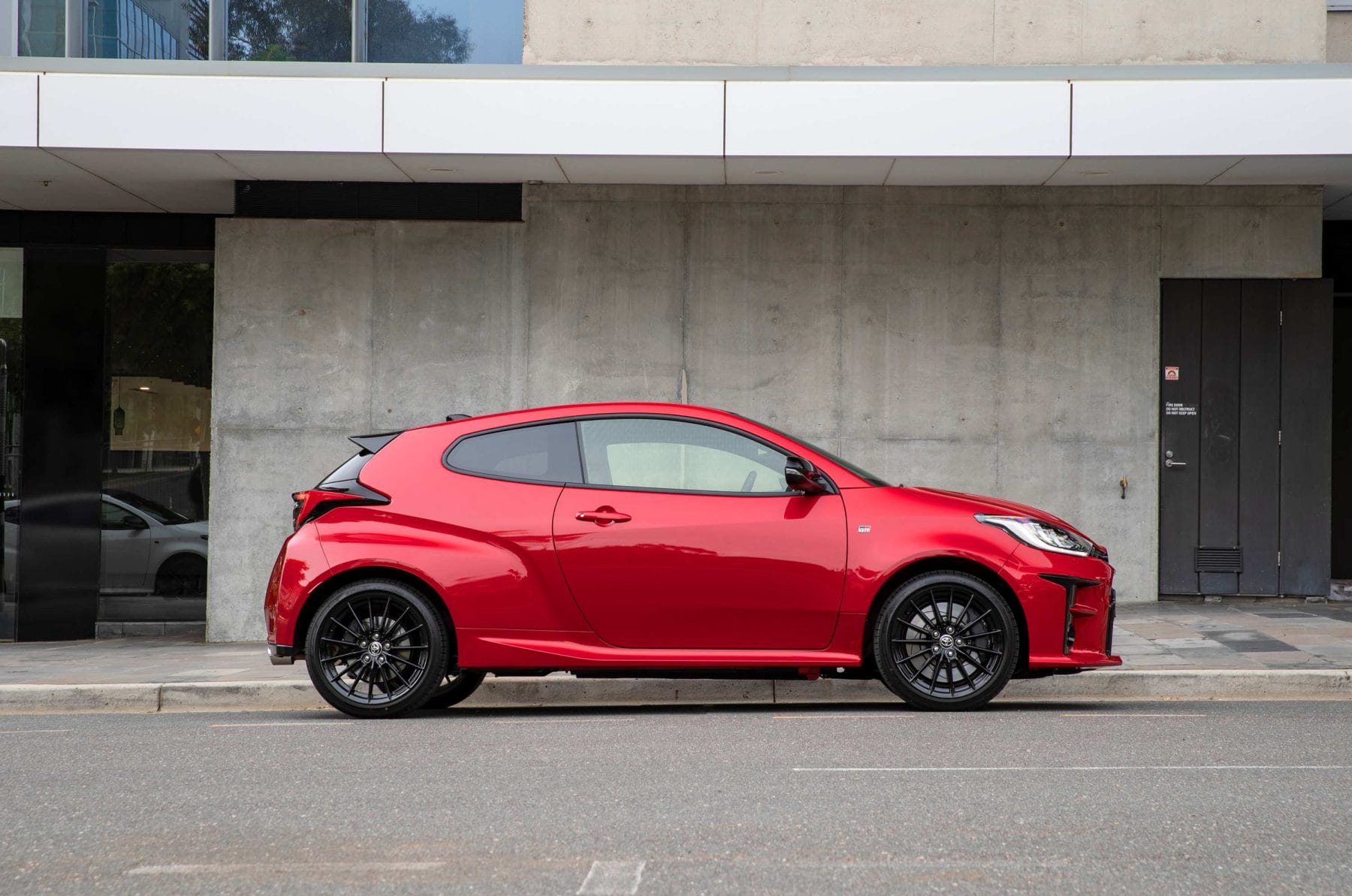 Conclusion
Even though I had growing pains, I adored GR Yaris, and would happily buy one.
Despite my jubblies doing a hoola on those crappy roads, I was smiling the whole time. I overcame the noise by turning the DAB up, and the looks and comments from others made me feel royally chuffed.
At $49,900 plus on-roads, the price is way more than I'd want to pay, but there it is. Either you do or you don't. The sales speak for themselves.
The questions is would you buy this, or a yet to be released Golf MK8 R. I know which I'd rather.
Price: $49,500
Engine: 3-cyl Turbo Petrol (Euro 6)
Power: 200kw/370Nm
CO2 g/km: 172
Econ L/100k: 7.6 (we achieved 8.5)
*MLP – Manufacturers List Price includes GST and LCT but excluding statutory charges, dealer costs and dealer delivery. See your dealer for RDAP. Does not include price of any options.