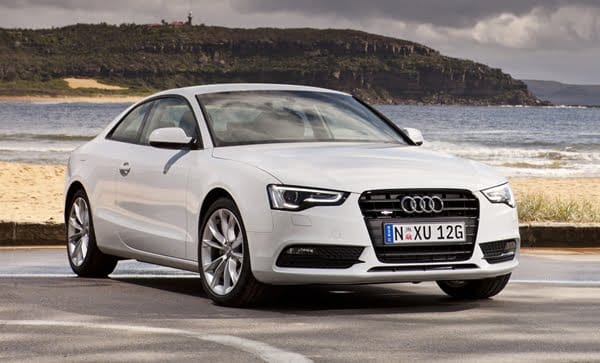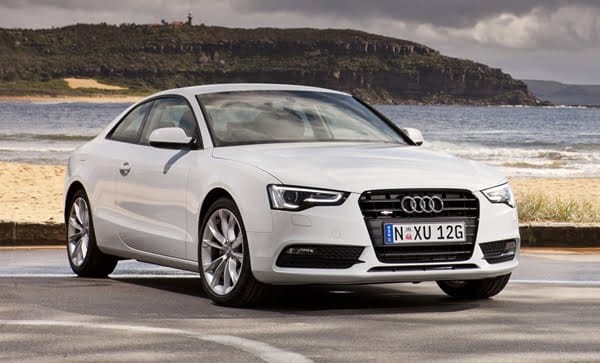 The new Audi A5 and Audi S5 model series has arrived in Australia. The design has been comprehensively refreshed and now features an electromechanical steering system for significant fuel efficiency gains.
Two new four cylinder engines have been added to the range including a 1.8 TFSI with 125kW and a 2.0 TDI with 130kW.
There are now 13 variants which offer consumption of 7.0 litres/100km or less, resulting in Luxury Car Tax concessions for customers, headlined by the A5 Coupe and Sportback 1.8 TFSI multitronic models which allow entry into the range for $66,990.
Following an efficiency strategy that sees significant fuel economy gains with every new model that is launched, the A5 range is the latest chapter in the success story of the brand with the four rings. The introduction of two new engines to the A5 range delivers outstanding efficiency gains of up to 18 percent.
The 1.8 TFSI petrol engine produces 125kW and 320Nm for sporty performance, while delivering excellent fuel economy of just 5.8 litres per 100km, and emissions of 134g of CO2 per kilometre. Similarly, drivers can enjoy the strong torque delivery of the new 2.0 TDI diesel engine, which generates 130kW and 380Nm. The 2.0 TDI affords even better consumption figures of 4.7 litres per 100km, and just 123g of CO2 per kilometre.
The new electromechanical power steering system improves fuel efficiency by 0.3l/100km on its own. The system is sporty and precise, responding instantly to the driver's input.
The striking A5 silhouette takes a bold new stance, thanks to the distinctive pair of headlights that resemble a wedge. Their lower edge forms a wave and the inside has been restructured. Together with the high-gloss black single-frame grille and new bumper, the new A5 is handsome and most definitely a member of the stylish Audi family.
Inside the elegant cabin, the revised instrument cluster and centre console are furnished with enhanced switchgear and there is an attractive new steering wheel.
The S5 Coupe now benefits from a new engine, bringing it into line with the S5 Sportback and Cabriolet. The powerful 3.0 TFSI engine produces 245kW and a formidable 440Nm of torque, and is now mated to a seven-speed S tronic for super-fast gearchanges. As result, the new S5 Coupe's performance is incredible. It will reach 100km/h from rest in 4.9 seconds, yet still only sips 8.1 litres per 100km – the benchmark for all modern luxury performance coupes.
Even though all A5 models have been extensively refined, Audi has only made small adjustments to pricing. Customers can enjoy Luxury Car Tax concessions across 13 variants that deliver better fuel economy than 7.0 l/100km. In the case of the entry-level A5 Coupé and Sportback 1.8 TFSI, the Manufacturer's List Price is only $66,990, which is a significant reduction compared to the previous entry-level model.
Market introduction for the new A5 and S5 models commences at the end of April 2012.
Manufacturer's List Pricing MLP (excl on road costs)
Model Power MLP L/100km
A5 Sportback 1.8 TFSI multitronic 125 $66,900 5.9
A5 Sportback 2.0 TDI multitronic 130 $68,700 4.8
A5 Sportback 2.0 TFSI quattro manual 155 $80,900 6.8
A5 Sportback 2.0 TFSI quattro S tronic 155 $83,200 7.0
A5 Sportback 3.0 TDI quattro S tronic 180 $95,900 5.7
A5 Sportback 3.0 TFSI quattro S tronic 200 $100,800 8.1
S5 Sportback 3.0 TFSI S tronic 245 $135,900 8.1
A5 Coupe 1.8 TFSI multitronic 125 $66,900 5.8
A5 Coupe 2.0 TDI multitronic 130 $68,700 4.7
A5 Coupe 2.0 TFSI quattro manual 155 $80,900 6.8
A5 Coupe 2.0 TFSI quattro S tronic 155 $83,200 7.0
A5 Coupe 3.0 TDI quattro S tronic 180 $95,900 5.7
A5 Coupe 3.0 TFSI quattro S tronic 200 $100,800 8.1
S5 Coupe 3.0TFSI quattro S tronic 245 $135,900 8.1
A5 Cabriolet 1.8 TFSI multitronic 125 $78,500 6.2
A5 Cabriolet 2.0 TDI multitronic 130 $80,900 5.0
A5 Cabriolet 2.0 TFSI quattro S tronic 155 $96,900 7.2
A5 Cabriolet 3.0 TDI quattro S tronic 180 $108,800 5.9
A5 Cabriolet 3.0 TFSI quattro S tronic 200 $112,900 8.5
S5 Cabriolet 3.0 TFSI S tronic 245 $146,500 8.5