Amidst all the celebrations of the 90th anniversary of the Sydney Harbour Bridge, it is interesting to ponder when a grand arch over the harbour was first envisaged.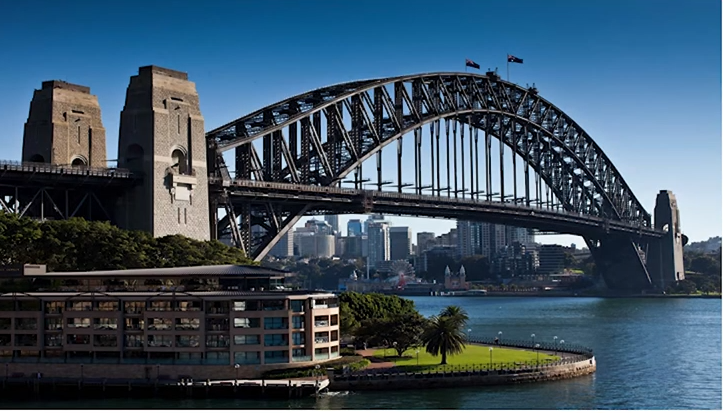 Mention of an arch across the harbour appeared in a poem by Erasmus Darwin in 1789 barely one year after the first European settlement.
Erasmus was the grandfather of Charles Darwin and had a close association to the Wedgwood family famous for pottery (Charles Darwin would later married a Wedgwood). Erasmus was a poet, physician and natural philosopher and some suggest a bit of a rascal.
TO LISTEN TO THE RADIO REVIEW CLICK BELOW
To commemorate the European settlement some Sydney clay was sent back to England for the Wedgwood organisation to make some medallions.  Without having been to Sydney Erasmus wrote a poem "Visit of Hope to Sydney-Cove, Near Botany-Bay".
Some of the lines from the poem are
"Shall bright canals, and solid roads expand. —
"There the proud arch, Colossus-like, bestride
"Yon glittering streams, and bound the chasing tide;
Sydney Harbour is more than a glittering stream and the Harbour Bridge is probably more than he envisaged but he caught the spirit of the city and the impact of the bridge.
Dr Sophie Loy-Wilson is an expert in Australian history in the Faculty of Arts and Social Sciences says it is remarkable that the Sydney Harbour Bridge was built during such a bleak period in Australian history.
"Sydney in 1932 was a city marked by extreme poverty. This was the Depression-era. Australia's unemployment rate had reached 32 percent in 1931, second only to Germany in severity," said Dr Loy-Wilson.
"Even in such uncertain times, the state government had a big bold plan: the Sydney Harbour Bridge. The Bridge would impact the city in contradictory ways. Families were displaced from north Sydney, but the unemployed found much needed work.
"The Bridge was expensive, but it represented hope and a better life for Sydney people. Sandstone excavations caused dust and debris but also uncovered fossils and other treasures.
"The story of the Habour Bridge is a story of a city on its knees, looking up towards the largest structure the city had ever seen, being pieced together across Sydney Harbour."
Motoring Minutes are heard around Australia every day on over 50 radio channels through the Torque Radio network. 
Motoring Minute has an average daily audience of over 150,000 listeners. That's over 750,000 listeners a week.
Motoring Minute is also broadcast as part of Overdrive Radio Program, which is broadcast through the Community Radio Network across Australia.
Motoring Minutes are also syndicated through various news sites around Australia.