Suzuki has redesigned the Swift aiming at being the class leader. The suzuki Swift cntinues the tradition that has evolved over the generations. The all new Swift light car, promising class-leading fuel economy, safety and driving dynamics.
Almost every element of the car has been redesigned, with evolutionary new looks, an upgraded handling package, a new fuel efficient engine and class-leading safety.
"Suzuki revolutionised the market five years ago with the launch of the third generation of its famous Swift nameplate," said Suzuki Australia General Manager Tony Devers.
"It was the catalyst for Suzuki to launch its world strategy and has undoubtedly been one of the automotive success stories of the past decade thanks to its outstanding combination of handling, reliability and value for money."
A winner of 63 car of the year awards in 19 countries, Swift reached the magical one million sales mark faster than any car in the company's history and to date has sold nearly two million units.
Devers said Suzuki had created even higher levels of Swift performance and styling and combined them with superior environmental performance to create a light car perfectly suited for today.
"The all new Swift is the epitome of Suzuki's philosophy that driving a compact car does not mean having to settle for less.
"The development team's motto for the new Swift was simple – "More Swift!"
"This motto encapsulated a development program aimed at evolving the Swift for more economy, more sportiness, more dynamism, more excellence, and more fun."
Devers said the new Swift was unmistakably an evolution of its predecessor, and even better in the ways that counted.
"It's more fun to drive thanks to exhilarating, sporty handling more fun to look at thanks to a sporty, modern design with added sophistication inside and out.
"It's an even clearer reflection of Suzuki's desire to offer a sports compact that's perfectly suited to the lifestyles and demands of the times."
Suzuki's latest world model makes considerable developments in styling, impact safety, driving performance, handling, improved fuel consumption and significantly lower emissions.
Extensive use of higher strength steel makes the new bodyshell lighter and stiffer than before as well as offering refinement in underbody design. This latest design has also helped improve impact safety for pedestrians as well as occupants.
Increased track and larger diameter wheels with lower profile tyres allow for even better handling than the highly acclaimed outgoing Swift launched in 2005.
The interior design now has a more dynamic feel, featuring black as its keynote colour with accents of silver throughout the car.
For even more space inside, Swift has grown slightly in length (+90mm) with a 50mm increase in wheelbase and 10mm increase in height.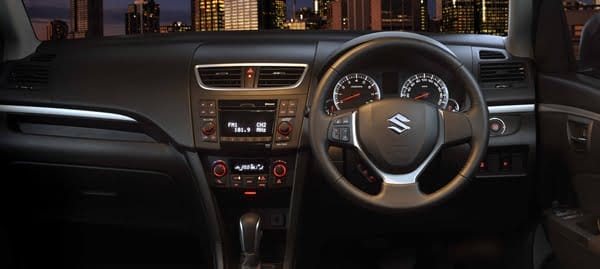 Model line-up
The new Suzuki Swift will be available in three different grades – GA, GL and GLX – all complete with high levels of standard equipment.
The styling concept for the new Swift is "dynamic and energetic".
The new Swift inherits a look in which a short, wide, compact body appears to be bursting with energy, but it has evolved into a form with a more powerful emotional appeal and greater refinement.
The overall impression is of a toned, athletic body that is elegantly clothed.
Viewed from the front; side or rear, Swift is unmistakably new with unique curves that give a sense of stability and with more emotional appeal than before; Suzuki's design efforts are clearly reflected in the rear of the body.
New Swift now has a stronger and more distinctive presence with timeless looks that will continue to appeal to owners over the long term.
Inside, Suzuki's expertise in compact-car space efficiency is reflected in proportions that optimise roominess and comfort.
However, the new Swift's compact dimensions still leave plenty of space for rear passengers and their luggage. The interior design also creates a sharp, energetic look and is in tune with the new Swift's performance.
Dynamic, sporty forms and exquisite craftsmanship contribute to a great driving experience.
A new black-and-silver interior design is adopted throughout the interior for a sportier, more refined ambience.
The instrument panel is distinguished by contrasts between a stylish black keytone colour and sharp silver-coloured details. This design continues for the seats with refined-looking silver-coloured details on bold, chic black fabric.
Suzuki developed new interior components with a focus on refinement in their look and feel. The newly designed details are also packed with user-friendly functionality and the overall result is a stronger sense of interior quality.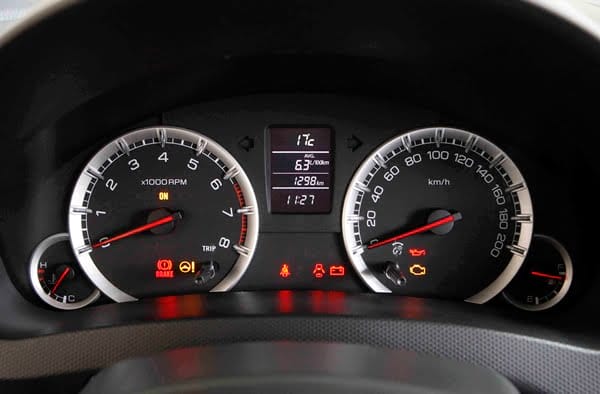 Powertrain
The new Suzuki range is powered by an all-new 1.4-litre engine offering an outstanding combination of economy and performance.
Optimum fuel efficiency was a key driver for engineers and the all-new Swift will deliver the outstanding figures of just 5.5 litres per 100 km and produce a mere 132 grams of C02 per km.
That represents a 13 per cent improvement over the old engine and makes it easily the most economical naturally aspirated engine in the class.
"Those figures make the new Swift more economical than recently released city cars with smaller engines and puts Suzuki back on top of the class for light cars," said Devers.
The all-new K14B engine produces 70 kilowatts of power and 130 Newton-metres of torque.
The undersquare design (73mm x 82mm bore x stroke) offers a longer stroke than the superseded M15A engine and, in combination with Electronic Throttle Control, ensures better launch feel and overtaking performance.
Suzuki engineers concentrated on weight reduction as part of the new engine development, and the new K14B comes complete with a lightweight plastic cylinder head cover, lighter pistons and narrower crankshaft bearings.
Electronic throttle control – previously only available on the Swift Sport – will be standard across the new Swift range, eliminating the mechanical link between the accelerator and the throttle body.
The computer controlled system ensures improved engine management control, superior fuel economy, better launch feel and more refinement at idle.
The engine is matched to a five-speed manual or four-speed automatic transmission.
The five-speed manual transmission has a new assist mechanism for reduced driver effort, while an optimised shift-lever pattern further promotes smooth changes.
It also features a new mechanism to prevent accidental shifts from fifth gear to reverse, while a new hydraulic release system in the clutch further aids smooth, effortless gearchanges.
A revised four-speed automatic transmission is also available with a revised straight shift pattern, replacing the gated version of the old model.
It also comes with a lock-up slip control, offering a wider lock-up range for improved power and efficiency, while also suppressing torque converter slip at light acceleration loads.
The all-new Swift automatic also features a hill-hold function to ensure fuss-free launches in hilly urban areas.
The new Swift gives an even stronger sense of agility and improved stability through its newly refined wide-track, short-wheelbase, increased body and suspension rigidity as well as in greater roll stiffness.
The handling reflects a newly evolved, more mature kind of sportiness and inspires even greater confidence in the driver.
Specially designed low-play joints in the steering-column shaft provide a firmer, more linear steering feel.
The electric power steering system also has a newly adopted variable-gear-ratio design; a relatively quick ratio is adopted when the rack is near the centre point to make the car respond quickly at the start of a turn, while a relatively slow ratio near the steering wheel's turning limits reduces the effort required for bigger turns.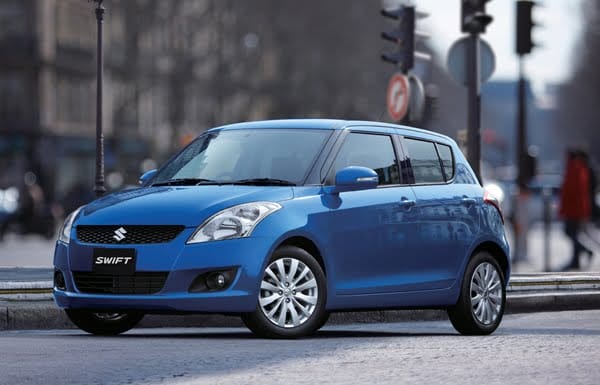 As a result, the new Swift responds more faithfully to every steering input from the driver.
The front suspension utilises MacPherson struts / coil springs together with an enhanced stabiliser layout which combine to give better roll stiffness without any weight penalties.
The rear suspension utilises a torsion beam with coil springs, which incorporates an enhanced inclination angle for the torsion-beam bushings.
This provides 50 per cent more lateral rigidity in the bush mountings which results in better toe control. A new design structure torsion beam is now used which is lighter as well as providing greater roll stiffness.
The GLX models come fitted with 16-inch alloy wheels as standard; complemented by new rear disc brakes with aluminium-alloy callipers.
The GL and GA models with 15-inch steel wheels now have greater braking capacity than those of the previous Swift thanks to an increase in disc thickness from 20mm to 22mm.
The Swift has been the basis of Suzuki's dominance in the Junior World Rally Championship, with two drivers' championships and two manufacturers' titles.
That success is based on Swift's sporty handling, derived from its wide track and short wheelbase.
With the all new Swift, Suzuki drew on its leadership in small car design to realise even higher driving dynamics and greater stability while staying true to the original philosophy.
Devers said the addition of an all-new platform, boasting a more rigid body and suspension mountings and greater roll stiffness had lifted the Swift's handling to new heights, inspiring even greater confidence from the driver
Refinement
Extensive use of higher-strength steel makes the new Swift's body stiffer and lighter. The higher body rigidity and a lower centre of gravity softens the suspension, without making the ride feel unsteady. The overall result is a superior combination of stability and comfort.
Suzuki's engineers paid particular attention to giving new Swift an even quieter ride and have taken extensive measures against noise and vibration.
A car's outside door mirrors are the main cause of wind noise. For the new Swift, Suzuki has optimized the shape of the outside mirrors through extensive computer-aided simulations, detailed wind-tunnel tests and investigations using a system for pinpointing sources of noise.
Suzuki took a multi-faceted approach, not only suppressing the level of wind noise but also ensuring that the noise occurs as far as possible from the ears of occupants. The difference in the cabin is unmistakable.
Increased body rigidity and increased rigidity in the joints between components are utilised to suppress the generation and transmission of noise.
The benefits are complemented by extensive engine, transmission, clutch, suspension, and tyre revisions.
New Swift has more comprehensive sound insulation than before with the use of sound-absorbing silencers and other high-performance acoustic parts. Sealant around the cabin plays a key part in keeping noise out and allows a comfortable and quiet environment for occupants.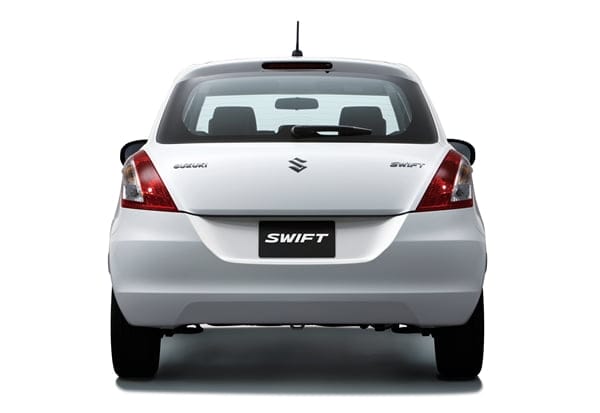 Safety
• ESP® / seven airbags as standard equipment
To ensure high levels of driver confidence and control, the new Swift has an outstanding range of safety technologies.
Standard active safety equipment includes an anti-lock braking system (ABS) and electronic braking-force distribution (EBD) with brake assist (BA).
Passive-safety features include a light, reinforced, energy-absorbing body in which front crumple zones help to absorb impact energy and direct it away from the cabin in line with Suzuki's proprietary Total Effective Control Technology concept. Front seatbelts are also fitted with pre-tensioners and force limiters.
Suzuki took a multifaceted approach to achieving higher levels of active safety. As a result, every grade of the new Swift has an ESP®* (Electronic Stability Program) for greater stability and control on diverse road surfaces. In addition every model in the Suzuki line-up will come standard with seven airbags (front, side, curtain, and driver's knee airbags).
"Suzuki's no compromise approach to safety has earned it the maximum five-star safety rating from ANCAP and Euro-NCAP," said Devers.
* Fuel consumption figures based on ADR 81/02 combined
® ESP is a registered trademark of Daimler AG