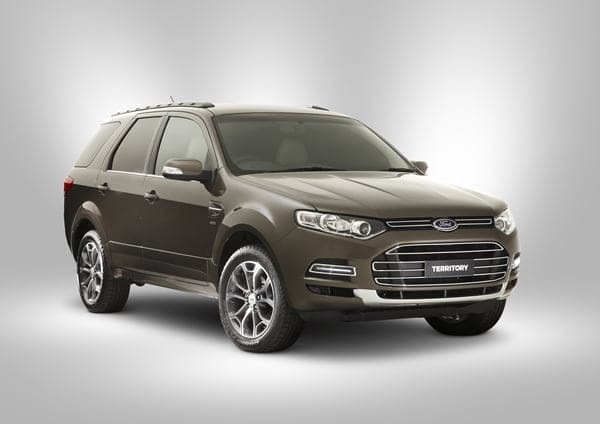 Ford Australia has released the 2011 Ford Territory AWD SUV.  The new Ford Territory model has undergone an extensive visual update inside and out.
The Australian-designed-and-developed SUV (Sports Utility Vehicle) wears a stylish suit cut from Ford's kinetic design language and its bold new look makes it instantly recognisable as a member of Ford's comprehensive model family.
Redesigning the multi-award-winning Territory meant building on its already clean and attractive looks, the result of the first-generation Territory's original design goal: to create a vehicle that embodied the strength and power of a traditional SUV while having the prestige, agility and nimbleness of a sporting sedan. The new Territory has taken this to another level.
Underpinning new Territory's design was its dual personality: a sophisticated and sporty urban wagon for weekdays and a family getaway vehicle on weekends. Successfully presenting these two functional roles in an exciting visual form was the responsibility of the Ford Australia design team, headed by Chris Svensson, Design Director for Ford Asia Pacific and Africa.
"We worked hard to ensure the new Territory was an evolution of the original model and, through the use of Ford's distinct design DNA, also gave a hint of the future," Svensson said.
"To achieve this we applied Ford's unique style philosophy: kinetic design.
"Kinetic design comprises several specific elements, all of which are present in the new Territory. They are confident stance, dynamic lines, expressive form language, taut surfacing, bold graphics and great detailing.
"When you combine them they convey movement and athleticism. In other words, the vehicle looks like it is moving when standing still," Svensson said.
"The overall visual effect of kinetic design is simple: in the case of the new Territory it communicates its dynamic capabilities and fun-to-drive spirit."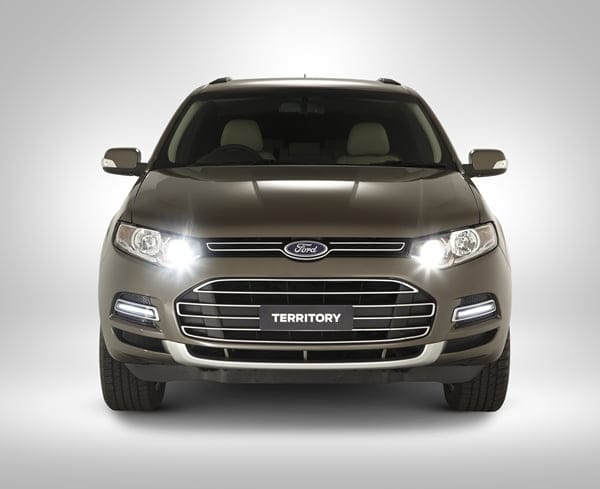 Externally, significant changes to Territory's styling have resulted in a stunning new look. At the front, the vehicle uses an all-new tri-plane front-end architecture. The new trapezoid-shaped main grille is one of the new Territory's most noticeable updates. This larger, lower grille in a unique three-bar design connects with the slim-line treatment given to the upper grille opening, a feature which sees the famous Ford roundel now surrounded by its own elegant winged structure.
New slim-line headlights with projector beam technology are another stand-out feature of the new Territory's frontal styling. The high-series Titanium variant takes this a step further with the introduction of LED (Light-Emitting Diode) position lamps integrated into its redesigned front bumper. At the bottom of Territory's new face is a U-formed lower chin skid plate.
Combining these stunning elements has produced an impressive new look.
"New Territory's unique frontal design was recognised by Ford's Global Design Management as a key feature that not only identified Territory as a distinctly Australian product, but also embodies cues that are core to the Ford design DNA," Chris Svensson said.
"That's the strength of our global One Ford philosophy. The design of Territory was developed as part of our global philosophy but specifically crafted to appeal to the Australian consumer."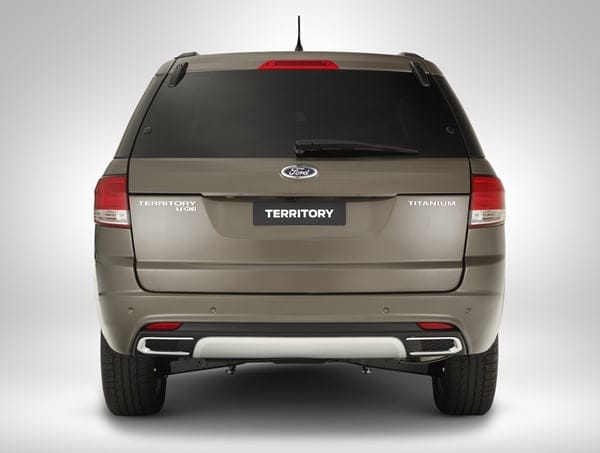 Moving rearwards, the new Territory sports a sculpted new bonnet and subtle flutes for the front guards. Bold wheel lips emphasise its athletic stance.
A new C-pillar design smooths the transition from front to rear. Resurfaced door cladding and a lower rocker moulding combine to give Territory a lower, athletic stance.
At the rear, Svensson's highly skilled team has made a number of enhancements. New Territory sports sleek horizontal tail lights that wrap around the rear of the vehicle that create a seamless visual link to the rear of the vehicle. Connecting them is a new rear lift-gate appliqué. Finishing the new rear styling is a redesigned bumper and new lower-level valence panel.
Rounding out new Territory's exterior is a new catalogue of locally designed wheels, which will be available in diameters of 17 and 18 inches in model-specific designs.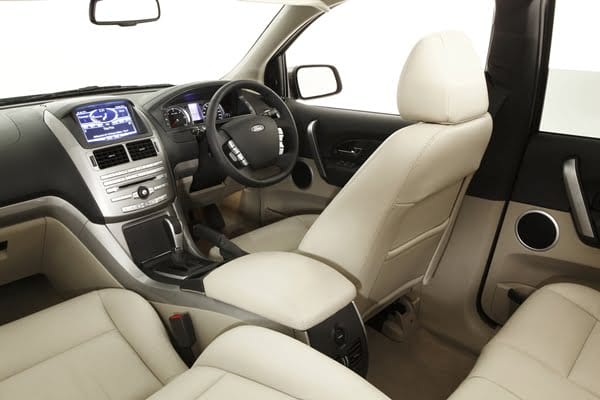 On the inside, the popular SUV maintains its famed ability for almost endless adaptation to Australian lifestyles. Its car-like cabin is sporty and sophisticated and continues its "dual personality" theme by delivering stunning form and excellent function.
The new Territory is fitted with an all-new Instrument Panel (IP) featuring – for the first time – an eight-inch touch screen and new functional storage solutions. Territory drivers will find the technologically advanced touch screen both easy to reach and use and its central location makes it simple for both front occupants to operate.
A new four-spoke steering wheel puts drivers in control of the new Territory's impressive handling capabilities and gives finger-tip control to audio and cruise control functions.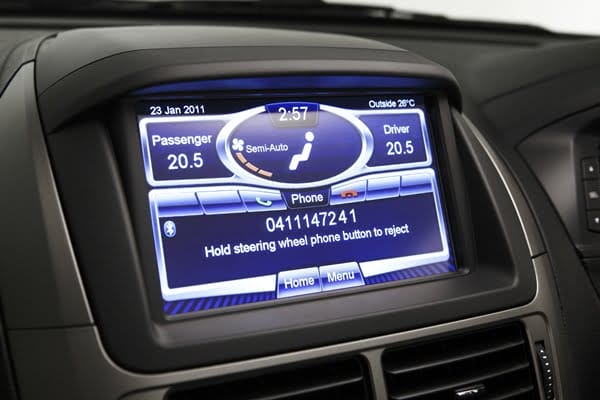 Territory's new Interior Command Centre (ICC) provides front-seat occupants with familiar and simple-to-use controls for functions such as heating, ventilation and air conditioning. At the bottom of this new ICC is an all-new storage area. This stylish and functional feature uses a smooth-action tambour door which adds to the interior's equally smooth style. It is here the new IP connects with Territory's stylish and functional centre console. Versatile cup holders, deep console bin storage and USB / iPod connectivity exemplify Territory's famed user-friendliness.
Carefully selected materials and colours bring the new Territory's exterior design inside. For example, high-gloss spears adorn the centre console in the Territory Titanium and connect the front of the interior with the middle seat row. Spears of a similar design feature on the new IP.
Chris Svensson: "The contemporary design of the new Territory combines stylish surfacing, exact proportions and high-quality finishes with advanced engineering and delivers a vehicle that is even further refined and composed on the road."