I've just spent a week Finding Religion at the wheel of a mid spec bargain-basement Ssangyong Actyon 4×4 D-Cab Sports Auto @ $34,990 (drive away) and I came away with mixed feelings, found the lord, upset fellow drivers and had some fun – well sort of. How good is it? Lets check it out
Behind the wheel
Once behind the wheel, you notice that steeply raked bonnet disappears out of site, however you do have a brilliant and commanding view of the road ahead. The interior is a little harsh with hard plastics and a no-frills but practical design and layout. Control layout is a little unusual with large circular clusters of buttons for minor functions and a handbrake that is on the left of the transmission and the indicators are on the left of the steering column. The Actyon boasts plenty of storage spaces inside the cabin and has an overall feeling of space. Actyon's cargo tray is not the biggest around at 1275mm, in fact it looks and is short compared to most rivals, but is wider and deeper than most.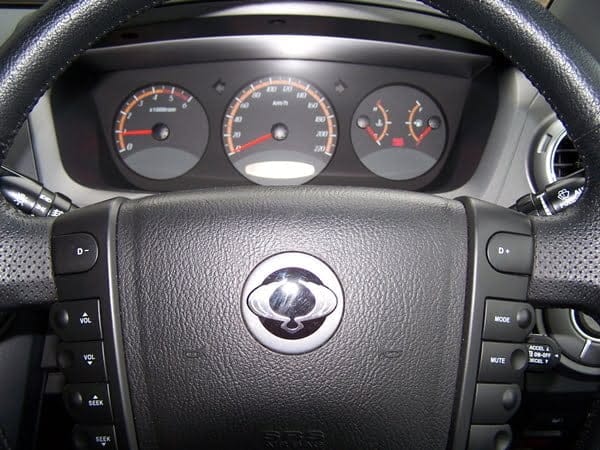 Performance (I found god)
Under the sheet metal, the Actyon is not a bad thing. Our vehicle came with the third-generation, 2.0-litre common rail turbo diesel with 104kW of power and 310Nm of torque from 1800rpm. This is run through an optional 6-speed automatic transmission sourced from Australian company Drive train Systems International. The performance of its two-litre, Mercedes-sourced diesel engine is sadly let down by lag from the electronically controlled turbo.
Overtaking is a gamble and it's best to wait for wide-open gaps, approach a roundabout and spot the gap, push down the go pedal and nothing happens, you start swearing, praying and shouting "come on come on", and then you take off just when its almost too late. So start praying for plenty of room on the right and start waving politely to the drivers behind you as they blast away with their horns wondering why you haven't moved. The turbo lag is dangerous in the city and driving at less than 45km/h or with the revs under 2000rpm brings out an uneasy throttle response and it's evident that this vehicle needs the engine to be driven high in its rev band or cruising along at 60km/h or above.
However there are no problems cruising at highway speeds, and one big plus for the ute is it's a very, very quiet oil-burner. We ventured off-road on some fairly serious tracks (see below) and the 4WD system works well and can be switched on the fly from two-high to four-high or four-low and makes this Ute perform like a proper 4×4 off-road. Engine braking isn't too bad either.
Handling
On road ride is well above ute standards thanks to a five-link coil-sprung rear axle. Actyon handling suffers a bit from predictable under steer and cornering is hindered by body roll. The steering is exceptionally light but does lack a degree of feel. There's none of the unladen tail-happiness that afflicts many other utes and although it gets unsettled and a little noisy over broken bitumen.
Despite being rack and pinion the Actyon's steering is not great, with virtually no communication about what's happening at the road surface.The Actyon has some off-road issues – a front that is too low for serious off-road conditions, as well as a low ramp angle and average departure angle. On rugged tracks I found the vehicle's under body touching down too often and too easily. It sits just 192mm off the dirt. However, don't dismiss the Ssangyong just yet. While it might not make the start of most serious 4WD rallies, however it does a reasonable job off-road.
Comfort.
The cabin is comfortable and spacious in the front, the driver's seat can be adjusted in just about every direction to suit body sizes both big and small. I found the front seats quite comfy but there are minor legroom issues for those in the rear seats, evidenced by comments from every single passenger – including my kids. The fascia, radio/CD, climate controls and instrument cluster are well laid out and all very easy to read. Buttons on the steering wheel can also control the radio as can the sport shift auto via left and right buttons located at the top of the wheel. I found my knee rubbing against the centre stack, which was a bit uncomfortable.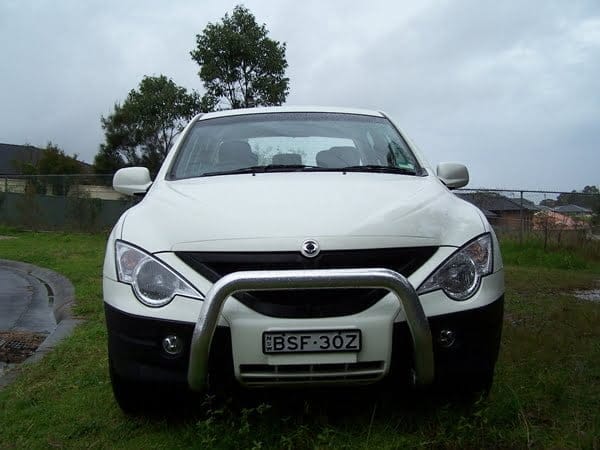 Practicality
The Actyon isn't a slouch when it comes to towing the odd trailer. The towing rate is 2.3 tonne and with 4WD it can handle slippery conditions, while the tray comes in handy for your larger loads and comes with 4 tie down points and a washable vinyl liner.
Equipment
The transmission in most models is a five-speed manual, but the Ssangyong Actyon 4×4 D-Cab Sports we tested came with a six-speed automatic transmission with sports shift as standard. The Sports models also have tilt-adjustable leather steering wheel, cruise control with the automatic option, levelling headlights to compensate for loads in the back, part-time with shift on the fly capability on the fly capability on the fly capability.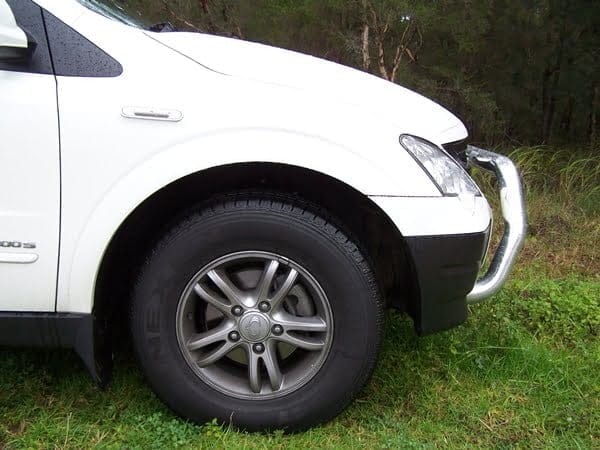 Safety
Despite having four channel ABS, driver and front passenger SRS air bags, seatbelt load limiters and pre tensioners, front seatbelt height adjustment, 3 child seat anchorage points, collapsible steering column and reverse parking sensors the ute only scored 3 Ancap stars. The Actyon Sports Ute performed badly in the offset crash test, with the passenger compartment suffering excessive floor deformation and pedal intrusion.
Summary
Out on the open road it impressed me with its highway speed runs. Ride is well above ute standards thanks to a five-link coil-sprung rear axle, around town it handles like two-tonne 4WD ute with bad turbo lag. The Actyon Sports ute is no oil painting in the looks department. However if you're looking for a ute that has reasonable passenger comfortable, good fuel consumption, reasonably good fit and finish and a bargain price, it is worth putting on your shopping list.
What is good and not so good?
What is good?
Price
Front seats and space
Reasonable off-road
Filling the tank
What's not so good?
No Blue tooth connectivity
Tight on rear legroom
Performance around town
Road manners
Brand recognition.
Vehicle Ssangyong Actyon Sports Ute $34,990 RDAP
Drive train 2.0 litre Turbo Common Rail Diesel -6 speed auto
Power and Torque 104kW @ 4000 rpm310Nm @ 1800 rp04
Safety 3 Star
CO2 Emissions g/km 230 g/km
Green Vehicle Guide Rating 2 ½ Star
Fuel Economy L/100km (ADR comb) 8.7 L/100km
Tow Capacity 2300 kg braked (Auto)
Tow Ball Rating 230 kg
Warranty 3 year/ 100000 klm
Alternative Isuzu D-Max
Alternative Ford Ranger
Alternative Mazda BT50
AnyAuto Ratings 71/100
Behind the Wheel 7
Practicality 7
Comfort 7
Fit for Purpose 8
Equipment 7
Value for Money 9
Performance 6
Build Quality 7
Ride & Handling 6
Environment 7