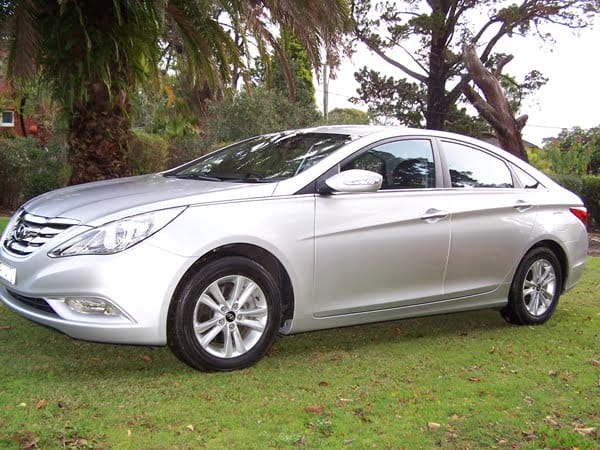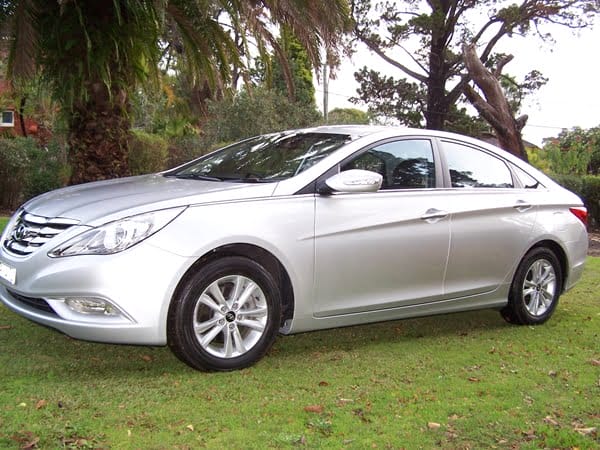 An instant favorite? Five generations in the making, Hyundai has come a long long way since it was first founded in 1947 as a construction company. It has taken on the world in ship building and won, and it is flexing its muscles in the automotive field, with a host of news models just launched or revised and plenty more on the horizon. The Japanese have to be worried, Hyundai have the Toyota Camry, Ford Mondeo, Mazda 6 and Subaru's Liberty directly in their sights with the i45.
They have a hair trigger, with their ability to react to criticism and make the changes needed quickly. Twelve months ago at the i45s launch, changes were suggested by the press and twelve months later, here it is. How good is it? Lets check it out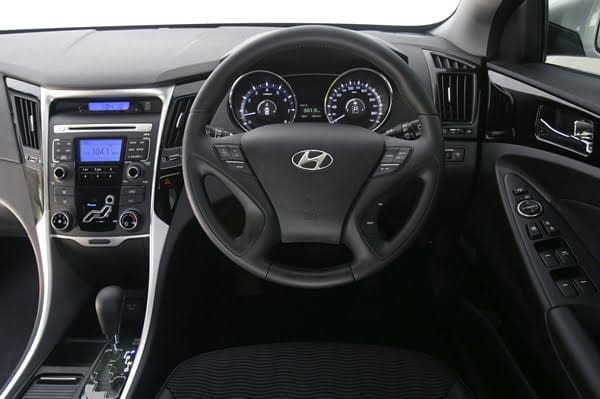 Behind the wheel
Jump into the base model Active Hyundai i45 and you'll be pleasantly surprised. The inside is a mixture of bold shapes and finishes, unlike some of its boring competition. Fit and finish of the cabin is very good. The controls operate with a feel and precision of a more expensive car. It also features an easy to use iPod interface, which is quite speedy in operation. The trim level is particularly upmarket, even in this base model,with its, piano black trim and brushed metal highlights. Being over six foot I would have liked a little bit more drivers seat rear travel, feeling a bit cramped at times but was helped by the tilt and telescopic adjustable steering wheel.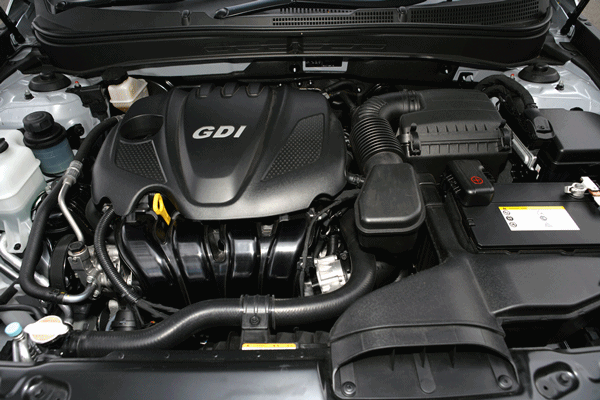 Performance
The 2011 Hyundai i45 impressed me with how smoothly it pulls away from standstill, feeling more like a V6. Offering more punch than Camry, Liberty, Mondeo, Kizashi and Mazda6, the 2.4-litre engine with direct injection was mated to a a six-speed automatic transmission in our tester. The four-cylinder engines produces a healthy 148kW of power, and pushes you along smoothly, mainly due to its healthy 250Nm of torque which peaks quite high in the rev range, (4250rpm) so it's not producing its best until you get the engine working harder. The six-speed automatic transmission is a gem and "nearly" always picks the right ratio, occasionally getting a bit confused in the down change. For a large medium sized car the four cylinder motors it performs well around town and cruisy country trips.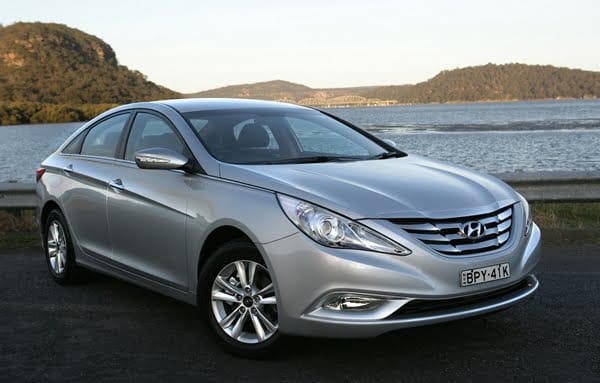 Handling
Last year at the launch of the i45 Hyundai copped a bit of a flogging from the press over its suspension setup. The suspension was a long way from "best in class" and was generally regarded as having substandard driving manners. Hyundai reacted immediately and fitted thicker stabilizer bars and re calibrated shock absorbers. So the i45 no longer fights you in corners on Sydney's potholed pathetic roads, and gives you a tighter, faster more controlled feeling. It still doesn't have the agility and brilliant handling of the Kizashi AWD or the Liberty, but it flogs the Camry and to a lesser extent the Mazda6.
Comfort
The i45 has enough room to allow four adults to stretch out and enjoy the ride. As with most cars, five will fit, though the rear middle passenger won't be as comfortable as the others. Headroom is just barely adequate in the rear for over 6-footers will likely find their heads uncomfortably near the ceiling. The boot has a slightly smaller opening than you would expect, but its 523l capacity is at the top of the class. All in all the Hyundai i45 is a comfortable place to be.
Practicality
Luggage capacity at 523-litre is brilliant. The opening is narrow too but at the rear seats split 60/40 and can be folded forward to increase storage. Interior storage is adequate, with good sized door bins plus cup holders and bottle holders nicely placed throughout.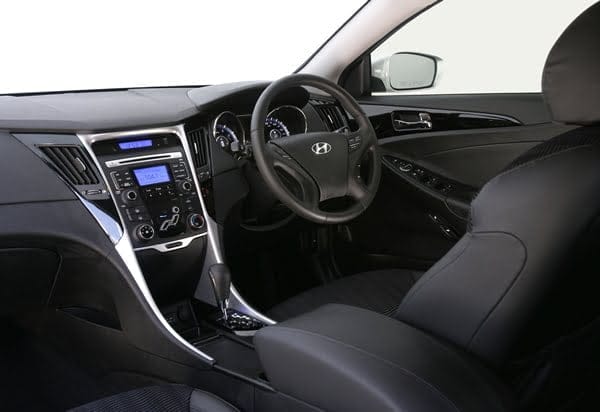 Equipment
It would be fair to say that this car is exceptional value at $31,090 plus on roads. The "Active" entry level spec,still boasts auto headlights, cruise control, alloy wheels, full iPod connectivity, trip computer and the safety of six airbags, stability control system, 6 speed auto and full sized spare. Blue tooth connectivity still remains an option even on the premium spec models which I still don't understand, as it should be a standard safety feature on all cars on the market today.
Safety
Outstanding occupant protection is a core element of the i45's design. All i45 models achieve a maximum 5-star ANCAP safety rating and come standard with a comprehensive suite of advanced safety features standard on all models including six airbags, Electronic Stability Control (ESC) with Traction Control System (TCS), four-channel, four-sensor Anti-skid Braking System (ABS), Electronic Brake force Distribution (EBD), Brake Assist System (BAS) and Hillstart Assist Control (HAC).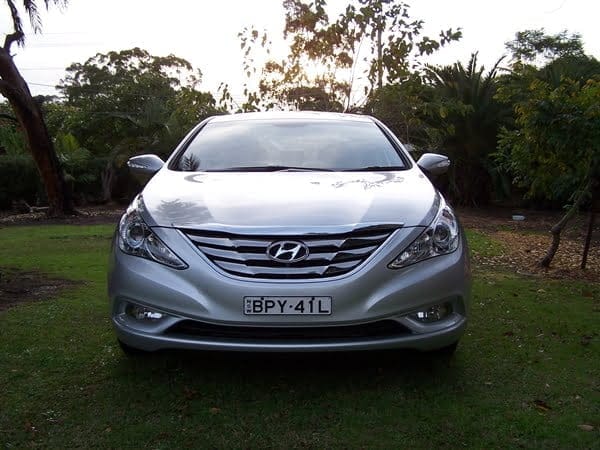 Summary
Beneath maybe the most stylish sheet metal in its class (although the Suzuki Kizashi is brilliant), the 2011 Hyundai i45 combines a well-appointed interior, world-class power train and new found levels of quality. Also, considering the competition, the latest i45 manages to stand out in a segment which is full of good choices. It's more refined than the Camry, and although the Liberty, Mondeo, Kizashi and Mazda6 are also good picks, the i45 has the price advantage. With its spirited performance, impressive fuel economy, solid build quality and strong value, I have a feeling that the very easy-to-live-with Hyundai i45 will have no problem giving the Japanese a very large reality check.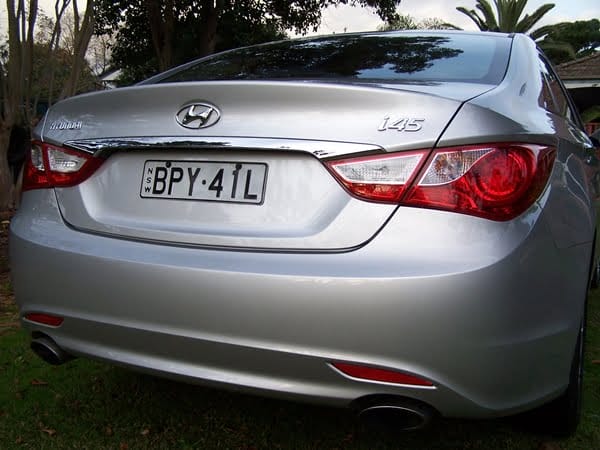 What is good and not so good?
What is good?
Value for money
Style
Comfort
What's not so good?
Driving dynamics don't match Kizashi
No Blue tooth connectivity
Tight on rear headroom
Vehicle Hyundai I45 Active $31,090 *
Drive train 2.4-litre four-cylinder-6 speed auto
Power and Torque 148kW @ 6300rpm234Nm @ 4250rpm
Safety 5 Star
CO2 Emissions g/km 188 g/km
Green Vehicle Guide Rating 4 Star
Fuel Economy L/100km (ADR comb) 7.9 L/100km
Tow Capacity 800kg braked (Auto) Tow Ball Rating 80kg
Warranty 5 year/Unlimited
Alternative Kia Optima
Alternative Ford Mondeo
Alternative Toyota Camry
* Manufacturers List Price does not include government or other statutory charges, insurance or dealer-delivery fee.
AnyAuto Ratings 83/100
Behind the Wheel 8
Practicality 8
Comfort 8
Fit for Purpose 9
Equipment 8
Value for Money 9
Performance 8
Build Quality 9
Ride & Handling 7
Environment 9