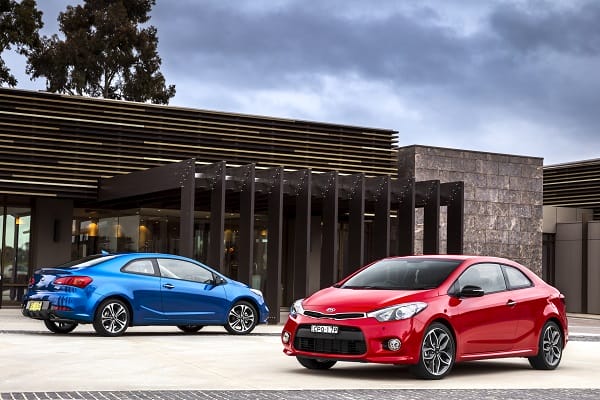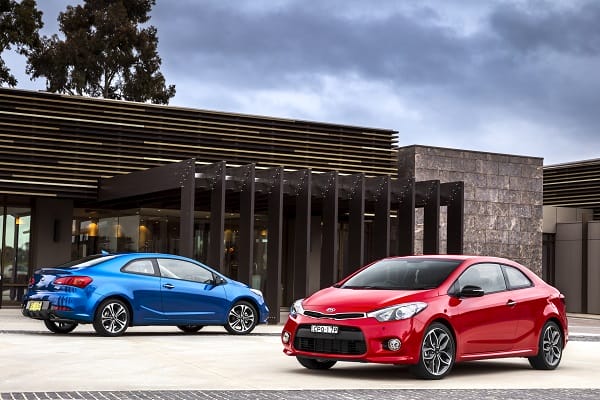 As I mentioned previously, on Wednesday Kia announced the launch of the brand new Kia Cerato Koup that will hit showrooms early next month. The most highly anticipated model is of course the 1.6L GDi Turbo, available in both 6 speed auto and 6 speed manual. This addition is accompanied by a naturally aspirated 2.0-litre GDi option for those who love the coupe style and practicality of the Koup, however don't feel the urge to own a turbo car.
Since its launch in 2004, the Cerato range has sold over 2.5 million cars, and is the best-selling range for Kia. So it's fitting that Kia's first turbocharged car in the Australian market is the new Koup. Tony Barlow, the Chief Operating Officer, says that the aim of the Koup was to keep customers "delighted" and to "take a good car and make it even better". The Cerato Koup has been introduced to fill the role of a Grand Tourer, with the Pro_cee'd GT stepping up for the performance range earlier next year.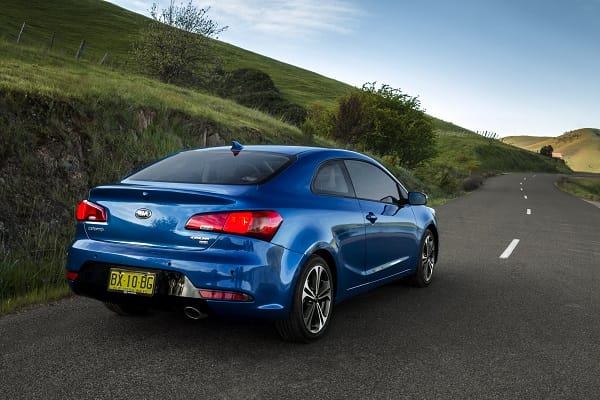 The Kia Cerato Koup is an affordable entry performance vehicle and is now the most powerful vehicle on the Australian market under $30,000. A great deal of dedication and effort went into tuning the suspension to the unique conditions of Australian roads and it's noticeable.
The car drives beautifully, has responsive handling and ensures maximum passenger comfort. Both variants provide a controlled and firm driving experience, with the Turbo model benefiting from that extra sporty tightness in the steering.
I believe Jeff Shafer, Senior Product Manager, sums up the overall experience of the Koup best as a "daily driver and a weekend car". While it's not the ultimate sports car (we will leave that for the Pro_cee'd), Mr Shafer says the Koup is a "stylish, sporty option for everyday driving".
The exterior design shares very little with its hatch and sedan siblings (expect for the front fender and bonnet), instead Kia combines sleek lines and curvaceous design to create a bold, luxurious exterior. The Turbo model also benefits a chrome grille, dual exhaust, 18 inch alloy wheels, body side skirts, black high gloss mirrors and door handles as well as front fog lamps.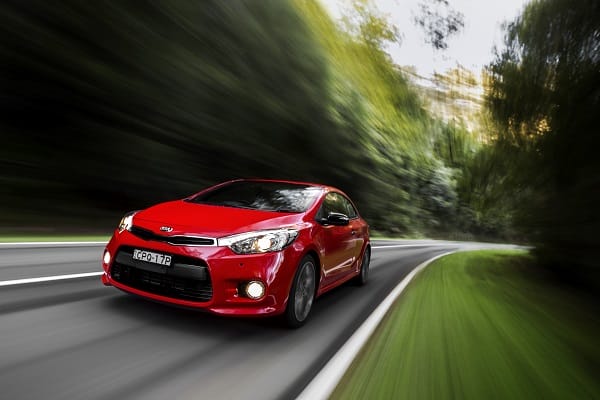 Once inside, there are very little differences between the variants. The Turbo model gets an upgrade with push button start, electrochromic rear-view mirror, cooling glovebox, artificial leather bolsters, welcome headlights and alloy sports pedals. The driver will be faced by an instrument cluster centred on two large, chrome-edged, dials and a bridging centre information panel layout. The Dot-Matrix LCD cluster is standard, providing you with all the information you need. The sweeping dashboard is angled towards the driver for ease of control and its voluminous design is enhanced by a carbon print on the centre dash. While a comfortable driving position is easy to achieve, the dramatic angle of the A pillar does cause a rather large blind spot when turning corners. Perhaps the biggest improvement is in the rear seats, where two people can actually fit for short trips. Rear occupants will also have bottle holders and little storage bins in the sides of the car.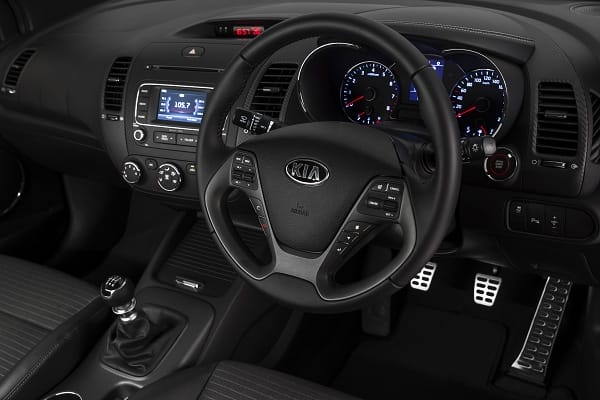 In the centre dash, a handy storage bin with cover houses dual cigarette lighters, AUX and USB inputs. The centre console is small but adequate and the door pockets house bottle holders as well. The audio system is MP3 compatible, has AM/FM radio, 6 speakers, Bluetooth streaming and audio steering wheel mounted controls.
The SLi and Turbo models also benefit from the MyMusic system that stores 800MB of music that is copied of CD's or your MP3 player. The 4.3-inch screen looks a little bit lost in the dash, but has good resolution and is easy to use.
Overall, the Kia Cerato Koup is a stylish, powerful and exciting car that is bound to make a splash in the market. Kia is a brand on the move and the introduction of the revitalised Koup is "designed to make you challenge what you think of Kia" says Steve Watt, the GM of Marketing. With a price, style and performance you simply cannot ignore, the Koup is certainly a car that should be at the forefront of buyer's minds.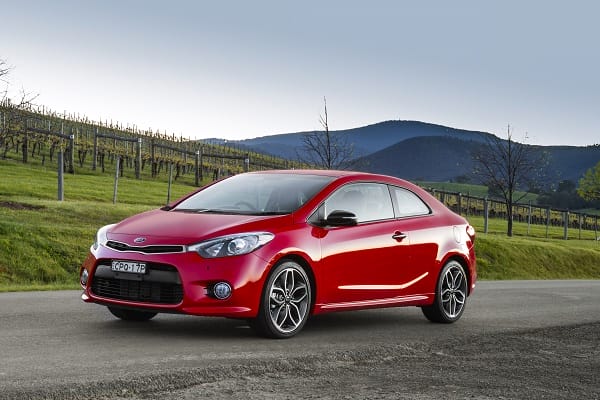 At A Glance:
Si 2.0-litre: 17-inch alloys with a full-size alloy spare, the full range of electronic safety features including ESC, TCS, ABS, EBD, BA, VSM, HAC and ESS, six airbags, front and rear parking sensors, keyless entry, cloth seats, 6-way driver's seat adjustment, 60:40 split fold rear seats, electric door mirrors, cruise control, power windows, rear view camera, MP3 compatible CD player and radio, six speakers Bluetooth connectivity, manual air-conditioning, electric folding mirrors, UV window glass, rear air vent, paddle shifts on automatic.
Turbo Variant: adds the high-tech 1.6-litre Turbo GDi engine, 18-inch wheels with full-size alloy spare, enhanced 16-inch brake package, LED rear combination lamps, LED daytime running lamps, alloy sports pedals, cooling glovebox, electrochromic rear view mirror, cloth seat with artificial leather bolsters, smart key with push button start and welcome lights.
Touring Pack: available on the Turbo and adds leather trim seats, satellite navigation, DVD players, dual-zone climate control, clean air module and auto defog.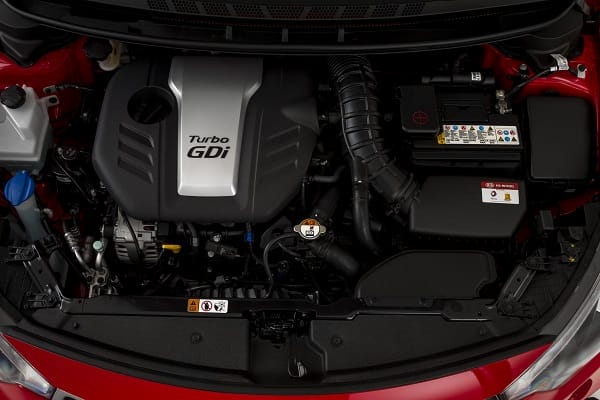 1.6L Petrol engine
| | |
| --- | --- |
| Name | Gamma T-GDI (Turbocharged)   |
| Type | (4-in-line), DOHC, four-cylinder, with CVVT |
| Capacity | 1591cc (1.6-litres) |
| Power | 150kW @ 6000rpm |
| Torque | 265Nm @   1750-4500rpm |
| Fuelling | Direct injection |

2.0L Petrol engine
| | |
| --- | --- |
| Name | Nu GDI |
| Type | (4-in-line), DOHC, four-cylinder, with CVVT |
| Capacity | 1999cc (2.0-litres) |
| Power | 129kW @ 6500rpm |
| Torque | 209Nm @ 4700rpm |
| Fuelling | Direct injection |
| | | |
| --- | --- | --- |
|   | 2.0 GDI MT/AT | 1.6 T-GDI   MT/AT |
| Top Speed (kph) | 210 / 210 | 224 / 222 |
| 0-to-100 kph (sec) | 8.4 / 8.9 | 7.7 / 7.4 |
| Litres / 100km | 7.3 / 7.4 | 7.7 / 8.0 |
| C02 (g/km) | 175 / 177 | 184 / 190 |

Pricing
| | | |
| --- | --- | --- |
| 2.0-litre GDi SLi | $23,990 (M/T) | $26,190 (A/T) |
| 1.6-litre T-GDi Turbo | $27,990 (M/T) | $30,190 (A/T) |
| 1.6-litre T-GDi Turbo with Touring   Pack | $30,190 (M/T) | $32,390 (A/T) |