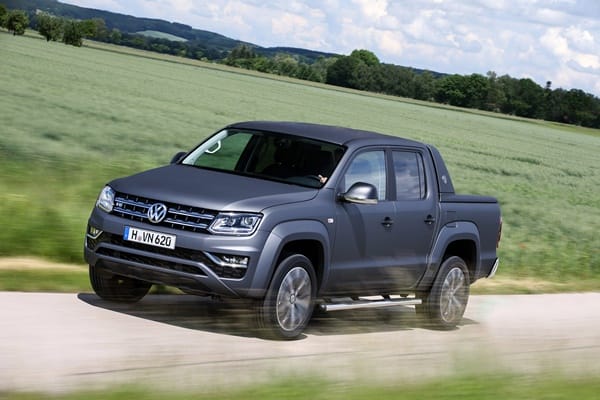 Since we last drove VW's Amarok, SUV and LCV (Light Commercial Vehicle) sales have overtaken passenger sales. Why?
It's hard to understand if you're not the outdoorsy camping type of person, or a tradie. People seem to like sitting high and having plenty of headroom. Amarok has that in spades.
The classy exterior sport a great set of bi-xenon self-adjusting headlights. The big flared guards and optional 20" tyres add to a masculine deign.
The Amarok V6 Ute sits very high. In fact, even taller drivers need to climb up into the cabin. There is no smart entry/start so keep your keys handy.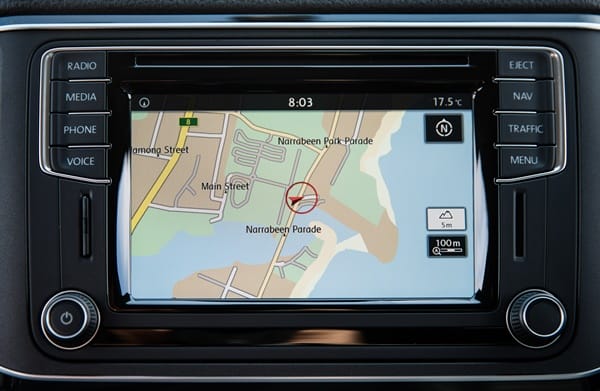 Apple CarPlay displays on a 6.3" touch screen which seems a bit small for a cabin this roomy.
You can use the screen as if it was your phone. Siri will perform simple functions either by pressing the voice key, or by saying "Hey Siri," which means true hands free operation.
The leather (appointed) interior feels too posh for tradies. Clearly the V6 is aimed at the active, sporty, buyer rather than the kind of buyer wanting a work horse.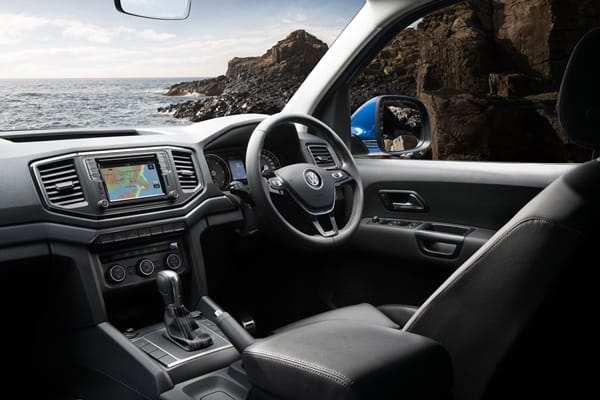 On the bitumen, Amarok feels like an off-roader.
The Big wheels and off-road tyres don't make for sedan-like handling. Having said that, the handling is decent for a 4X4. You quickly get used to it.
On dirt roads the Amarok is a different story. Amarok uses clever electronics to help an amateur look like a seasoned professional. 4-Motion 4wd is used right across the VW group.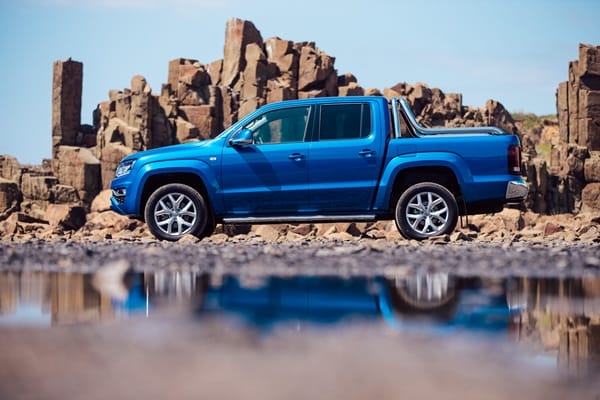 It feels confident in most light off-road conditions. There is no low gear range so the 4-Motion relies on electronic aids to simulate low gear advantages. The system uses the ABS and Stability Control systems to prevent wheel spin in low-grip situations. This is not a vehicle for serious off road driving.
The 165kw 3.0L, V6, diesel feels lively thanks to a low first gear.
A huge 500Nm will get the wheels turning quick, so the 0-100 sprint is covered in just 7.9 seconds.
The Amarok is a big chunk of metal. I'm stunned at the spritely performance given the claimed economy of 8.6L/100k around town. We only managed 10.8L/100k around town.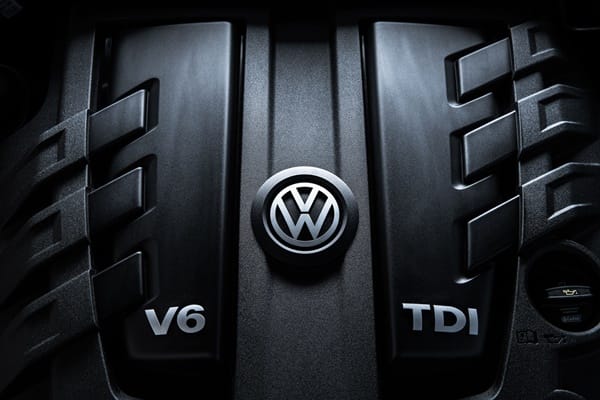 On the highway, VW says you can expect 7.3L/100k which makes road trips look attractive. Amarok is comfortable enough to make that possibility feel like a pleasure.
There is sway control, but only if you get the genuine towing package.
On the road, the 8-speed auto is incredibly smooth.
Like most modern autos, it changes up as quickly as possible to aid economy. Our colleagues have towed decent sized caravans without any trouble. Who doesn't like being stuck behind someone towing a caravan?
The tray has a plastic liner. Heavy things carried in it won't poke bumps into the outer skin if they roll around. VW have thought of everything. The roll bars are purely decorative.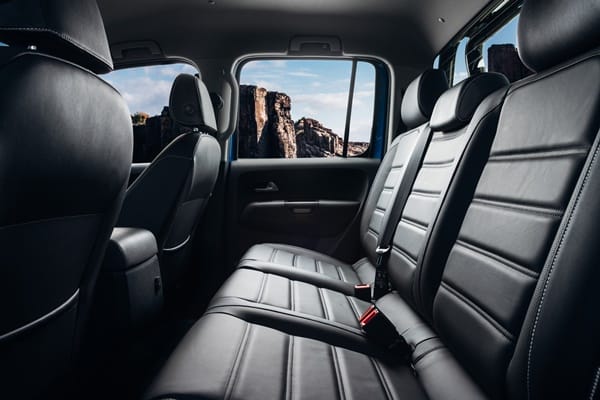 Amarok is big, and feels big in town.
Parking at supermarkets requires careful negotiation. With a 12.9m turning circle, the 5.25m monster is a bit of a handful. Remember, parking spaces are a mere 6m long. Think twice about paralleling yourself with a shoehorn even with the standard reversing camera.
We felt adventurous. The big VW enjoyed being thrown in to corners. The unladen weight shifts predictably with a touch of oversteer every now and then. It isn't a sports car which makes the handling even more of a surprise.
You can feel the hefty 2,216kg body, yet it never gets in the way of having fun.
VW says the Amarok appeals to SUV buyers. Aftermarket canopies give the flexibility of being able to stow stuff out of the weather, with an emergency sleeping space if needed. I personally wouldn't want to sleep in any car, but I'd rather be in the weather even less.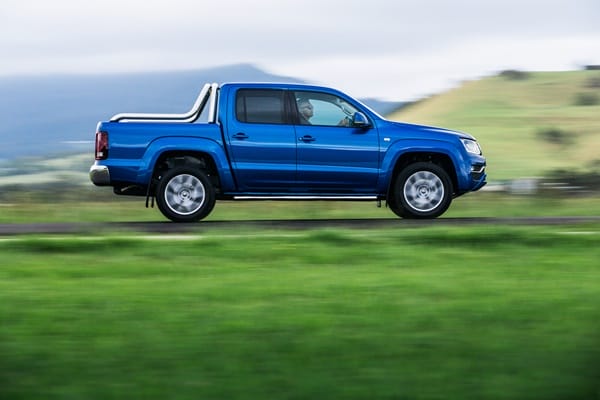 Conclusion:
Amarok was surprising fun.
It has a spacious cabin, although rear passengers on a long trip might feel a little cramped. There a ton of room for gear, and the full-ladder chassis feels as solid as a rock.
The driving experience is good, but not perhaps as good as others in the class. It feels more like a truck than a car, but that doesn't mean you can't be enthusiastic.
The steering is power assisted rack and pinion, not electric, which is rare these days.
We've recently driven Hilux, Colorado and Navara, and the competition is stiff.
It would be hard to pick which is better on-road, but I'd prefer full 4WD with high and low range gearing if I was going to head bush. Serious off-roading requires serious off-road capability.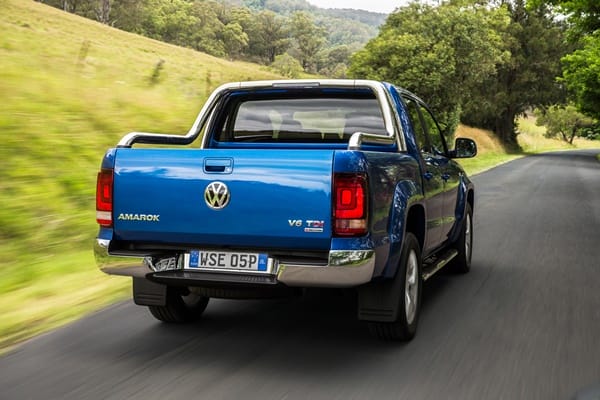 An 8 Speed auto is a welcome sight. I'm not convinced a DSG could cope with the low-speed needs, especially when towing. Pricing is around Ultimate $67,990 on-road (Highline goes for $59,990 on-road)
Amarok is best for the active weekender, tradie, or anyone with a bunch of stuff to tote around. It's not really for towing or solid off road work.