ZOE is Renault's solution to Zero Emission mobility for all. ZOE is Renault's first pure-electric car to be designed from the ground up. ZOE is packed with the latest technology and boasts several world premieres geared to enhancing user-friendliness, range and connectivity.
For the first time, the conditions necessary for the widespread roll-out of electric vehicles are well and truly in place. Unveiled at the 2012 Geneva Motor Show, Renault ZOE will go on sale in Europe this autumn. Its launch marks the beginning of a new era: an era of electric vehicles for all.
ZOE's world premiere features:
• The first mass-market electric vehicle to be homologated with an NEDC (New European Driving Cycle) range of 210 km.
• The first vehicle equipped with Range OptimiZEr that improves the real-world range, depending on driving conditions. For example, in suburban use, the owner will achieve between 100 km and 150 km.
• The first electric vehicle capable of being charged at any level of power – in between 30 minutes and nine hours – thanks to the Chameleon charger.
• The first Renault vehicle to be presented with Renault R-Link, a multimedia system featuring a seven-inch touch screen tablet, navigation and connected services.
• The first electric vehicle to enable the massive roll-out of fast-charging stations, which are easier and up to four times cheaper for local governments.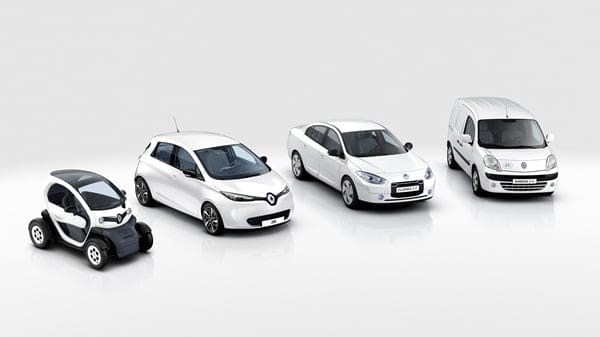 "ZOE will be the spearhead of the Renault Z.E. range and the version on show at Geneva represents the model's final design. In addition to its compact size, attractive styling and affordable price tag, it showcases Renault's technological excellence when it comes to electric vehicles. ZOE also heralds the beginning of a new era of electric mobility for all and confirms our commitment to electric vehicles. It marks an important step for Renault which has a 110-year history of making major innovations a concrete reality for ordinary motorists." Carlos Ghosn, Chairman and Chief Executive Officer, Renault
ZOE's final design is being world-premiered at the 2012 Geneva Motor Show. Designed as a pure-electric car from the ground up, ZOE is a compact hatchback with sleek, fluid lines. Its agile, dynamic looks express driving enjoyment, while its signature headlights feature LEDs that permanently light up recesses situated either side of the front air intake. Like Twingo and Twizy, ZOE features the Renault brand's new design identity.
Exterior styling
"We wanted ZOE's design to embody both a sense of breakthrough technology and core automotive styling cues. The car's ecofriendly dimension is expressed in its pure lines which appear to flow along the bodywork. Its contemporary proportions combined with sculpted volumes make ZOE a reassuring and captivating car." Agneta Dahlgren-Hermine (ZOE Design Project Manager)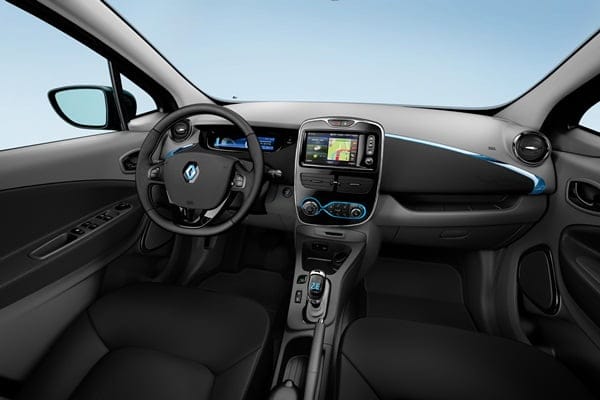 Interior design
"ZOE's interior design reflects its modern, 'eco' character, with a bright colour scheme evocative of purity, plus the latest interactive technology in the form of the Renault R-Link tablet. The dashboard moulding has been designed to resemble the blade of a wind turbine." Dominique Marzolf (Interior Designer)
ZOE, a raft of innovations for a new form of motoring
More than 60 patents have been filed for ZOE's design. Range, interactivity and occupant wellbeing are at the core of the vehicle's innovations. ZOE, the first mass-market electric vehicle to be homologated with an NEDC cycle
range of 210 km
In terms of autonomy, Renault has developed the 'Range OptimiZEr', that combines three major innovations (new-generation regenerative braking, a heat pump and MICHELIN EnergyTM E-V tyres). Due to this, the range of ZOE is the highest of the electric vehicles in mass production. In the NEDC, ZOE is homologated with a range of 210km. In real conditions, for example, in suburban use, the owner will generally achieve around 100km in cold weather and 150km in temperate conditions.
New-generation regenerative braking recovers practically all of the energy otherwise wasted during braking, without any significant impact on ZOE's on road dynamics. The car offers a perfectly smooth drive with no jarring electric motor braking. The system works in two ways:
• The kinetic energy produced under deceleration and braking is recovered by the motor so that it can be converted into electricity to charge the battery. This feature is also fitted to Fluence Z.E. and Kangoo Z.E.
• When the driver presses the brake pedal, the system intelligently distributes the braking effort between applying the brake pads and the electric motor brake with a view to maximising the use of the electric motor brake and charging of the battery.
The heat pump provides excellent thermal comfort without detracting from the vehicle's range. This system, which operates in the same way as reverse-cycle air-conditioning, consumes very little electricity. It produces warm or cool air by simply reversing the cycle of operation. The heat pump generates approximately 2kW of cooling or 3kW of heat with just 1kW of electricity. The cabin temperature is also more constant since it is not affected by the heat given off by the motor.
The MICHELIN EnergyTM E-V tyre is a Michelin innovation co-developed with Renault as a world premiere for ZOE. The tyre features enhanced energy efficiency to maximise vehicle range. Its rubber compound, tread design and sidewalls have been engineered to withstand ZOE's high torque and address the specific demands of electric vehicles, yet it still delivers the same safety and handling performance as all other Michelin tyres. Available in 15- and 16-inch versions, this tyre is fitted to all ZOE models as original equipment.
The Chameleon charger revolutionises electric vehicle charging
ZOE is the only electric vehicle to feature the Chameleon charger. Patented by Renault, this charger is compatible with all power levels up to 43kW. Charging batteries at a charging station can take between 30 minutes and nine hours. For example, ZOE can be charged in an hour at 22kW. This intermediate power level extends battery life and puts less pressure on the power grid than the fast-charging of batteries at 43kW.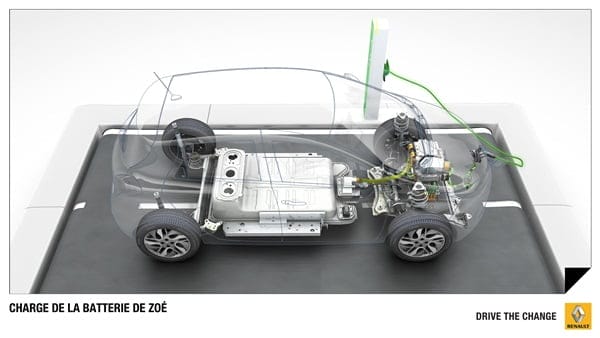 The Chameleon charger allows fast-charging at charging stations at a quarter of the cost
Fast-charging stations are currently equipped with high-power chargers. Now that the Chameleon charger is fitted to the vehicle, there is no longer any need for chargers at charging stations. New fast-charging stations will be opened which are easier and more cost-effective. They will cost less than €3,000, a quarter of the cost of existing fast-charging stations. Charging stations of this type are being previewed on the Renault stand at the Geneva Motor Show.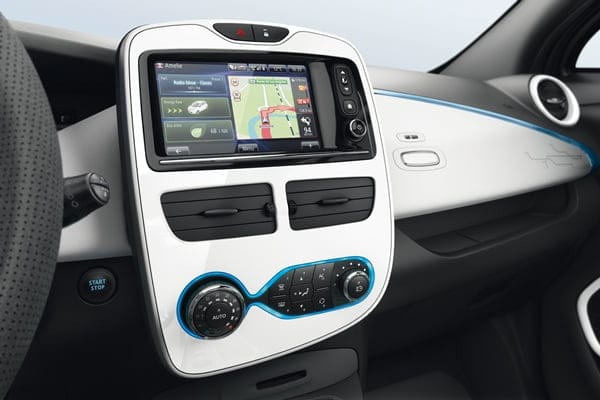 Brand-new Renault R-Link multimedia system on ZOE
ZOE is the first Renault vehicle to be presented with Renault R-Link, Renault's brand-new integrated, connected multimedia system. To enable drivers to control its functions without taking their eyes off the road, R-Link features a large seven-inch display, steering wheel-mounted controls and speech recognition. RLink also delivers integrated connectivity with motoring services and applications available from the R-Link Store. When released, R-Link Store will offer more than 50 applications adapted for life on the move thanks to an active partnership with application developers. These apps will be downloadable directly inside the car or via owners' My Renault account.
R-Link also includes a host of new functions dedicated to electric motoring and range management: histogram of energy consumption, display of energy flows and preprogramming of battery charging. The navigation system offers bespoke services such as a display of the vehicle's operating radius based on the range remaining in the battery, suggestions for the most energy-efficient itineraries and the location of nearby battery charging stations (depending on country), as well as their real-time availability. R-Link also lets drivers view their eco-driving performance and improve their technique with 'eco-scoring' and tips (general and personalised).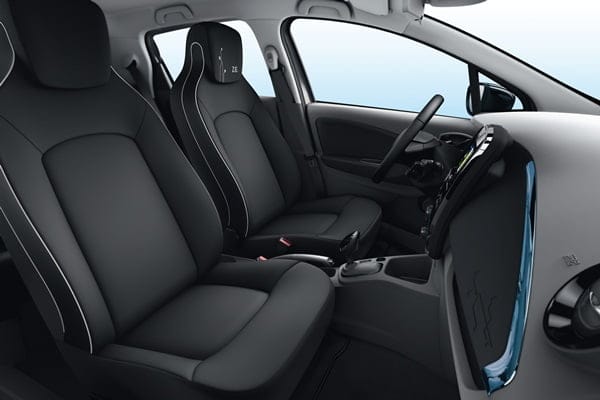 Connected services for remote communication and monitoring
ZOE drivers will be able to use their mobile phone or computer to:
• access range-related information using the 'My Z.E. Connect' package, available on ZOE from the entry-level version.
• monitor their vehicle via the 'My Z.E. inter@ctive' Pack which includes:
o remote operation (on/off) of battery charging if the vehicle is connected to a charging station.
o remote programming of charging (from a PC only) with the option of taking advantage of preferential rates from electricity suppliers.
o immediate or delayed activation of the cabin pre-conditioning system.
Enjoyment, relaxation and wellbeing on board A relaxing, enjoyable drive
Driving ZOE is a unique experience which gives new meaning to the term 'driving pleasure'. The synchronous electric motor with rotor coil has a power output of 65kW and instantly delivers maximum torque of 220Nm. Acceleration and pull-away are responsive from low speeds. Driving is more relaxing thanks to the silent ride and smooth, gearshift-free acceleration.
For stress-free driving in built-up areas, ZOE is fitted with 'Z.E. Voice', an alarm which warns pedestrians that the vehicle is approaching. 'Z.E. Voice' can be heard from 1 to 30kph and was the subject of special design work to create a bespoke sound identity for ZOE. The driver can choose between three different sounds, while it is possible to turn off the warning system by simply pressing a button.
The perfect temperature inside ZOE's cabin
Programmable pre-conditioning heats or cools ZOE's cabin when the vehicle is charging. When the driver gets into the car, the cabin is just the right temperature and the energy used for the thermal comfort system is not drawn from the battery.
The air breathed in by ZOE's occupants is pure. An activated charcoal cabin air filter traps most bad smells and pollutants. It also filters substances just a few microns in size, such as pollen and soot.
The 'Zen' version embodies the world of ZOE
The choice of colours and materials for the 'Zen' version recalls purity and wellbeing: white, blue and chrome, plus a soft-feel dashboard. ZOE Zen is fitted with 'Take Care by Renault' equipment as standard.
Launched with Renault Latitude, the 'Take Care' signature is a guarantee of premium features dedicated to occupant wellbeing and travelling comfort. In addition to the pre-conditioning function and active charcoal cabin filter, it includes:
• A relaxing or stimulating scent diffuser. The effectiveness of the scents has been proven by a study conducted by the German institute Psyrecon
• A dual-mode purifying and relaxing air ioniser: the purifying function eliminates the bacteria found in the cabin air. The relaxing function generates negative ions to produce a balance with the positive ions, which are present in high concentrations in a confined space such as a car's interior.
• A toxicity sensor: this system detects excessive pollution levels and automatically switches on the air recycling mode in the cabin.
• Teflon® upholstery protection, for easier cleaning: this invisible, odourless treatment is both waterproof and stain-proof.
ZOE underpins Renault's environmental commitment
Like all electric vehicles, ZOE emits no CO2, NOx, CO or fine particles. It also signals the disappearance of unpleasant smells and 'engine' noise during road use. Well-to-wheel CO2 emissions depend on the energy-generation mix of each country. Emissions total 62 g / km of CO2 in Europe, versus 89 g / km for the new Toyota Prius. They are even lower in France at just 12 g / km of CO2.
From 2013, ZOE's local content rate will be 55 per cent following the introduction of the Renault electric motor which will be produced at the company's Cléon plant. This high rate helps to reduce the carbon footprint of logistics activities.
ZOE: 'Made in France' electric vehicle excellence
• ZOE was designed at the Renault Technocentre.
• Lardy, a department devoted to electric motors and batteries.
• ZOE is manufactured at Renault's Flins factory, where batteries will be made at a later date.
• From 2013, the electric motor will be made at the Cléon factory, France.
Technical data
Dimensions
Length (mm) 4,084
Overall width (mm) 1,730
Height (unladen) (mm) 1,568
Wheelbase (mm) 2,588
Boot capacity (litres) 338
Number of seats 5
Front / rear overhang (mm) 836 / 661
Front / rear track (mm) 1,506 / 1,489
Motor
Type Synchronous with rotor coil
Power (kW) / (hp) 65 / 88
Maximum torque (Nm) 220
Transmission Reducer gear
Battery
Type Lithium-ion
Capacity (kWh) 22
Range (NEDC) 210 km
Top speed (kph) 135
Charger
Type Single or three phase supply up to 43kW
Charge time • 3kW (16A single phase wall box) = 9 hours
• 22kW (32A three-phase charging station) = 1 hour
• 43kW (63A three-phase charging station) = 30 minutes