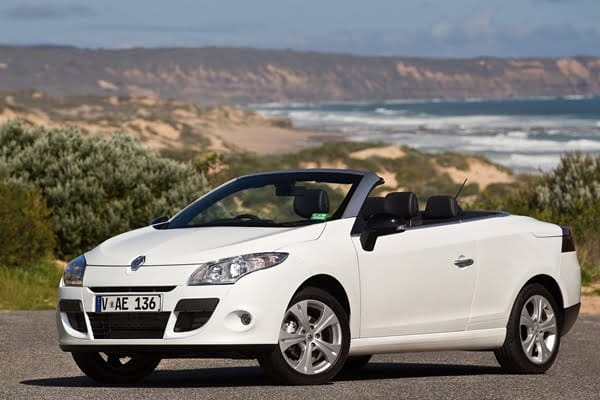 Renault have released their 2011 Renault Mégane Coupé-Cabriolet powered by a 2.0L petrol engine. Its typically french in design.
It's the second try for Renault and its Megan CC, has the French auto maker finally got it right? Let's take a peek at the new Topless French beauty.
Behind the wheel
For those familiar with the old model, quality takes a huge leap forward with the new Megane CC. Apart from some unconvincing aluminium-effect plastic strips stuck on the interior door handles the CC impresses even beside some of its more expensive alternatives. Sitting inside the cabin, the Megane CC offers keyless start and smart locking; dual-zone climate control and satellite navigation, automatic parking brake, analogue/digital computer display, leather wrapped steering wheel, tinted windows. It's also very easy to get a decent driving position with electrically height adjustable, heated driver's seat with lumbar support; both seats are capable of remembering their previous position, even if they've been tipped forward to allow rear-seat access. Audio buffs are well looked after with streaming audio Bluetooth, a multimedia connection box (Aux. input socket and USB support).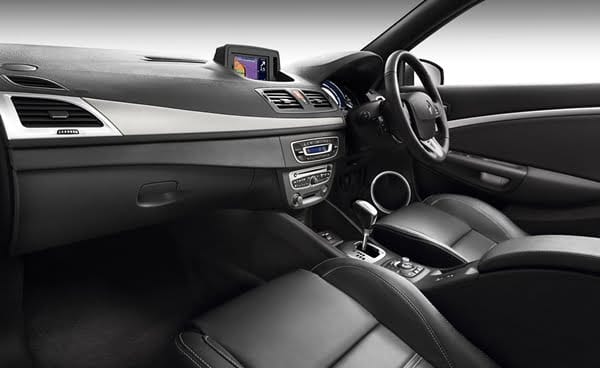 Performance
The Coupe-Cabriolet is, on average, has an astonishing 160kg weight penalty over the new Megane hatch. This has serious implications when it comes to performance. Quite frankly the little, Euro 5 compliant 103kW, 2.0-litre, four-cylinder petrol engine from the new generation Mégane Hatch struggles and has to be worked very hard and feels underwhelming in the performance department. The firm's new double-clutch auto is also available, but only on the base 109bhp dCi 110. The new auto from the Renault-Nissan Alliance offers smooth changes, but that extra weight blunts its best efforts to get up and go. Best not to waste your time if you need performance in your ride
Handling
Chopping off the roof of any car and you compromise a car's stiffness and that has a knock-on effect in the way it drives. Unfortunately, the Megane seems to have suffered more than most. It's not hopeless when you hit the road, but neither is it that enjoyable. First off you will notice the odd shudder through the steering wheel and a quivering interior mirror – both hinting at less stiffness in the overall package then say the VW EOS. It is also less balanced in corners and never escapes the feeling of weight. I suggest it's better to drive the Megane CC in the way it is intended by winding the pace back and enjoy the sun and scenery.
Comfort
Stiffer springs front and rear plus more aggressive dampers were needed to cope with the added weight introduced by the convertible's roof mechanism. The result is the Megane does ride firmer than the hatch, but is still cosseting enough to be comfortable. Unfortunately the CC shows little sophistication over sharp expansion joints. There's also an unwanted wallowing and noticeably more body roll through bends. As far comfort when the roof is down Renault says that neither the front nor rear passengers will need their hairstylist to accompany them when planning a road-trip with the roof down, claiming the Megane CC will offer unruffled open-top motoring in all conditions. Unruffled, provided you don't go over 90km/h, according to their media release. The wind buffeting that is so common an annoyance in convertible cars is avoided at speeds lower than 90km/h, thanks to the fixed glass wind deflector positioned behind the rear seats.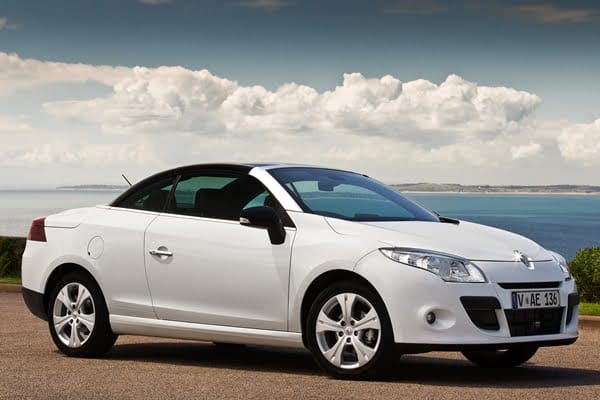 Practicality
The Megane's more generous dimensions at 4,485mm long (+130mm) and with 2,609mm between the wheels (+87mm), the new car offers a meaningful increase in interior space means both passengers and driver get more space. However climb into the rear seats and a tall passenger would find it almost impossible sit behind an average sized driver. Not impossible but bloody uncomfortable even for short distances, best leave the rear accommodation for a couple of pre-teenage kids. The boot, like all in the segment, is huge when the roof is up and predictably tiny when down but would go close to best in class. (417-litres with the roof up and 211-litres with it down)
Equipment
With prices kicking off at almost $45,990 Manufacturer's Retail Price, excluding on road charges such as dealer delivery and statutory costs. The new Renault Mégane Coupé-Cabriolet is very well equipped as standard and offers a limited array of optional equipment for the customer. The standard Dynamique trim level comes with the following features: Renault smart card key (hands-free and engine start), Integrated satellite navigation system with joy stick on centre console, Streaming audio Bluetooth, Multimedia connection box (Aux. input socket and USB support), high-level sound quality with "3D Sound by Arkamys", dual zone climate control air conditioning, electrically height adjustable, heated driver's seat with lumbar support, automatic parking brake, analogue/digital computer display, leather wrapped steering wheel, gloss black electric / heated / foldable door mirrors, tinted windows, folding glass roof (21 sec), automatic anti-rollover pop-up arches, fixed wind deflector,17-inch 'Schuss' alloy wheels.
Optional equipment includes: Charcoal leather upholstery, bi-Xenon headlamps and metallic paint.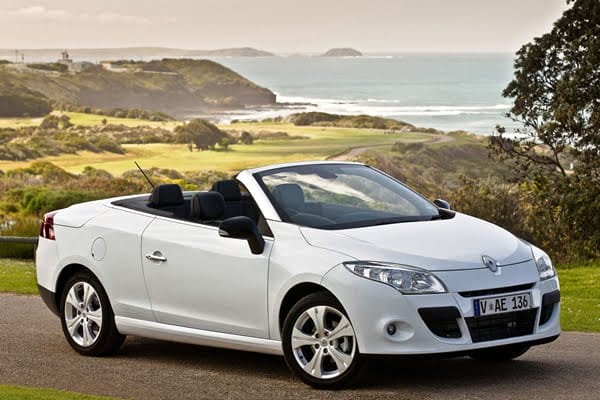 Safety
Renault is confident that if tested independently the Megane will be ruled safest in its drop top class. This confidence comes off the back of the 2008 Euro NCAP crash tests where the Megane hatch was awarded the full five stars for overall protection. This model comes with a very high level of standard active and passive safety features. These include: ESP, ABS with emergency braking assist, new head/chest/pelvis anti-submarining airbags integrated into the seats, two 3-point rear seatbelts, new pop-up pyrotechnic roof arches for roll-over protection. Active safety is also enhanced by cruise control with speed limiter, auto headlamps and wipers, fog lights, daytime running lights and rear parking sensors. An extensive range of equipment is available to help drivers avoid risky situations, and when things go really bad a pair of pyrotechnic roll hoops that pop up to protect rear passengers in the event of a roll.
Summary
There is something about driving in perfect weather, accompanied by a French girl that looks good even with her top on, and sensational with her top off. I guess it doesn't pay for to talk too much about her looks as beauty is in the eye of the beholder, but Renault has done a great job with the looks of this auto, You might say that the Renault Megane Coupe Cabriolet has got a bit of understated style with a touch of elegance. Maybe the Megane Coupe Cabriolet doesn't have the in-your-face sportiness of some of its opposition, but this CC is ideal for those unwilling to trade roof-up refinement and security for topless thrills.
The Megane is the firm's second attempt at perfecting the folding hardtop. Like before, it has teamed up with legendary convertible specialist Karmann who were responsible for the original Beetle. This time around it has created a huge two-piece glass panoramic roof. Not only does this provide for a light and airy cabin, its construction helps the firm set new standards for suppressing wind and road noise with the roof up. Roof down, it's even more impressive. Close attention has been paid to reduce unpleasant wind buffeting by the addition of a new fixed glass wind deflector. Boosting practicality further over the old car is the Megane's more generous proportions that allow a couple of pre teenagers to squeeze into the rear with the roof up for short distances. As I said earlier though the extra weight blunts its best efforts to get up and go and it would be fantastic to have a turbo or diesel option.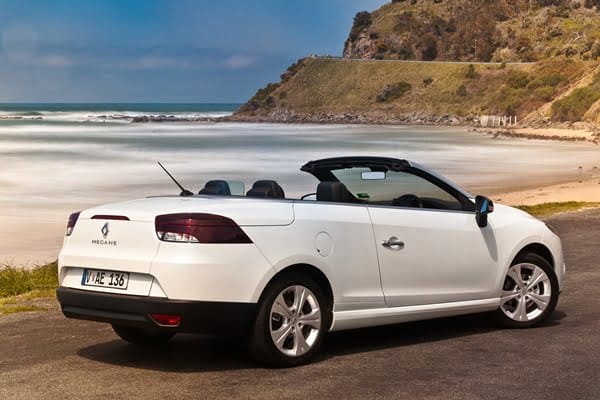 What is good and not so good?
What is good?
· Safe
· Well-equipped
· Light and airy cabin
· Decent roof-up refinement
What's not so good?
· Not sporty fun to drive
· Pricey
· Petrol engine struggles with weight