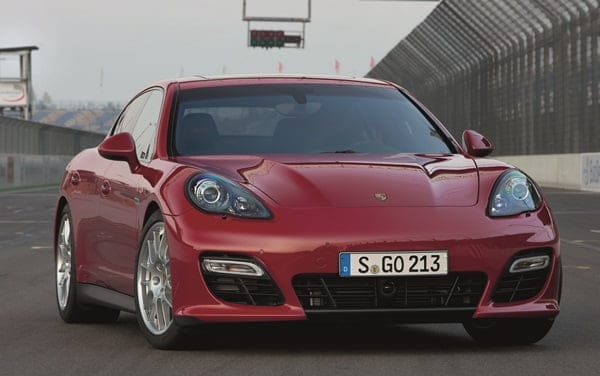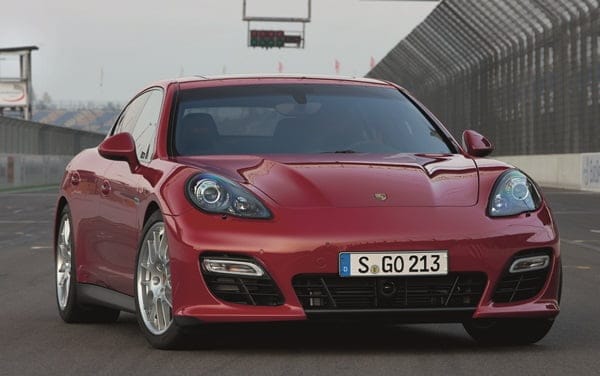 Stuttgart's sportiest Gran Turismo is leaving the pits: the Porsche Panamera GTS. The clue is in the name. At Porsche, GTS stands for Gran Turismo Sport, promising extraordinary Porsche performance ever since the legendary 904 Carrera GTS back in 1963.
More power and upgraded brakes, a body lowered by ten millimetres and the especially sportily tuned chassis with air suspension and PASM are the major technical modifications that make it the Panamera model capable of cutting it on the racing circuit – without sacrificing practicality. The sportiest of all Panameras also conveys this to occupants and the outside world by its striking sound. In terms of looks, the new Panamera GTS signals its independence by distinctive design features in the front-end, side and rear area as well as black highlights. The interior as well is rigorously tailored to the sporty personality with sports seats, SportDesign steering wheel with shift paddles, exclusive GTS leather interior and Alcantara surfaces.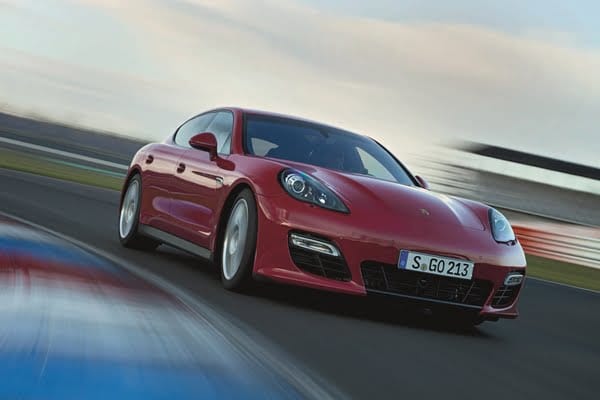 The power unit in the new Panamera GTS is a modified 4.8-litre naturally aspirated V8 engine, delivering 430 hp (316 kW) at 6,700 rpm, trumping the engine in its Panamera S/4S sister models by 30 hp (22 kW). The maximum torque also increased by comparison, from 500 Nm to 520 Nm. The way in which at the push of a button the Porsche Doppelkupplungsgetriebe (PDK) transmits the engine output to the all-wheel drive (PTM) – thanks to the Sport Chrono package featured as standard without interruption to the power flow – is especially dynamic. This collaboration enables the Panamera GTS to sprint to 100 km/h in under 4.5 seconds, accelerating on to its top speed of 288 km/h. With NEDC fuel consumption of 10.9 l/100 km – only 10.7 l/100 km with low-friction tyres – the Panamera GTS remains as much of an efficiency role model in its milieu as all Porsche models.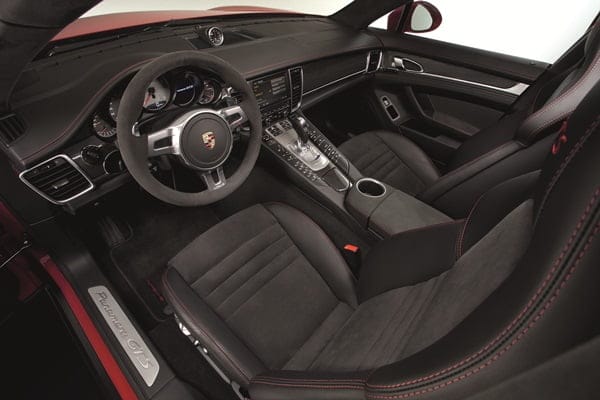 The standard values for sprint and top speed don't do full justice to the new Panamera GTS's sporty characteristics. Its chassis in particular makes it fit for the racing circuit: The adaptive air suspension and Porsche Active Suspension Management (PASM) featured as standard connect the chassis and body, constantly adapting to the driving challenges by regulating levelling settings, adjusting height, adjusting the spring rate and electrically adjusting the damping system. The damping is designed to be tauter, which helps agility and further reinforces the new Gran Turismo's sporty personality. Five millimetre thick wheel spacers between the wheel and the wheel carriers increase the rear axle track width, giving the Panamera an even more stable ride. The required grip is provided by 255/45 size 19-inch tyres on the front axle and 285/40 on the rear axle. Deceleration on the sporty Panamera is provided by the superlative braking system of the Panamera Turbo. The Panamera GTS is being launched in February 2012 with a price tag of 116.716 €.