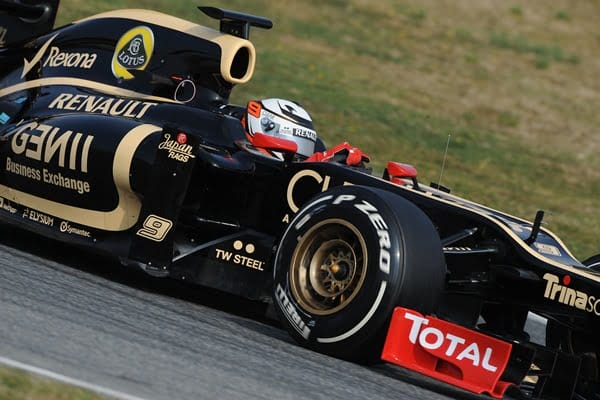 The accent was placed firmly on tyre strategy preparation for the first Grand Prix of the year in just two weeks' time, as pre-season testing finished in Barcelona today – with nearly 50,000 kilometres completed after three tests.
With the season just about to begin, the teams have now completed 48,987 kilometres on all of Pirelli's 2012 compounds – which have been specifically designed for the latest Formula One regulations – throughout 12 days of testing at Jerez and Barcelona. The rain that fell on the third day of the Barcelona test meant that the teams were able to try out the Cinturato Green intermediate tyre and Cinturato Blue full wet tyre for the first time.
In Barcelona – also the venue for the previous four-day test last week – the teams covered a total of 16,775 kilometres and 3674 laps, with the fastest time set on the last day by Lotus driver Kimi Raikkonen: 1m22.030s, using P Zero Yellow soft tyres.
This was three-tenths of a second faster than the quickest time set at the previous Barcelona test. Several different parameters are assessed during testing, making it hard to draw a direct comparison, but the emphasis in Barcelona over the last four days was firmly on race preparation.
A key part of preparing for the races is understanding fully how the latest P Zero tyres behave with the new cars. A car that is kind to its tyres has more flexibility when it comes to race strategy, which can give a decisive advantage. With the cars heading to Australia straight after the Barcelona test, the teams concentrated on longer runs and race simulations, particularly during the warmer and more stable conditions of the afternoon. The teams also took the opportunity to practice pit stops, which can win or lose a race.
Pirelli's motorsport director Paul Hembery said: "The teams and ourselves focussed on gathering as much information as possible for the first race of the season at this final test in Barcelona. We saw long runs and race simulations over all four days, concentrating mostly on the P Zero Yellow soft and P Zero White medium compounds, although it was good that we were finally able to get some running on the wet weather tyres as well. The teams are rapidly extending and refining their knowledge of our 2012 tyres, seeing how long they can make them last over the course of race simulations, both on full and lighter fuel tanks. This is going to be key to the strategy in Australia. The feedback we've had remains very positive: the drivers like the grip that our new tyres generate, which is improved from last year, and they are also pleased by the way that the tyre's behaviour has become more linear and predictable. However much you test though there is no substitute for actual racing, which is why we're all now looking forward to seeing the real picture emerge in Australia."
Testing facts:
Lotus drivers Romain Grosjean and Kimi Raikkonen are the only drivers to have gone fastest on two days of testing in 2012. Each fastest time during the other days of testing this year has been set by different drivers: Schumacher, Rosberg, Alonso, Vettel, Hulkenberg, Maldonado, Kobayashi and Perez.
The P Zero Yellow soft tyre set the fastest time during all four days of the test. Along with the P Zero White medium, this is the nominated tyre for the first race of the year in Australia.
The driver to complete the most laps at Barcelona was Nico Rosberg in the Mercedes who did 257 laps (the equivalent of 1196 kilometres).
The driver who has completed the most laps of combined testing at Jerez and Barcelona is also Rosberg, who has driven 2996 kilometres in total. The driver who has done the least distance is Force India's Jules Bianchi, who has completed 213 kilometres.
In addition to the official testing dates, teams are allowed a filming day restricted to 100 kilometres. Pirelli supplies demonstration tyres for these purposes, which are a different specification to the race tyres and not designed for speed.
Testing numbers:
Total number of sets brought to Barcelona: 360 sets which equals 1440 tyres
Of which Supersoft tyres: 38 sets
Of which Soft tyres: 94 sets
Of which Medium tyres: 114 sets
Of which Hard tyres: 69 sets
Of which Intermediate tyres: 31 sets
Of which Wet tyres: 14 set
Total amount of sets used: 301
Of which Supersoft tyres: 22 sets
Of which Soft tyres: 100 sets
Of which Medium tyres: 111 sets
Of which Hard tyres: 58 sets
Of which Intermediate tyres: 6 sets
Of which Wet tyres: 4 sets
Longest run:
27 laps on the Hard compound
21 laps on the Medium compound
18 laps on the Soft compound
7 laps on the Supersoft compound
Highest / lowest ambient temperature over four days: 7 °C / 23 °C
Highest / lowest track temperature over four days: 7 °C / 30 °C
Tyre summary:
Day 1
1. Grosjean 1'23″252 on Soft New
2. Button 1'23″510 on Soft New
3. Perez 1'23″820 on Medium New
Day 2
1. Grosjean 1'22''614 on Soft New
2. Vergne 1'23''126 on Soft New
3. Vettel 1'23''361 on Medium New
Day 3
1. Perez 1'22''094 on Soft New
2. Button 1'22''103 on Soft New
3. Ricciardo 1'22''155 on Supersoft New
Day 4
1. Raikkonen 1'22″030 on Soft New
2. Alonso 1'22″250 on Soft New
3. Senna 1'22″296 on Soft New