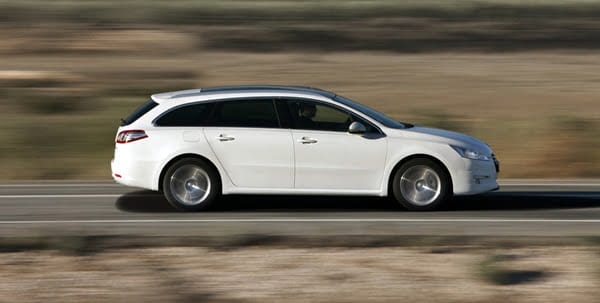 Following the success of the Peugeot 508 GT sedan comes the all-new 508 GT Touring. The 508 GT Touring will be in showrooms this month, priced from $55,990*. While Peugeot 508 GT models gain extra equipment, the highlight of the model is the inclusion of the 2.2-litre HDI engine.
The 2.2-litre diesel engine is only available in GT models while the 508 Allure and Active models have either the 1.6-litre e-HDi engine, 2.0-litre turbo diesel or 1.6-litre turbo petrol.
With 150kW of power and 450Nm of torque the 508 GT Touring completes the 0-100km/h dash in 8.4 seconds, more than a second quicker than the Allure Touring.
GT models also feature unique front suspension with double wishbone suspension with drop link hub carrier instead of the Macpherson type struts of the Allure Touring models.
Extra equipment over the Allure model includes: 18-inch alloy wheels, adaptive main beam headlights, colour head up display, directional bi-Xenon headlights with auto height adjustment and headlight washers and driver's seat with memory setting.
Specification and options for the all-new 508 GT Touring are in-line with the GT Sedan with the exception of the electric tailgate which is available as a $1000 option on GT Touring as well as Allure Touring.
Peugeot 508 Pricing*
508 Sedan
508 Active 1.6T petrol: $36,990
508 Active 1.6-litre e-HDI: $37,490
508 Allure 1.6T petrol: $39,490
508 Allure 2.0 litre HDI: $42,990
508 GT 2.2-litre HDI: $52,990
508 Touring
508 Allure 1.6T Petrol: $42,490
508 Allure Touring 2.0-litre HDI: $45,990
508 GT Touring 2.2-litre HDI: $55,990
* Prices quoted are the Manufacturer's List Prices (MLP), inclusive of Luxury Car Tax (LCT) at the rate of 33%, and excluding dealer delivery charges. LCT is payable on all vehicles with a total purchase price, including the price of factory & dealer fitted optional extras & dealer delivery charges, above $57,466. This is a manufacturer's list & new vehicles must be purchased from dealers. Specifications & pricing are as planned for Model Year 2012 and subject to change without notice or obligation