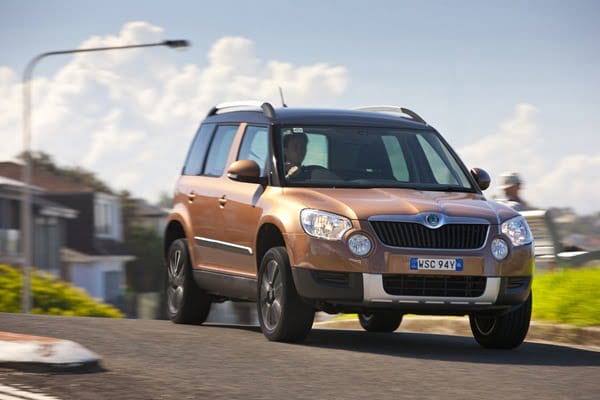 The fifth and newest member of the ŠKODA family the ŠKODA Yeti is now available with a 112TSI petrol engine, adding even more versatility to the stable of 77TSI and 103TDI variants.
Coupled with a six-speed manual or optional six-speed DSG gearbox, the new Yeti offering affords exceptional performance and appeals to the buyer looking for an uncompromising package of power, efficiency, comfort and versatility.
This new addition to the Yeti family benefits from the same advanced four-wheel-drive system as its 103TDI counterpart, incorporating a fourth-generation Haldex clutch. The system responds instantaneously to the traction requirements of each wheel under changing driving conditions, and is capable of deploying up to 90 percent of torque to the rear axle to ensure consistent grip and stability on all roads at all times.
Peak power of 112kW is reached at 6,000rpm for the DSG configuration, with maximum torque of 250 Newton-metres between 1,500rpm and 4,200rpm. The manual configuration meanwhile reaches a peak of 118kW at 5,000rpm and the maximum 250 Newton-metres of torque between 1,500rpm and 4,500rpm.
Designed, detailed and engineered at the ŠKODA Design and Technical Centre in Mlada Boleslav, the new 112TSI Yeti profits from the same class-leading features that made the initial line-up so popular in the Australian market: Flexible seating arrangements, high driving position and bold styling.
Yeti continues to set the standard laid down by the original model variants, combining all the rugged strengths of a traditional 4×4 with the practicality and running costs of a hatchback. Yeti is a true crossover vehicle.
With prices starting at just $32,990* for the 112TSI with six-speed manual, or $35,290* for the 112TSI DSG, the new Yeti line-up offers the same great value for money as every ŠKODA.
* Prices quoted are Manufacturer List Prices excluding dealer delivery charges, which may vary from dealer to dealer and statutory charges, which vary from state to state.