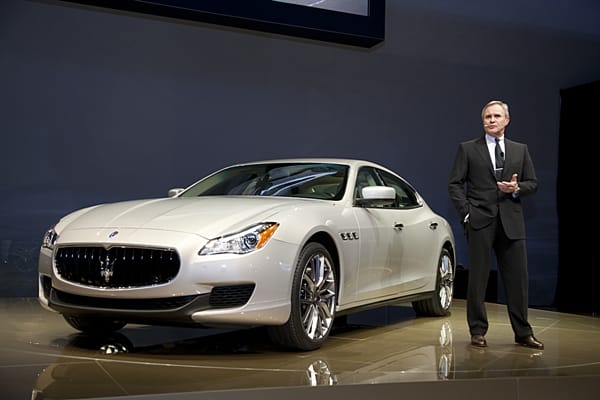 The new Maserati Quattroporte has been officially unveiled at the 2013 North American International Auto Show in Detroit (14 January 2013) and will arrive in Australia and New Zealand in the fourth quarter of this year.
As the flagship of the Maserati product range, the new Quattroporte is larger, lighter, more luxurious and more practical than the globally-acclaimed car it replaces. With a 307 km/h (191 mph) top speed, it's also as fast as most two-door supercars.
The sixth-generation Quattroporte is a significant leap forward that not only sets the high-technology tone for Maserati's upcoming range of new-models, but also remains faithful to Maserati's long history of luxury sports saloons.
The powerful and proprietary Maserati engines and the large cabin are at the core of the Quattroporte's design. Dominated by a long, powerful nose and a concave Trident grille a clear link is created to both the outgoing Quattroporte and the current GranTurismo.
The newly-developed direct-injection engine family boasts a 3.8-litre V8 and a 3.0-litre V6, both of which are twin-turbocharged, designed by Maserati Powertrain and assembled by Ferrari at its plant in Maranello. All versions come equipped with the latest eight-speed automatic transmission developed with ZF.
Even with all of its new technology, the new Quattroporte remains true to Maserati's roots. Its 390 kW twin turbo V8 makes it not only the fastest four-door Maserati has ever built, but also the most powerful and the most fuel efficient. In direct contrast to its scintillating performance, the V8 Maserati Quattroporte has improved both its fuel consumption and emissions by 20 percent over the outgoing Quattroporte.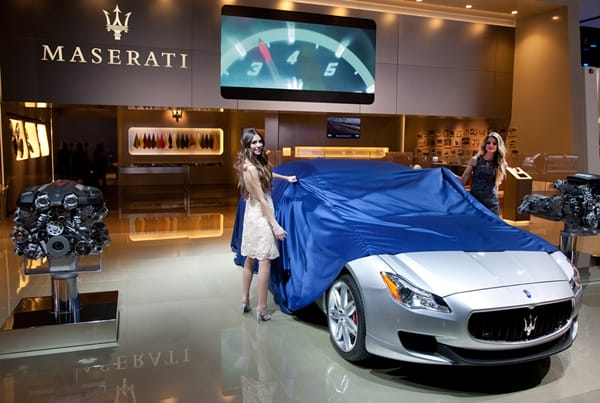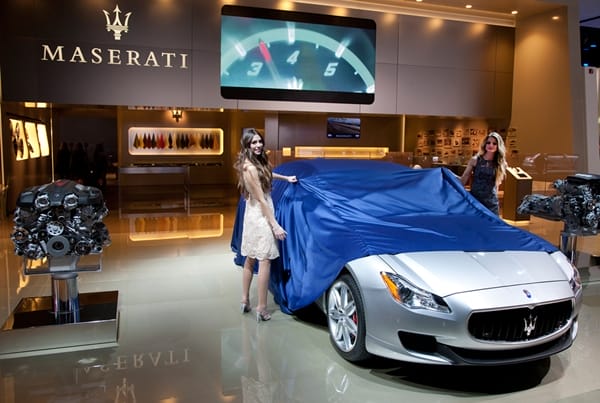 The 3.8-litre V8 engine sets Maserati's new performance benchmark by reaching 100 km/h in 4.7 seconds and achieving a 307 km/h top speed- fully 20 km/h faster than the existing Quattroporte Sport GT S. At its peak it delivers up to 200 Nm more torque than the previous model.
The all-new architecture retains the Quattroporte's traditionally exquisite handling thanks to its near 50:50 weight distribution, a double-wishbone front suspension and a state-of-the-art five-link rear suspension.
The new Quattroporte also delivers new standards in quality in every area from design, development, fabrication and process controls. It is produced in a new plant that combines Maserati's traditions of craftsmanship with cutting-edge technologies that are able to help guarantee outstanding quality by controlling even the tiniest of details.
Traditional hand-crafted design continues in the Quattroporte's cabin, and this has been augmented with even more interior space in all seats and both four- and five-seat layouts.
Cabin luxury leaps forward technically, too, with features like the Maserati Touch Control screen, adjustable pedals, reverse cameras and the optional 15-speaker, 1280 Watt Bowers & Wilkins audio system, as well as WLAN-based WiFi.
Starting with the original Quattroporte in 1963, Maserati invented the concept of the luxury sports saloon and the new Quattroporte continues to be the benchmark for high quality engineering, supercar performance and luxury saloon comfort.