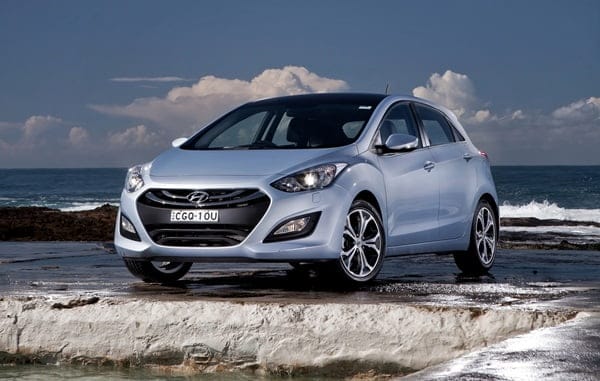 Named 'one of the safest choices within the small car category' by the Australasian New Car Assessment Program (ANCAP), the new generation Hyundai i30 four-door hatch has been awarded the maximum five-star ANCAP safety rating.
The new generation i30 is the latest model in the Hyundai range to receive the maximum five-star safety rating, following the all-new Elantra and Accent, the i40 range, and the all-new Veloster.
The second generation i30 received solid results across the five safety tests, consisting of frontal offset, side impact, pole, whiplash, and pedestrian protection, to receive the maximum ANCAP rating. The result represents a significant improvement in overall score compared to the first generation five-star rated i30, up from 32.54 to 35.69.
"The new generation i30 follows in the footsteps of Hyundai's all-new vehicles achieving the highest safety rating achievable in the Australian market," said Oliver Mann, Marketing Director Hyundai Motor Company Australia. "It is further testament to Hyundai's continued commitment to bringing industry-leading occupant and pedestrian safety within reach of all Australians."
As well as achieving the maximum 5-star ANCAP safety rating, the new generation i30 comes with a comprehensive suite of active and passive safety technologies as standard.
Active safety systems include Vehicle Stability Management (VSM), Electronic Stability Control (ESC), Traction Control System (TCS), ABS with EBD & Brake Assist System (BAS), and Cornering Brake Control (CBC), whilst advanced passive safety features include the use of ultra-high tensile steel within the bodyshell and seven airbags as standard.
Multiple pedestrian safety features, such as the impact absorbing bonnet structure and member-less front-end side module, are also implemented to reduce the chance of pedestrian injury in the case of a collision. Reversing sensors are fitted as standard to all new i30 models, while Elite and Premium models also come with a rear view camera.
In the last decade Hyundai Motor Company has focused on product quality and vehicle safety, working closely with ANCAP to develop vehicle optimised structure and technical specification levels. Today, the entire Hyundai range achieves a five star ANCAP rating with the exception of the iLoad and iMax, which achieve a four star rating.
For a full list of ANCAP safety ratings and model specifications, and vehicle safety information visit www.ancap.com.au