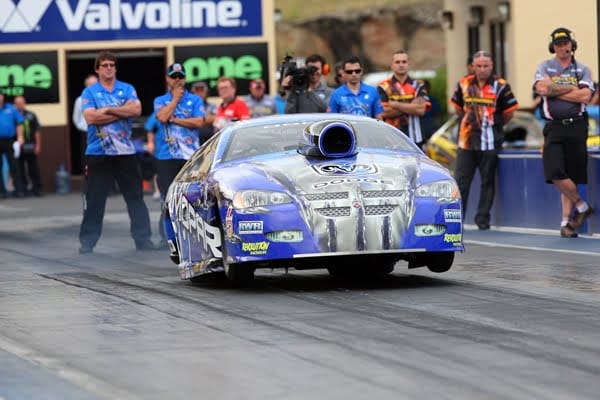 Mopar Australia (Chrysler) has announced a renewal of its sponsorship of ANDRA Pro Series Drag Racing's Lee Bektash and Team Mopar for the next two seasons. The renewal builds on Mopar's ongoing sponsorship of Lee and his team since 2008.
The 2011-2012 season is shaping up to be a massive one for Team Mopar's Pro Stock Dodge after a record breaking performance at the recent 2011 Castrol EDGE Winternationals, at Willowbank Raceway. Team Mopar clocked a 7.03 second pass to become the fastest Pro Stock vehicle in Australia at this event that was later postponed due to weather conditions and will resume on July 15-17th.
Last season, The Mopar Team achieved their quickest time ever of 7.02 seconds. With this latest 7.03 second pass, they have backed up their performance to officially become the fastest team in the Pro Stock class. This triumph followed on from a runner up position at the recent Nitro Champs at Sydney Dragway on 29th April, where they set the quickest MPH of a blistering 194.69.
Team Mopar will have the edge next season with the introduction of a brand new engine, developed with internationally renowned engine builders Rick Watters from RWR in Arizona and Tomi Laine from Indianapolis, assisting with the set up of the racecar. The engine will feature new HEMI® P5 Billet Heads and will produce 20-25 more horsepower, a big boost sure to set Team Mopar up for more records.
Lee Bektash from Team Mopar said;
"Mopar Australia's support since 2008 has been unbelievable and to have it extended for another two seasons is brilliant. With a brand new Team Mopar engine, I know we'll break the six second pass".
Rob Moorcroft, General Manager – After Sales, Chrysler Australia said;
"The recent Willowbank performance shows exactly why we support the team. The hard work and professionalism represents everything Mopar Australia stands for. We look forward to what the future holds and we are sure it will be rewarding".
Lee Bektash, Team Mopar and their Pro Stock Dodge will be exhibiting at next month's Mopar Sunday. This one day event is set to roar at Willowbank Raceway in Queensland on July 31st, with thousands of fans coming to see the best in race, performance, off-road and restoration, as well as performance gear for Chrysler, Jeep, Dodge and all Mopar vehicles.
The event will involve Show and Shine, 4WD displays, Drag Racing and the exhibition of modern Mopar's from the current Chrysler, Jeep and Dodge range.