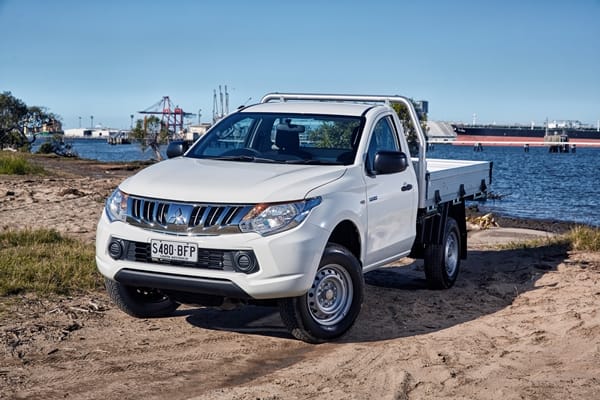 We have available for a few weeks the GLX single cab 5th generation 2WD Triton tray back ute to test. Launched earlier this year the often overlooked 2WD versions provide invaluable capacity for trades people, rural and mine uses. This is the maximum load capacity available in a Ute.  
While most of the sales in utes are dual cab 4wd versions the world of work and recreational utes is highly competitive and an important part of the Australian new car vehicle market with over 200,000 sold last year.  
The fourth generation Triton was polarising for its design with people either loving it or saying that it was designed by a committee. The 5th generation design Triton definitely retains its adventurous design features but has matured with high waisted sophisticated design. However the full style doesn't appear in the full tray versions.
The Triton has always been an excellent robust honest ute that performed its duties without fuss. The all new Triton is significantly better in some areas and an improvement in all other areas, even price.
Australia is an important market for the Triton with over 295,000 being sold locally and over 150,000 of the previous model sold. Hence when the redesign was imminent the call to Australia went out.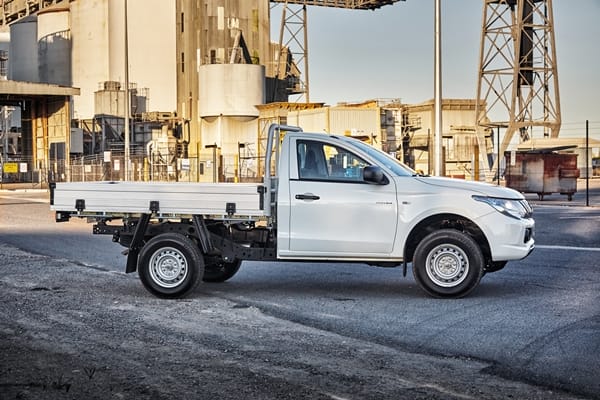 The Australian influence is strong with customer feedback sessions and many kilometres of local testing showing through in the design functionality, engine's torque characteristics, high speed stability on gravel surfaces and overall towing performance and stability.
More so than almost any other vehicle the humble ute , an Australian invention, has to suit a multitude of purposes with many divergent outcomes required.
Perhaps the hardest of these is the suspension and engine transmission combination. It is no secret that a 2wd tray back ute without a load on board can ride like a dog and is very unstable around corners. The ute we are testing here surprisingly rides pretty good empty, better than its 4wd stable mate club cab version we tested a couple of weeks ago. Maybe it's my imagination, but my back certainly is thankful for a softer ride. That accounts for the ride, like all utes the 2wd trayback is very loose in the rear end and will spin its wheels with the slightest provocation. Roundabouts in the wet provide unauthorised fun and excitement when least expected.
The single cab version, unlike the club cab version, has limited seat travel and with the seat back as far as it can go for long legs the sitting position is almost bolt upright. That is a feature of all single cab utes. Once you get used to the awkward driving position though, helped to a large degree by the tilt and reach adjustable steering wheel, you feel at home. Drivers over 185cm tall are best to try the ute for  a while before buying. I can just leverage my 190cm bulky frame in and get comfortable but it took a few days.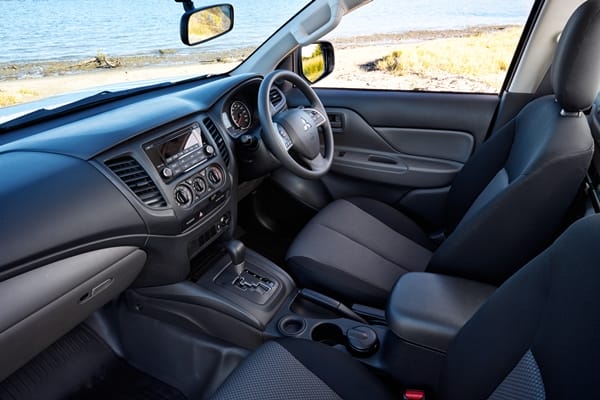 While the ute we are testing is a basic version with no sat nav, centre screen, manual adjustments for air conditioning etc, it does have one touch drivers electric window, USB input, traction control, 5 star safety, steering wheel controls for audio and cruise control and Bluetooth which is a bonus. A reversing camera would be handy as the tray sticks out a long way at the rear but the extremities are visible.
Let's talk about the engine transmission combination for a bit. The previous model reduced the torque for the automatic version and that was a pain. I have been very critical of that in the past. The 2016 Triton range is powered by a new 2.4-litre MIVEC turbo diesel engine.  It achieves 133kW of power at 3500 rpm and 430Nm peak torque at 2500 rpm. Importantly though is that the majority of that torque comes in at around 1500 rpm and another hit at 1750rpm and  the delivery makes for relaxed and economical driving.
Using an all-aluminium cylinder block construction and other lightweight materials, the new EURO 5 compliant engine is lighter and considerably more efficient, more powerful and more refined than its predecessor.
Fuel economy and emissions have been improved by lowering the compression ratio to 15.5:1 and locating the diesel particulate filter as close to the engine as possible. This is all clever design.
The choice of transmissions are a smooth 6 speed manual and a new 5 speed auto. Finally the torque for the auto which we have as the test vehicle isn't reduced.. WOOHOO!!!. Perhaps Mitsubishi could have taken the opportunity to introduce a 6 speed auto box, but the transmission works great with the low down torque delivery of the engine and fuel economy is frugal. Another key improvement is the throttle response, its excellent!. This ute whether empty or loaded is responsive to throttle control and delivers where it counts.
The new generation 2wd single cab version Triton has an official braked towing capacity of 2,500 kg for both manual and automatic versions with a tow ball rating of 250kg. Importantly this is while being able to also carry over 1,000kg of payload as well. This provides Triton with a practical, real world balance between towing capacity and vehicle payload.
It's that payload we are going to test over the coming weeks where we utilise the 2wd single cab tray back version in real world situations. The Australian market presents a unique challenge for engineering carrying capacity verses towing requirements due to the vast range of towing situations and load types that need to be catered for.  Typical towing requirements could range from a horse float, boat, caravan, camper trailer, construction equipment or standard two-wheel trailer, with each having unique load characteristics.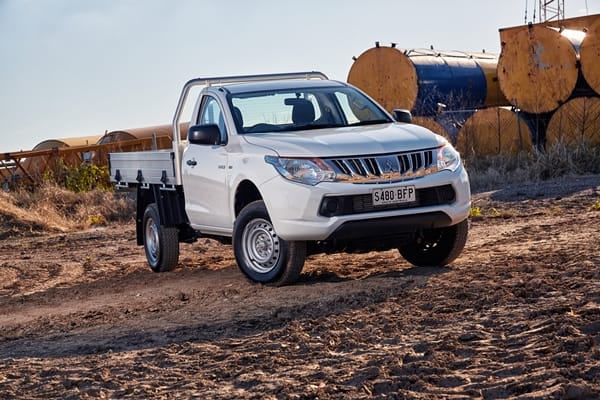 Also complementing Triton's towing performance is the new steering system, which enables Triton to handle challenging towing manoeuvres with ease.  Trailer Stability Assist has been fitted to all models as a standard safety feature.  This system, in combination with the new, well-balanced suspension set up, ensures Triton delivers a stable and secure tow vehicle package that's suitable for towing a variety of loads. 
The Triton range now offers three specification levels – however the 2wd versions come in GLX only, which targets the traditional LCV buyer looking for a traditional and high-value working vehicle.  
Safety is substantially boosted with all 2016 Triton models achieving an official 5-star ANCAP safety rating. Triton's exceptional safety performance is underpinned by Mitsubishi's proven RISE (Reinforced Impact Safety Evolution) body technology, which is used across all three body styles.
Higher strength steels have been adopted in the key body structure to efficiently absorb impact from all directions and efficiently disperse it, while retaining the cabin integrity during a crash.
Passive safety features including driver and front passenger SRS airbags, side and curtain airbags and driver's knee airbag, while seat belts are fitted with pre-tensioners and force limiters. 
Active Stability and Traction Control or ASTC is standard across the 2016 range, along with Mitsubishi's ESS Emergency Stop Signal function, which flashes the hazard warning lights under heavy braking to alert vehicles approaching from behind.
All models are also fitted with brake override system, which uses sensors to recognise when both accelerator and brake pedals are being pressed at the same time and gives priority to the brake system to prevent accidental acceleration.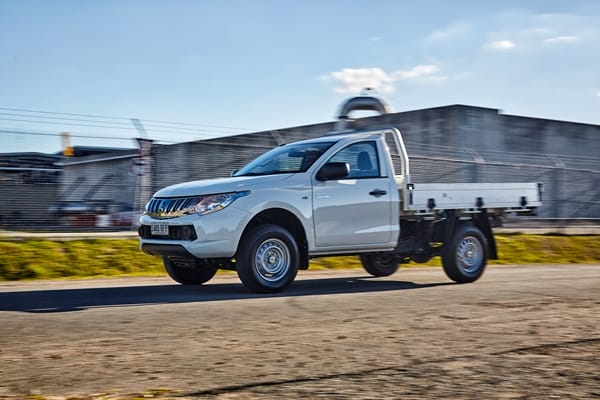 The 2016 Triton range benefits from Mitsubishi's five-year/100,000km New Car Warranty. Triton's capped price servicing is very competitive in the Light Commercial segment.  Service intervals are 15,000km or 12 months, whichever comes first.
2016 Triton Capped Price Service schedule is below:
15,000km (12 months)        $350 RRP
30,000km (24 months)        $580 RRP
45,000km (36 months)        $580 RRP
60,000km (48 months)        $580 RRP
Mitsubishi has always had a great value proposition with the Triton and the new model further develops that tradition with significant price reductions across most of the model range.
Pricing for the new 2wd single cab ute is around $31,000 RDAP which represents outstanding value Stay tuned for more updates over the next few weeks.