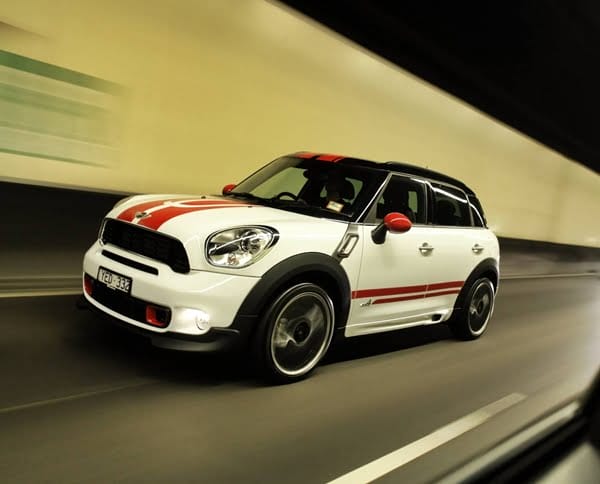 Need a Mini, need more space and flexibility? well the answer is "The Countryman"; it bridges the gap between the MINI as we know it and a Sports Activity Vehicle.
How good is it? Let's check it out.
Behind the Wheel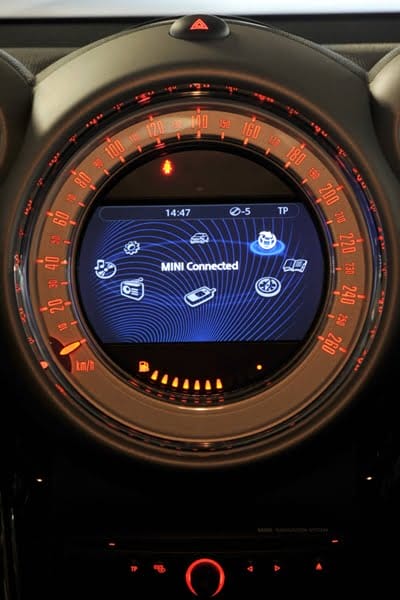 There's a monster speedo in the middle of the dash which still requires quite a size-able glance away from the road ahead to check your speed although there is a digital readout in front of you. Again, MINI insists on putting the tacho right in front of you, which only serves to remind you that this is where the speedo should be. The aircraft-style u-shaped handbrake is an unnecessarily fancy inclusion that is normally impeded by your mobile phone if you have dutifully put it in the holder in the central tunnel. You may like the MINI quirkiness, but that illogical layout is not made any better by the rather hard plastics used in the lower dash panels and glove box. The Countryman cabin isn't a disaster but form has ruled over function here. As an example, MINI insists on putting the electric window buttons at the bottom of the central console which looks good, but over time becomes annoying.
Performance
The MINI Countryman is available with a choice of two petrol engines and one diesel engine, ranging in output from 82kW to 135 kW. Our tester was fitted with the 135kW power unit and I found it unusually noisy at idle. With a combination of variable valve management, twin-scroll turbocharging and direct injection there wasn't a hint of turbo lag and this is complimented by a brilliant 6 speed manual box, so the Countryman offers brilliant performance, you certainly get the feeling that you are traveling pretty quickly as a result. Give it a boot full of throttle, and you get a raspy sporty exhaust note from the twin exhaust pipes and it feels every bit as quick as a regular MINI Cooper S hatch. Keep your right foot planted and the full 260Nm of torque (thanks to the over boost function) comes in at just 1600rpm. The MINI Cooper S Countryman accelerates from a standstill to 100 km/h in 7.6 seconds and has a top speed of 215 km/h.
Handling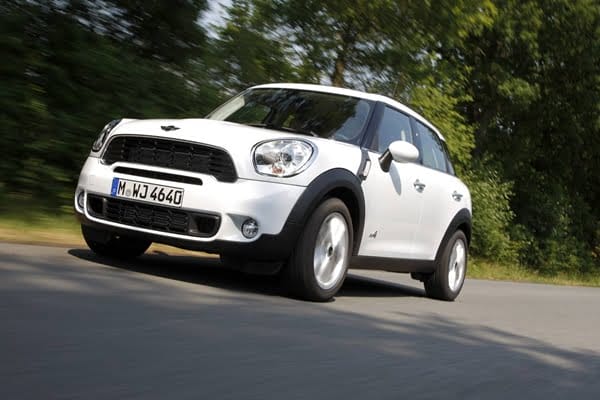 Compared with the other models in the range, the MINI Cooper S Countryman comes with an even more sporting suspension, with McPherson spring struts and forged track control arms on the front axle – a configuration ensures minimal torque steer. The multi-arm rear axle of the MINI Countryman is the same on the front-wheel and all-wheel drive variants and both are fitted with anti-roll bars front and rear. So the legendary go-kart handling is still here in the Countryman. Although you get a fair bit of body lean into the corners and, yes you are in an elevated driving position, but it still has that handling that is part and parcel of other MINI models. It is agile and if you enter a bend quickly, it'll respond accordingly without needing too much correction. The steering is nicely weighted but doesn't deliver quite enough feel to make the Countryman a real driver's car, but the brakes are solid and gear change as I said earlier is brilliant, although a little notchy when moving vertically up or down the gate.
Comfort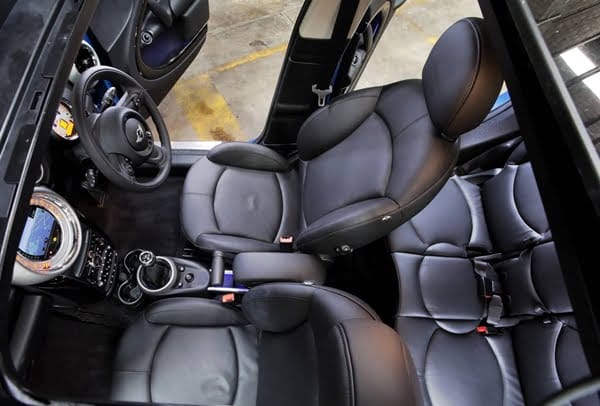 Visually, it is very similar to the regular MINI, even down to the round speedo and toggle switches. Don't be fooled. To sit in, it's been transformed by the feeling of space; high-set seats which gives a more commanding view .This is the first MINI that's not mini by nature for the rear bench seat. The back seat offers loads of head and legroom, and is fully adjustable. If you only carry two, you can choose a dual-seat option for free. The fancy console isn't quite as good to use as it is to look at. The storage bins are fiddly and foul the handbrake in some positions and there isn't much in the way of other bits and pieces room either.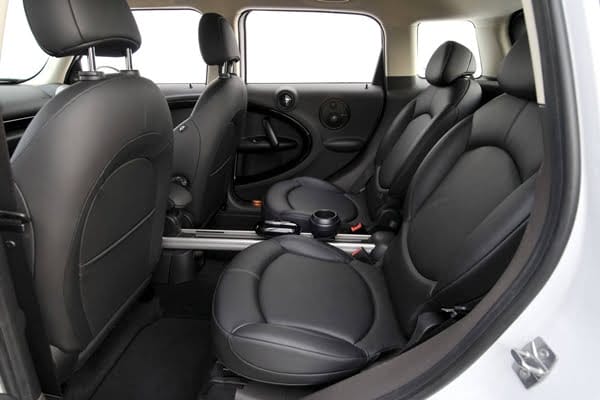 Practicality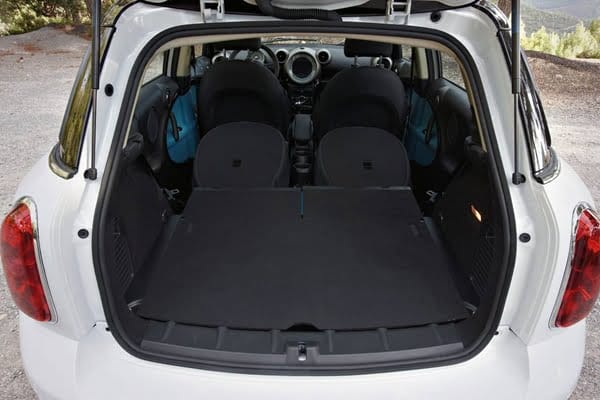 This is a surprisingly practical five-door car if you have a couple of young kids to ferry around each day. The rear seats can slide backwards and forwards and the back angle can be adjusted too. At their full extent there's plenty of legroom for rear-seat passengers and, predictably, for a crossover there's a lot of headroom too. There's a 440-litre boot, which can be increased to 1,170 litres when you fold the rear seats down. That's pretty good, considering this is a MINI, which has never been considered for its practicality. There's also a clever panel behind the rear seats that can be folded down to create a flat floor (without it the boot floor is sunken), but the rear seats cannot be folded totally flat because there is a very slight angle. Depending on the rear-seat configuration (buckets or bench) you can fold them down in a 60:40 split for three rear-seat passengers and the backrests, by contrast, can be arranged in a 40:20:40 split for extra flexibility.
Equipment
There are a wide range of standard equipment and numerous options for customizing your car. Our tester came with all the fruit, too much in fact to list here. The options Mini offer (at a cost) are endless, so do a lot of work on their website and you can configure your MINI, according to your personal preferences and requirements such as high-end audio and navigation systems as well as mobile telephone interfaces including the option to integrate an Apple iPhone and extra Smartphones. Adaptive Headlights are available in conjunction with the optional xenon headlight units, adjusting the beam angle to the course of the road ahead as a function of the steering position. Further highlights are an extra-large Panorama roof, cruise control, trip computer, leather-clad seats and a multifunction steering wheel and yes, a tow bar.
Safety
The car comes with traction control, Electronic Brake Force Distribution, Cornering Brake Control, Brake Assist and Hill Assist and an innovative drive shaft which is made up of two elements giving way within one another in the event of a collision to absorb impact energy. The body structure of the MINI Countryman is also designed to offer maximum occupant safety in the event of a collision. The networked airbag control system is able to precisely recognize the specific conditions in the event of a crash, activating the appropriate restraint systems immediately and with maximum efficiency. The MINI Countryman comes as standard with frontal and side airbags as well as curtain airbags at the side on both the front and rear seats. All seats are also equipped with three-point inertia-reel seat belts, belt latch tensioners and belt force limiters at the front.
Summary
Mini wants a slice of the crossover pie and the Countryman is the Mini attempt to jump on to the crossover bandwagon insisting that its new creation, the Countryman, is definitely not a 4×4 and absolutely not a hatchback. It's a 'crossover' and no argument. Of course, the motivation behind all this is the predicted sales that it might achieve. The Countryman now underscores MINI's position as 'brand' – no longer is it just a small-car manufacturer. With the Countryman MINI wants to retain its hatchback customers who have no choice to look elsewhere when they have a family. This is the brand's first five-seat four-door and undoubtedly it will appeal to young trendy urbanites looking to make a statement. The Countryman may end up being a fashion accessory, but does it have the all-round package to keep its customers loyal to MINI? Yes it does. The MINI Countryman is a genuinely a good car which also benefits from strong second hand value resale, giving it the edge needed to beat the competition.
What is good?
Handling
Style
Engine
Gearbox
Comfort
Good rear leg (for a Mini)
Economical
What's not so good?
No Spare
Noisy at idle engines,
Interior prone to rattles
Feels a little tinny,
Rear seats don't fold completely flat
Switchgear and controls a bit fussy
Vehicle: Cooper S Countryman FWD
Drive train: 1.6-litre four-cylinder with its twin-scroll turbocharger,
6-speed manual, Front-wheel drive
Power and Torque: 135 kW @ 5,500 rpm, 240 Nm @ 1600rpm
Safety: N/A
CO2 Emissions g/km: 154 g/km
Green Vehicle Guide Rating: 4
Fuel Economy L/100km (ADR comb): 6.6 L / 100 km
Tow Capacity: N/A
Tow Ball Rating: NA
Warranty: 3 year/ 100,000 km
Alternative: VW Tiguan,
Alternative: Peugeot 3008
Alternative: BMW X1
AnyAuto Ratings 85/100
Behind the Wheel 9
Practicality 8
Comfort 8
Fit for Purpose 9
Equipment 8
Value for Money 7
Performance 9
Build Quality 9
Ride & Handling 9
Environment 9