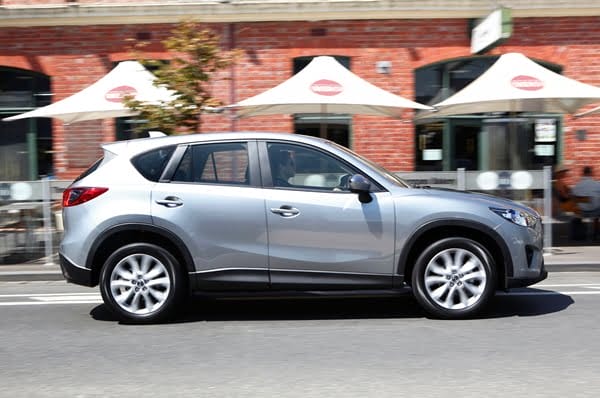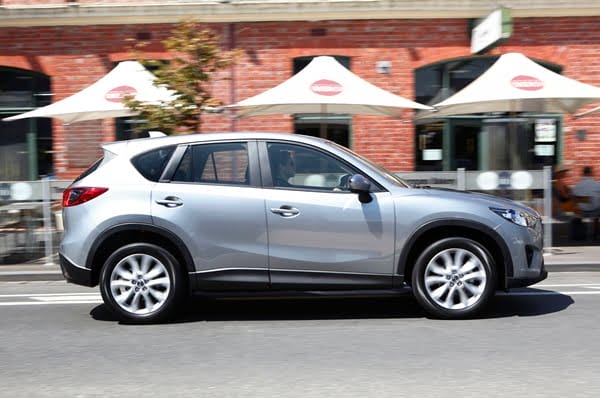 Mazda is set to shake up the mid-size AWD SUV market with its all new CX5. Replacing the CX-7 the CX-5 embraces Mazda's ZOOM ZOOM philosophy and encompasses its SKYACTIV Technology in a beautifully proportioned stylish mid-sized SUV.
Mazda's all new CX5 AWD SUV is the first Mazda to adopt the company's Kodo: Soul of Motion design. Designers get all flowery about where they receive their inspiration from but the result is a powerful and well-proportioned design that is amongst the more attractive in its class.
Mazda's all new CX5 AWD SUV however, is much more than just good looks with new SKYACTIV Technology adopted throughout. New petrol and diesel engines, new manual and automatic transmissions, new body and chassis all contribute to class-leading dynamics, fuel efficiency and safety.
In short Mazda has a winner on its hands!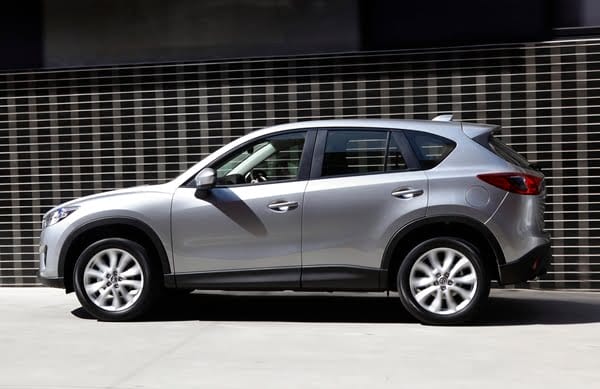 In a market segment where design sometimes ranges from bland to downright ugly the first impression of the all new CX-5 is just how attractive it is. Externally the CX-5 manages to strike an imposing presence with its large front end treatment and smooth upward flowing lines through the side to the rear. The prominent rear fenders and edgy tailgate surfaces further augment the CX-5's sturdy, elegant form. The 19inch alloy wheels on the Grand Tourer enhance the side profile.
It manages to impress with subtlety and purpose with its overall style and design.
Internally the first impression is that the design is inoffensive. By that I mean that there is nothing that stands out that I didn't like.
Sitting in the Grand Tourer the leather 8-way electrically adjustable driver's seat (including lumbar support) was extremely comfortable. There was even enough seat travel to accommodate my rather lanky 190cm frame and have enough room behind me for a teenager.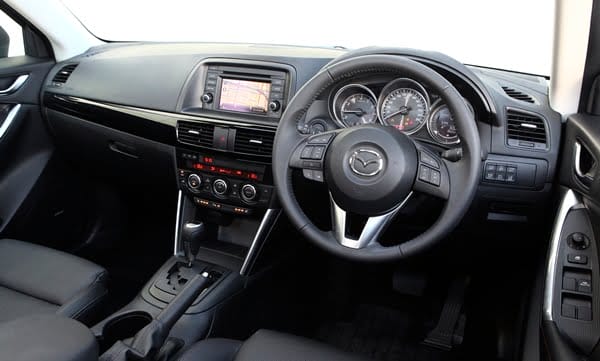 The thick rimmed steering wheel was adjustable for both reach and height and was full of controls for the stereo and cruise control etc.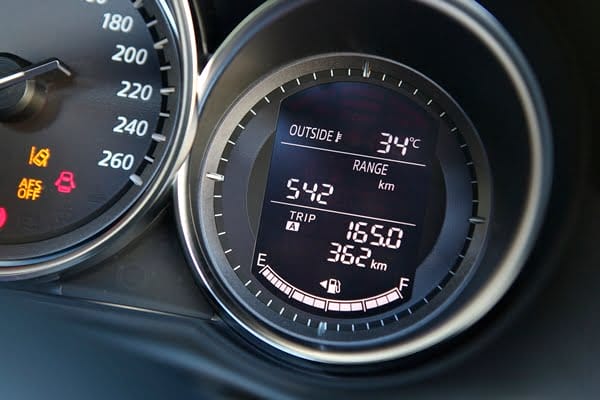 The three dial dash is clear and easy to read with a multi-function display on the right.


To the right of the steering wheel is a panel of switches for traction control, tyre pressure, i-stop etc.
All round visibility for the driver is excellent especially with the standard reversing camera. This is something that should be mandatory for all cars. One thing that surprised was the abundance of head room, even with the sunroof installed.
The centre stack features a 5.8-inch touchscreen monitor located at the top-centre of the dash. The infotainment system features the latest technology, including a USB connector and Bluetooth® wireless connectivity as well as iPod® audio playback. The navigation system*, based on TomTom® technology, offers a top-quality connected service.
For the audiophiles amongst us the 9 speaker Bose® surround sound system* jointly developed with Mazda for the CX-5 will delight, with the really cool feature of AudioPilot® 2 noise compensation technology, which automatically and continuously adjusts the music in relation to background noise, even under extreme conditions such as particularly rough roads or high speeds.
The lower portion of the centre stack features dual zone climate air-conditioning and controls for seat warmers. Unfortunately there are no vents for the rear passenger which is disappointing and frustrating.
Storage is catered for with a relatively large glove box, cup holders (that are a little close together) next to the centrally mounted hand brake, bottle holders in front and rear doors and cup holders on a centre fold down tray for the rear passengers. The centre console also houses a handy storage bin.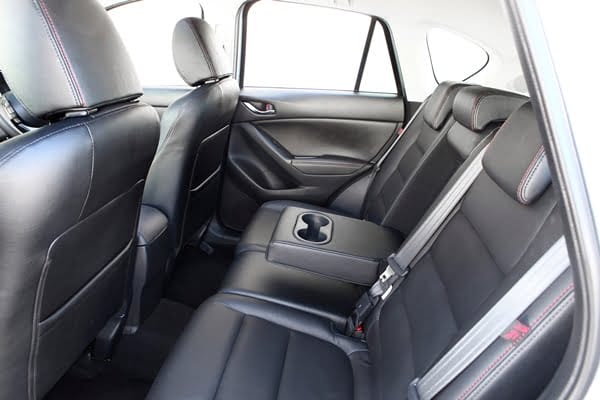 Rear seat passengers have adequate head, shoulder and leg room and seats that are fairly comfortable. Often the rear seats in this class of vehicle are flat but the CX-5 rear seats are pretty good, featuring Mazda's unique Karakuri functionality with the three-piece independent 40:20:40 remote controlled fold-down seats. Operated using either the one action remote levers conveniently located in the top side trim on each side of the luggage compartment, or from inside the car via buttons on the seat uppers, the dive-down rear seats fold into a virtually flat storage space for the utmost in flexibility. The centre section can either serve as a fifth seat, centre armrest with built-in cup holders, or fold flat to transport long items. And there is still enough room for two child seats or two adults to ride in comfort.
The boot area is cavernous for this size vehicle as a result of clever design. A cubic form was chosen with no unwanted protrusions or dead space along with a tailgate designed for easy loading. In fact, the top-class boot capacity of 403 can hold four golf bags with long drivers or four suitcases. Fold down the 40:20:40 split rear seats (that fold totally flat) and you have 1,560 of volume, or enough room for two mountain bikes with the front wheels removed. The tailgate lifts high enough to avoid hitting my head and the load height won't cause any problems.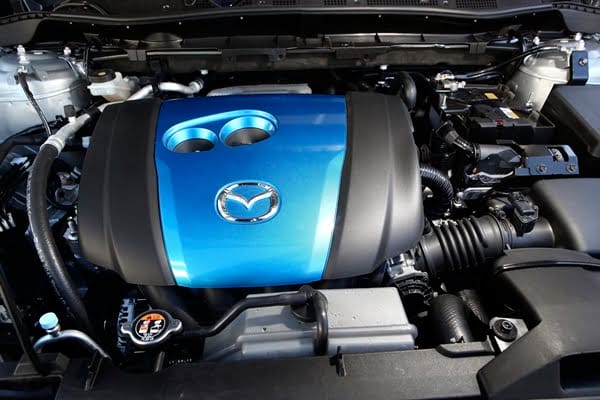 The All-New CX-5 is available with a choice of two brand new engines: the SKYACTIV-G 2.0 litre petrol is mated to either Front Wheel Drive or All Wheel Drive while the SKYACTIV-D 2.2 litre diesel is mated to All Wheel Drive. The diesel wasn't available at the launch but is coming later in March.
There is a choice of the new SKYACTIV-MT 6-speed manual transmission and new SKYACTIV-Drive 6-speed automatic transmission that contributes to a more sporty shift feel and improved fuel efficiency.
The 2.0-litre SKYACTIV-G direct injection petrol engine produces 113kW @ 6,000rpm of power and 198Nm at 4,000rpm of torque. It is surprisingly economical at 6.9 litres per 100km and clean with 160 g/km (AT)
The 2.2-litre SKYACTIV-D common-rail diesel produces 129kW @ 4,500 rpm of power and 420Nm at 2,000 rpm of torque and promises to be a class leader. Economy is great at 5.7 litres per 100km and very clean 149 g/km.
Both engines meet Euro 4 emissions requirements.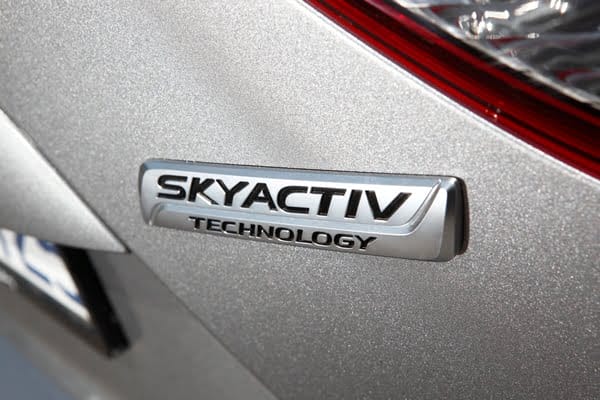 To help with economy Mazda is offering i-stop, it's innovative, intelligent idle-stop system, for the first time with a diesel engine and in combination with the SKYACTIV Drive automatic transmission. In fact, i-stop is standard equipment on all CX-5s. i-stop uses a sophisticated control module to switch off the engine in the ignition/expansion stroke (petrol) or compression stroke (diesel), the optimal cycles for restarting. In fact, i-stop actually waits for this precise moment, monitoring the position of the pistons and calculating prior to the cut-off exactly which cylinders will subsequently deliver the most efficient restart. And it all takes a split second, so the driver doesn't even notice.
The only engine at the launch was the petrol version. We drove the Grand Touring 6 speed automatic and apart from some flat spots under acceleration it was more than adequate for the job. The launch drive program was about 400km and included town driving, multi-lane roads, single lane hilly roads and dirt roads through the back blocks of the Snowy Mountains.
To overcome the flat spots and get the best out of the engine, we utilized the tiptronic transmission quite a bit and I was very impressed with the CX-5's handling, sportiness and smoothness. It was very quiet inside and hung onto the road better that it had a right to as an AWD SUV. ZOOM ZOOM indeed!
One thing though that was frustrating was the insistence on having the tiptronic controls that are counter intuitive. To change gears you had to push up to change down and pull down to change up. I guess if you owned the car you would get used to it but it should be such a simple thing to get right.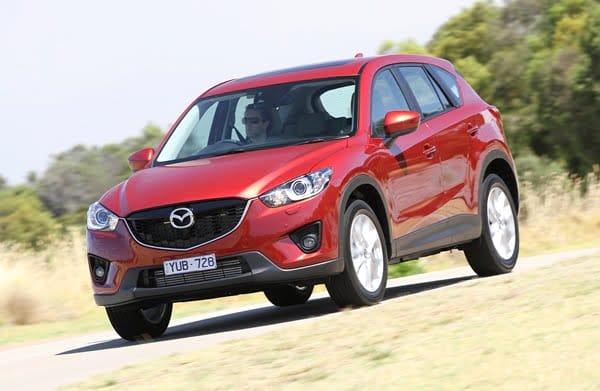 When pushed hard into corners there was minimal understeer, hardly noticeable and it just hung on. On the dirt it lost a little of its shape again when pushed hard, but it is still at the top of the handling class for the market segment. The steering is speed sensitive providing adjustable feedback depending on speed and conditions. The AWD system has variably controlled rear torque and ultraprecise slip detection (up to 50:50 front-to-rear torque split).
In fact its handling capabilities are well beyond what 98% of its drivers will ever experience. Mazda have done a first class job with the handling and dynamics.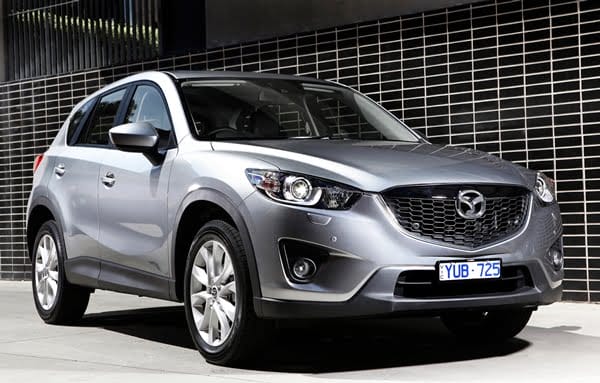 Towing is good for this size vehicle with 1800Kg capacity with brakes and suits the lifestyle aspirations of the vehicle. As an AWD SUV though it is suited to main roads, graded dirt roads and formed tracks. I wouldn't venture too far off road as the front spoiler is just that, a spoiler for approach angle. Treat it as a 4WD and it won't be pretty.
As you would expect the all new Mazda CX-5 is equipped with a host of active and passive safety technologies including 6 SRS Airbags, reverse camera, Anti-lock Braking System (ABS), Dynamic Stability Control (DSC), Emergency Brake Assist (EBA), Electronic Brake-force Distribution (EBD), Traction Control System (TCS) and Hill Launch Assist (HLA) .
In addition to these the bumper, bonnet, body cowl and instrument panel is optimised to prevent or reduce injury to pedestrians.
The CX-5 raises the bar for active safety in SUVs with a package of systems available on CX-5 Grand Touring and never before seen in this segment, including Lane Departure Warning (LDW), Blind Spot Monitoring (BSM) and High Beam Control (HBC).
Lane Departure Warning (LDW) system alerts driver of unintended lane changes. Blind Spot Monitoring (BSM) system detects and warns the driver of cars approaching from behind in adjacent lanes. High Beam Control System (HBC) automatically changes between high and low beam to avoid blinding other motorists.
Mazda has certainly produced a car that will make the other manufacturers take notice with its all new CX-5 AWD SUV. There are three classes of vehicle available, the Maxx, Maxx Sport and Grand Touring, two transmissions, a six speed manual and six speed automatic and two engines a 2.0L petrol and 2.2L diesel. So there is variety enough for the most discerning buyer to find something that will suit their purposes.
Pricing is another factor that adds to the appeal of the all new CX-5.
Pricing – Manufacturer's List Price (MLP)*
CX-5 Maxx 2.0 litre petrol FWD 6MT $27,800
CX-5 Maxx 2.0 litre petrol FWD 6AT $29,800
CX-5 Maxx 2.2 litre petrol AWD 6AT $32,300
CX-5 Maxx Sport 2.0 litre petrol FWD 6AT $33,540
CX-5 Maxx Sport 2.0 litre petrol AWD 6AT $36,040
CX-5 Maxx Sport 2.2 litre diesel AWD 6AT $39,040
CX-5 Grand Touring 2.0 litre petrol AWD 6AT $43,200
CX-5 Grand Touring 2.2 litre diesel AWD 6AT $46,200
Tech Pack Option
CX-5 Grand Touring models only $1,990
* Manufacturer's List Price (MLP) includes GST and Luxury Car Tax (LCT) where applicable but excludes dealer delivery, registration, third party insurance costs, stamp duty and other mandatory charges.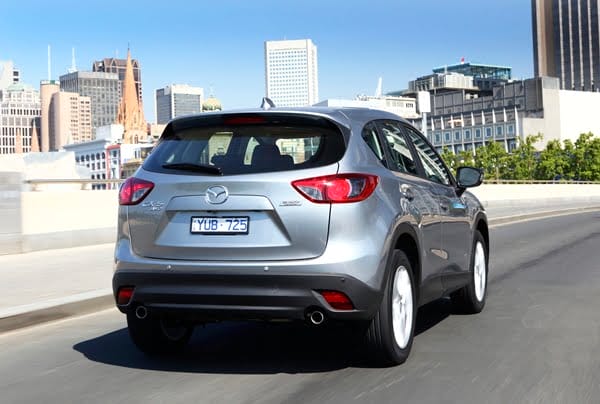 So the upshot here is that Mazda has produced something quite special in the mid-sized AWD SUV market. It has a subtle style about it, is roomy and comfortable, drives better than it has a right to, is chock full of standard features and safety and is priced to reflect its quality. In short it's a beauty and they should and will sell heaps of them. My preference would be the diesel.
What is good:
• Roomy and comfortable inside
• Handling dynamics
• Build Quality
What is not so good:
• No rear seat air-conditioning vents
• Counter intuitive tiptronic transmission
• Petrol engine flat spots
Model Mazda CX-5 Grand Touring
Model Price $43,200 MLP
Drivetrain 2.0 litre petrol AWD 6AT
Power 113kW @ 6,000rpm
Torque 198Nm at 4,000rpm
Safety TBA
CO2 Emissions 160 g/km
Green Vehicle Rating TBA
Economy (ADR comb) 6.9 L/100km
Tow Capacity – Max 1800 kg
Tow Ball Rating TBA
Servicing TBA
Warranty 3yr/ unlimited km with full roadside assist
Overall OzRoamer Rating 81/100
Behind the Wheel 9
Comfort 9
Equipment 9
Performance 7
Ride & Handling 8
Practicality 9
Fit for Purpose 9
Towing Ability 8
Off Road Ability 5
Value for Money 8