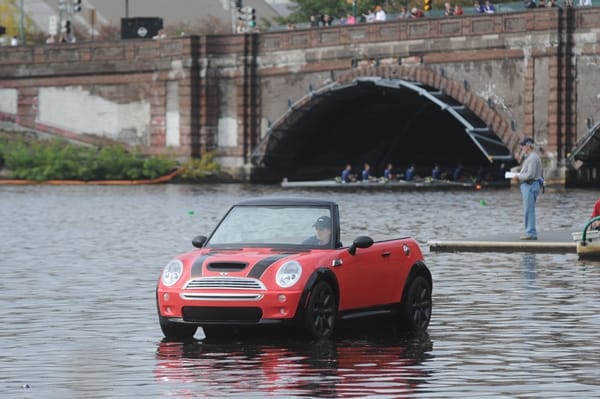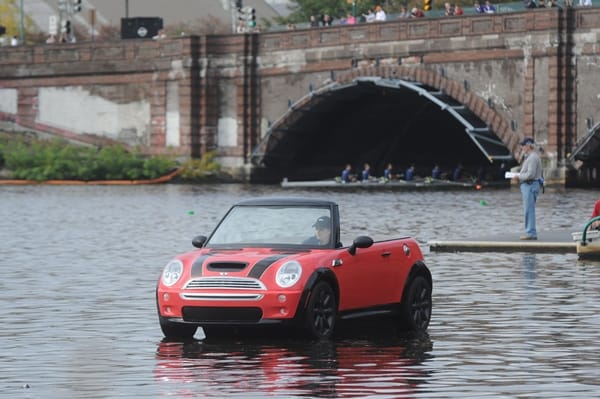 Visitors to the 2013 Aberdeen Dad Vail Regatta on May 10-11 will experience an intriguing sight that they won't be expecting… a Chili Red MINI Convertible appearing to 'drive' on the water along the Schuylkill River during this famous annual festival of university and college rowing.
This one-of-a-kind boat was the brain-child of the MINI USA Eastern Region and was built as part of the MINI USA's Not Normal sales event last October.
"MINI is known for being unconventional, and sponsorship at an event like the Aberdeen Dad Vail Regatta is an opportunity to make a lasting impression with attendees, and add value to the event by further increasing its fun factor," said Laura Towey, Regional Business Manager, MINI USA. "The MINI Convertible Boat's appearance of actually motoring on water is so convincing that it provides guests with an amazing tale to share even after they've left the event."
Powered by a 6 hp outboard motor, the MINI Convertible boat features a fiberglass mold of the car mounted to a boat hull, and accessorized with authentic MINI parts, including headlights, taillights, grille, steering wheel, badges, wheels and tires. It was constructed by ACI Composites Inc, based in Lancaster, Pennsylvania, and trimmed so that the wheels rotate in the water reinforcing the illusion that the MINI Convertible is being driven on the river.