Comfort, style and safety are at the forefront of the biggest changes to the CX-5 since the introduction of the SKYACTIV-G 2.5-Litre petrol engine earlier this year.
The Mazda CX-5 range has received an array of pre-Christmas upgrades including updated damper, bush and stabiliser tuning for a more comfortable ride, a stylish new straight shift transmission lever and a choice of new colours, making Australia's most popular SUV even more attractive.
In addition, the mid-grade Maxx Sport gets the latest Safety Pack option which includes Blind Spot Monitoring (BSM), Smart City Brake Support (SCBS) and a rear view mirror with an auto dimming function.
Blind Spot Monitoring warns the driver of any unseen vehicles beside or behind the car using a warning beeper and a clever LED icon which appears on the relevant side mirror, while SCBS helps prevent, or lesson, low-speed impacts between 4 and 30 kilometres per hour. SCBS accesses the possibility of a collision and, if high, applies the brakes, assisting the driver.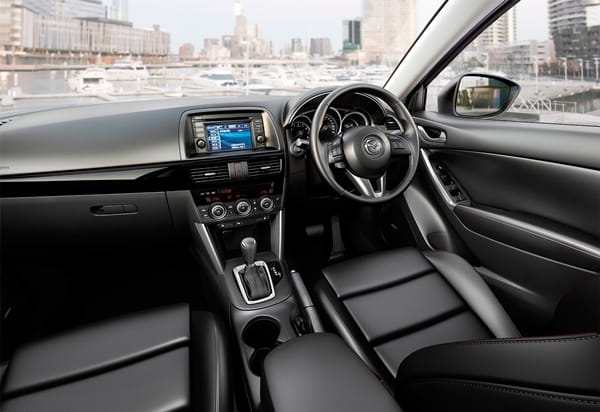 While the range gets two new colour choices, Blue Reflex Mica and Deep Crystal Blue Mica, the CX-5 Maxx Sport also gets a revised silver finish to its 17-inch alloy wheels – the same smart finish is now also available on the 19-inch alloys on the higher grade Grand Touring and Akera.
Front seat passengers will enjoy a more comfortable ride in Grand Touring and Akera models, with a new 'memory function' on the driver's seat maintaining the perfect position for the regular driver. For the front-seat passenger, new six-way power adjustment makes changing seat position effortless.
The Akera also receives SCBS, making the top-of-the-line Mazda CX-5 the first Mazda of any nameplate, grade or specification to offer this safety technology as standard equipment.
Pricing for Maxx and Maxx Sport models remain unchanged, with the Safety Pack available for $1,490. There is a nominal increase of $400 and $800 for Grand Touring and Akera respectively.
Mazda Australia's marketing director, Alastair Doak said: "For many people safety is the most important factor when it comes to new car purchase. Mazda CX-5 is already one of the safest SUVs available, but offering technologies like Blind Spot Monitoring and Smart City Brake support as an optional extra will give Mazda customers more choice. This, along with a range of styling and comfort tweaks, makes CX-5 an even stronger consideration."
Mazda CX-5 Pricing (Manufacturers List Price)
Model                                                                                Price
2.0L petrol FWD Maxx man                                               $27,880 (unchanged)
2.0L petrol FWD Maxx auto                                               $29,880 (unchanged)
2.0L petrol FWD Maxx Sport auto                                      $33,620 (unchanged)
2.0L petrol FWD Maxx Sport auto with Safety Pack           $35,110 (new)
2.5L petrol AWD Maxx auto                                               $32,880 (unchanged)
2.5L petrol AWD Maxx Sport auto                                     $36,620 (unchanged)
2.5L petrol AWD Maxx Sport auto with Safety Pack          $38,110 (new)
2.2L diesel AWD Maxx Sport auto                                     $39,470 (unchanged)
2.2L diesel AWD Maxx Sport auto with Safety Pack          $40,960 (new)
2.5L petrol AWD Grand Touring auto                                 $44,180 (+$400)
2.2L diesel AWD Grand Touring auto                                  $47,030 (+$400)
2.5L petrol AWD Akera auto                                              $46,570 (+$800)
2.2L diesel AWD Akera auto                                              $49,420 (+$800)